Continuation from Part 1 for those wishing to add further comments and reports.
WA7JTM…My Final Results from this event:
I made 43 contacts broken down as follows:
11 EU contacts
6 EU s2s contacts HB (2), G, EA, LZ, DL
5 EU chaser stations worked…HB (2), SA, OH, EA
9 s2s contacts total (only 2 in the USA)
All other Q's in USA and VE
Heard lots of other weak EU but I could not pull them out of the QRM.
Had a great time!
Tnx to all
73
Pete
WA7JTM
Arizona
Hi Pete,
I was very pleased to chase you with my tiny 5W. You were an easy copy for me and I'm sure I wasn't that easy for you, so thank you very much!
I've seen you logged me as EA2IF, but I was signing as EA2IF/P. It's not a problem unless you want to exchange eQSL. In that case, you'll have to correct my callsign adding the /P at the end for a perfect match between your log and mine at eQSL.cc
73,
Guru
Tnx Guru for the QSO and the info. No problem on the QSL…dont really collect them anymore as I already have thousands of them dating back to 1965! Hi Hi
U were one of my easier s2s contacts as u were not burried in QRM like earlier s2s contacts. The pile ups and QRM was pretty fierce on my end an hour earlier.
My total qso count into EU was down from last year but i made about the same number of EU s2s contacts as last year, so it was definitely fun!
Tnx agn and c u agn soon!
73
Pete
WA7JTM
Andy MM0FMF wrote:
"I did lose the bung to my 5m Travel pole on Chaine des Alpilles last week. Very annoyed. Does anyone sell them or will I have to scour eBay?"
Hi Andy as far as I can tell spare bungs are made from 100% Unobtainium if you find a source let me know!
And I think Gerald may be interested too

73 de Paul G4MD
(Also is there a way to quote from a post from an automatically closed thread in another thread to avoid ridiculous disjointing such as this?)
Just put my log on and checked the who worked me tab… Wow, I made 23 contacts with 21 ops and 20 of them have already put their logs on! Four omitted the /P. Must be something good going around as a result of this event. I've never had so many confirmations so quickly after an activation.

Oh… and I thought replacement bungs were made of whittled down corks from demijohn jars. I do recall a thread on the subject several years ago.

Just done that out of interest and noted that LZ1WF/P has me as being on G/CE-002 rather than G/CE-004… It's entirely possible I had a senior moment and gave the reference of my most frequently activated summit by mistake, so apologies if I did. Found myself starting announcing my call as GM4… at one point till I remembered who and where I was

73 de Paul G6GGP (G4MD)
"I did lose the bung to my 5m Travel pole on Chaine des Alpilles last week. Very annoyed. Does anyone sell them or will I have to scour eBay?"
My "mast" is a 7 meter telescoping fishing pole I bought at Bass Pro, a US sporting goods chain. It looks like it could have come from the same factory in China that makes all the poles and masts used in SOTA.
I lost the bung from mine on an activation this past Spring. I replaced it with a rubber "leg tip," intended for use on furniture legs, ironing board legs, etc. Our local hardware store had them in several internal diameters, and with a few test fittings I found one that was snug enough to stay affixed to the pole and would still allow easy removal when erecting the mast. Six months later it is still attached and doing the job. The cost was just a dollar or two.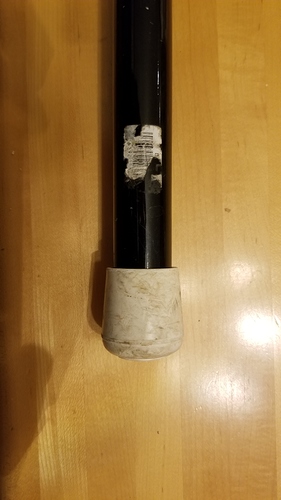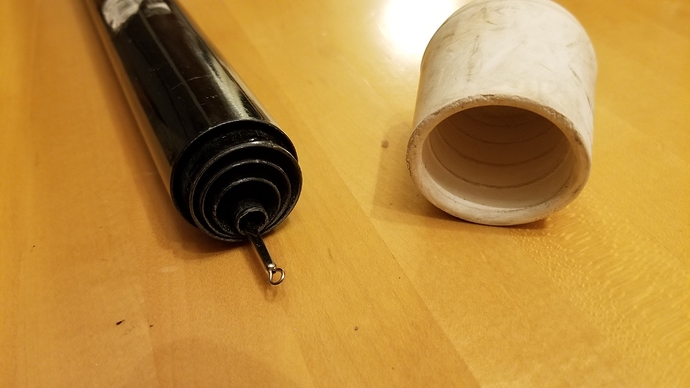 73,
Scott WB8ICQ
No scouring necessary, just type in "rubber bungs" and look at the pictures at the top of the page. FWIW when I lost my top bung I replaced it with a red rubber bung, the sort of bung that you will find in laboratories, but proper stoppers are available.
I just submitted my log Gerald, you should have 21 for 21 now.

Hi Paul, Yes, use a link. While it wont re-open the old thread within this thread, it will enable readers to look back at what you are referring to.
While in the edit/create box - click on the chain logo on the top bar and enter your data like this:
This is a link to my post in the last thread - now with my report on the day.
(a return to this message link is automatically added in the other thread to allow the reader to return here).
73 Ed.
Hi Pete,
I was one of those, calling you from S5/BI-029. You were workable signal for a long time, unfortunately no contact made. I had a problem with wind turning my delta loop all the time, although it was fixed with two guying ropes.
Interesting, I also could not come through to Mike NS1TA on CW at the beginning of the event, but worked him later on SSB!
My station was KX3 @ 15W and V shape delta loop. What was your power and antenna?
Hope to meet you on air next time.
73,
Mirko S52CU
me too was also one of those who called WA7JTM for more than one hour… running K2 / 12 watts to 21m endfed slooper…
73 kurt HB9AFI
Me too. WA7JTM was a good signal with me and I made many attempts to call over a two hour period. No joy though.
NS1TA and VE2DDZ were relatively easy contacts in contrast.
Me too. I lost the cap/bung from my Spirit-of-Air pole using it (inappropriately) to thrash my way through chest-high wet stinging nettles on Grange Fell GM/SS-249. My homebrew replacement bungs were not as good and have got lost too.
Dang!
Sorry I wasn't able to work all of those who heard and were calling me on Saturday. I knew there were many stations in there but it was actually a QRP EU pile up on my end. All signals were about the same level and were calling at the same time obviously. I would hear a few letters from one station, and then a different station would cover that one up before I got a full call. repeat…repeat…it happened over and over.
My first 13 contacts were with 9 EU stations and four W/VE stations…six were EU s2s contacts, so it was pretty crazy at the time. After that the conditions deteriorated a bit and the USA stations took over. I only worked three more EU stations after 1454 UTC.
I also see in the "show who chased me" log that one more of the HB9 stations I worked was on a summit. I did not know that he was on a summit when I worked him…HB9DQM…so I will now update that contact as an s2s in my log. It's already there.
Again sorry I missed working those others who were calling me. I will have to work on my QRP DX Pileup skills Hi Hi.
thanks to all again!
73
Pete
WA7JTM
Hi Pete,
A handy trick when you get the situation of many stations calling - as used by DXPeditions - is to call by number -
"Any station with zero in the call please"
"Nothing heard - OK anyone with One in the callsign"
"OK OE1ABC - you are 5-6 from xxxxx"
"Any more stations with 1 on the callsign?"
"S91XYZ - OK you are 5-3 …"
"any more with one in the callsign"
"nothing heard OK any stations with 2 in the callsign…"
etc.
It should at least split the large pile-up down into smaller groups and for those who just keep calling and calling when it's not their turn - ignore them, note their call sign and DO NOT WORK THEM.
73 Ed.
Not a brilliant day for me. I didn't post an alert until the morning and went to G/TW-003 arriving on time and got spotted immediately.
My 1st QSO was with an KA1R

, who apologised for not being a SOTA op - no problems but that was a good start!! A few other QSOs with regular chasers after my 1 point summit and two Slovenian S2Ss -
I could hear numerous EU SOTA operators calling "CQ NA only pse" as they were overwhelmed by home based chasers. I did hear a couple of NA Sota ops but there were a lot of people answering. By now I was wondering whether my chances would be improved by using the freshly charged additional 2amp back up battery.
Unfortunately I'd rather carelessly lengthened the leads on this by joining/extending the leads and these shorted out when the poor joins I'd made touched each other causing the leads to melt over my brand new fingerless mittens!! Luckily it was unconnected to my HB1B so I continued to use the internal battery. Then in the middle of a QSO the You Kits HB1B died a death.

Walking home feeling fed up in the now pouring rain, I was wondering what was wrong with my radio and whether I could, A) get it repaired and/or, B) whether I could afford a replacement if need be.
However, when I got home as soon as I switched it on - it came alive! So that was quite a relief and so really the day ended quite well even though I only got a handful of QSO's
Originally I planned to activate Hummelsberg, DM/BW-228, for this event because it's a drive-on location with a clear view towards North America. There is also plenty of space on the summit for an antenna farm.
But the weather on Saturday morning was quite variable. While we had sunshine and temperatures up to almost 20°C here in Tübingen, the rainfall radar showed rain showers over Hummelsberg.
Therefore I changed my plans and aimed at Achalm, DM/BW-099, which is close to my home. According to the forecast it would remain dry for the next hours. Only drawback: Due to restricted space I couldn't set up the delta loop and had to use an Vertical EFHW-dipole on a 10m squid pole.
From the car park it's about 25 minutes to the top. When I reached the summit there were only few visitors and they were not interested in the bench next to the rim. So I could set up on the same bench I operated during the NA <> EU S2S event in April 2018.
The setup was uneventful and I was QRV at 13:30 UTC. I started searching for other activators but unfortunately the Ukrainian DX contest took place at the same time. A couple of contest stations were calling in the range I would usually have expected SOTA activators. The only station I could find was DL6GCA/p on DM/BW-115. The QSO was most likely on ground wave - 120km across the Black Forest.
With no further S2S QSO available I searched for a clear frequency and started calling CQ SOTA. To my surprise - I was just trying to put on my jacket - several stations answered straight away. Two of them were from NA, K2VV being the loudest with rst at least 579.
When the frequency went quiet, I started searching for Transatlantic S2S. NM5S was the first stateside station but Alan was really faint and soon I couldn't hear him anymore. Shortly afterwards I came across VE2DDZ on VE2/ES-010. Mal was rst 439 and had a stable signal. I got him on the first call.
After that, I started calling CQ again. During this session eight QSOs came into the log, five of which with NA but no S2S. When I could hear no further stations calling I did search and pounce again. This resulted in two EU S2S QSOs and I heard VE2DDZ again - still good copy! Then I heard WA7JTM on W7A/MN-119. Peter was rst 439 with QSB. I waited until he had worked a couple US stations and called for EU. Somehow I got through but it was tough going and he had to pull each and every letter of my call out of the noise. Looking at the power used, I assume that I was at least one S- unit down compared to Peter's signal. Nevertheless this was my farthest S2S QSO today

I started a further session with calling CQ. During the next half-hour four more stations from NA went into the log, the farthest one was NW7E from Oregon! Also the third DX S2S- QSO with NS1TA on W1/EM-020 came through.
I ended my activation with a QSO with LZ2AF/p being my last S2S of the day. Light rain started falling and the clouds looked rather dark now. So I decided to pack in even though it was an hour earlier than I had planned.
At the end I had 31 QSOs in the log. All on 20m CW. Thereoff 13 with NA chasers and 9 S2S from what were 3 with NA activators.
I think I missed some QSOs because I packed in too early.
All in all it was a phantastic day: Better than expected weather, excellent propagation, lots of DX and S2S. Sunspot: # 2750 appeared just at the right time.
Thanks to the organizers and thanks to all for the QSOs and your patience when signals were marginal!
73, Roman - DL3TU