Tnx John…a number of EU into AZ today…quite a few s2s…still on summit but quiet now.
Pete
WA7JTM
Tried many times to call you for S2S Pete @WA7JTM
Try now on 14.057?
Not much left on 20m CW and SSB - so, it's FT8 time. Let there be DX…
Mixed results on my side. Very good cond on 20 in EU.
I got Rich N4EX in the log and heard Mike NS1TA with 51 with some QSB. But I guess the 5 Watt on my side were not enough for a SSB QSO. I heard Mark M0NOM/P work him S2S and UK chasers manage as well. Too bad that I didn't manage.
TODO: Buy 30 Watt china amp from ebay

73 Joe
Returned at home now from I/LO-222.
Cloudy and foggy day with 5 celsius.
Good prop in 20 mt to North America.
28 qsos
10 qsos with North America cheasers
2 qsos with s2s North America activators USA and Canada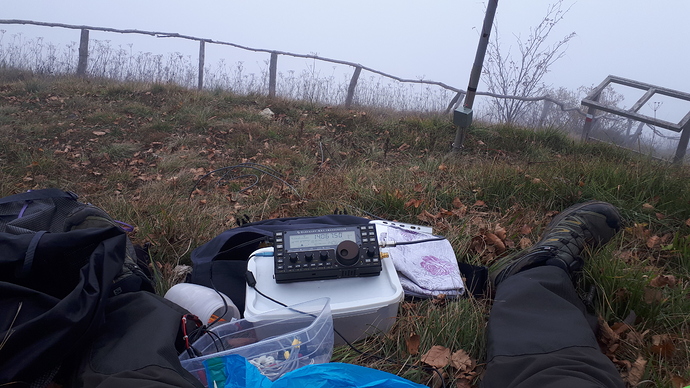 Now I rest, I give you more information later.
Tnx at All
73
Roberto
Looks like I packed up way too early but decided to do so as I had a fairly long drive home and some technical problems.
What was that contest on 20m SSB? Lots of contest activity, unfortunately often on SOTA activators spotted frequencies.
Managed 24 x 40m contacts in 12 minutes at the start of my activation but 20m didn't go as well for me.
Some rain but not too bad.
Total 29 contacts - 5 of them S2S (only within Europe).
Full report with pictures in a couple of days.
Thanks and well done to all who took part - 73 Ed.
My report
Due to announced rain showers on DM/BW-228 I changed the summit last minute to DM/BW-099 which was a good choice. The weather was windy but dry.
Unfortunately had to change the antenna as well due to restricted space on the new summit.
The equipment was KX3 @ 10 Watts and end fed vertical dipole directly at the edge with a clear view from 270 to 360 degrees.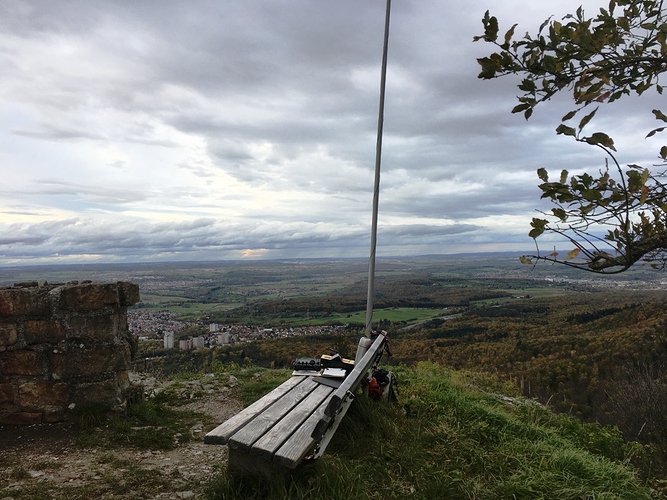 Condx on 20m were pretty good with SFI = 11 and k = 0
Ukrainian DX contest caused some QRM but could have been worse.
Made 31 CW QSO, thereoff 13 x NA chasers, 9 S2S from that were 3 with NA activators.
Full report will follow…
Tnx to all! Hope you had fun.
73, Roman
Hallo
Last week I built a delta loop for 20m, which I wanted to compare with the vertical, which I usually use.
The whole week I was unsure (about the weather) - if I participate at all. The weather forecast was different every day… Yesterday it still looked like rain and storm …
This morning, a rain gap was announced and I went… with my KX2 and the Vertical with a single radial.
During this time (12:56 -14:08 UT) I got 5 US stations - NS1TA was my S2S. Condx were not so bad. Unfortunately, LU/HB9BHU/P and VE2DDZ did not hear me … both were workable at my side.
I left the delta loop in the car, it was too windy. … and I was lucky - it started to rain, as I reached the car.
73 Armin
All I can say is Wow! What a fantastic day!
Report to follow probably.
I an a very happy amateur radio enthuiast tonight! Oregon was a new one for me

My favourite photo from.today.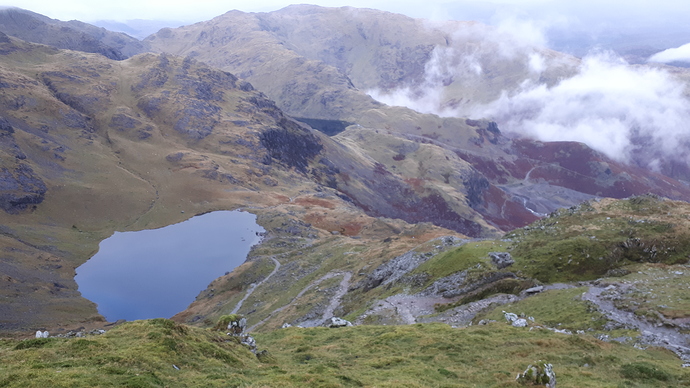 73, thanks to all the chasers, some superb ops.
Colin
You are hard core Tom! Glad to make the S2S with you today. My conditions were quite a bit drier than yours!
73
Mike NS1TA
Hello Mike,
Could you share your setup please? How much power do you use?
I could hear you in OE but not the other way around.
Thanks everyone for taking part.
73 Joe
Well what a day AND propagation was good to HA OE and SV as well on 20m. 12 Sota's contacted today and10 on 20m :-0 Prop gods smiled on us today

Best best result of all just checked me Mountain Hunter award and i have gone Platinum possible thanks to the two NA Sota,s I reached today. Must been couple years since last reached any NA Sota's.
God damn happy with that
Just a shame we had that storm raging through peaking 133mph in place not far from us and was peaking 80+ here on top of this exposed part of town and me antennas still in air working. Other wise would been good day to test out the inverted HB V res 40/20m DP and 80m L/coils antenna.
2E0FEH karl SW UK Kernow
Looks like I wkd 12 EU stations but only 7 were s2s. Total contacts 40 ish. Will figure it all out maybe tomorrow.
The QRM was really tough on my end…I could hear multiple EU stations calling but it seemed like they were all the same signal strength.
Looks like overall the conditions may have been better last year.
Anyhow still tons of fun!
Thaks to all
Pete
WA7JTM
W7A/MN-119
I consider this experience a great success!
60 QSOs
28 with

and


12 S2S, 6 of which with NA (4

and 2

)


This was my setup: 2 elements inverted L = inv L EFHW with 6m of slightly elevated counterpoise and an inverted L reflector.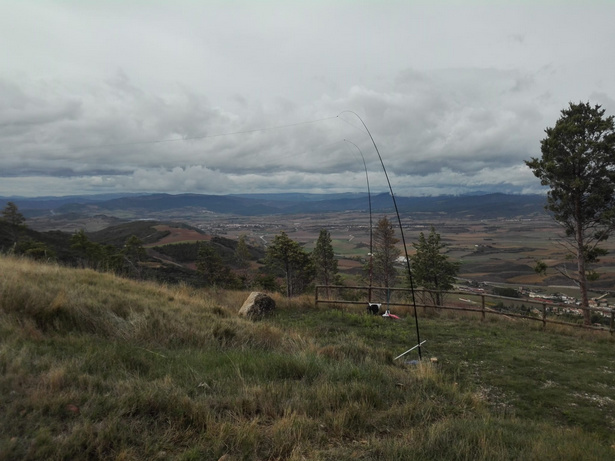 My rig was FT-817ND @ 5W + MFJ-941B antenna tuner.
I'll publish an activation report later.
Thanks everyone: organisers, chasers and activators.
73,
Guru
Thanks Mike. I'm normally more hardcore than this - I normally sit it out in the weather but I wimped out by taking my backpacking tent today! Here's another couple of photos: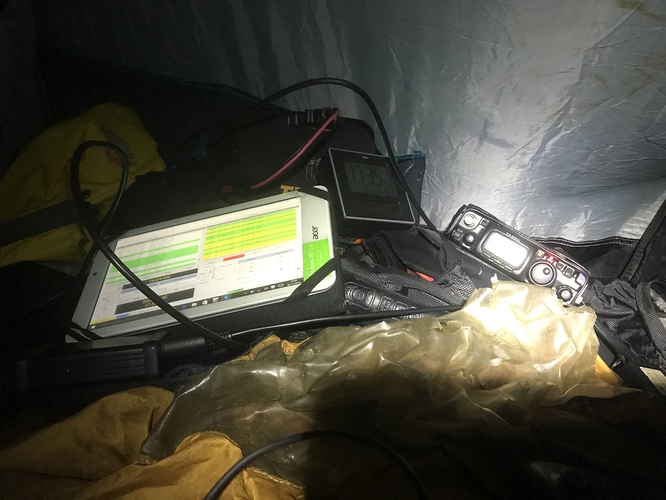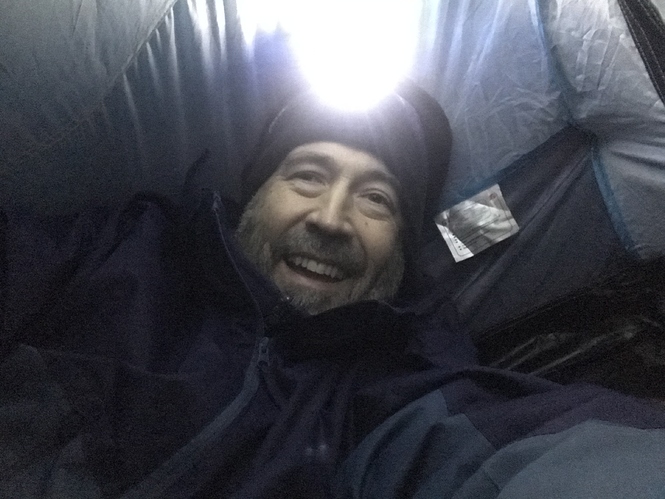 QSOs: 53
20m SSB: 18
20m CW: 27
20m FT8: 3
2m FM: 5
S2S: 16
G4YTD/P on G/LD-052
SV2RUJ/P on SV/ST-079
M0NOM/P on G/LD-050
G6GGP/P on G/CE-004
G8CXK/P on G/CE-004 x2
S58R/P on S5/BI-057
S52CU/P on S5/BI-029
VE2DDZ on VE2/ES-010 x2
LZ1GJ/P on LZ/RO-144
NS1TA on W1/EM-020
M1BUU/P on G/LD-013
EA2IF/P on EA2/NV-151
LZ2AF/P on LZ/CB-012
SV2RUJ/P on SV/ST-078
DX: 15
AC1Z
K2VV
KB9ILT
AB4PP x2
K4MM
VE2DDZ x2
NS1TA
KG3W
VE2JCW
NW7E
N4LAG
VE3FJ
K3UL
NA S2S: 3 (see above)
SWL: 5 (SOTA activations I tried to call but didn't get through/heard)
WA7JTM on W7A/MN-119
LZ1GJ/P on LZ/RO-144 (SSB, did work on CW)
KF7NP on W7A/MN-143
VA2EGD on VE2/AC-004
EA2GM/P on EA1/AT-208
Not bad. Not in the same league as a memorable EU-NA event a couple of years ago when conditions were fabulous! Definitely worth going out though! Not much joy on FT8 today.
I am a very happy activator today

Weather was not good at all - summit in cloud, wind and rain, so I had a problem with orientation of my delta loop antenna in the wind. Need to do some improvements.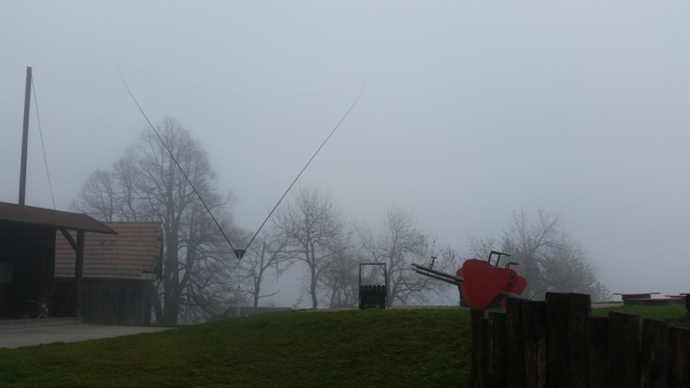 All together 45 QSOs, 19 of them were s2s,
11 transatlantic QSOs, 2 of them S2S.
Heard many other NA activators, but no contacts made, also much qrm from contest stations on cw and SSB
Shame LU/HB9CDH/P on 17m and LU/HB9BHU/P on 17 and 12 m did not hear me. They were quite good signal into my antenna.
Thanks to all chasers, activators and organizers of this event!
73,
Mirko, S52CU
Edit 5.11.2019:
I saw those nice qso mappings last days, so here is my activation log on google map: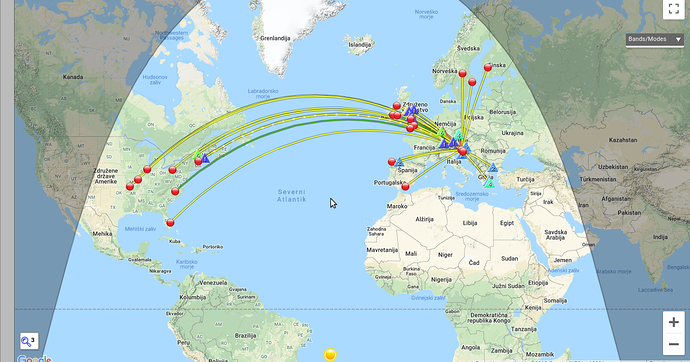 I drove from Lecco city to Forcella Alta parking, the visibility was reduced to a few meters due to the thick fog.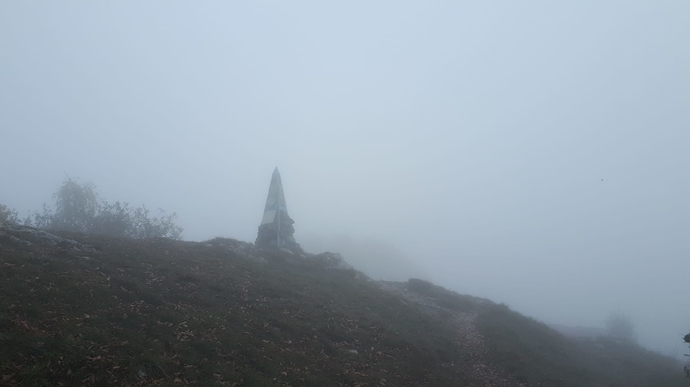 From parking me and my dog Zac reached the summit in abt 15min.
Zac was tired due to yesterday running training and so he dozed off immediately near me.
I mounted antenna and after finding a confortable seat I started to calling cq in 20mt cw.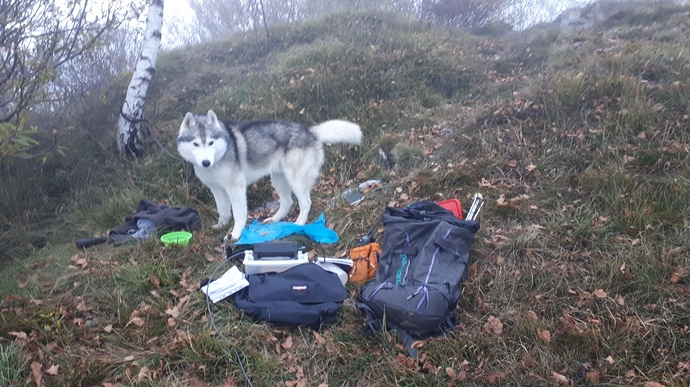 while I managed a log some station I heard NS1TA that answered me, the first NA s2s from w1/em-010.
During a break I qsy and I answered to M1BUU/P from G/LD-013 first time that I put in a log Colin.
I heard also VE2DDZ from VE2/ES-010 I abled to manage in a log.
I tryed to hear Tom M1EYP and Guru EA2IF but I didn't hear any signal.
I kept calling until at 15:40utc putting in a log other EU and NA OMs and another eu s2s EA2GM from EA1/AT-208.
After 28qsos I passed to qrt.
A great day, I'm very happy!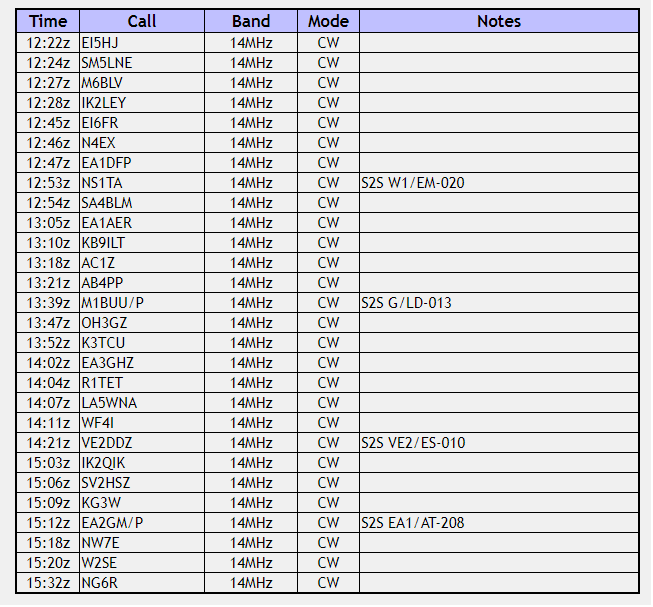 thanks to All!!
73
Roberto
For me the results over the pond were pretty much the same as last year, but the propagation produced far fewer EU contacts. There was a distinct shortage of NA summits to work. Unfortunately I missed a couple - one was too weak, the other disappeared abruptly (probably QRT). It was great to work you again Pete and a full hour before the expected time.
Propagation seemed to be somewhat better out west, indeed as far as Jerry NG6R in CA. I will prepare a report with more detail in due course, but would like to thank everyone on both sides of the Atlantic that went out to activate summits. Your support for this event is very much appreciated.
73, Gerald G8CXK / G4OIG
Tnx Gerald! Always a pleasure to wrk u in these events!

Pete/JTM
Well that was a blast. I'll try to get a complete report up later, but the quick summary is "that was a lot of fun".
I was a little late on the air, QRV 1330z. I was worried about being too cold to stay on the air as long as I wanted, but even though the air was cold, with bright sun and no wind I was able to work about 3h15. There was lots of QRM and the usual lots of QSB, but also much improved propagation, at least intermittently.
I made 62 contacts from Mont Hereford, VE2/ES-010 in Quebec. 39 European QSOs and 23 North American QSOs. I missed contacts with many of my regular NA chasers - maybe they were holding back to let the S2S through, or maybe they couldn't break the pile-up caused by the European /P stations

I made 22 S2S, 20 Europeans and 2 NA. Of the 20 EU S2S, there were 18 distinct calls and 15 distinct summits. Notably five of the S2S including four S2S EU contacts were on SSB. I had a computer with me and planned to try some FT8, but I was having too much fun on CW and even SSB to boot it up.
S2S:
HB9BAB/P
HB9EWO/P
HB9DQM/P
HB9AFI/P
M1EYP/P x2
G8CXK/P x2
M1BUU/P
M0NOM/P
G6GGP/P
LZ1GJ/P
LZ1WF/P
LZ2AF/P
S58R/P
S52CU/P
WA7JTM
KF7NP
EA2IF/P
EA2GM/P
DL3TU/P
IW2OBX/P