What a great afternoon !! I climbed to my usual summit walking from home. I am a lucky operator who has access to a summit on foot, 10 km round trip. This time the backpack weighed more than usual.
I built for this event a half square set for 20m. Raising the two fishing rods was somewhat more complicated than usual since the wind was very strong at that time. Just when connecting the equipment I had to solve a problem with the BNC connector of the new RG-174 cable, the central conductor is real butter, and it was broken inside the BNC. After an emergency repair, I started transmitting with the usual equipment: FT-817 direct to the tuned antenna, and the 11 Ikea batteries pack.
All in all 26 QSO, 9 of which with NA stations, 7 S2S, 1 of them with VE2DDZ. I listened very well to WA7JTM and tried to open a hole in the wall of NA / EU stations, but it was in vain. I also tried to chase more EU stations, but I couldn't copy any more. I was surprised not to hear stations in the UK area, perhaps due to the bi-directional pattern of the half square.
In the image you can see that bidirectional pattern.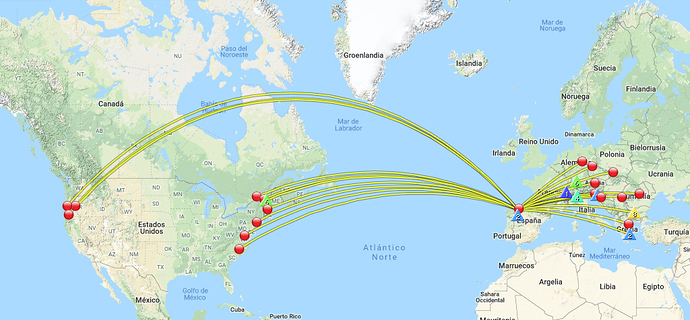 Many thanks to the organization and participants.
After hitting the bottom, now we just have to wait for the conditions of the solar cycle 25 to improve !!
Best 73!!
Javier EA2GM