Logging sounds to me to be comparable to the logging functionality of the KX2 with the difference of 32 kB memory (character) instead of of the 2 kB of the KX2.
73, Klaus
re DH8WN ((New Elecraft Rig: KH1 (Part 1)):
Seeing the many likes, the idiom "poor mans" used at the beginning of the sentence was probably not understood in my sense. When reading the whole line it should become clear that poor is not to be understood in the usual sense and therefore not at all related to the price of the extremely sophisticated, small and lightweight KH1, at least that's what I thought.
No, I feel a bit "poor" because the QRP transceivers developed by Wayne@N6KR since the early 90s (e.g. Norcal Sierra, Norcal 40/40A, Wilderness SST, Elecraft K2/10, K2/100, K1, KX1, KX3, KX2) always covered my needs for portable radio very well and because now, for the first time, I simply have no need for a QRP transceiver developed by Wayne - and because I don't want to invent a new need just for the sake of the advanced miniaturization, hey.
It's good news that there's still people designing and supplying new parts that could attract and promote new operators. This keeps alive the hobby and CW!
The KH-1 seems specifically designed for /PM with a short deployment time and quick operation in mind.
Perhaps for some it's not what would want according to their preferences.
For me, according to my style of activation I like from it: multiband, lightweigt, low current draw, color (sun compatible), and probably good quality.
I just miss SSB on it. Perhaps there's room for a KH-2 in the future?

73 Ignacio
Ignacio, you express my thoughts exactly. If only one more activator can be heard on CW because of the KH1, then it was worth it.
73 Chris
I actually saw and handled this radio at Pacificon yesterday. Quite a tiny little
thing. I sent my callsign with the built-in paddle. It was not connected to an
antenna to listen to any signals, etc. but quite an interesting little thing. Some of
the SOTA activators have already bought these.
73,
John, K6YK
John, Todd KH2TJ here. Just missed you @ Pacificon. Was speaking with Ed, W1EJ, at the both having a 2nd look at the KH1 when he told me that he had just spoken with you. Have been wanting to meet up with you as I think we might have met several years ago (many) while I was just a young Novice (14 yrs old) and was part of the Stockton Amateur Radio Club, as well as also belonging to the Delta Amateur Radio Club. I recall doing a Field Day out at Micky Grove park…Anyways - back on topic - neat little rig. I spoke with the sales staff and asked how many had ordered at the show (not counting the online orders) - though she wouldn't say an exact amount, she did say it was well over the 100 units that Elecraft had orig planned on bringing to the show. I had heard that they actually weren't ready to bring out the little rig until later next week/month but that someone had found their FTP site and downloaded the manual and sales brochure!

and posted it up on the net…
Take care and thanks for all the QSO's/chases…
73, Todd KH2TJ
ex WD6AHV
Well @wG0AT seems to like it!
The link you provide has this to say:
Forbidden

You don't have permission to access /reviews/view-product on this server.
The whole of eham seems to have some issues at the moment. going to the home page brings up a "testing 123" message: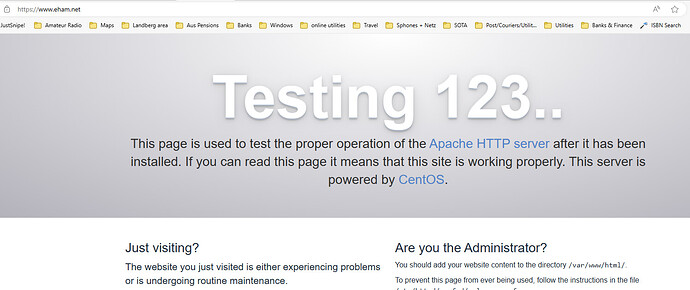 Hopefully, it's just down for maintenance at the moment.
73 Ed.
I recognized already weeks ago this issue that eham is not accessible. Due to what ever reason some IP-addresses are blocked.
It works for me using my mobile LTE connection (provider T-Mobile).
It does not work using WLAN from my home DSL line
73 de Klaus
eHam.net is accessible for me.
A Dick Tracey wrist radio it's not! Instead it's a small-compact lightweight 5-band CW xcvr that's guaranteed to make you smile! Toss it your jacket pocket and go for a stroll in the park, beach, apartment balcony, cruise ship/mm, family camping weekend, fishing canoe voyage, junior's soccer meet, or you name the event/activity! I've been chasing SOTA or POTA operators every opportunity I get! In fact I've been using the KH1 with it's 4' whip exclusively with surprising results! Granted QRP takes some getting used with listening more and talking less. And using some acquired "working DX" strategy to snagged some QSOs.
Every since I got the KH1 I can't stop thinking about where to take it next. Having the logging tray is nice but also having the LOG capture feature of "Continuous logging of CW TX text; 32 kb EEPROM holds hundreds of QSOs" if nothing else a great log validation tool for SOTA/POTA activator OP who's in the hot seat and can easily make typos while logging. (Noted this feature isn't in the firmware yet) Changing keyer speed GUI is brilliant one tap of the - (minus) button reduces your speed 2WPMs or one tap of the + (plus) button increases speed in 2WPM increments so on the fly you match your senders speed.
The minor CONs: Speaker is tiny thus audio in quiet room is sufficient audio but earbuds are recommended for outdoors especially at the beach with the pounding surf! I'm still getting used to the paddle and keying while holding KH1 vertically I'm sure it's just a matter of muscle memory time doing it. The paddle has adjustable spacing but not the tension. I prefer light touch but that might not be wise for hand holding the radio. So I'm adjusting to KH1's medium touch tension.
PS: A Dick Tracey wrist radio it's not! (but might be with remote option if/when offered?)
Will update this review every so often. BTW I'm considering purchasing another KH1 just to have a backup in case I misplace my SN-007! I LOVE this rig! ~ de wGØAT
Hi Klaus,
my main Home internet is LTE from Telekom, and I've tried accessing eHam using Edge and Firefox - same issue. I wonder if the site is now geo-blocked and only accessible from North America or whether it is only blocked in Germany/Europe.
It seems strange that it displays the Testing 123 screen however - that might suggest that someone else has managed to set up a eham.net website in addition to the correct one and some networks are seeing that.
Alternatively, eham may be using load balancing across different virtual servers and one or more of the parallel server is only just being built…
Then it's the look of the draw which server you get.
73 Ed.
P.S. I just tried the eham.net IP address and that attempt simply times out.
Hi Ed,
it is definitely provider specific. Being at work on the office internet, it is accessible. So it is no general geoblocking. A VPN could help as well.
73 de Klaus
Hi Klaus,
I can confirm that - on Vodafone, I can access the eham.net site but on Telekom (Home LTE or mobile phone), I cannot.
So it appears that Telekom is blocking the site - presumably as its systems see it as an "unsafe" site I guess.
73 Ed.
Hi Ed,
I have no problem to access eham.net.
But I doubt that Telecom (or another provider) is blocking the site, since the two shown error messages originate from the requested server.
Maybe it's a problem with their load balancer, e.g. your IP went to the "wrong" server (with sticky IP or session), but I'm just guessing.
73 Stephan
Hi Stephan,
yes, that is as I said a couple of posts ago - if they are load balancing using DNS, then this kind of thing can happen but Klaus said the problem has been there for a couple of weeks - surely by now someone would have realised that they have a problem.
I did try connecting to the IP given in the DNS for eHam.net but that of course will be the load balancer that is causing the problem .
As you have access, could you please send a message to the eHam site telling them , that several thousand (I presume) users can no longer access their site - I presume there is a "Contact us" link on the site?
73 Ed.
I called Elecraft re: Delivery times today.
The person I spoke to said the lead-time for my order placed Oct 20th is 3 to 4 weeks.
Good idea Ed, I just sent a message to the webmaster.
73 Stephan
Josh,
Do you know off hand how much remote control can be performed with the key/data jack? I asked one of the reps down at Pacificon and was told the rig could be remote controlled, as well as downloading your log in logging mode, and used for the KH1 utilities program. But never really did get a clear answer as to how much you could control the rig with the computer. Third party software needed etc etc…Still curious what all can be down with it ??
TIA
73, Todd KH2TJ