You all are so nice people!
I feel deeply honored for all your attentions.
You really add much value to my life now.
Thank you so much.
I chased 49 activations today and it was a great joy to QSO with you and receive all your warmth and kind good wishes on the air.
Regarding my activation, I can't say for sure which bands I'll work because it depends much on how I'll feel.
I may give a quick chance to 60m CW first for the few closest ones I expect, but that should be a very short time. Then, my guess is for 30m CW, which will probably be a long run. Then it could either be 20m CW (most likely) and SSB if I'm strong enough for that and finally, if I still feel OK to keep working on, it would be 40m CW or SSB.
I don't think I'll work on 10, 12, 15, 17, but who knows…
If it's cold or windy, these plans may change.
Hope to catch you or be catched by you all tomorrow.
As ever, I'll have my ears well awaked to hear any DX call.
VY 73,
Guru
WX looking good for tomorrow!
Approx CS-108 location marked with cross.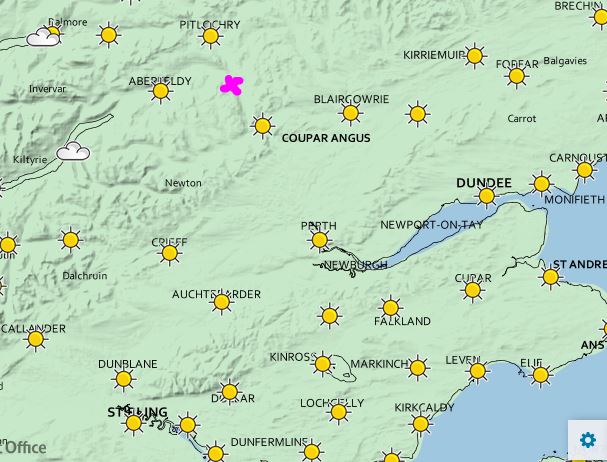 Enjoy the activation. Hope to work you later S2S.
73s
Ingo
Hallo Guru
I look forward to a birthday S2S with you
I am on DM/BW-018
73 Armin
It was great to QSO with you yesterday, whilst I was on Glyder Fawr GW/NW-003. I'll be listening out for you today. All the best Richard MW7RJO
Hello Guru @EA2IF
Have fun and success today with your activation


I can't be qrv today. Next time then again.
73 Marcel DM3FAM
Hi Guru,
Thanks for the QSO we had yesterday!
I just setup a compromised station at home and I hope to make contact with you today on SSB. Enjoy your activation and have fun!
73 Stephan
Dear Guru,
best wishes for your activation! Good weather, strength and many QSOs.
Unfortunately it's not possible for me to go out on an activation today as I have intended originally. But I'll be happy to chase you from home.
Thanks for the QSO yesterday on DM/BW-064!
Hope to cu later!
73, Roman
Hi Guru,
Until the las minute I've tried to go to the easiest SOTA we have in Mallorca, EA6/MA-032, to get a S2S with you today but it has not been possible.
Unfortunately, I don't have any radio installation at home so I won't be able to chase you either.

I hope you all will have a great birthday activation. I wish you much encouragement.
Big hug,
Xisco.
Hi Guru,
due to health reasons, I am not able to activate and try an S2S with you,which I would have loved.
I wish you a very nice birthday activation and all the best for whatever may come towards you.
73 Jens HB9EKO
Hey Guru,
I hope you had a great time outdoors and that you and your SOTA friends enjoyed the activation a lot!
Unfortunately, I couldn't hear you from home on 20m SSB and neither EA2BD on 40m SSB. My antenna is really just a compromise and I also have a lot of noise in the city. From home, I sometimes try digital modes, which are a bit boring, after all works as it should. It's so nice to have a low noise floor when out in nature.
I wish you all the best y hasta la proxima!
73 Stephan
Hello Guru,
I hope, it was pure fun!
After the first spot (20 m SSB) I couldn't hear your signal. Later in CW it was OK. So thanks a lot for the contact. And I'm sure, in the future we will have much more contacts.
73, Ludwig
Sorry no S2S when I was out. The sun was out but so was the wind. It was 1C at the summit with a 30-40kph wind so how can I phrase this… seriously Baltic! : That puts the windchill at -5 to -6.5C

Even with 2 fleeces and a Down jacket I had to end the activation after 1.5hrs on the summit as I couldn't think straight.
Good to get you in the log Guru, I hope you had a great day out!
Nothing heard on 30m, nor on 20m to start with - but I followed your advice to "listen listen listen". At 14:00 I heard your signal, but too weak to call with confidence. Then, at 14:40 your callsign came up just above the noise calling CQ. You came back to my single call, and contact made. Little dance from G4AZS


Maybe I can see now how much fun it is to chase in difficult conditions.
Thank you, and best wishes,
Adrian
Guru
Lo siento muchissimo! Hoy no he podido activar HB/ZH-015 ni contactarte!
Feliz cumpleanos!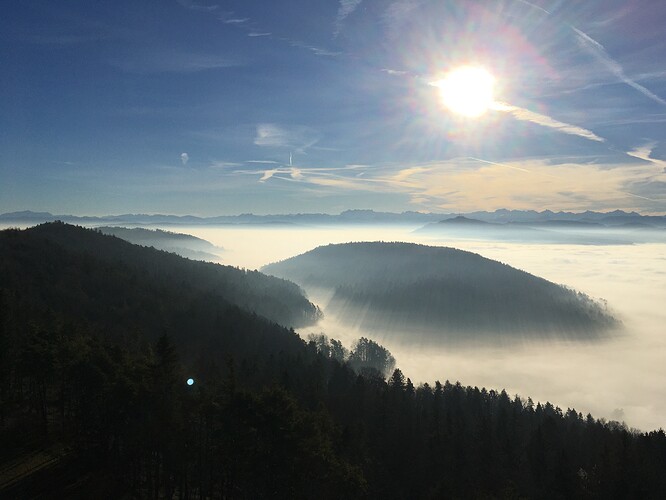 (desde el mirador de ZH-15)
…same here at DM/BW-018
On 60 m I have heard nothing from him.
When Guru's spot came at 12:56 for 30m I did qsy and heard him very weakly.
I stayed on the qrg and had Guru birthday


S2S at 13:14…
73 Armin
You kept us waiting Guru! It was cold, foggy and damp on G/SP-004 and I was running late, going QRV @ 1210z. But no sign of @EA2IF
After 45 mins of operating, many contacts in my log, including 4 S2S - but still no @EA2IF
I was on the verge of giving up when the spot appeared, first for 5MHz, then 10MHz. The S2S was made at 1258z and I could finish the activation feeling satisfied.
Happy birthday dr Guru!
Hi Guru,
Happy Birthday one more time

I spent on my summit in total 3,5 hours.
I cannot believe myself because it was very strong wind today.
Unfortunately missed you, later I checked that may be not for so long time, but I already was like piece of ice and my Bama Tech paddle said me the same starting continuously send dashes without any touch from my side


Anyway my activation of SP/BZ-012 is dedicated to you !
Summit photo: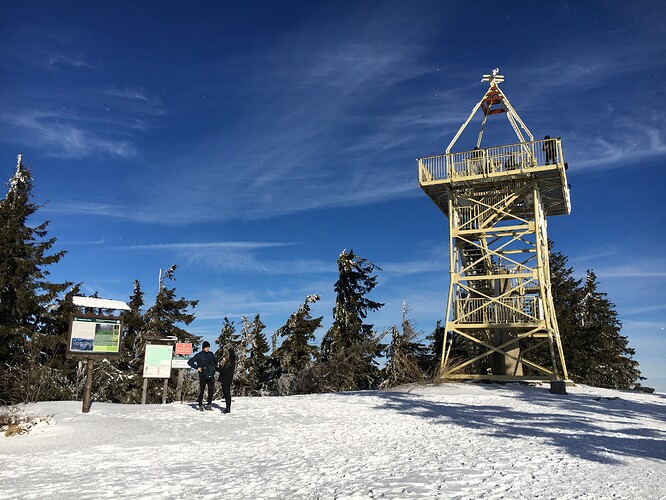 Station photo - I had to lower my mast at least for 2m to avoid its breaking by wind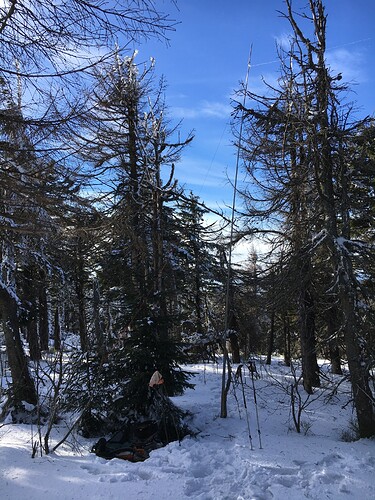 All the best and see you on 58th Birthday activation.
73, Jarek
Guru,
58th on the way

Tks for 57th QSO in the middle of a family lunch, but I'm rough and going to get a new bottle of wine, I was able to QSO you, and this bottle tasted like victory, for you, and me. Sorry I did a bit of QRM but I couldn't miss this !
(100w into a dipole)


73 Guru
Éric