On January 11th, I'll coil the 57th turn around my ferrite core, but my broken health has unfortunately taken a wrong track and my cancer is again growing and expanding inside me, having started to invade my duodenum and pancreas. This is giving me bad pains which I'm trying to avoid with different drugs and limitted success.
Cancer is a dreadful, smart, evil bug and the treatment I had been following since the end of July with great success is not working anymore, so it's been cancelled. I will start a chemo treatment on January 4th instead and I really hope this will be able to stop my current pains (

) although this can't cure my cancer with the rare BRAF mutation. This chemo will hopefully give me a few more weeks/months only. We'll see…
Let's be realistic, having cancer in the pancreas is usually very bad and the fatal outcome often arrives within few months, so I'm sorry to tell you that, although I very much hope not, this might well be my very last SOTA birthday celebration.
As many of you will remember, I recently adopted the formula of celebrating my birthday by activating the SOTA with reference number equal to my age. So I did my 55th on EA2/NV-055 and my 56th on EA2/NV-056, but it turns out that there's not an EA2/NV-057, so I've had to look around my region to find a suitable not too distant #057.
I looked to the East in the region of Huesca (EA2/HU) and found that EA2/HU-057 is a 2670m a.s.l. mountain, which is in the Pyrenees and fully covered in snow and ice at this time of the year, so it's a too difficult one for me at the moment.
I looked to the West in the region of Gipuzkoa and found that EA2/SS-057 is an easy 2 pointer, not far from my QTH involving a reasonable walk of nearly 5 Km and a vertical gain of slightly under 400m. I've found a GPS track at Wikiloc and I'm sure this will be my 57th birthday celebration. I've never activated this summit and I've never activated a summit in EA2/SS region, so I'll be very pleased with ticking these 2 boxes during my birthday celebration.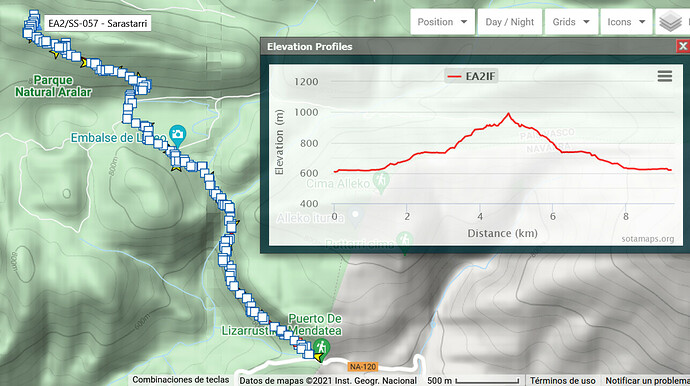 The exact day of the activation will be decided depending on how I'm feeling in those days and of course, the WX. I'll keep you all informed.
I really hope you'll provide huge, fun pileups and a I'll get back home with a big, big activator log full of QSOs, S2S and DX too.
73,
Guru