As you have already noticed, there is a quite active group that has been founded under SOTA BW. It was triggered by the initiative of Marcel @DM3FAM and Roman @DL3TU, who are also the Region Managers of Baden-Württemberg.
The fact that there is a 20th anniversary of SOTA made it necessary to celebrate it in some way. I phoned Marcel and asked him what he thought of the idea of a birthday callsign. He was enthusiastic and gave me the go-ahead to make an effort.
I contacted the authorities and in the fourth attempt I succeeded and received the permission today!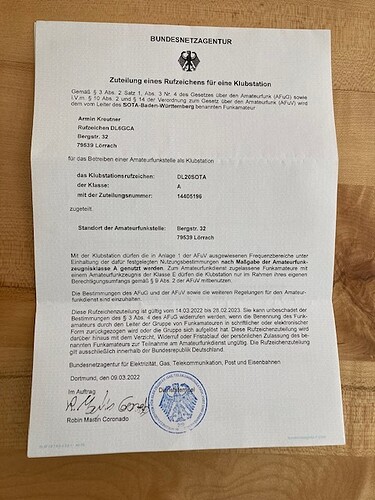 From 14.3.2022 until 28.2.2023 the callsign DL20SOTA/P will be heard from various summits.
It is registered as a temporary callsign of a club station and will be activated by the members of SOTA BW after consultation.
73 Armin