In 2018 I am activated Motta da Set a second time. The way to the summit is not difficult. Starting near the village Bivio you will reach Pass da Sett after 4 km on a good way. After 1 km to the east in direction to Pass Lunghin the Summit is on the right of the path. The ascent until here is only 500 m. The last 700 m distance and 200 m ascent to the summit is on a steep grassland. The way seems to be easy. I saw about ten cows 100 or 150 m away from the highest point.
Like in 2017 I was starting to setup the station on the highest point, first unpacking the telescopic pole and material to fix the rod on the ground. As the pole was mounted, not drown out, I was wondering about the volume of the cow bells. Looking over my shoulder I saw the cows coming direct to my place. The first was only 15 m or so away. After the next 15 or 20 seconds my position would be between the cows and the edge, where the terrain abrupt falls down. What would be if the cows want to occupy the whole place. They are stronger then I. So I snatched my rucksack and some other things, leave the pole alone and walk on the cow-free grassland 20 meters away. Right, the cows occupied the whole place, investigate the rod, licking the rod, bringing the rod down and staying there for a while.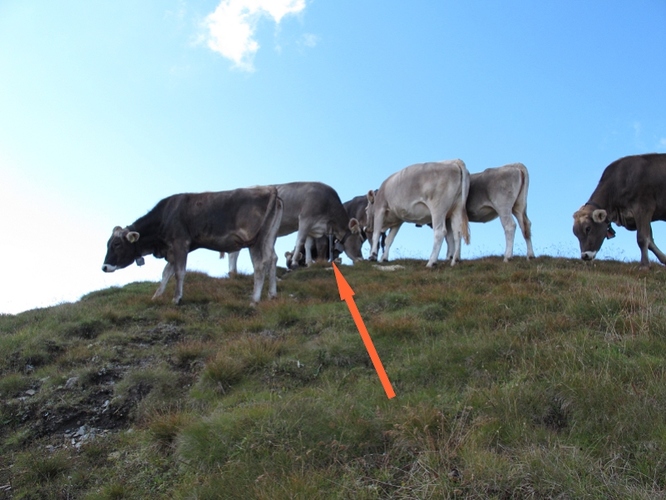 The pole between the cows
It took about 20 minutes until the last guest leave the summit. The summit was no longer a place of interest for the animals.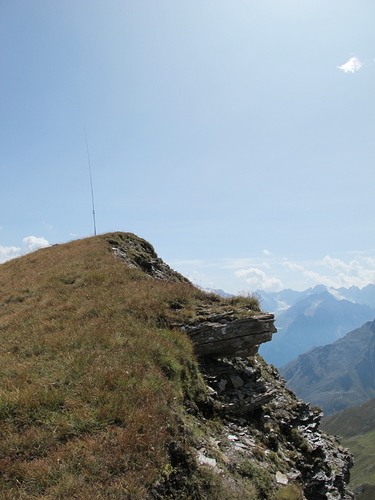 The edge near the highest point
Fortunately the pol was not broken (only licked

). With a delay the activation starts and was successful with 8 contacts. But every time I had one eye on the cows.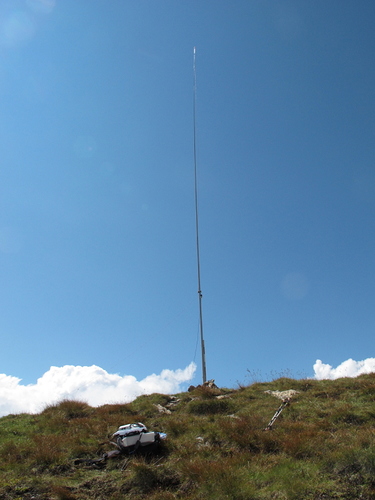 Cow-free summit with the station
I like summits without cows much more than with these curious animals.