Day 1 (Evening only) – Wednesday 12 May 2021 [894m ascent, 10.6km]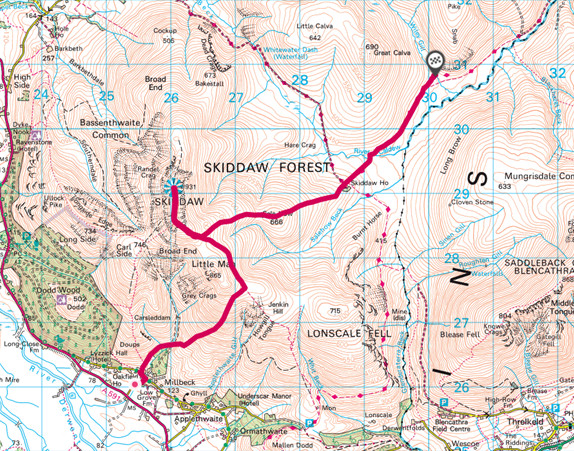 ©Crown copyright 2021 Ordnance Survey. Media 018/21
I had been planning for sometime a route that took in Skiddaw (G/LD-004), Knott (G/LD-023) and Blencathra (G/LD-008) with an overnight stop part way round. Since I had a couple of days of annual leave, I decided to also add the cluster of hills around Grisedale tarn with the possibility of joining on to the High Street range if time and weather permitted.
With the Thursday and Friday booked as annual leave, I planned to set off on the Wednesday evening. I was eyeing the forecast all week, and relieved to see that the winds would be low for the end of the week. The forecast on the mwis.org site was for rain showers and occasional thunderstorms, but since this forecast is often overly pessimistic, I thought my chances of competing the full round, and onto the High Street range were good.
The XYL dropped me off at Milbeck village (NY255 261) at about 1730 BST on Wednesday 12/5/2021. The weather had been mixed all day, but the evening looked quite promising. I had a potential camp site in mind, on the other side of Skiddaw, and so was eager to get going in order to set myself up for a long day on Thursday.
The ascent of Skiddaw started on an eroded path up towards Carl Side. Wooden barriers had been placed across the path, suggesting that there was some severe erosion or other impediment higher up. I decided to detour across the front of Little Man and climb up the slope on the west side of Applethwaite Gill. There is no path here, and it is a rough slog through steep heather. With three generous nights' food packed in my bag, and the radio gear, the pack was not particularly light. Half way up I topped to eat a couple of cheese rolls I had packed for my tea.
I eventually made the crest of the hill, and joined the main path where it crosses a fence on Jenkin Hill. The path here is a broad gravel track that contours around the east side of Little Man before ascending to the Skiddaw ridge.
It was turning out to be a fine evening; it was now around 1900hrs and the sky was clearing as the sun lowered towards the Solway firth and west Cumbria. It was also getting quite chilly on the top, and I started to consider whether I had brought the right sleeping bag; to cut down on weight I had my lightest bag - a PHD Minim – rated to around 5 degrees.
I was soon at the summit and preparing the HT for the activation. I had two HTs with me – a Yaesu VX-6 and a Yaesu VX-8G (for APRS). Also packed were a slim Jim, Flowerpot antenna, fibreglass pole and 4200 mAh LiPo. Two telescopic RH770 antennas (one as a spare) and a rubber-duck antenna completed the radio kit list.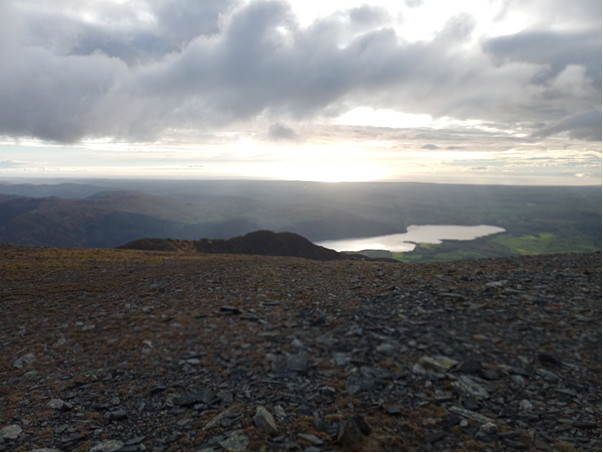 View across Bassenthwaite from Skiddaw
After donning a warm hat and shirt I called out CQ at 1920 BST. I was operating the VX-8G with RH770. First to respond was GM4WHA, followed by G0TDM, G1OHH and then GW4ZPL as the fourth contact. A few more contacts followed before the pile-up subsided.
Next I tuned into 145.475 where a regular west Cumbria net takes place on Wednesdays, and I was pleased to call in and catch-up with the local SOTA chasers.
With hands starting to become numb from the cold, I packed away at about 1945 BST. After a few final photographs of the scenery (the sun setting over the Solway was spectacular), I started my decent. The first 700m was a retrace of my steps until I deviated into a track towards Sale How. This is gentle grassy slope, and I was now jogging, keen to make best use of the remaining daylight.
At the base of the slope is Skiddaw House (NY287 291) – an independent youth hostel at an elevation of 470m. The hostel was originally built in 1829 as a keepers lodge and eventually occupied by a solo farmer in the 1960s before becoming a hostel. From the photos it looks quite posh for a hostel. As I passed by the hostel looked deserted – although it is currently available for group bookings.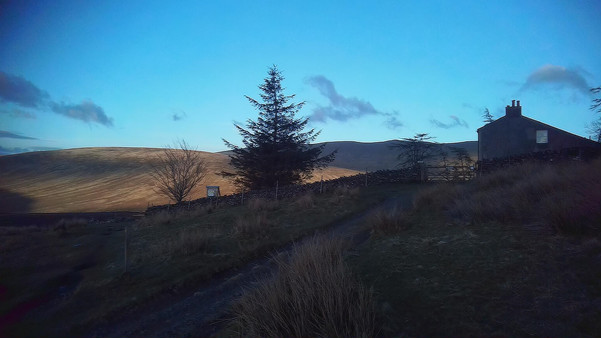 Skiddaw House – highest hostel in England
My route now followed the Cumbria Way for a short distance along the north bank of the River Caldew. With the time now around 2030 BST, I was starting to scout out for potential campsites. I had not quite reached my intended spot, but at this time of the evening a perfect square of sheep-nibbled green grass would be hard to resist (as pitch, not as supper).
I arrived at my planned camp spot – at about 2045 BST – the point where Wiley Gill flows into the River Caldew (NY301 307). As I was looking around for the best tent pitch, a V22 Osprey (vertical take-off transport plane) flew low over me as it followed the Caldew valley.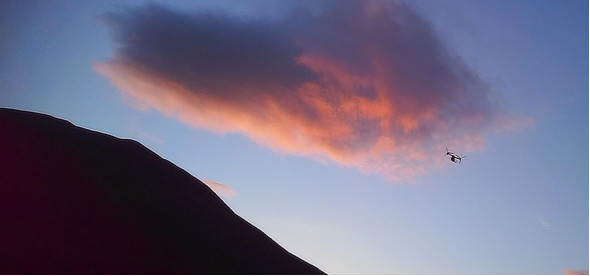 The north lakes are famous for the presence of Ospreys
The tent was soon pitched around 100m downstream of the footbridge on the west bank of the gill. I was using a 3F UL Gear Lanshan 1, this has become a favourite summer tent of mine. I have tried tarp camping in spring to autumn (using an MLD Trailstar clone) but Lanshan 1 has a good bug net which I find adds greatly to comfort.
It was around 2130 BST when I was inside my tent, and after listening to some broadcast radio on the VX6 for half an hour, I went to sleep.


Panorama from Skiddaw
---
Day 2 Thursday 13 May 2021 [1923m ascent, 30.1km]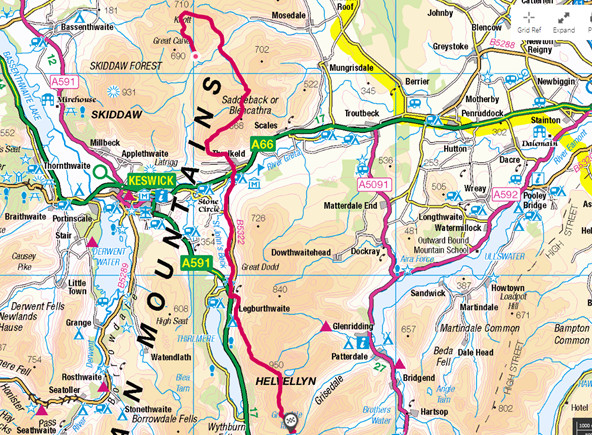 ©Crown copyright 2021 Ordnance Survey. Media 018/21
There was a deep frost early in the morning – at about 0300 BST I woke to find an almost snow-thick frost forming. A combination of sleeping bag and down shirt was needed to stay warm. This time I remembered to keep my water filter in the sleeping bag with me, rather than having it freeze-up.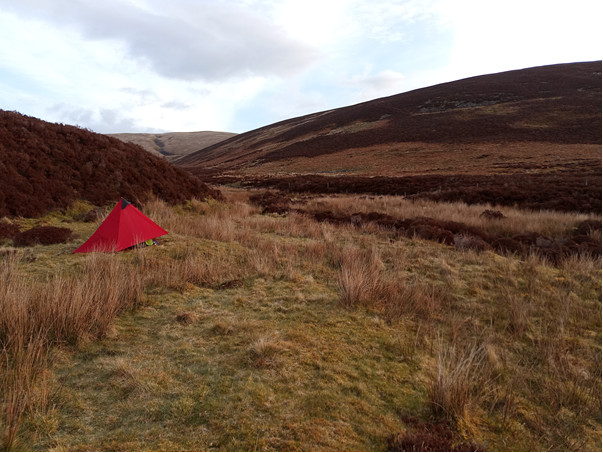 A good night's sleep was had on soft ground with a good water supply. The Knott is visible between the interlocking spurs of hillside.
A bright morning greeted me, and I was packing away the tent by about 0700 BST. I headed up a rough track on the east side of Wiley Gill, heading NNW. On reaching Little Wiley Gill, I began climbing the slope towards the summit of Knott, staying on the west side of Red Gill.
The ascent was much easier than I anticipated The track along Wiley Gill was easy going, and the climb alongside Red Gill was short grass – not too tussocky.
I reached the top at about 0800 BST and began setting up. I had brought the fibreglass pole and flowerpot antennae specifically for this hill. Knott is well shielded by other high ground, so I wanted to be sure of qualifying the activation.
The summit is comprised of lovely springy turf, and the guy-line pegs went in easily. The pole was soon lofted and I was calling CQ. G4WHA/M was first to respond again, followed by G0TDM and G6LKB. A short paused followed before the fourth contact G7WDN/M called in (and I was very thankful to him for qualifying the summit.). I need not have worried though, a flurry of calls followed including MM0GZZ near Eyemouth (north of Berwick-upon –tweed).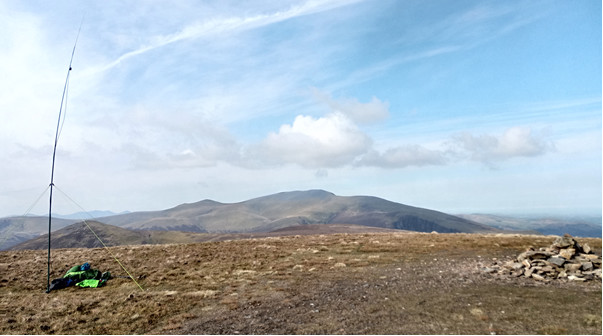 Activating The Knott on Thursday morning
Partway through the pileup the VX-8G battery died – not I must have been talking too long on Skiddaw the previous evening. I do like to have a bit of conversation with chasers when I can – although for this trip preserving battery life would clearly be important.
It was around 0920hrs when I finally closed down, and dismantled the pole. Blencathra was looming large on the horizon, and as I sat on top of the Knott, I tried to pick out favourable routes over Mungrisdale common.
I headed off the Knott by following the county parish boundary to Coomb Height and then descending SE towards the Cumbria Way. A clear track is marked on OS maps here, but is of little benefit – I was glad I had ascended Knott by the route I did.
Back in the Caldew Valley, the river was easily crossed at NY313314– it is broad and shallow here. A quad-bike track was visible on the east side of Blackhazel Beck and so I elected to follow this in order to gain some height. At around the 500m contour the track begins veering eastwards, whilst Blencathra is in a more southerly direction. I reluctantly veered off the track onto thick tussocks of grass to make the climb – staying on the north side of Black Hazel Beck. At around NY326 293 I crossed the back and joined a clear path that took me to a major crossing point of routes at a col that really ought to have a name (but doesn't). From his vantage point I could see some folk making their way up Sharp Edge. The top was now in sight and I took a 5 minute rest to admire the view.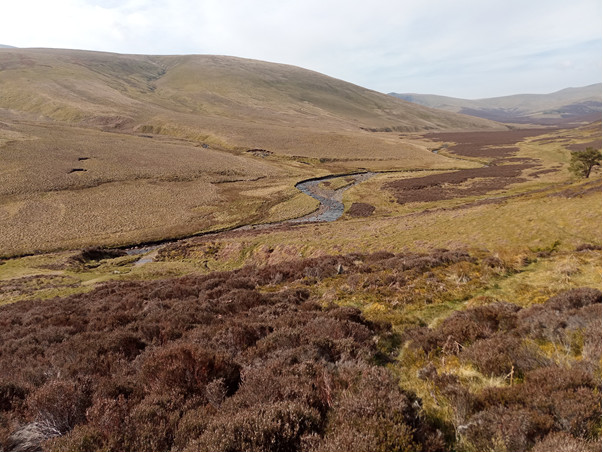 Descending to the Caldew valley
With hindsight I had taken a tough route up – I should have headed further along the Caldew to ascend over Mungrisdale Common (following the route of the Bob Graham Round)
The last part of the climb follows a scree path up Blue Screes – but the footing is quite firm as it is very well trodden. On reaching Atkinson Pike, there was a short walk across to Hallsfell Top – another turfed summit, just right for a picnic.
I setup the pole and flowerpot antenna, and also lit the stove to cook some baked beans for lunch. I always enjoy the looks of bemusement from other walkers as a fishing rod is extended on the summit of a mountain.
I called CQ at 1216 BST, first again was G4WHA followed again by G0TDM, G1OAE and G1OHH. I ended with 11 contacts – I had expected more given the antenna and location, but most chasers must have been out enjoying the weather.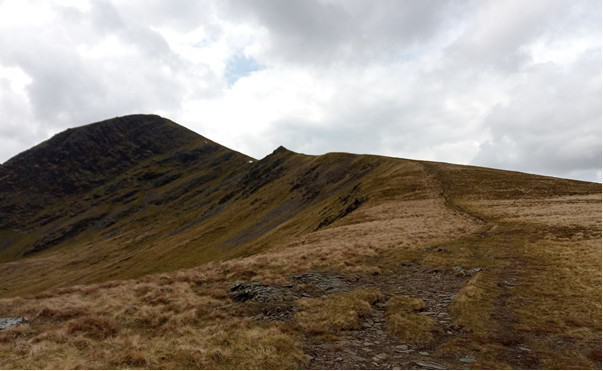 Blencathra summit ridge – on the way up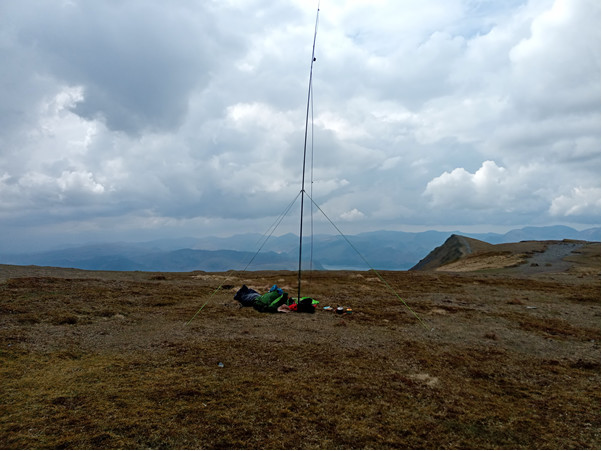 Activating Blencathra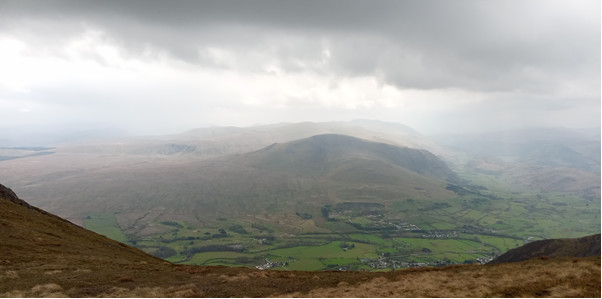 Weather closing-in – looking across to the Helvellyn range, and picking out the next part of my route - from Blencathra.
On finishing the baked beans, I could see the weather was starting to turn – rain was falling in the south lakes, and the summit of Helvellyn was starting to look grim. The sky was grey and threatening. Given that thunder/lightning had been forecast I had an extra haste in my step as I headed down to Threlkeld via the Blease Fell route.
I reached Threlkeld at about 1345 BST and lingered in the outdoor café drinking hot chocolate (with cream + marshmallows) while choosing the next part of the route. Clough Head is the northern most outpost of the Helvellyn range, but with the time now ticking past 1430 BST I decided to road walk along St John's in the vale to Legburthwaite. Purists may scoff at the idea of road walking, but I wanted to make Grisedale Tarn that evening, and the weather was closing in.
I stopped at Legburthwaite at about 1600hrs, and sat for a rest on a convenient bench. The road walk was fine – it is a quiet road with lots of great scenery and the change of walking pace was good. The road is overlooked by the north end of the Helvellyn range on one side, and SOTA summit High Rigg on the other. I know headed off rod again, joining a path at NY 319 189, the path heads south, paralleling the rod for a kilometre crossing several waterfalls that would be appealing on a hot day.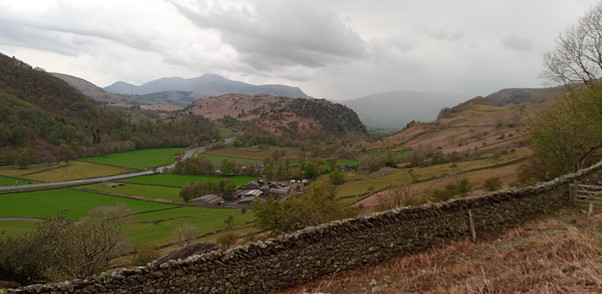 Looking back towards Skiddaw from the start of the Helvellyn Climb. High Rig (G/LD/044) is the hill in the middle distance.
At NY321178 I began heading up again – steeply at first (heading east) before settling into a steady climb in a SE direction towards Helvellyn Gill and Browncove Crags.
I was now quite tired, and rain was starting to fall increasingly heavy. A patch of grass with a great view of Thirlmere was a tempting spot to pitch the tent for the night. I took a ten minute rest to contemplate options.
I was cautious of getting over-tired, - the top of Helvellyn is not a good place to be in poor weather when exhausted and prone to disorientation. I munched on some extra dark chocolate, followed by Kendal mint cake. The mixture of sugar and caffeine steeled my resolve, and started off again.
With my energy replenished, I headed up towards Browncove crags. The patch kicks up steeply here, heading over scree and rocky steps. I was amazed to meet a man descending the greasy-wet rock with a 5 year-old sat on his shoulders.
Atop lower man, I had a close-up view of the remnants of the Helvellyn Cornice. I had been able to see this from the road-walk, and indeed it was a good landmark for the rest of the walk, being visible from the High Street range.
The summit shelter was reached at 1835 BST – but it felt much later. The mist had closed-in and visibility was down to about 20m, it was raining steadily and the light was poor – it felt like dusk.
Stood in the shelter I called CQ on the handheld. Using the VX6 and a RH770 the first contact was G0TDM followed by G7CDA, G1OHH and GW4ZPL. I moved through each contact quickly, not wanting to stay too long. After 8 QSO's the calls ended – and I didn't wait any longer.
With the radio packed away, and compass set (and double checked – I didn't want toy end up in Red Tarn) I headed south. As I skirted around Nethermost Pike the mist cleared a little, and I could see some of the path ahead. Despite the weather, and poor conditions I was thoroughly enjoying the walk along the ridge now.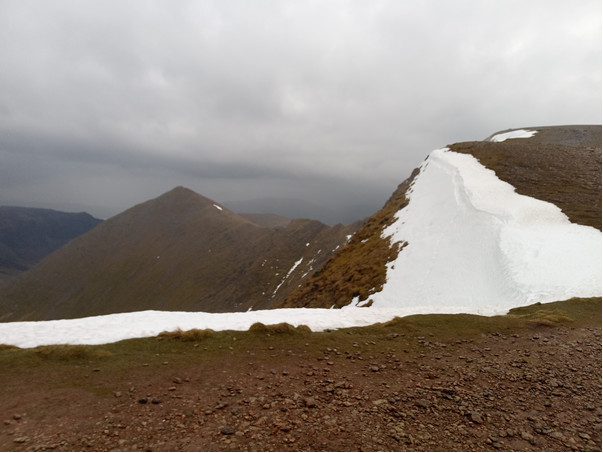 Remnants of the infamous Helvellyn cornice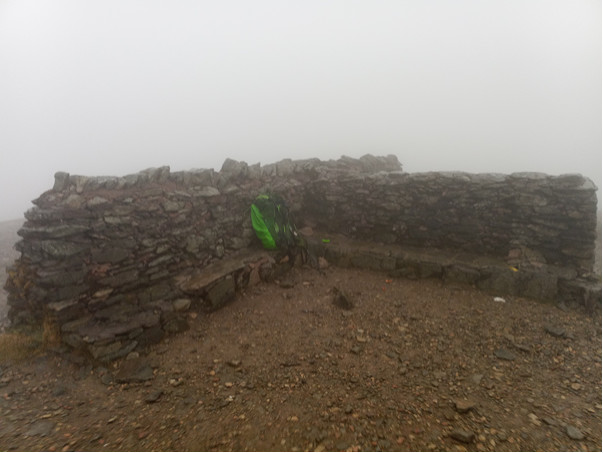 Activating Helvellyn – misty, wet, cold yet magnificent summit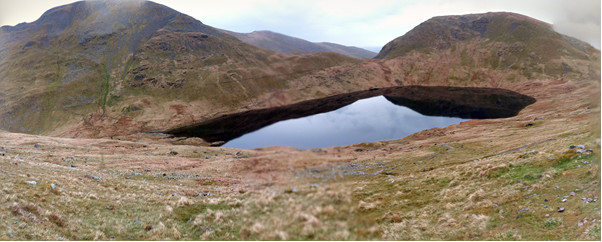 Mist clearing for a great view of Grisedale Tarn – pick your camping spot
The odd glimpse of Thirlmere, and Seat Sandal was given-up by the mist and I was now thinking ahead to tomorrow's route. The post at NY345128 is a great landmark, and indicated the start of decent to Grisedale Tarn. The mist had now cleared giving a clear view of the tarn
On reaching the tarn, around 1930 BST, I took up residence at my usual spot half way along the north bank – this appears to be a less used camping spot. The tent was pitched quickly, and water boiled in order to rehydrate my meal. I had the last of a bulk order (around 30 pockets) of pasta-a-la-funghi. The mist closed-ijn again as I was cooking, and that was that last I saw of the tarn for the rest of the walk!
---
Day 3 Friday 14 May 2021 [ 1406m ascent, 17.5km]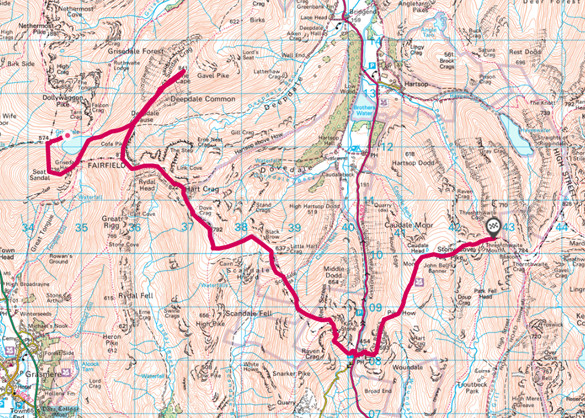 ©Crown copyright 2021 Ordnance Survey. Media 018/21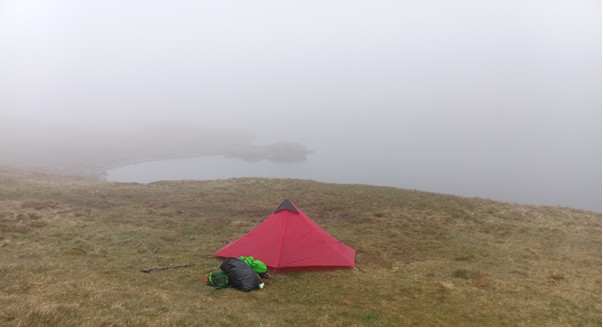 Misty morning at Grisedale Tarn – starting to pack-up, ready for a good day in the hills
I woke the following morning to find visibility of around 20m-40m. I had a bit of lie-in, so was not on the move until after 0800BST. The route up to Seat Sandal was much easier than in December 2020 – that time I had full winter equipment and 4 days of food to carry.
I was atop Seat Sandal (G/LD-022) by 0855BST, and calling CQ on the VX6 and rh770. First call was with G0TDM, followed by G7CDA, G1OHH and M0DXT. Once complete I headed straight down to Hause Gap, and along the east side of Grisedale tarn to begin the ascent of St Sunday Crag (G/LD-010) via Deepdale Hause.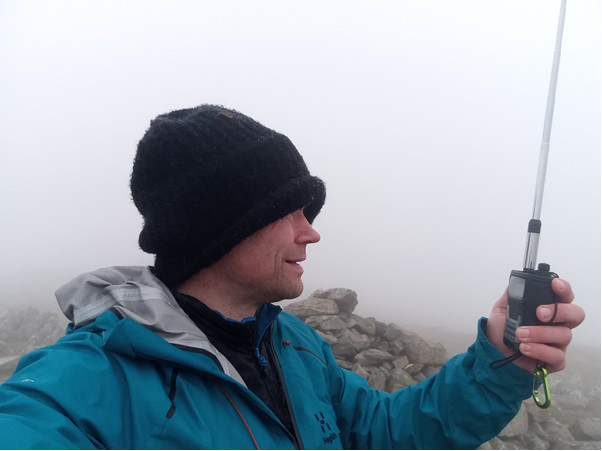 CQ SOTA – activating Seat Sandal
A lovely winding narrow track climbs up to Deepdale Hause. The mist remained heavy and the ridge walk to the summit was one of constant false hope as multiple crags and cairns failed to materialise into he summit proper
Eventually the top was reached at 1100B ST, and I set about getting ready to call. On turning-on the radio I immediately heard G4VFL/P calling from GM/SS-072; he was pleased to make the S2S as St Sunday Crag was on his list of summits needed to complete LD. G4VFL was setting up for microwave operation.
On calling CQ myself I had a good pileup with G0TDM, GM4WHA and G1OHH first in the list. I made two further S2S – G0HIK/P & M0KPW/P both on G/LD032 and GM4COX/P on GM/SS/131> also calling in was M7AYH/M from junction 36 on the M6 and G4OBK operating 200W from a 7 el Yagi.
I loitered ion the summit a little longer and eventually made a fourth S2S - 2E0IPS on G/NP/005 running an Icom ICP50.
Very pleased with the four S2S in the space of 30 mins on VHF I packed away, and began retracing my steps along the ridge towards Fairfield (G/LD-007). The route up to Fairfield crosses Cofa Pike and the mist was thicker than ever as I climbed over the rocky outcrop of the pike. The Pike adds great interest to the walk across from St Sunday crag.
The last 40m of height are gained via a scree climb that reminds me why this route is much preferable to the extended climb over scree if Fairfield is attempted direct from Grisedale Tarn.
The summit of Fairfield is flat with sheer cliffs in the NE face, and so care is required in mist. I made my way to the summit shelter and called CQ – again operating the Vx6 and RH770. G0TDM responded, followed by G1OHH, G7CCDA and SOTA station GW4TQE/P on GW/NW-061. I was also pleased to pick up M0KPW/P on G/LD-032 (WhitFell). MONOM called to say he was 20 mins from the summit of Scafell Pike (G/LD-001), so I waiting around in the shelter to make the S2S with him at just after 1300 BST, since he was due to operate HF over the next couple of hours, I was hoping to speak again when I made the next summit.
With the mist still thick, I set the compass in a SE direction to keep well away from Flinty Grave, and gain the path for Hart Crag. The path takes a turn atop Hart Crag, and passes through a stone wall heading SSE to Dove Crag above the famous Priest's Hole cave. Although misty, it was now quite warm, and I was starting to peel off the layers of clothing whilst planning the menu for a picnic at Scandale tarn. As I lost height, the mist cleared, giving great views into Patterdale, Ambleside and across to Red Screes (G/LD-017)
The decent to Bakestones Moss was rapid, with the promise of food and water ahead. I stopped at a location knew well a previous tent pitch at Scandale tarn and began to cook lunch. Spicy Chicken Noodles followed by flapjack and chocolate made for a hearty feast. The mist cha now properly cleared so I was treated to some great scenery whilst taking my meal.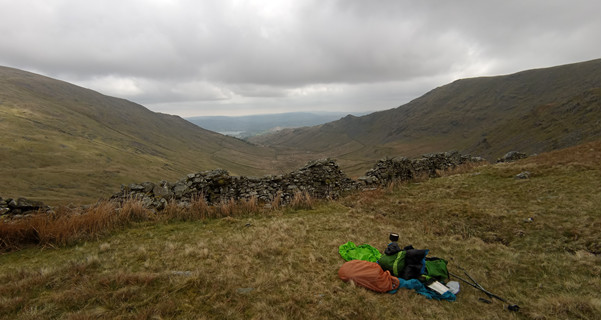 Lunch at Scandale Tarn – looking down the valley to Ambleside
The climb up to Red Screes was quite rapid after having such a good lunch. As I approached the trig point, I turned on the radio and head G5ZX on G/LD-018 (Stony Cove Pike). As this was my next target, I was p[leased to hear that he would be around for a couple of hours – so there was a chance we might meet. G5ZX was working M0NOM – still on Scafell Pike, so after completing their QSO we moved frequency to get a S2S to Scafell Pike (G/LD-001).
At 1556BST I called CQ myself from Red Screes (G/LD-017) with G7CDA, G1OHH and G0TDM returning immediately/. I made fiver further quick contacts before readying for the climb down to Kirkstone.
The climb down to Kirtstone pass was the scene of life changing fall by a mountain rescue volunteer earlier in the year – in dark and icy conditions. Needless to say, I was cautious – I have never liked this particular route in decent when carrying a multi-day pack.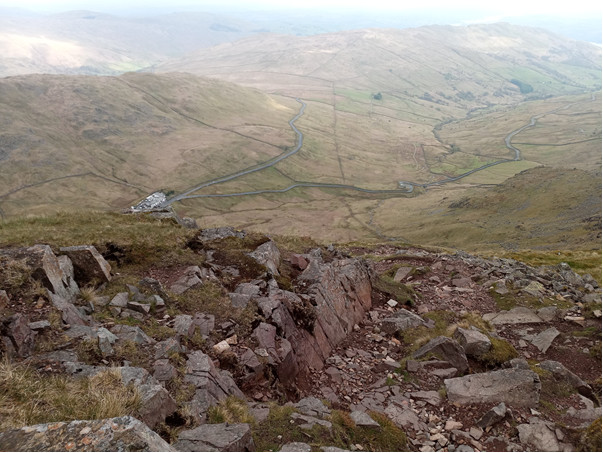 Descending Red Screes to Kirkstone Pass
Pleased to reach the bottom, I spied the car presumably owned by G5ZX (lots of antennas). Straight across the road without stopping (wishing I could into the inn for some lemonade) a headed up the step section of steps to St Ravens Edge.
The route up to Stony Cove pike (G/LD-018) is easy – sections of pavement interspaced with grass and following a stone wall. With 100m to go I could see the mast belonging to G5ZX. I setup my mast alongside, while chatting about radio equipment and operating techniques.
I called CQ at 1810 and first to call-in was 2E0OTG followed by G7CDA, G0TDM and G7WAW; a S2S contact was then made with 2W1PJE on GW/NW-043. Special event station GB2HLS called in and I had a weak contact (received report 22) from 2E0XUP.
After a long day's walk, and with planned camping spot nearby, I was pleased to sit atop the Pike admiring the view and taking my time. By 1900 BST it was starting to feel chill, and I packed away the equipment.
The pleasant walk down to Threshthwaite Mouth (col between Stony Cove Pike and Thornthwaite Crag) allowed my to trace out tomorrows route onto High Street and beyond.
Once on the col I was pleased to locate a small stream was running – this col has been the site of several overnights for me, sometimes dropping into Threshwaite Cove if the wind is strong. Tonight, with slack winds and available water I could amp on the col.
For dinner I had Chicken Curry noodles, followed by chocolate and a Sherbet Fountain. I do find that a good diet is essential when on a challenging hill walk.


G5ZX tending to his radio setup atop Stoney Cove Pike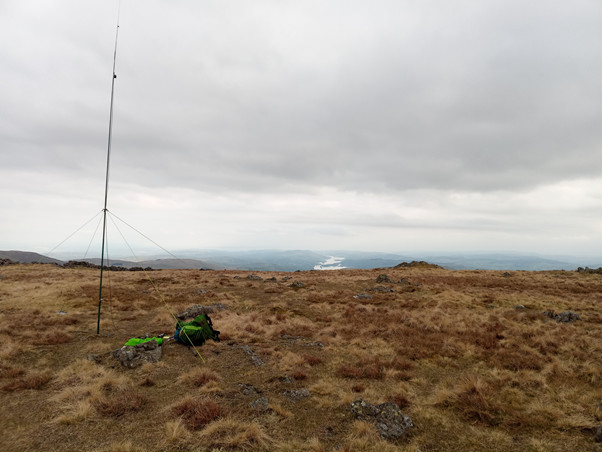 Activating Stoney Cove Pike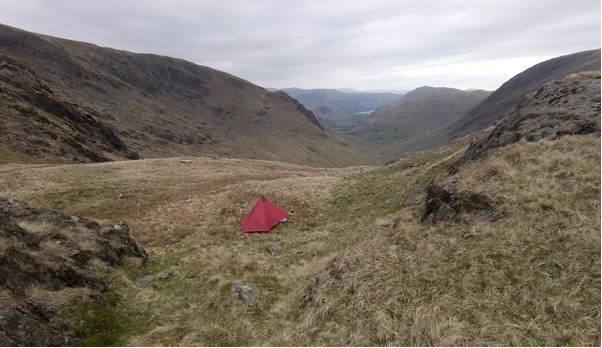 Camping on a col between Thornthwaite Crag and Stoney Cove Pike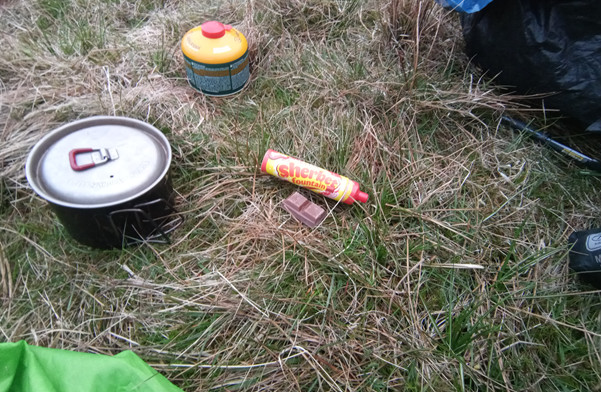 Yummy pudding
---
Day 4 Saturday 15 May 2021 [731m ascent 13.95km]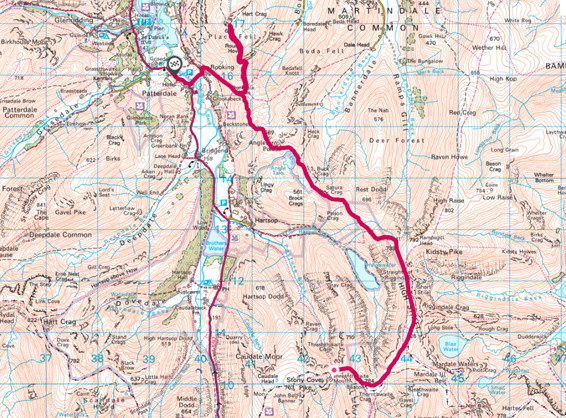 ©Crown copyright 2021 Ordnance Survey. Media 018/21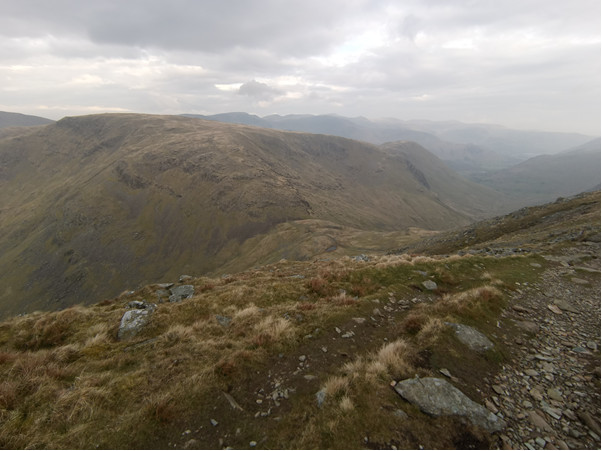 Looking back down towards the previous night's campsite, Stoney Cove Pike rising behind.
AI had a great sleep, and woke to find the tent dry – a pleasant change from the condensation of the previous two nights (an unfortunate downside to most single man tents). I set off at 0645 BST for the scree climb to Thornwaite Beacon. The forecast was for rain and thunder, so I was not expecting much. Nevertheless, conditions were great – fantastic views and a modest wind.
The march along high street is thoroughly enjoyable in these conditions, and my mind always turns to what this must have been like for a Roman soldier.
At the summit of High Street (G/LD-011) I setup my pole and called CQ at 0745BST – I was not sure how many contacts I would make at this time on a Saturday morning, so pleased I had the pole and flowerpot antenna in order to give some extra reach. G7CDA was firs to return my call followed rapidly by M7AT, GW4ZPL and then 2E0XUP as the fourth contact. Four further contacts followed, including good chat with G0CPJ regarding his plans for HF activations in Scotland this summer.
I spent a good 40 minutes on the summit – time really flies during an activation. As the contacts subsided I looked around to realise that the sky was darkening. I enjoy this type of changeable weather – much more interesting than constant sunshine, and less problematic in terms of sunburn and heat management.
After exploring around the summit for ten minutes I headed off towards the final summit of the outing –Place Fell (G/LD-027). The path off high street must be the clearest and broadest in Lakeland. I paused at the Straits of Riggingdale to look over Head-Of-Riggindale towards Kidsty Pike. Each time I pass here I look at the slope down Riggindale Beck towards Sale Pot to see if a walkers route exists – I've never heard of anyone (intentionally) taking this route, but it looks achievable perhaps by glissading down.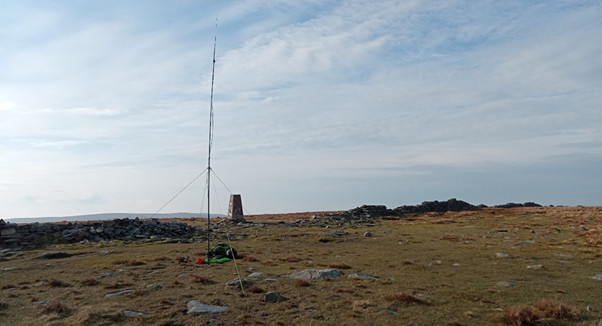 Activating High Street

Easy walking on the descent from High Street
Passing on the east side of The Knott, this is a hill I have never made the effort of the 5 minute detour to the top – always saying maybe next time – today was the same.
With the end of the round in sight I headed rapidly past Angle Tarn to Boredale Hause and started the climb up to Place Fell. Knowing that I wanted to catach a bus home by midday, I was making a good pace up the hill and took the avoiding route around the west of Round How crag. Place fell summit consists of a small crag with a trig point on top, overlooking Ullswater. It was 1041 BST – later than I had hoped to reach here by.
On powering up the radio I heard G4YTD on Blencathra (G/LD-009), I had previously me him whilst on top of Grisedale Pike a few weeks ago, having camped on top of Grasmoor.
A series of contacts followed with G0TDM, GM4WHA and G1OHH qualifying the summit. Several S2S concluded the activation – M0TRI was on Wainwright LDW-019 and G5ZX (whom I met the previous evening on Stony Cove Pike) was on G/LD-047.
With all contacts made, I turned off the radio and began packing away at 1105 BST and headed back to Boredale Hause (filling my water bottle at a stream on the way, ready for the bus journey home). I was jogging down to Patterdale, since I thought the bus was due at 1140BST. I made it to the stop in time to find it was actually timed for 1220BST, so I had 40 minutes to wait, hoping the rain would hold off.
It was a long bus journey home – just over 4 hours in total, but it was an opportunity to reflect on the route I had taken. I had amassed around 100 contacts across 11 activations totalling 80 activation points.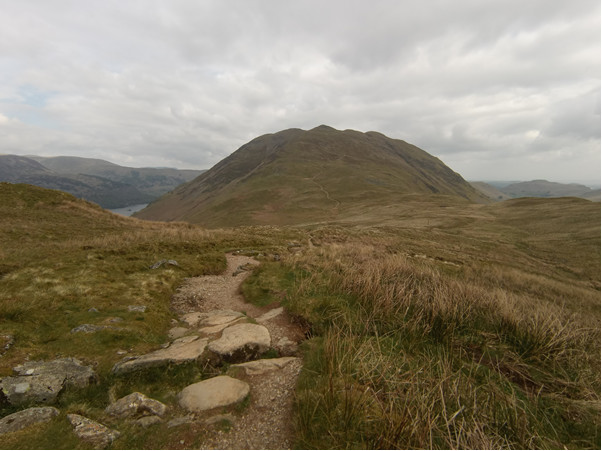 The final climb of the round – Place Fell above Patterdale