DAY 1 - THURSDAY 28 APRIL 2022
With spring properly underway I decided to undertake a three night hike across some of the higher summits, with the main objective being to activate Tarn Crag (G/LD-026) - to complete my activation of all Lakeland summits worth 4 points or greater.
Starting out on Thursday 28 April, with 4.5 days worth of food packed, I took the bus to Keswick. Having started very early, I managed to reach Keswick for about 0930hrs, the bus dropped me at Millbeck Village at the foot of Skiddaw (G/LD-004). I made my way onto the fell side, and traversed eastwards across teh front of Little Man, crossing How Gill where I paused to fill up with water. I meting the main ascent track at an elevation of about 500m at NY280263). The path from here to the top of Skiddaw is very easy, and I was soon at the summit.
The weather was dry but with complete cloud cover - although the cloud base was at about 2000m, affording good views across Derwent water and Bassenthwaite. This was to be the first of eleven summits on my route, and I eagerly attached the Rh770 antenna to my handlheld before calling CQ.
First to respond was 2E0LDF, who along with G0TDM, G4WHA and 2E0MIX was to chase me on each of the next few summits. 2E0LDF had noted my alerts for the next few days and so we had a good chat about the route ahead.
After a ew more call GWE8NZN/P called from GW/NW-017, I was pleased to be able to claim the S2S for Skiddaw. At about midday the calls dried up and I began heading down.
Last time I did a similar route I activated Skiddaw in the evening. My current plans were similar in terms of summits to activate, but I planned to vary the route. Also, by starting at a different time of day, it gave me chance to vary the camping locations. On my previous

Descending Skiddaw towards Great Calva
This time I was headed across Great Calva to The Knott (G/D-023). As I descended Skiddaw a fell runner went past (he was doing leg 1 of the Bob Graham Round.
Great Calva was a pleasant hill, and less of a climb than it looked. Teh route across to Knott was pleasant and grassy. the overcast sky had now cleared and it was nice and sunny. I paused for a spot of lunch admiring the view.
I gained the summit of Knott at about 1430 BST, where I erected a 5m telescopic pole and flowerpot antenna on the grassy summit. I sat on my groundsheet and called CQ, spending the next half an hour taking calls. First to call was G0TDM, then G4WHA/A, 2E0MIX and 2E0LDF.
As I tidied up my things at the end of the activation I was amazed to think that the last time I was here, I had ascended from the valley (where I had camped) and the proceeded to walk to Helvellyn via Blencathra. The different timing of my route this year meant I would be camping near the top of Blencathra.
I had not fancied carrying lots of water for a summit camp, so I was considering camping on Mungrisdale Common - where I hoped to find a source of water of some form.
To descend Knot I followed the west bank of Red Gill (crossing the Gill near to its source, as it runs in a deep gully). I then followed Wily Gill to join the Bob Graham route for ascent of Mungrisdale Common. Just before crossing the river Caldew I spotted my camping spot from last year - I had a quick scout around for any forgotten tent pegs.
After crossing the river I noticed a perfect camping spot on the bend of the river, photographing it for future reference (it was 1600 hrs, so too early to camp, and in any case I wanted to gain some height).
The climb up Long Brow onto Mungrisdale Common is a real slog, climbing a couple of hundred metres up a grassy bank. On cresting the top of the common, I tried to keep to the east side, in the hope of finding a run off stream. Atop the common all I could find were pools of green and greasy water, not at all appetising. Up ahead the summit of Blencathra beckoned, so I decided to abandon thoughts of camping on the common and instead activate the summit - followed by a camp on a nearby col overlooking sharp edge.

Over Mungrisdale to Blencathra
The walk up to the summit was great - lovely grassy ground for the most part, followed by a narrow "avoiding path" skirting around the north face of Atkinson Pike.
The grassy summit plateau was attempting camping spot although the small pool in the saddle smelt like a urinal, so I thought it best to stick to my earlier plans.

Sun lowering behind Skiddaw (view from near Blencathra summit)
I stood next to the OS ring at the 868m spot height and called CQ at 1810BST. It was a lovely evening, without any wind, and with a clear sunny sky. The sun was lowering towards Skiddaw in the west,.
2E0XUP/M was first to call, followed by G0TDM, GM4WHA (guessing what callsign you are going to be using adds to the fun!) and 2E0MIX.
I then had a god chat with 2E-0LDF, during which a commotion appeared to be taking place above sharp edge. It appeared that a pair of walkers had strayed off route, and the Keswick Mountain Rescue Team were in the process of roping them up to the summit.
Several other calls followed including into Leeds (G7SXR), Darlington (G0CNN) and Middlesborough (G8YDC). I went QRT at 1840BST, and began heading north to camp on the col above the River Glendermakin.
This campsite afforded great views west towards Knott, and south onto Sharp Edge. I tucked the tent away from the top of the col a little in case of wind (though needn't have worried) and began cooking dinner (sweet and sour chicken).

Sharp edge viewed from camping spot
After dinner I did some Morse code practice (using an app on my 'phone) before heading to bed. It was a chill night, with frost forming on the inside of the tent. I was using a summer tent (the Lanshan 1) and a mid-season sleeping bag - but had a down shirt for extra warmth in the night, so was fine and warm.

Camping above the source of Blackhazel Beck - north col of Blencathra

Friday morning sunrise over tent
DAY 2 - FRIDAY 28 APRIL 2022
I was up just after 0600hrs, and on the move by about 0700hrs, heading south across Scales Fell to meet the A66 at Scales. Rather than trudge across to Helvellyn, I decided to take the bud (X4/5 to Keswick and the 555 to Thirlmere).
I just missed the 0830 bus, so had to wait over an hour for the next one, but it was a pleasant break in the sunshine. The bus eventually dropped me at Thirlmere at 1100 BS, ready to start the ascent of Helvellyn.

View of Thirlmere from ascent of Helvellyn (click image to expand panorama)
It is a bit of a slog up this direct route, and the summit was reached by 1230BST. Immediately after turning on the radio I heard G4VFL/P ONGM/SS-04, so had a good S2S. There followed G0TDM, 2E0XUP and G6LKB followed by a number of other callers, finishing with 2E0LDF (now much weaker in signal.).

Approaching Summit of Helvellyn

Same view from first week of May last year
The summit was quite busy - with walkers and cyclists, so I headed a little way north along the track to find a quite spot for lunch. In the distance I could see the summit of Seat Sandal - if only there was a bridge across.
The descent off Dollywagon Pike, to the col between Seat Sandal is rather brutal when carrying a heavy pack - my legs were starting to feel pounded hard when I reached the bottom. It was actually a relief to being ascending again, as I climbed the slope to the summit.

View back to Dollywagon (left of image) from ascent of Seat Sandal (click image to expand panorama)
Seat Sandal has an interesting summit to explore, with several rocky outcrops. It also gives great vies of the surrounding, much bigger summits.
It was 1500BST when I called CQ. I was now feeling a little tired, whereas my original plans had been to head over St Sunday Crag and Fairfield, I decided I would take my time, and camp at Grisedale Tarn.
I had a number of pleasant QSOS' including a S2S with G4BML on G/LD-004 and G1ZJQ/P on G/SB-008. By about 1545BST I was heading down the hill, and looking for an idea spot by the tarn.
I have camped here probably around ten times or more over the past decade - always on a long distance walk. Today I chose a new spot alongside the outflow stream. The problem with this tarn is it does attract lots of campers, so this felt like a secluded spot. As it turned out, only one other tent appeared in the night - on the far side of the tarn relative to me.
Dinner was chicken and vegetables, followed by apple & custard (yum). I had a lovely quite evening watching the tarn and observing the hills grow darker, followed by a restful night's sleep. I felt thoroughly refreshed by the morning.

Grisedale tarn and Seat Sandal behind tent (click image to expand panorama)

Looking out of Grisedale - St Sunday Crag to right
DAY 3 - SATURDAY 30 APRIL
I began the ascent of St Sunday crag at just after 0715, this is one of my favourite sections of trail in Lakeland - it is lovely route to Deepdale Hause. I reached the summit at 0800hrsI had a good number of callers - and was surprised to hear sue (G1OHH)at that hour>After about 15 calls, I headed across the short walk to Fairfield. This again is an enjoyable route with great views down into the valleys on either side.

View back down to camping spot from Deepdale Hause

View back along ridge to St Sunday Crag, from ascent of Fairfield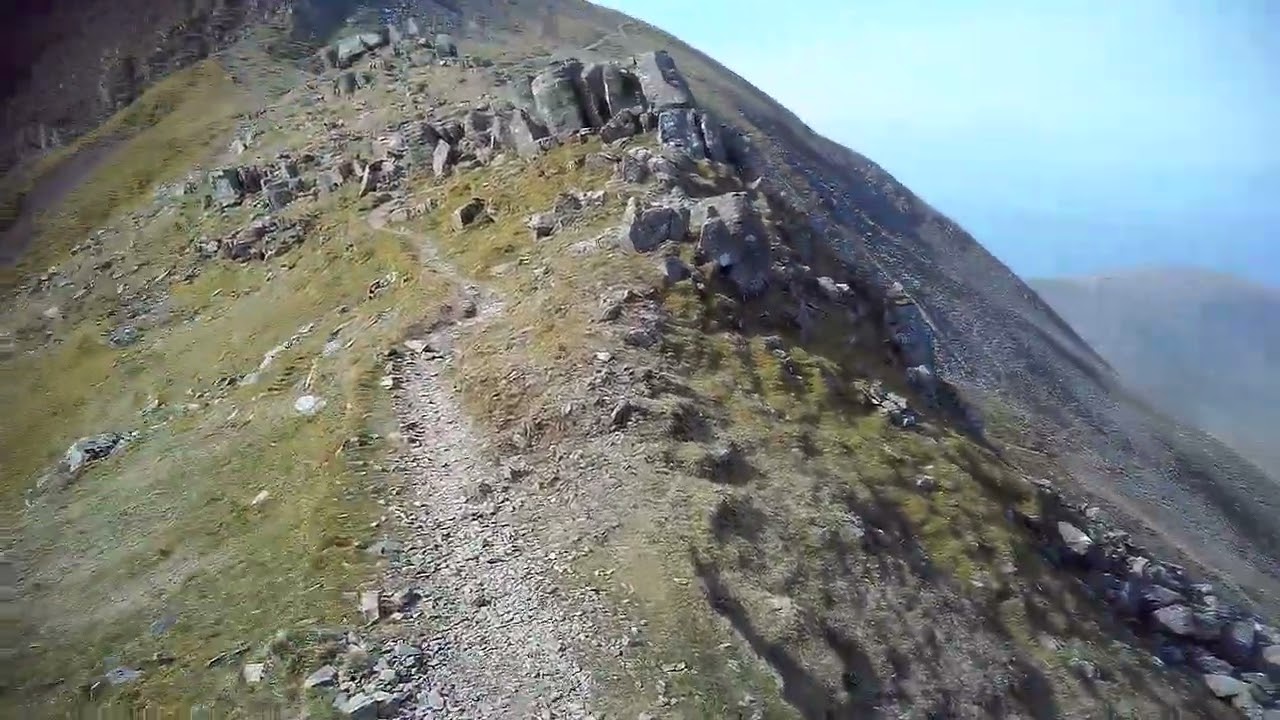 Route from St Sunday to Fairfield (Video)
I reached Fairfield at 0935BST, the weather was sunny but threatening. Veils of cirrus cloud were hanging high in the sky- a sure sign of a front approaching. The wind was also picking-up. Sat in teh summit shelter I called CQ and made seven calls. After opening a bag of Jelly Babies I headed along the ridge to Hart Crag and Dove Crag before taking a break at Scandale Tarn. this is a delightful tarn, with planty of options for good camping.
The climb up Red Screes was easy, the ground was dry and so I was able to confidently stride up the rick pavement with no risk of slipping. reached the summit at 1200BST, and made eight QSOs including a S2S with G/LD-032.
The descent from Red Screes is good fun - rather steep, and with great views on to Kirkstone pass. I spent no time at the summit of the pass and instead headed straight up the climb to Ravens Edge. Th e weather really was starting to turn now, with thick cloud and strong breeze. The occasional drop of rain cloud be felt too.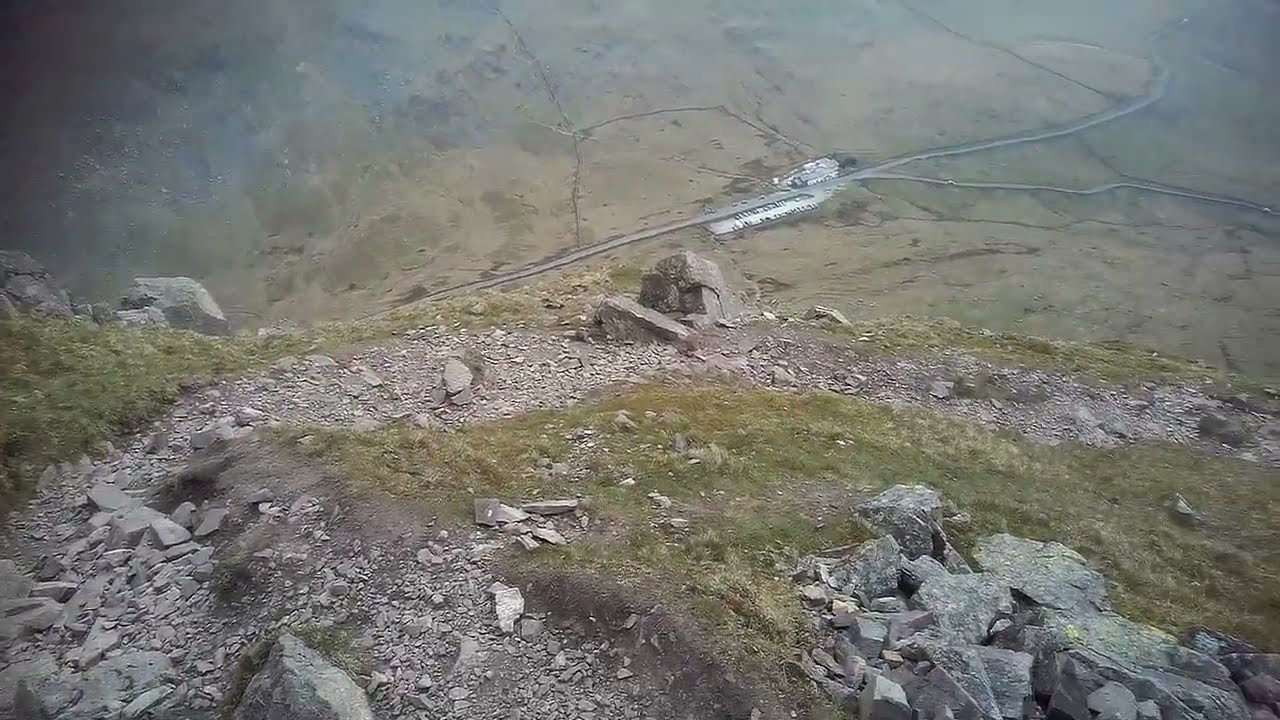 Descending Red Screes (video)

Kirkstone pass summit - clouds starting to form

Ascent of Stoney Cove Pike- Red Screes at Left (just came down this route), Stony Cover Pike to the right (the way ahead) (click image to expand panorama)
Atop the summit of Stony Cove Pike, at 1415 BST, I sat in the shelter of a wall and made eight quick contacts, closing with M7BIA/P on G/SP-004. The descent from here to the wonderfully named Threshwaite Cove is again rather steep in places, with a couple of rocky steps. I was amazed to find someone descending it with his arm ina sling, and wearing a surgical neck brace (while being helped by a friend). The neck brace meaning he couldn't properly look down.
The climb to Thornthwaite crag is a steep scree slope, but I made good time - being pushed on by the desire to be camped before the front moved in. The plateau of Racecourse hill felt wonderfully wild in the deteriorating weather, and I jogged along the roam road to reach th etrig point on High Street at 1526 BST. Six quick contacts were made (including M7BIA on G/SP/004 again) before heading south-east across Mardale Ill Bell to the summit of the Nan Bield Pass.

Route across Racecourse Hill to High Street - weather closing in
Dropping down 200m on the north side of the pass I found my camp spot fot he night alongside Small Water Tarn. The wind had really picked-up now so I pitched the tent low to the ground (which means sleeping with face almost touching the tent fabric.
The rain started whilst I was cooking - vegetable hotpot with scrambled egg (it sounded a good idea at the time). After eating I watched a film - but had to turn on subtitles since the rain was so noisy on the flysheet.
The rain remained heavy all night. At times like this I would have preferred to be in my 4-season Hilleberg - both fo the extra space, and the water proof inner and outer giving extra security. However, the Lanshan-1 hold up well in wet weather and I remained dry and comfortable. Earplugs helped me forget the torrent falling outside as i slept through the night.

Small Water Tarn (click to expand panorama)
DAY 4 - SUNDAY 1 MAY 2022

Wet morning at Small Water Tarn
A gentle start to the day saw me setting off around 0900BST, to climb back up to the distinctive shelter atop Nan Bield. The walk then took me across to Gatesgarth, before following the 600m contour around the side of Selside Brow (avoiding the quagmire of Brownhowe bottom, and saving some height loss/gain). It was still raining hard, and visibility was poor, but I was pleased to find I had held the contour and reached what I refer to at the "last gate".

The distinctive shelter above Nan Bield Pass
For me the "last gate" (NY 485 090) marks the end of Lakeland (and also the promise of a great night in Mosedale Bothy beyond). I headed up the fence-line, navigating peat hags to reach the destination of my four day trek - Tarn Crag.
The sighting pillar atop the crag came into view suddenly - looking like a misplaced bell tower. I sat inside my bothy bag, poking the antenna out of the vent hole, calling CQ at 1115BST. After a few quick contacts I closed down and began heading back.

Tarn Crag - Destination reached!
Before setting out I had planned to continue to the Howgills, but the public transport from Tebay has been severely cut back, so opted instead to head down to Stavely, to catch a bus. I headed down to Sadgill via Brownhowe Bottom - the valley of Sleddale feels so atmospheric in rain and mist, I don't think i have ever seen it in sunshine!
A short moorland walk eastwards from Sadgil takes you to Kentmere - this is a well trod route for myself, as quick way from Shap to Ambleside (via Mosedale bothy). Finally, from Kentmere village it is a 6km walk to Stavely, where I met with the bus service to take me home - arriving in Stavely at bout 1415,with only half-an-hour to wait for a bus.