Unfortunately, I have only about one hour to be QRV [approx 0845z to 0945z]
73 Andy
I'll be tuned in and turned on from the Yorkshire side of the Pennines, bearing for you Andy is 92 degs - 272 degs for me. There is a lot of rock between us, but may get some scatter. 87 miles LOS. Here is the profile, straight through G/NP-015 Great Knoutberry 672m, the tallest obstacle. G/LD-050 is 321m ASL G4OBK 60m ASL. I can usually work stations in Cumbria on VHF in flat condx during the RSGBs VHF activity contests. I have 7 elements and a bit more power than you.
73 Phil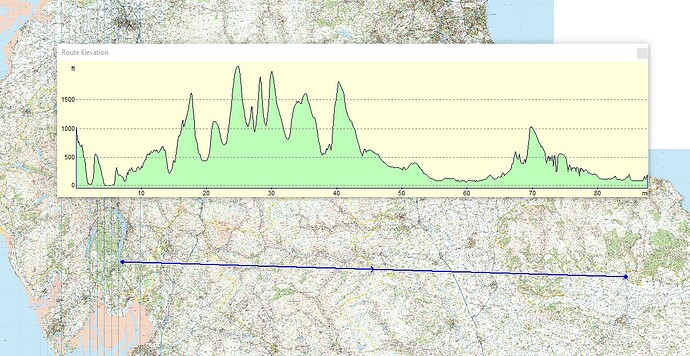 ©Crown copyright 2021 Ordnance Survey Media 018/21
Thanks Phil, I'll try that bearing first. 144.050 +/- 5
Looks like I'll have a rain gap today at DM/BW-009 :


Time here is UTC +2h
73 Armin
I'm often moaning about the lack of CW on 2m so I was happy to take part - albeit briefly - in today's SOTA 2m CW event. I had only about 50 minutes operating time available so I was glad to get a few contacts with my 5W CW and 3-element 2m Yagi on a modest SOTA summit (Gummers How G/LD-050).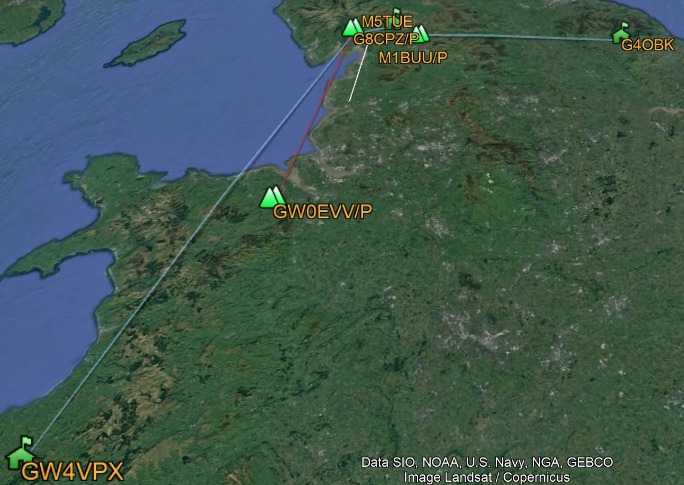 (C) Google Earth 2021, KML courtesy M0NOM
Thanks to chasers and other activators.
73 Andy
From a chaser perspective in IO94of. Three SOTA QSOs only today on 2m CW into Cumbria, North Yorkshire (own county) and Gwynedd, (Or is it Clwyd?) Wales so far.
M1BUU/P Colin G/NP-004 Whernside Report Sent 579 - QRB 106 Km
GW0EVV/P David GW/NW-051 Foel Fenli Report sent 559 - QRB 205 Km
G8CPZ/P Andy G/LD-050 Gummers Howe Report sent 529 +QSB - QRB 141 Km
73 Phil
I took a listen this morning, but only have a vertical 'slim jim' in the loft for 2m - we live in a poor VHF location so I haven't tried so far to put up a proper 2m antenna. However, David GW0EVV/P was a good signal here in Cambridgeshire (about 260Km) calling CQ so I thought 'better a slow QSO than no QSO', took a gulp and plugged in the old straight key. Managed to swap reports and 73's so first CW chase in the bag after 35 years of no activity

Thanks David for your patience!
Jonathan
Thanks to the four SOTA 2m CW activators that made my chaser log today. As far as distance is concerned Andy G8CPZ/p gets the prize (see photo above). Good signals from the four summits when they eventually swung their respective beams to West Wales

. Just a 3 element horizontal beam here on the tower to the IC7000.
Well done Andy G8CPZ/p, Colin M1BUU/p, David GW0EVV/p and Adrian G4AZS/p
73 Allan GW4VPX
That was fun!
I need to get back into the swing of activating. The stiff wind and the chill that it brought was something of a shock after days of heatwave. Luckily I had thrown in my rain jacket, and it was much needed as a windproof layer. I did get a few spots of rain, but the wind dried them within seconds.
I set up the antenna, connected up and switched on. I tuned down to the CW end, and there was Collin @M1BUU/P calling CQ. Great excitement, and I called him.
/summit brain interlude/
Now, I normally take a minute to write the date and summit ref at the top of the log page, but I hadn't this time. When Collin asked for the ref, my brain went offline and I couldn't think of it. I helpfully told him that I was on Corndon, which I wasn't. Doh. Corndon and Caradoc are both local summits for me, both a simillar pointy shape, and both begin with C. I often confuse the two names despite being very familliar with both. Weird. Anyway, sorry Collin, I hope it all became clear later!
/end/
Over the next 45 minutes, joining Collin in the log were David GW0EVV/P, Alan GW4VPX, Tony G4DEE, Paul M0PNN, Brian G4HIV and Paul M0GSX.
Without benefit of an opening, this was better than I expected. I called CQ a few more times, and tuned around, but no other stations heard.
Looking at your map Phil @G4OBK, I guess Shining Tor and its neighbours may be in the way, and though I hoped to work @G8CPZ, it looks as though there are some large lumps of rock close to you in my direction, Andy
I only had limited time, so I decided to call it a day. Up until then I had the summit to myself, but as I walked off I met three groups walking up, so the timing was good.
Caradoc G/WB-006, Slant polarised 4 ele Tonna, 5W from FT817: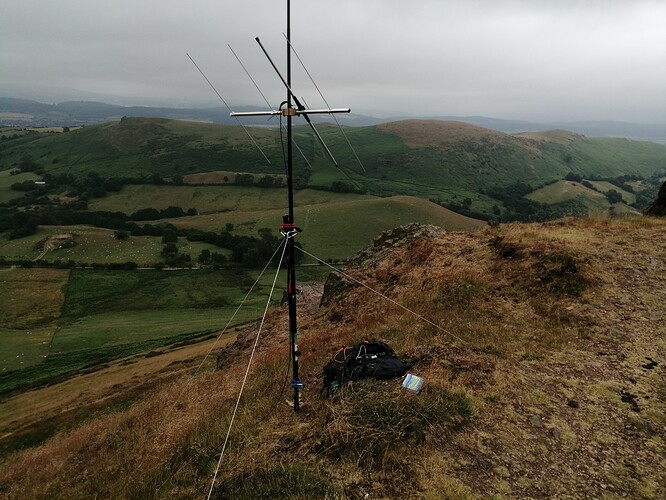 Many thanks to all QSO partners, and to anyone who listened out for me.
73
Adrian
Hi Adrian
Sorry to have missed you - its down to me. The crucial closing stages of the 6 hour Olympics Cycling Road Race and a zoom session to our kids and grandkids were a distraction to the chaser operating this morning and I simply missed your spot and did not listen out. Forgot to mention that I worked one none SOTA station. This was G3WTA, Mike in Newcastle, when I was calling CQ on Andy's opening freq of 144.049 in an attempt to attract Andy's attention after I missed his intitial calls. Andy was contacted 10 minutes later on 144.065 when i heard his CQ.
David was a couple of S points strong on my vertical elements here than my horizontal. I'm sure we'll find out in due course what he was using.
Colin was the first heard and worked, nearest and strongest to me than the other two.
73 Phil
In the course of the morning the weather forecast became worse and worse… and so I always had an eye alternately on the rain radar of my app and on sotagoat.
Unfortunately I did not hear any signals from G or OE. There were only 4 qso … and here were also no dx.
Besides I have always still times cheated and have made a few S2S on HF.
At some point the rain radar looked threatening and I packed up. Until then it was a beautiful day.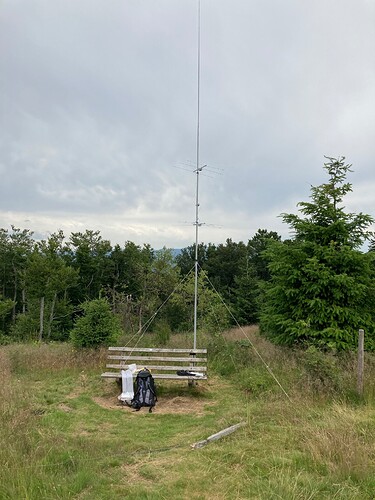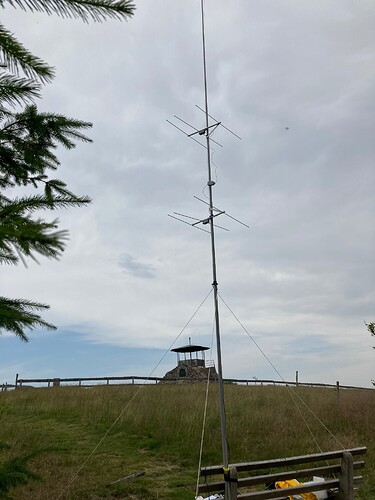 I came home in time for cafe and cake - also not bad!
Meanwhile, a package had also come and on the table was my motivation for tomorrow. - After the many good reports (especially EA2LU) I could no longer hold back… First impression: it feels very good!..and yes: I intentionally ordered it all in gray.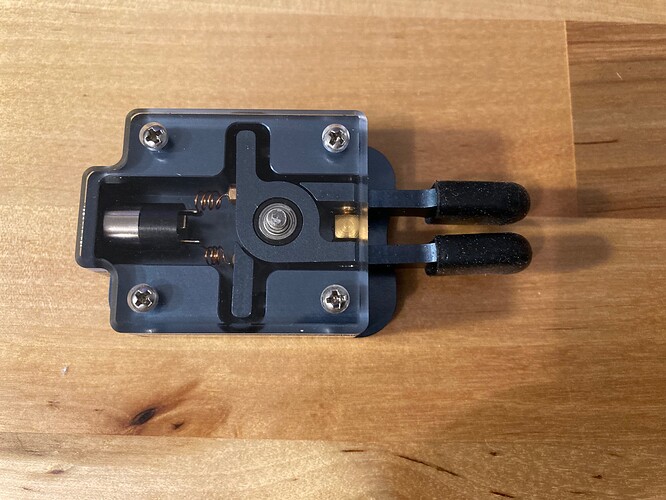 73 Armin
Hi Armin
Hope to QSO you on yours next activation's s2s but also TP-III to TP-III


I

my red one !
73, Éric
I'd stated my interest in the 2m CW event. To be honest, I didn't have much enthusiasm for SOTA but I'd been given a free pass to play out.
I haven't slept much recently due to the heat and last night was not much different!
It's been quite a while since I've done 2m, so I went hunting in the garage yesterday for my beam, which I've had for over 20 years. The beam was bought mail order from Maplin, I remember the snotty letter that accompanied the beam stating that they did a 'collect from store' option and it was unreasonable to enjoy free shipping for a large item!

I chose the 5 element Maspro yagi over my SOTAbeams antenna as the VSWR is much more reliable on the former.
A quick test in the back yard yesterday evening showed that everything was in order, the (far too) long length of RG-213 had been retrieved and the nesting spiders had been evicted, the VSWR was great and the rig seemed to be working fine.
I woke up at 6am and finally got moving to be out of the house at 7am BST after porridge, toast and a pint of coffee. I'd expected sun, so I liberally applied sunscreen - doh! It was nice to be walking in the cooler weather though.
There was quite a breeze at the summit but some electrical tape helped to jam the 5 section 15ft aluminium mast so that it held fast in the direction I pointed it at.
I had set myself a day's goal of working GW0EVV/P, and if I achieved that then anything else was a bonus. I was on air a bit earlier than initially planned so I cunningly pointed the beam in a direction that I thought would fire across to Phil G4OBK, who I thought might be listening. Phil took my bait!

I don't actually think my beam was aligned as well as it could have been but no matter, I didn't want to faff about.
I'd just worked Phil when a couple of hikers appeared asking about what I was doing. The hikers were interested and the man admitted to owning a Baofeng and taking a listen from time to time but hadn't yet looked into getting a licence.
At this point I heard GW0EVV/P calling a little bit HF of the frequency I was on. I unplugged my headphones and thr couple were interested to hear the Morse coming out of the speaker, commenting how fast it was! (David, you're a machine!). I got up to swing the beam and the signal jumped up quite a bit, I'd been 90° off initially. The couple were amazed by this live demonstration of a beam antenna in action.
I worked David GW0EVV/P on GW/NW-051 and couple said goodbye.
Next up was Mike, G4BLH, I haven't worked Mike for ages, it was great to get him in the log once again. Following Mike was Andy, G8CPZ/P on G/LD-050. I'd turned the beam to the Lake District on purpose, yet again my bait had been taken! I then worked G3WTA, a totally new call sign for me, and again, I didn't faff with the beam, so it was probably not pointing in the right direction.
I decided that I needed to try to beam towards Wales again and was chuffed that Allan GW4VPX called me. Allan called me a couple of times whilst I trained the beam.
After Allan, I worked Tony G4DEE, again it was another new call for me.
To finish off I was called by Adrian G4AZS/P. I was quite amused by the summit ref coming back as G/WB-???

Absolutely no worries at all Adrian, I wasn't bringing my best game either. I was pleased to get the contact.
I'd taken a microphone but after pre-loading with water (expecting hot work), I had another call to make! The summit was busy at that point so I packed up with a respectable 8 QSOs in the log and made a quick descent down the quiet side of the mountain.
Armin, I heard some faint whispers on your frequency but nowhere near feasible to work.
Thanks to all chasers, it was a fun exercise.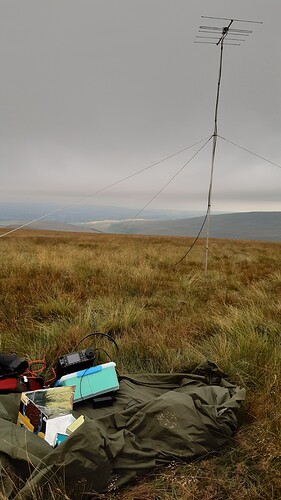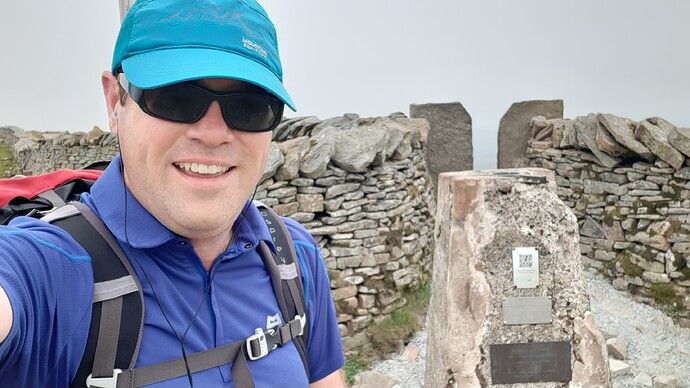 73, Colin
Firstly I would like to thank Richard, G3CWI for his vision of a 2m CW weekend. Perhaps we should have a listing on here of the dates of similar multi-operator activities.
My activation was from GW/NW-051 Foel Fenlli near Ruthin. Easy, 30min access, good takeoff and few visitors.
The event (for me at least) was dry, but a fairly strong cold wind was blowing from the North East, I managed 3, S2S,14 CW QSO's and 3 countries. Only continental station being DF0WD, 449 both ways.
Aerial system, 2 X HB9 CV's, horizontaly polarised at 4 and 5.2m AGL fed with RG213 via power splitter, supported on a Roach pole.
Radio FT857 at 50W,
Battery 10Ah Lipo, useful capacity all used due to above average CQ calls and 2hr30m activation.
Observations:
I sent at 18WPM instead of my usual 21WPM.
I needed a handy list of worked stations.
Listened for spotted DL and F S2S, but nothing heard.
No further QSO's after 10 GMT.
The aerial array was unnafected by the wind (not spinning round).
Perhaps afternoons would be better from a propagation perspective.
Thanks again and for those operating tomorrow, I hope the WX is good for you. Unfortunately I will be travelling North from Chester to Morpeth, life on the M6!
Regards
David
G0EVV
Sorry I missed you, Adrian. It was always going to be a stretch with my modest VHF setup.
We got there in the end. I could hear you clearly Phil despite your weak signal but I guess it was more difficult for you with QSB and being in the town.
You needn't have bothered beaming my way, Colin. As soon as I turned on the FT817 I could you hear you 35km east-south-east of me calling CQ and working other stations without my rig tuned to your frequency. On frequency you were 599++. I don't know what the shape of the standard ceramic filter is like in the 817 but not good for very strong VHF signals it seems. I have the narrow CW filter fitted but didn't want to use it for fear of missing weak stations a bit off my frequency.
That's a good idea – I must add some tape to my 2m Yagi / pole over-the-shoulder long carry bag. Today, it wasn't needed in the [refreshing] moderate breeze on G/LD-050 this morning. My friend G8EJN made me a bespoke guying O-ring on his 3D printer and I can rotate the pole/beam without the guying cords winding round the pole but the friction is enough to stop a moderate breeze turning the beam. However, in stronger wind it's a problem so the tape should fix that.
David, I appreciated that for several reasons. Apart from the usual summit distractions [today a drone buzzed round me and the summit a few times like an annoying insect], unlike my HF antennas which don't need constant attention, this VHF-CW-Yagi lark required me to jump up and rotate the beam whilst head-copying the callsign of the sending station.
Maybe, but not from my point of view. As you know Gummers How is a very popular Lake District hill [easy ascent, great views] with family walkers especially at weekends and I was grateful to activate the summit in peace and get down before it got crowded.
Hear, hear.
I noticed that I could hear David's (G0EVV) signal across the band when my beam was pointing south. I'm guessing that these radios suffer from key clicks, I suppose they're designed primarily for FM VHF mobile working and not quite geared up for QRO CW.
I measured the rig at 40w output yesterday when testing.
I'd put my VHF antenna system together in the late 1990's before SOTA and techniques in portable operating were widespread. The beam won't go on to a standard fibreglass pole, so I have a 5 section aluminium slot together mast. I made a guying 'triangle' from a piece of plastic chopping board. The trouble is that the guying triangle acts as a bearing for the top section of the mast allowing the beam to point wherever it sees fit. Today I had the bright idea of jamming the top section with tape to fix it in position- it worked brilliantly! Took me more than 20 years to work out that fix!

I originally used a length of RG-58 mil spec to feed my yagi but later I invested in a length of RG-213 to improve the loss situation. I used to use the antenna for the PW QRP contest. My length of RG-213 is far too long and needs cutting down really.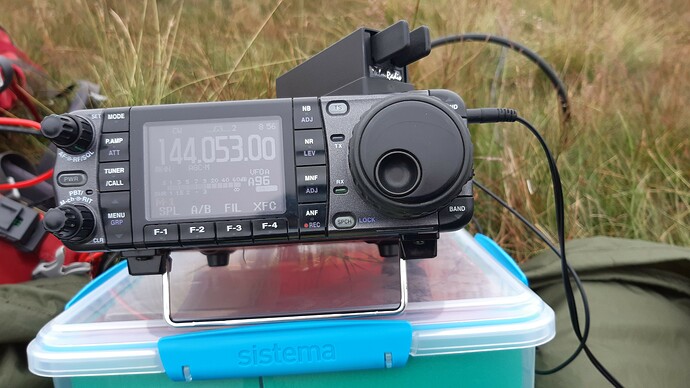 73, Colin
Hi Colin,
I make no excuses for the 857, she is an old lady who does everything badly. I noted your signals were about +_ 1kHz, but again that could easily be my rubish RX. I was on Cross Fell one day and another station was on a G/TW summit 50 miles distant. He was also a wide signal by modern standards.
All the same, a good day with lots learnt
David
G0EVV
There's a mod for the 857 to reduce its key clicks. Have a look on mods.dk.
My efforts to work you (and EVV) were more akin to a Brian Rix Whitehall farce Colin - check your Email for enlightenment !!.
Regards,
Mike G4BLH
What you saw a vicar out of the shack window and your trousers fell down?