Hi
Have a look at this link re-paddles.
Also if (like me) you use a Palm Mini Key he does a mod to overcome the (in my opinion) worst feature of the Palm Mini paddle the weakness of the rear connection.
Once on an activation I snagged the lead from the key to the rig - it broke very easily end of activation.
73
Dave
GM4NFI
I've just bought a UMPP-1 and have used it on one activation. I like it. I seem to make slightly fewer errors than with my Palm Mini paddle. Still make too many though!
I also made paddle similar to ON6UU from Russian relays, but they are very unreliable and I already replaced those contacts groups few times and already have few failed SOTA activations. So, I am thinking about making paddle from different components.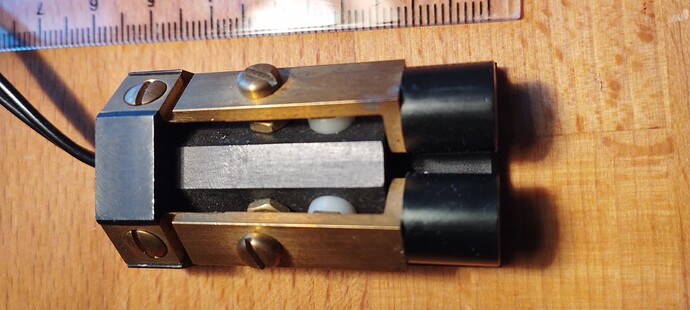 Last Sunday, the original cable of my vintage Palm key serial
#0581
died. I fortunately had a spare key, handmade by DK1WE.
73 de Pierre F5MOG
I lost the compression spring in my good old palm paddle a few months ago. It is usable without it but I was glad to finally find a nearly perfect replacement. it is a .3mm x 3mm x 10mm spring that I found on ebay. Perfect size and a good pair of tweezers worked great to compress it and put it in place. Minimum 10 spring order but they were only $1.99 plus $4 shipping (US$). Here's where I found them if anyone has a similar problem trying to keep the old paddle running!
Hi all,
If like me you love the CW here is an idea for a Christmas gift!

The keyer is around 160g, it has neodymium magnets to attach to a small metal base, the magnets also replace the adjustment springs


3D printing (you choose the colors) with your callsign and serial number engraved!
I chose these two colors plus a very practical optional accessory for the SOTA.
This keyer is made by well know activator / chaser Filipe @CT1ILT @F4VPX you can contact him by email (address is Ok on QRZ.COM).
Without the shipping costs it will cost you 50€.
Merry Christmas

73, Éric
F5JKK
For those with access to a 3D printer, Adam @K6ARK has very kindly published the STL files for a new paddle he has been working on:
https://www.printables.com/model/332611-morse-code-paddle-cw-key
It's a really nice design with independent settings for gap and tension on each paddle, plus a 3.5mm TRS socket. Adam cleverly uses the inherent flexibility of PETG to implement a hinge - it really does work rather well. I left the paddle outside at -6C for a couple of hours and the operation still felt the same.
Costs less than a couple of quid to make and mine weighs in at 12g: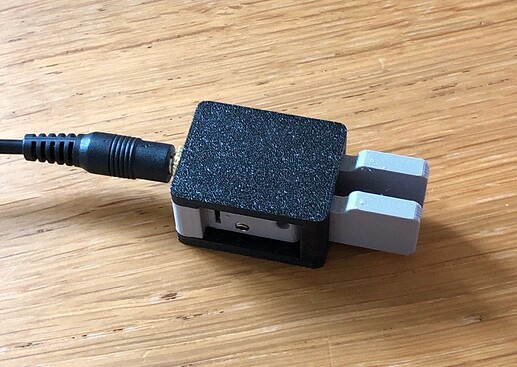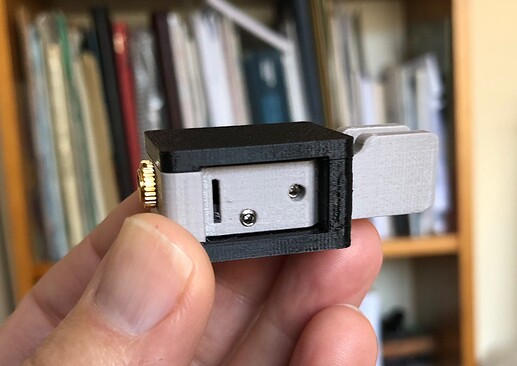 Note that you must print it in PETG, not PLA for the hinge to work. That's no bad thing anyway as PETG is much better suited to SOTA parts with its higher temperature range and UV + impact resistance.
Thanks Adam for a really nice key design


Jonathan
Big +1 to this! @K6ARK paddle design is awesome - I made one recently and it works great. I absolutely love the simplicity - no springs, magnets, bearings, etc. Just 4 set screws and a machine screw. I deleted the 3.5mm jack and hardwired directly to an old earbud lead. I'm amazed at how nice it feels.
Thanks Adam for sharing your design!
I couldn't find anything small enough for my application, and didn't want to mess with screws and adjustments out in the field.
So I built one using strips from an old gift card and copper tape used in stained glass hobby.
This one is 6 years old, and just gets an ocassional burnishing with a dollar bill between the contacts.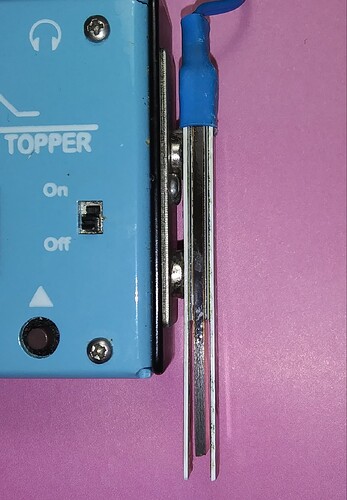 I finally Jumped on the Bamakey TP iii wagon and used it on my activation the other day. It's definitely worth the price and is so nice to use. I still bring my N0SA sota paddle with me though.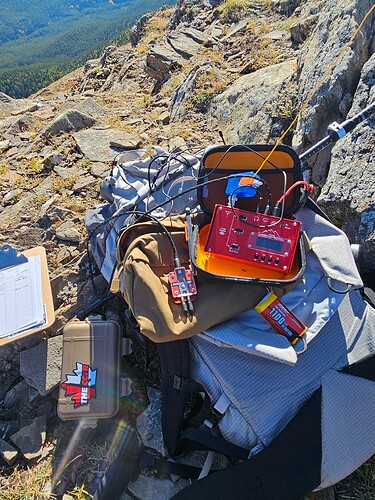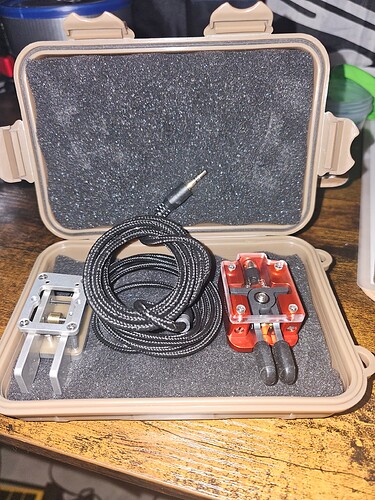 The bamakeyIII is a great precise paddle. Also, very well made.
I had the chance to try a Bamakey last Sunday and I agree that it's a great paddle. Very nicely made and has a great feel! It does require a light touch or else you get some 'bounce'. It appears very well sealed up, which is nice for a field paddle.
I also have one of N0SA's paddles, similar to yours but one of his older designs. It is a great paddle but requires constant cleaning or it malfunctions. The stainless to aluminum to stainless path tends to build up an oxide layer quickly in the presence of damp (I live in the PNW… it's wet here). I have taken it apart and cleaned it many times on the bench while testing with an ohmmeter and the main culprit seems to be the the threads in the paddle arms. I recently replaced the stainless set screws that are used as contacts with some alloy ones, and so far no problems but it is too early to say. We will see how it does this fall/winter.
Carrying a backup paddle is good

I found out very quickly about the need for a light touch with the Bamakey haha thats going to take a bit to adjust for. And thanks for the heads up on cleaning the N0SA paddle Ive been having issues with it like you said I will have to give it a clean.