To accommodate further dialogue
I've just entered the logs for Saturday and Sunday:
Saturday: Gummer's How G/LD-050
24 S2S and 7 chaser QSOs on 2m, 23cms & 13cms
17x 2m FM S2S
5x 23cms FM S2s
2x 13cms SSB S2S
1x RX only 23cms FM, GW4AZS/P on GW/MW-013 @ 192kms
Total time on air 3hr10mins
2m FM 0.5W 300ohm J-pole FT817
23cms FM 1W 3ele PCB Yagi DJ-G7
13cms SSB 2W double-double quad FT817 + SG Lab
Sunday Loughrigg Fell G/LD-047:
2x 2m FM S2S
7x 60m SSB QSO of which 2x 60m SSB S2S
3x 30m CW
5x 40m CW
2x 40m SSB
Total time on air 1hr10mins
2m FM 5W VX-170 rubber duck
HF 5W link dipole FT817
I've charged the batteries. FT817 used the 4200maHr LiFe battery 4hrs20mins which took 2200ma to charge. Alinco DJ-G7 used an 11.1V 2800maHr LiION and took 670ma.
Hi All,
Is the intention to make the Lakes District event and annual event. Judging by the success it may be worthwhile. We have been running a similar event in Australia at Mt Hotham in Victoria for the past 4/5 years. It seems to get bigger every year.
If you can commit to a date I would consider coming over…perhaps on the way to Dayton Hamvention.
Thoughts
Brian
VK3BCM
Hi Brian - absolutely. Hopefully we can get a mutually convenient date in the diary that doesn't clash too badly with other local events. As it happens I don't think anything caused too much inconvenience this year.
Mark.
There was a marathon held on the Sunday. I drove the 10miles or so from Windermere to Ambleside and it took longer early Sunday before the marathon started that when I drove back at 3.00pm with plenty of runners on the pavements. So the marathon didn't affect things from my view.
Brian, if you come from VK then you will win the "who traveled furthest" award currently held by Jamie N6JFD who came from California

We caught the Ferry across Windermere (now £5 for car) on Sunday to get to Coniston Old Man starting point on the Walna Scar Road and luckily just missed the Marathon Convoy System that was in starting up to operate near to Hawkshead. On the way back by road at around 5.30pm to Ambleside (not ferry), we got to Brathay Hall just as a few tail enders were coming in (Slower than Colin's (M1BUU) sister in law for sure!).
Tally for the 3 day weekend which included a Wainwright Outlying Fell round on Friday was:
119 QSOs on 2m FM.
2m FM on Saturday (AM) from LD-018 Stony Cove Pike:
11 X S2S from 28 QSOs
2m FM on Saturday (PM) from LD-017 Red Screes:
6 X S2S from 17 QSOs
2m FM on Sunday from LD-013 Coniston Old Man:
4 X S2S from 16 QSOs
In addition a further 7 Summit chaser QSOs were made while walking to and from summits I activated. 8 further Wainwright summits were also activated for WOTA over the weekends walking.
Pic descending Red Screes on Saturday afternoon - Kirkstone Pass Inn pictured, where we had a sandwich & pint earlier: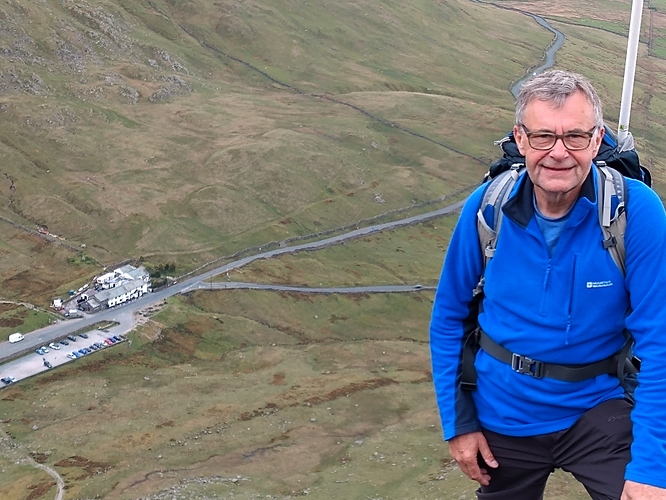 73 Phil G4OBK
Back in the early years of SOTA there were annual SOTA Youth Hostelling weekends in the Lake District and Yorkshires which were always enjoyable and great meeting up with other SOTA activators as well as working them summit to summit. There always use to be an annual SOTA BBQ on a campsite either in Snowdonia or on the Lleyn Peninsula in North Wales which were also enjoyable. These events all happened before I was licenced and I always accompied my dad Tom M1EYP to these events and always enjoyed chatting with the other SOTA activators as well as walking up the SOTA summits, I did miss out on working the summit to summits though. These events ended up fizzling out around the time I did end up getting my licence.
Jimmy M0HGY
I'm going to try schedule a work trip to our Farnborough office the week prior next year - all these pictures are reminding me of my last trip to the Lakes District and making me jealous

The Video made by Chris M0RSF/P while activating his summit. I think shows the level of excitement and enjoyment by Chasers & Activators alike. I would just like to say well done Chris on the video and everyone else who took part.
73' Don GW0PLP
MI6BWA (Viki,not Rod) here. Well I didn't manage to get a s2s from NI land where it poured on us as we sat in the car and pondered how to reach the summit of Slievemore as a new wind farm had obliterated some of the peat tracks. However we got to a little tump amongst the peat workings (pictures to follow) and I lashed the dipole to a fishing pole (beams were not possible in the wind and rain) and looked around. I enjoyed (

) listening for some long time to G4WHA on the top of Skiddaw where he was very busy so was ignoring my little chant of 'summit to summit s…' I eventually gave up but all was not lost as we started with a s2s with GI/MM-002 and I chased EI8HIB/P on GD/GD-001 Snaefell which is not bad for 5w from the Sperrin Mts.
Another lovely morning like yesterday (but we have had some soggy days) so we are off to GI/SW-002 west of Enniskillen and hope it won't be as challenging as SW-004 yesterday (sorry we were nearly an hour late (more pictures to follow!!)) After that one we will have one GI/SM (easy) and one GI/SW (fearsome) to go …! Hope you all had a lovely time on s2s day and please let us know early the date of next years!
73 MI6BWA
Hi Viki,
Apologies for not hearing your call. One of the problems i had was interference on one of the radios i was using. In fact i went back to my FT-60 because of that. It would have been great to get a S2S with you on both 2m and 70cm. As you gathered it was busy on alot of the channels with lots of people calling. I also had alot of interest from other walkers who were asking what i was doing and was photographed on more than one occasion. Having an 7m roach pole stuck up certainly attracted attension. I was in cloud for the whole of my activation and it was cold up there. I stayed about 75mins in total. Still i made 12 S2S on 2m and 2 S2S on 23cms.
73's Geoff
GM4WHA
Another big thank you from me to Mark for a very successful Lake District SOTA Weekend.
Friday 17/05/2019
I drove up on Friday but took the opportunity to activate Hutton Roof Crags G/LD-52 to complete a cluster of summits in that area. What made it special was that Colin M1BUU joined me for our first joint activation. We had a great time sharing ideas as well as playing radio and I look forward to another joint activation when I'm up near Colin's QTH.
M1BUU/p and G4VPX/p
Saturday 18/05/2019 - The big day
Today I'm afraid I took advantage of the 'youngsters' who did the hard work and activated the high peaks. I was on a little bit of a mission to get s2s points so I opted to walk 1.75 miles to the summit of Claiffe Heights G/LD-053 and remain there for most of the day picking up some 30 s2s on both VHF and HF. The location of Claiffe Heights was such that I was able to cover all the LD summits but my surrounding view was zero due to the trees so I was disappointed on that side.
My office for the day
Hanging around for those last s2s on the handheld
Sunday 19/05/2019
At the 'LD bash' the previous evening Paul M/HB9DST and I decided to have a joint activation of Top o'Selside G/LD-048. 2 miles to the summit along a rough track then a short moorland approach to the cairn. Great views towards Old Man of Coniston where both Jamie M/N6JFD/p and Phil G4OBK/p were active. Paul and I had a great time chasing s2s as well as keeping the chasers happy on HF although conditions were not too good.
Paul M/HB9DST/p with his KX3 and End Fed antenna
M/HB9DST/p and G4VPX/p with The Old Man of Coniston G/LD-013 behind
Following us down…could have done with these on the way up

The weather was looking good so we made a decision to activate G/LD-056 Whitbarrow Lord's Seat. We hadn't alerted so it was a case of relying on the vigilant chasers when our spot hit Sotawatch. It worked but the distant Thunder and Lightening crashes and bangs (from Europe) made for difficult contacts on 60m. I manged 3 difficult s2s with Rod, Esther and Ian over in Ireland.
Thanks for the company Paul…do the same next year?? … (XYL liked the chocolate

)
Paul on G/LD-056
I left LD with something like 144 s2s points and having made a load of new friends. I certainly hope that Mark will pull something together for next year and I promise all being well that I'll be knocking off a few summits on the big day.

73 Allan GW4VPX
Thanks to you, Allan, I'd love to join you again next year! de Paul HB8DST!
Here's Allan on LD-048 Top o'Selside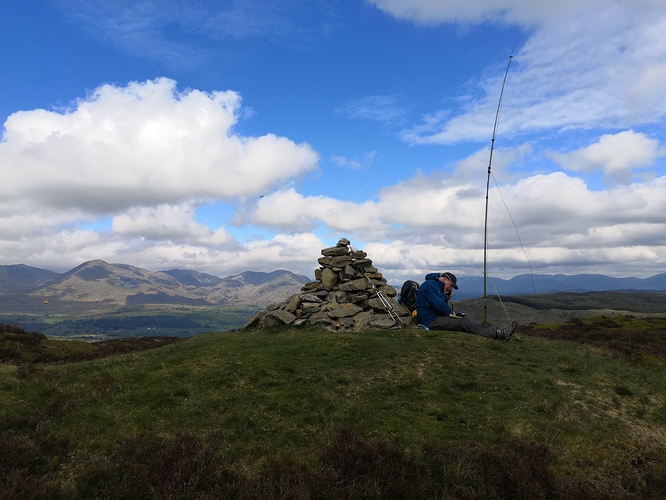 I want to say thanks to @M0NOM for putting this together, it was a great weekend. I got to explore a lot of the LD Fri-Sun. The meetup at the Pub was a whole lot of fun, it was nice meeting so many folks from G, as well as @HB9DST (paul 3x?), wow so many Pauls, it's like it's a requirement (or a special license level). I do not think I've ever had 21 2m QSO on a single summit before, and ~60% of them were S2S. As Andy noted, there was a marathon going on in and around Winderemere, actually 10 days 10 marathons, and on Saturday there was also an ultrathon going on up in the peaks. I would gladly come back to the LD for another weekend like that, or maybe as a twist to the 3-peaks challenge, throw in the SOTA component.
The couple of times I did HF (down in Wales), @N4EX came back to me with a pretty good signal. Rich you are doing something right there for sure! Thanks for being patient with me fumbling with the M/ on Sat, I thought CW was going to be hard with the country designator, but apparently not as hard as dealing with a pile up on phone, I know some of you I did confuse, including myself. Until next time… de N6JFD
Thanks for the kind comment regarding my video Don.
It was an excellent day and I've enjoyed people's posts and photos.
It was nice to meet Phil G4OBK and Judy on my descent of G/LD-017 Red Screes.
Thanks again to all who made this a wonderful day. I just need to know the secret Mark M0MON has to control the weather gods. I watched the Met Office forecast all week and a couple of times it looked like this was a no go event.
73 Chris M0RSF
There was so much 2m activity we heated up the clouds and chased the rain away!
I've had the week off this week Chris - so I think I must have stolen this weeks good weather for the SOTA weekend as it has been shocking! I feel real sorry basically for anyone taking a holiday here this week. Saturday was predicted the best day but the forecast got gradually worse - in the end my wife and one of the daughters came with me on the vain attempt to get to Scafell Pike from Dungeon Ghyll but with the cloudbase at around 400 metres it wasn't long before we were all wet and miserable. It's also a long way in - much longer than I had factored in our timings, so we got to the crossroads that takes you to either Bowfell or Scarfell Pike at around 750m and with visibility of around 10 metres decided the best option was to turn round and head back the way we came, not even attempting Bowfell as a 2nd alternative.
I would have considered an evening activation today once the drizzle finally abated but the wind has been nasty - even at low level I had various bits of kit blown across the grass when messing with antennas!
Cheers for all the kind words BTW - but I can't take any real credit for the weather, and this week just goes to show you really are in the lap of the Gods in this county!
Mark. M0NOM
I'm putting together a report for the July 2019 Quarterly SOTA News on our LD weekend - if anyone wants to contribute a photo of your operating or chase location that would be great please and a single paragraph summary.
I'm just pulling together some stats which are looking pretty impressive!
Regards, Mark.
Most in the UK will already have seen this however as I have only received my copy of the RSGB Radcom magazine today and I can't seem to see mention of Mark's article's appearance in this thread yet, I thought I would bring everyone's attention. The article appears on pages 44 & 45 of the February 2020 edition of RadCom.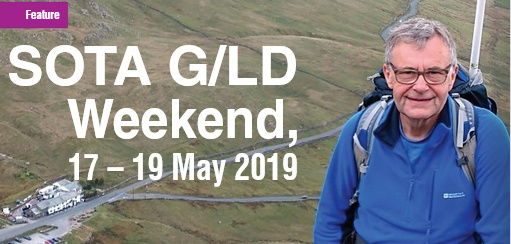 73 Ed.
I didn't want to ruin the surprise Ed!
If anyone who can't be a member of the RSGB would like sight of the article please PM me, otherwise I encourage you to join!
Mark. M0NOM