Hi, My son has now grown and his recent Duke of Edinburgh Bronze award expedition, he had to use my boots as his feet have grown.
Seems a good excuse to look at some new boots for me


I have had Scarpa SL since i bought them in a sale in gaynor sports Ambelside around 2003/2004 christmas sales, for about £125.
They are this model:(not a picture of my boots but same model/type)(*borrowed the pic from ebay)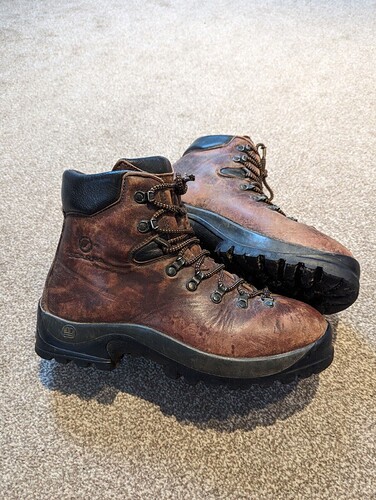 Now i have heard that Scarpa has since changed their foot last and the leather is cheaper/thinner.
So I want recommendations that:
1: are leather
2: can take walking crampons
3: NOT fabric boots
4: can last another 20 years looked after and not walking lots. if i had to guess I probably would say these boots have done less than 500 miles, at a guess.
I might also just steal some boots from my brother, he likes to collect, i mean buy, boots quite often lol.