Neat. They're looking even better than cycling gloves which I use.
Ahoi
Pom
Sadly they are not astronaut's gloves which I hoped for when I read your description, Richard. Astronomer's gloves do have a spacey feel about them though, and technically at least, astronomers have a view of astronauts. 20 quid though… phew.
Disappointed, NSW Oz.


Surprisingly, I manage quite well with my fleece gloves even on CW.
If you don't need it quite so sensitive… there is another alternative for the smartphone.
There are gloves that are suitable for operating touch displays. They are specially marked.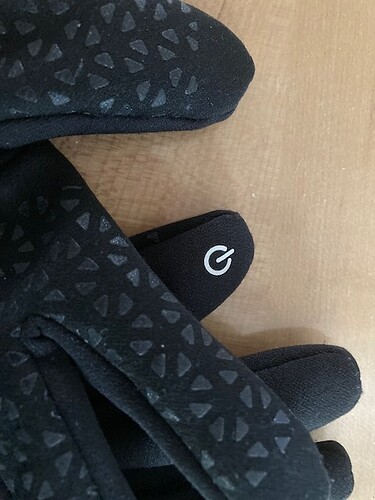 73 Armin
That isn't expensive for decent outdoor fingerless gloves. The ones that I swear by, Millar Mitts, are nearly 50% more expensive! I think the best solution that I have come across is thin gloves that don't much affect your sense of touch and a pair of Dachstein Mitts over the top of them when you need to warm up - but Dachsteins are over £30, and worth every penny!
Well spotted Richard. I think they look OK at the price. Quite a unique design and another addition to my colelction of gloves for various uses… With a birthday coming up towards the end of the month I'll get of the family to get me a pair as a present. I will report back on their effectiveness unless someone beats me to it.
73 Phil
Free ones from work. Used to replenishment of chillers and freezers. They are £1.03 a pair to buy.
Perfect for SOTA and the grippy palm is handy for walking poles, ice axes and collapsing telescopic masts.
I put fleece gloves over these if it's really cold or mountaineering mitts over them if it's absolutely Baltic!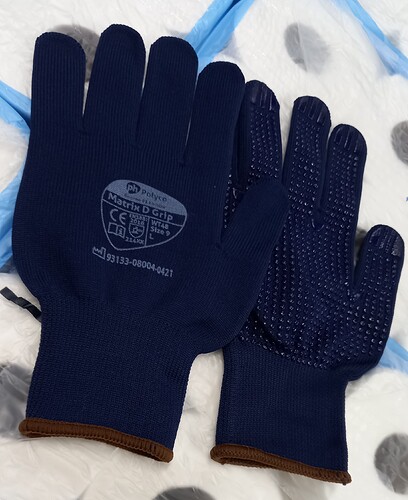 These look good gloves too Fraser, but lack the necessary finger and thumb opening for twin paddler CWers like me, who make more mistakes when thumb and finger are covered in glove material. Would appreciate knowing where your chiller and freezer gloves can be purchased. I wouldn't mind a pair of those to try out as well.
Thanks for the QSO yesterday with GM/CS-077 on 5 MHz. It was getting dark in Yorkshire by then - you were the last station of the six I logged yesterday…
73 Phil
I had a quick Google but could only find packs of 12. As a Yorkshireman, you could do a bulk buy and make a few Bob selling the rest on.

Thanks for the QSO! Yes, it was getting dark. Interesting on 17m, working a station in North Carolina USA, then one near Edinburgh in the next minute!
I managed to get down without using my headtorch, but only just.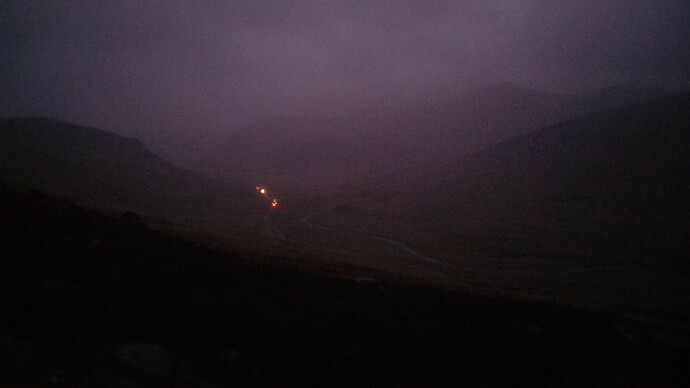 traffic heading through Glenshee in the gloom
Cheers, Fraser
Thanks info Fraser. Cheap enough for a pack and can use them for gardening too. I'm not actually a Yorkshireman, but I've lived here since 1993. I come from the "dark side" - Yorkshire folks parlance for Lancashire.
73 Phil
Will try something similar…
have also some gloves that have a thin "skin", will see which one workes better for the paddle.
Thanks for the ideas… forgot about the gloves for bikers

73s
Ingo
Well Phil, as previously suggested you could keep your paddling hand warm inside your winter jacket side pocket whilst keying with this method …
I have heard of someone who can hold his Palm key with the same hand with middle finger, ring finger and little finger that he gives with thumb and index finger.
Unfortunately I can't do that… but that would be perfect. Then the button could stay in the sleeve. I always hold it with one hand and give with the other.
I've even noticed that the Palm with the metal casing gets uncomfortably cold and I prefer the one with the plastic casing in winter.
73 Armin
This may work for those keying with one hand and writing with the other, but I see no benefit for those like me, who send and write with the same hand.
Perhaps it would be interesting to try sending with paddle and hand in the pocket, as per your proposed method, while recording the audio, so there's no need to write a log at the summit.
Cheers,
Guru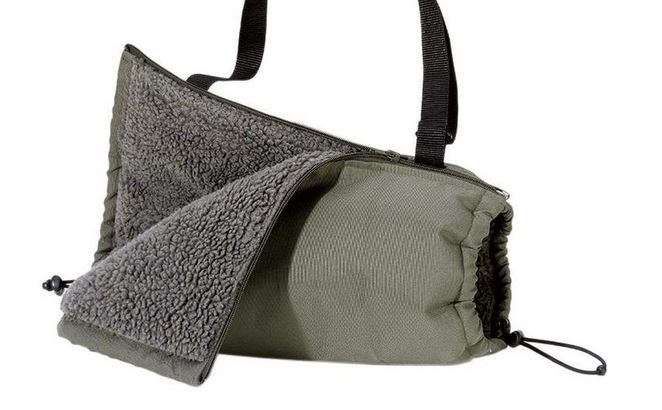 maybe that would be something nice…
a seat cushion that you can also use as a hand warmer…
I think that will go on my wish list for christmas.

73 Armin
Well Guru, we have discussed this a few times and the cold weather pocket paddling method is yet another advantage of learning to paddle with the non-writing hand. For me, it's not just a suggestion, it's been a practical solution for several winters now.
Problem is Andy, my Palm Pico key is fixed to the front of my KX3 and it won't fit in my pocket and be operable LOL. The other option is to use my HB1B and deny the SSB HFers QSOs - but I like to work a few of them if I can. I'm not big on winter bonus points, operating in sub zero condx I don't find that enjoyable and it's got worse since I started taking a blood thinner tablet for my heart. Unlikely I will be out earning WB points anytime soon.
73 Phil
I have a couple of fingerless mitts Similar to these and excellent for handling in cold weather and no problem writing or sending morse.