This is to remind you that the First European SOTA Activity Day is to take place on September 19.
See European SOTA Activity Day on September 19, 2020
Jürg HB9BIN asked me to send out information about the three categories of competition and the prizes HB9SOTA is offering for the first three winners in each category:
Number of S2S contacts
This is a ranking of activators with the highest number of S2S contacts made on that day.

Number of chaser contacts
A ranking of those chasers that have the highest number of chaser contacts on that day.

Duration of participation as activator
This is a ranking of those activators who participated the longest in the European SOTA Activity Day, i.e. the period from the first to the last contact.
HB9SOTA would like to award a prize in the form of a valuable Swiss knife (worth EUR 50,–) to the first three persons in each category and post it to those winners.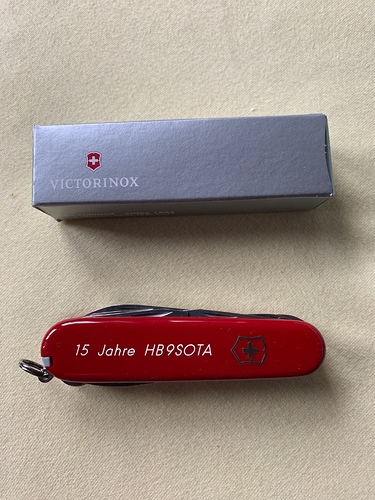 The prizes would be sent to those people who logged their contacts 2 weeks after the event at the latest and have a valid e-mail address on their QRZ.com page.
I hope the weather allows a high number of activity on that day. The weather forecast for OE is very good!
Info auf Deutsch:
Jürg HB9BIN hat die folgenden drei Preiskategorien für diesen Tag ausgeschrieben:
1. Anzahl S2S-QSOs
Rangliste derjenigen, die am 1. Europäischen Bergaktivitätstag am meisten S2S-QSOs gearbeitet haben.
2. Anzahl von Chaser (Jäger)-QSOs
Rangliste derjenigen Chaser, welche am meisten QSOs mit SOTA Aktivieren getätigt haben.
3. Dauer der Teilnahme als Aktivierer
Rangliste derjenigen Aktivieren, welche am längsten am 1. Europäischen Bergaktivierungstag teilgenommen haben. Gewertet wird die Zeit zwischen dem ersten und dem letzten QSO.
HB9SOTA würde den ersten drei Siegern jeder Kategorie ein wertvolles Schweizer Sackmesser in der Preiskategorie von EUR 50,-- schenken und per Post zustellen.
Dabei werden nur Daten ausgewertet, welche spätestens zwei Wochen nach der Durchführung des 1. Europäischen SOTA-Tages in die SOTA-DB hochgeladen wurden. Die Preise werden nur an diejenigen OMs/YLs gesendet, die auf QRZ.com eine gültige Postadresse angegeben haben.
In diesem Sinne wünsche ich allen Teilnehmern viel Vergnügen und Erfolg bei diesem Aktivitätstag!
Look forward to making a lot of S2S contacts!
73, Sylvia
OE5YYN