If you chase a station who puts /P on their call does it have to be logged that way?
It's very simple, you log what the other station was giving. If you think the details the station gave you are wrong, make a note in the comments. That goes for logging SOTA QSOs on the SOTA DB, or a paper log or any other kind of log.
Hi Paul,
As Andy has said, you log the call sign as given. Thanks for the QSO today, although I was portable on a summit, my ses callsign can only operate from one location. So no need for me to sign /p.
73
Roger GB2OTA (MW0IDX)
Out of curiosity, why would you not want to put /p when you log them?
Dave
The confusion comes in when they spot via SMS and it puts in the /P but they do not use /P over the air or in their log. Also some times I have listened to several contacts made while I am trying to get through and the activator has not give out their call for quite a while. Not all do this but some do. There other activators to chase so sometimes there is not time to wait around to see what they use on the air.
Jeff K6QCB
They need to RTFM for the spotter in that case.
I use /p also for uploads to online logs like LotW. If you don't log me with /p, there will be no match. Which might be annoying for you if you still need my DXCC or locator, and/or annoying for me if I still need yours.
73 Jens HB9EKO
There are many stations that call with /P, but then log in without /P, I see it in eQSL. I never call with /P, I take advantage of the rules of Spain so as not to confuse.
73
eQSL is a special case, with separate account requirements for each /p QTH. When I started SOTA, I created a separate account for each activation. But after a while, especially since you have to create a separate accont for each activation at the same place with different dates, I got tired of it. Now I only got one account for all /p operations, QTH and locator info goes into the QSO comment field. Others just use one account for everything (no separate /p account), that's probably what you observe.
73 Jens
I'm not sure I'm reading this right, but surely your qso with them does not count as a qso if you're not exchanging call signs (as per the rules "QSOs must comprise an exchange of callsigns and signal reports, it is strongly recommended that the summit identifier be given during each contact")?
Back in the 20th century, we just sent "your callsign again" in such a case. In times of whatsapp and facetube this is a bit oldfashioned.
I just figured nobody's got a mountain home in their living room so it can be assumed everyone doing one is /p whether it's there or not.
Smart Alec comment coming up…
The summit of Crowborough is in the town of Crowborough… dozens of homes in the AZ.
https://sotl.as/summits/G/SE-007
It's an "edge case" but these inhabited summits do exist across the world. It would be great for S2S… operate from the garden on battery of course.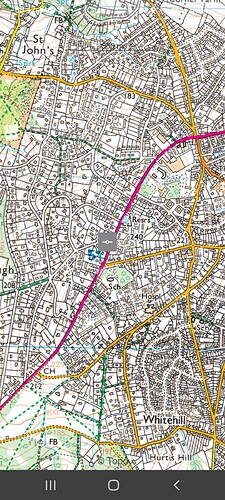 ©Crown copyright 2022 Ordnance Survey. Media 041/22