@F5LKW Congrats, Roger – you made it a race, hi.
What are you doing with your spare time now since this is done?

The most important: continue to enjoy SOTA!
Vy 73 de Markus, HB9DIZ
Thanks to all the Swiss Team.
So many fun with chasing HB9 hams.
I still continue to chasing and collect SOTA references cosly as soon as I'm retired I will climb all around the Europe
That's we call SOTA Fever
73 QRO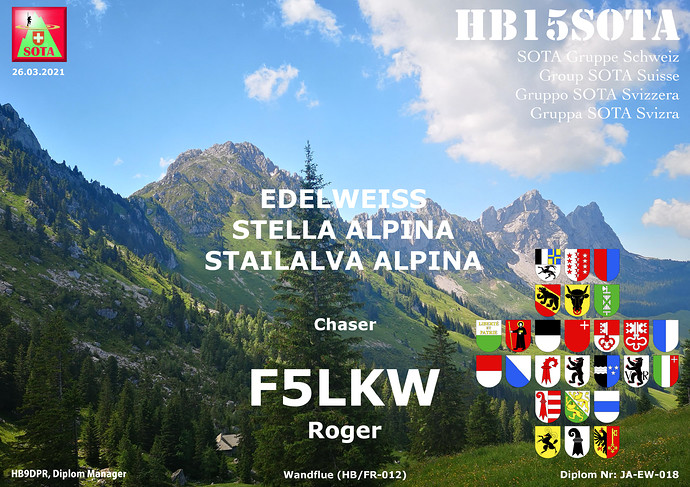 I also want to say big thanks to all the HB9 team. They are very likely my main source of SOTA fun and chases.
That's a great retirement project and I'm also willing to do it, pandemic, health and money permitting

I'm also having a lot of fun chasing the HB15SOTA special calls all around the HB9 geography and I'm slowly getting closer to Edelweiss.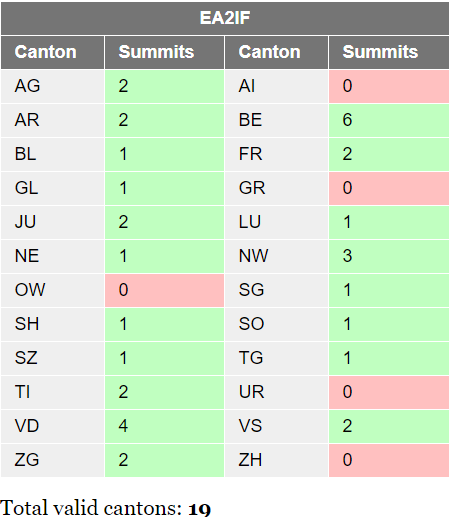 73,
Guru
As Markus @HB9DIZ, I'm happy that I could help a bit to advance or even reach your personal goals

Apart of that, it was wonderful weather with temperatures like in Spring. As usual, I uploaded two photos to SOTLAS HB/ZG-002.
Further, I could field-test my repaired antenna and my fallback battery consisting of 3S 18650 li-ion cells that will travel in my carry-on tomorrow to EA3, camouflaged in a cheap Chinese powerbank. This and other interesting ideas originate from this forum that is so great for inspiration.
Hope to hear you soon!
73 Stephan
Dear all
Congrats to Heinrich, @IW3AGO, collecting today his last canton AG for the Edelweiss in the chaser section.
A heads-up for tomorrow, especially for Luc @ON7DQ: HB/VS is alerted by Bruno, @HB9CBR.
Vy 73 de Markus, HB9DIZ
Really nice
Happy for s2s today
73 Roger
Dear all
For those in need (and not realising it . . . ): Chris, HB9CYV, is on Wannenberg, HB/SH-002 at present – this is the canton with only 1 summit, so mandatory for your HB15SOTA diploma!

Others will be active along the Easter weekend: HB/OW this noon, HB/FR tomorrow, and probably more helpers. So keep SOTAwatch or HamAlert close to be informed.
Vy 73 de Markus, HB9DIZ
Hi Markus,
Thanks for your alert. I got SH now in the log!
73 Heinz
Just in case you HB9 hams feel in need of some ideas for HB15SOTA activating, let me give you a few…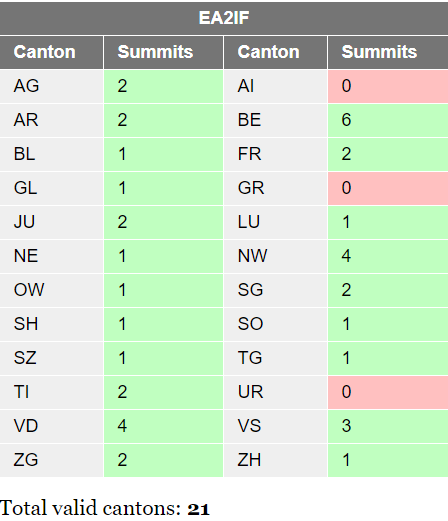 I still need GL and UR …
Luc ON7DQ
Thanks, Markus, for the heads up and for the S2S-QSO today on HB/LU-028!
I would like to second @EA2IF and @ON7DQ: Canton Uri is missing on my list as well for "Edelweiss" (and Vaud too).
Thanks for the big fun with chasing HB15SOTA


73, Roman
You're welcome Roger. That has been an episode of "doing funny things at least once in your life". Any advice welcome to do it better next time. The equipment is still coping with me, hi.
HB/FR tomorrow will be back on regular roots for me.
Vy 73 de Markus, HB9DIZ
This time I didn't activate as HB15SOTA, not because I only have 13 cantons for the diploma, but because I was outside of HB9.
I activated EA3/BC-048 and could add two HB15SOTA S2S contacts in my log. Because I left before Markus activated LU, I missed my 14th canton. Well, let's try it another time…
To show you how much QRM I experienced on this summit on 40m, I added a short video where you can hear the HB15SOTA operator Timo HB9HGQ, running his pile up with QRO according to the comment of his spot:
I could not clearly locate the source of this local RF noise that was between S6 and S9+ on 40m, but 20m and 60m were pretty fine and I could log even the second HB15SOTA station in SH on 60m. Not bad for my EFHW that is 1/3 shortened on 60m.
At the end, a total of 43 contacts made it into the log.
Sorry to the ones I could not hear well enough on 40m.
73 Stephan
Hi Stephan
Thanks for letting us participate in your view from outside onto the HB15 cosmos.
Jürg, HB9BIN, was on HB/LU-029 today, maybe his activity has matched for you.
Vy 73 de Markus, HB9DIZ
Dear all
The weather forecast has announced some winter days for HB9 now, so we'll see how this influcences the possibilities for the next HB15 activities.
Nearby Chiemen, HB/SZ-032, was on our agenda for the afternoon of Easter Monday, an easy 1-pointer between Lake of Lucerne and Zugersee, not far from home. It was already windy, but we found a nice and calm place on the summit ridge in the wood.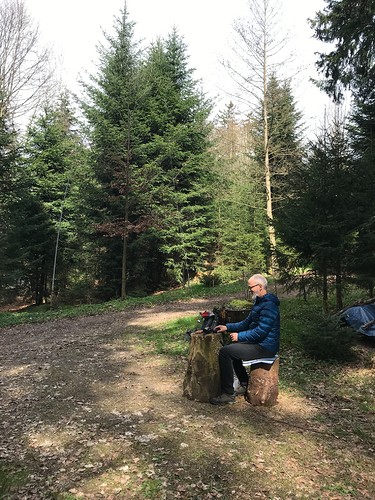 Propagation was not very favorable, and no corner on 60 m was free for me. On 40 m Guru and I fought against different QRMs from windmills and other old men for an S2S contact to EA2 and finally lost both. But there will next possibilities for good contacts for a HB15 diploma.
My lucky guy on Saturday was Roman, DL3TU. He was my last contact after nearly 3 hours in a stiff breeze on Höhi, HB/FR-049, in Canton Fribourg. The only place to escape from the breeze was on the lowest steps of the staircase of this water system utility.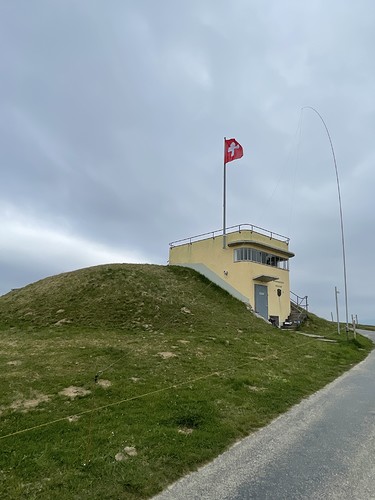 There was no propagation for short distances on 60 m, what had been frequently a golden key to southern Germany in the past for me. We finally switched to 80 m to give it a try . . . and were successful just on the last second to provide this canton although my EFHW is not made for that band. So I was also a lucky guy in that moment!
Since I was late now I had to collect my stuff in a hurry and run down the hill to catch the bus running only each 2nd hour. I was successful – it was "just in time" at its best.



Next opportunities for HB15SOTA will follow – stay tuned!
Vy 73 de Markus, HB9DIZ
Thanks Markus @HB9DIZ for your report and your feedback!
I always enjoy the low man-made noise that one usually experiences on a summit, but unfortunately this is not always the case. If possible, I try to avoid such summits in the future and warn other activators about this fact somehow on the corresponding summit page. This time I recorded this kind of QRM for the first time with a short video, but as one can hear, a powerful HB15SOTA station aka @HB9HGQ made it through the noise.
Further, I don't like to realize that a summit is not accessible just before starting the hike, as it happened to me on EA3/GI-036. In this case, the summit was within a military zone. These kind of annoyances definitely need documentation for the next activator, especially when there is no hint on one of the corresponding maps!
BTW: A summit with zero activations in EA is not necessarily a sign of such condition. I first-activated last year several easy ones in EA3.
To me, hearing known voices from abroad is always nice and on 20m I could make two times a S2S with @HB9HCS who was very active on EA8/Lanzarote.
Also, Eric @F5JKK was a very loyal chaser, always reachable with a strong signal on 60m, thanks to his relatively close proximity.
Back to the HB15SOTA topic:
Unfortunately, there was no time to activate yesterday, after I got back to HB9.
If weather and work allows, I'll activate as HB15SOTA the upcoming Friday and/or Saturday, probably to a close by summit, either canton BL, SO, AG or JU, but who knows, maybe a further one… Anyways, I'll alert a day in advance.
It seems that I can switch temporarily back to my "normal" call, when I hear another HB15SOTA activator from a canton that I'm missing. Please correct me if I'm wrong.
73 Stephan
I see that Guru still needs Graubünden and so do I!
This is surprising as Graubünden is a Canton with more than 300 summits. Any activity in HB/GR planned? It should preferably include 60m CW, otherwise I will have hardly a chance working into HB9 these days.
73 Heinz
Thanks, Markus, for your report and your perseverance on FR-049! While 60 metres has been the ideal band for distances as short as 150 km on many occasions, there was no hope for a QSO last weekend. I knew it had to happen one day: The 100km MUF would simply not reach 5MHz.
Had I known that your bus is about to leave, I wouldn't have kept you longer, though


Luckily everything worked out fine and you caught your bus in time


Many thanks and 73,
Roman