Dear all
A week with marvelous weather conditions in HB9 seems to start. And still 3 months left for the chasers to complete your HB15SOTA credits for the different Swiss cantons. Have you already considered to chase for your HB15SOTA diploma credits?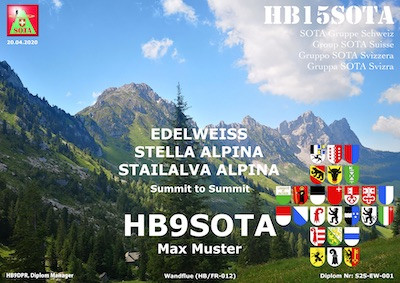 I was happy to hear today on my summit HB/VD-023 "Rochers de Naye" from @G0FEX Ken that he was lucky to complete the HB15SOTA chasing with his last one of all possible Swiss cantons. Ken is #9 so far in the Edelweiss top section. Beside that there are two lower levels for you to participate. Some cantons may be a bit trickier to be chased in the winter and spring period.
Check your score and your missing cantons as well as the diploma rules at the self-service section on our HB9SOTA club website: https://hb9sota.ch/hb15sota-award/
What canton do you need most for your HB15SOTA top class "Edelweiss" diploma?
Answer to this thread to let us know your priorities!
HB9SOTA members celebrate the 15th birthday of our local SOTA club and use the special callsign HB15SOTA for their activations and offer the necessary credits for all chasers and S2S partners.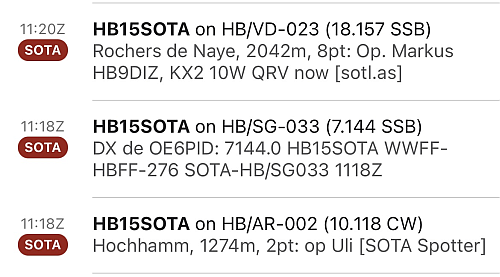 I hope that the chasers were not too much confused to see 3 different HB15SOTA stations at the same time today – always read the comment of a spot or alert to see the operator's name. And take note that the name of a HB15SOTA operator is not always George, hi, despite your logger pretending so.

My summit Rochers-de-Naye, HB/VD-023, overlooks Lake Geneva from the East. There is no prepared trail to the summit in winter times, so solid shoes and hiking poles are useful, or even snowshoes on fresh snow. I had some limitations today: QRM on many frequencies, probably from a small transmitter tower on the summit, weak signals in general and heavy wind. So I know that I had bad ears today and may have missed some of you chasing my summit. I'm sorry for this.
I was 2 hours on the summit and cancelled a further hour. Back in Montreux I was remembered that spring will start in a month: they have palms on the platforms of the railway station, but snow at the top (red circle). Click on the picture to see it in original size. The region around Montreux with the famous Chillon Castle spreads a southern flair and is known (and marketed) under the name "Riviera vaudoise".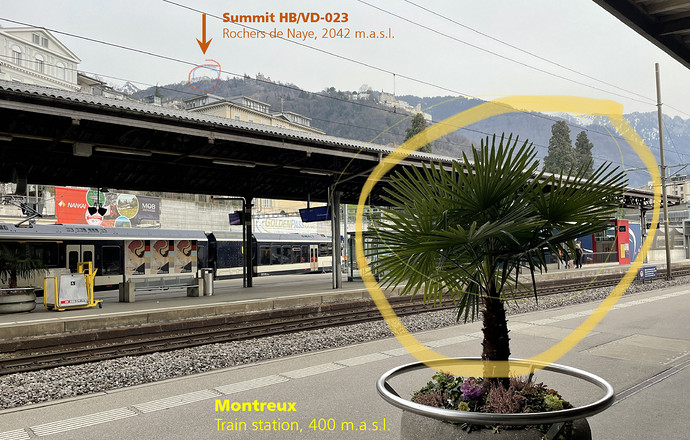 So listen for HB15SOTA – 75% of this one-year-period are already over. Enjoy!
Vy 73 de Markus, HB9DIZ