Any one seen this??
They have already replaced the 897 and 857, so is the 817 next???
I assume that the "replacement" for the FT857 that you refer to is the FT891. As it only covers HF and 6m it isn't really a replacement, and AFAIC it is of no interest. I wonder if they will do the same trick with the replacement for the FT817?
Brian
Razvan seems to be the guy who sniffs out these rumours first, so keep an eye on his blog -
Have gone through stages of attraction to the new black wonder boxes but then I quickly revert back to appreciating my mint tins! I admit, at times, it would be nice to turn up the power a bit, but really, my FT817 which I've had for 15 years is all I need. The FT817 is the only commercial HF rig I've ever bought!
Yesterday I managed to bust two pile ups both running split with my MTR-5B at about 4W o/p - the rig doesn't even have a split function! The stations I were chasing were for the Cervantes 400th anniversary event http://cervantes.ure.es/
New radios used to fascinate me but now I find home brew gear much more exciting!
73, Colin
Hi Colin,
Well done breaking through the Cervantes death anniversary special event stations pile-ups with your QRP without split function. I guess you did it with the help of the RIT.
I've been running AN400M from my home QTH last night on 20m and 80m (plus one very short try on 160m) and 20m only the night before (all CW) and it was a lot of fun.
I hope we can QSO sometime soon.
73,
Guru
I am in the process of weighing up what rig to get for SOTA activating. It will be mainly SSB but with occasional PSK data mode use. I first looked at the FT817 but the 5w with SSB is limiting in my opinion. I currently lug around my Kenwood TS-480 but at around 4kg for the Transceiver alone I am on the lookout for a more compact rig. The Elecraft rigs are out of my price range so it was between the FT817 and Ft-857. The new FT-891 doesnt have VHF/UHF on it so it doesn't fit my criteria of having all mode. I have never done 2m ssb or similar so having an all mode rig is a necessity on my want list. It has to be lighter than 4kg so 2kg or lighter is ideal. 2kg for a radio is not heavy in my mind.
Now yaesu have released the FT-891 its only logical they have released a new radio to sort of replace most of their old models(i know the ft891 isnt a true replacement for the ft857) they will do something along the same lines with the FT-817 which leaves me in a quandary,
do i wait for the replacement/new yaesu Ft-817?
Do i get the Yaesu FT817 which used to be the number one choice on my list for a few months
Or wait and save a bit more and get the FT-857?
I can buy the FT-817 now but I feel I'd need the small 40-50w amp that is sold on ebay as well which then pushes the price of the ft-817 up to the price of a ft-857 give or take a bit

Or i can think and ponder on a bit more and talk myself out of buying a rig all together as after all the TS-480 does the job i just can't try 2m-SSB with it.
Hopefully the replacement/new yaesu rig in the same sector as the FT-817 is not like their FT-891 and take bits out of the 857 and then its a new rig thats not really appealing to me.
73
Anthony
Start rumours about new super 817 replacement.
Observe second hand value of 817 drop.
But second hand 817 at cheap price.
Buy CB "burner" cheap and add on filter kit from CCI
???
Profit

unfortunately most of the money I have in my rig fund is tied up in an amazon voucher so that limits me to Amazon for the rig purchase. Nevada sell rigs on Amazon though so its ok. i got the voucher given to me for long service.
I use an FT-817 and find it is a great all round set. It's not the best in any category other than "all round competency". On every single feature you look at you can find a better radio. But for top-band to 70cms all mode, convenience, availability, spares and accessories, second-hand price it will win.
If you're SSB only then 5W can be challenging. A CB amp run around the 25-30W level with a harmonic filter added (and that is very important) will make a worthwhile and cheap difference of about 1S point. You need to go to 100W to get 2S points. At the point the 857 is worthwhile but you're now into much bigger and heavier batteries.
I'm not sure what the prices are in the UK, but in the US, the Elecraft KX2 is less than $100 more than an FT-817ND. That is the price without the ATU, but the 817 doesn't offer one.
That gives you 10W, plus a jump from year 2000 technology to 2016 technology.
wunder
Hi Anthony,
I recognise the thought pattern - I often go around that sort of loop, and end up buying nothing because it is too complicated!
My thoughts -
There is no perfect rig, don't waste too much time searching for one.
The Ft817 is very versatile, well proven, and probably as cheap as it ever will be (new).
I've used one for several years, and I love it.
If there is a replacement, it will probably start out expensive, and you may not want to buy one for a year or so until the price drops, and there are a few reviews to read.
5 Watts of SSB will probably qualify any summit if you choose the band(s) carefully. And why wouldn't you, if you have a multi band rig? Open it up for 5MHz, and don't forget the 2m FM option.
If you enjoy working lots more than the minimum 4 contacts, then higher power is probably a good idea.
HTH
GL
Adrian
G4AZS
UK prices:
KX2 £860
FT817 £436
There are many hundreds of activators using the FT817 successfully on SSB, remember that the difference between 5 watts and 100 watts is only 13 dB, about 2 S points as usually defined. It can't be that challenging or there wouldn't be that many activators up for the challenge!
And you have to buy extras to fully equip the KX2 and even then it won't cover the number of bands that the FT817 does!
Frankly, if a replacement for the 817 is due, its going to have to work very hard to beat its predecessor!
Brian
You should be so lucky! The "reward" I got from Amazon for long service was that they terminated my 5 GB free storage allowance on Amazon Drive and told me I would have to pay for it in future unless I subscribed to Amazon Prime at about £75 per annum!
73,
Walt (G3NYY)
My long service award was from work which I converted to Amazon vouchers. There wasn't much choice. As for 5w for SSB I suppose it's only because I use 25w on my ts-480 but I suppose it would still be ok. And I don't have to wait for the ft817 as my rig fund has about reached the ft817 level.
The FT-817 supporters club ( you guys) are making me have a rethink. It maybe my number 1 rig of choice again lol
Go for it Anthony you know it makes sense

73 de Paul G4MD
(big 817 fan for many reasons!)
I don't think you'll regret buying an FT817, they do so much stuff and do it all well. When compared to other rigs you get a lot of bands and modes for your money.
There's a plethora of aftermarket add ons too!
I've found that a speech compressor makes a worthwhile difference on SSB. I bought one of these, it was easy to build and works great - www.box73.com/product/4
The FT817 is a solid little rig, the case is well sealed and it doesn't seem to mind getting wet.
My rig celebrated it's 15th birthday earlier this year, this was it sunbathing last week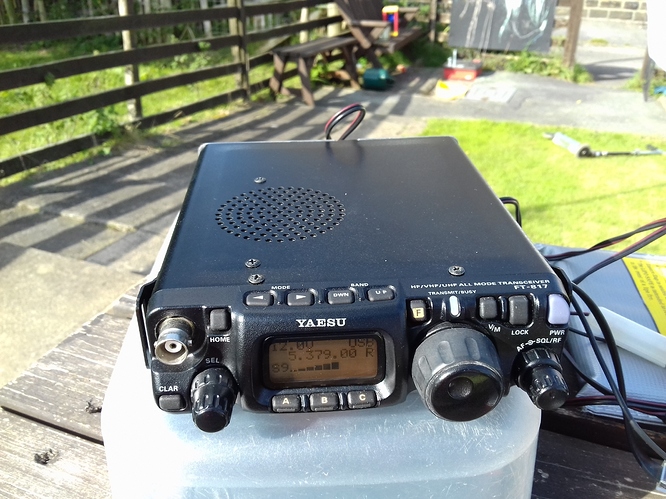 73, Colin
I agree 100%. I bought my FT-817ND new seven years ago, opened up for 5 MHz. As my main interest is CW, I felt it was well worth paying the 100 quid extra to have the Collins CW filter. (I believe you can get equivalent filters cheaper now.) I've had absolutely no trouble with the 817 since I bought it.
Anthony - I'm sure you will have no regrets if you buy one whilst they are still available - and they have never been cheaper.
73,
Walt (G3NYY)
G0FEX
FT817
I have had mine now for just under two years, & have been out and about with it activating various Trig Pillars , it is as I bought it from new and the only mod is for use on 5mhz other than that, it is as it came out of the box, just worked GM0EVV/P on 5 at GM/SS-133.
A little Gem of a radio.
Cheers Ken G0FEX
… and you've more than one! Yes, it's a no-brainer in my opinion. For all round flexibility in a compact package, the 817 is the affordable rig. Get those vouchers spent!
73, Gerald G4OIG