An Sgarsoch and Càrn an Fhidhleir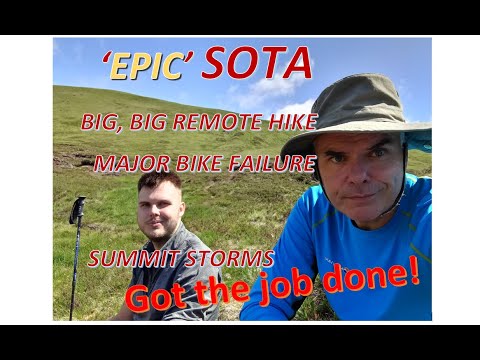 Background
My son Callum (MM3ZUP) and his fiancé Charlie were coming up for the weekend. Mo and Charlie went off to do some pre-wedding stuff. That gave Callum and I a day in the hills. He picked this one from a choice of three. Only activated three times each, by Goats @GM4TOE @MM0YCJ and @GM0GAV , we would be joining a select club if we could pull this one off.
Planning & Kit
These two Munros are in one of the most remote parts of the country and it's a 27 mile round trip. A bike can be used for around 14 miles of this. I was concerned about the lack of phone signal and inability to spot myself. That helped to choose the kit. I went "all in" as I didn't plan on failing!
Yaesu ft-857d
40m/20m Inverted V
7m Spiderbeam pole
Yaesu ft-3d plus whip plus 100g collapsible yagi
4800mah LiFePo4
To save Callum bringing his bike up from Tayport,I lent him the SOTA bike - my Giant Carbon fibre 29er and I would ride my old Marin full-suspension 26" XC bike.
The weather forecast for for 26 degrees in the glens and a fairly stiff westerly wind.
On the Day
We left home at 0500z and set of from an already very full Linn of Dee Car Park at 0700z.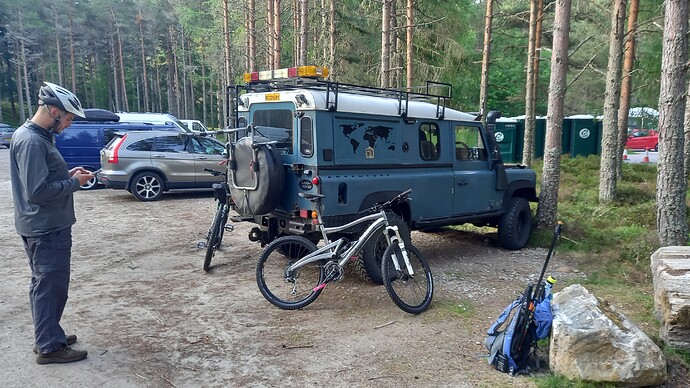 Setting Off
The ride in to Geldie Lodge via White Bridge is on decent, gently ascending tracks, which first follow the Dee and then the Geldie.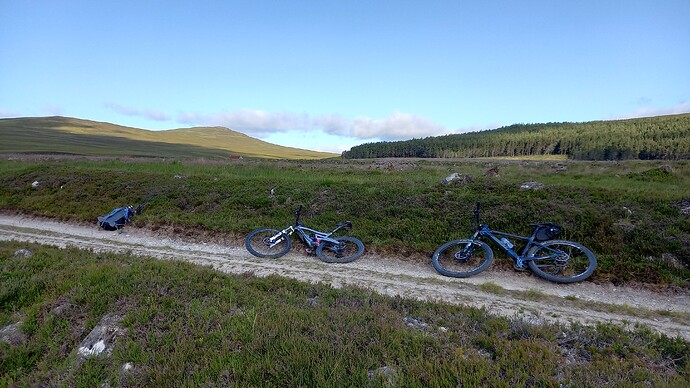 Between White Bridge and Geldie Lodge
We were making good progress and with around a mile and a half of the riding left, "BANG!", the rear tyre on Callums bike exploded. It was not repairable.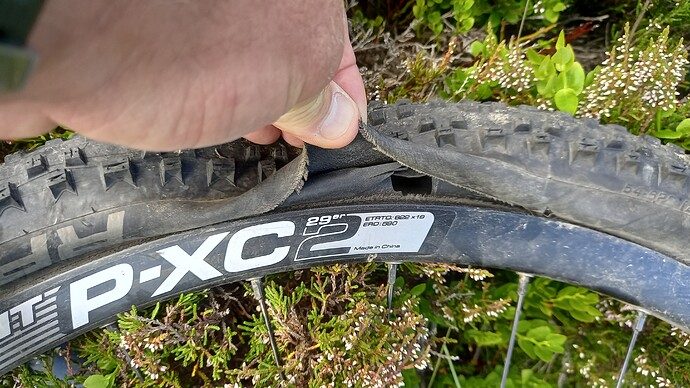 Houston we have a problem
We left the bikes where they lay and walked on, confident we'd complete the two summits, however not looking forward to an extra 9.5 miles of walking!
A couple of easy burn crossings soon led us to the Geldie burn. This is often a wade, however the water was low and we hopped across the stones.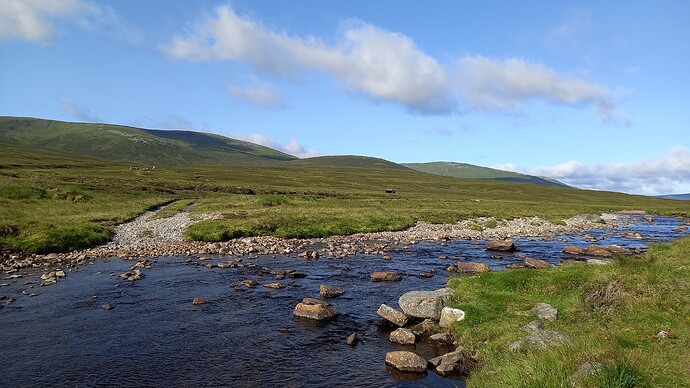 The Geldie Burn
The Land Rover track stopped at the ruins of Geldie Lodge, however we were able to follow a decent Stalkers path west across the foot of An Sgarsoch and onwards towards grassy and heathery slopes up the east side of Càrn an Fhidhleir.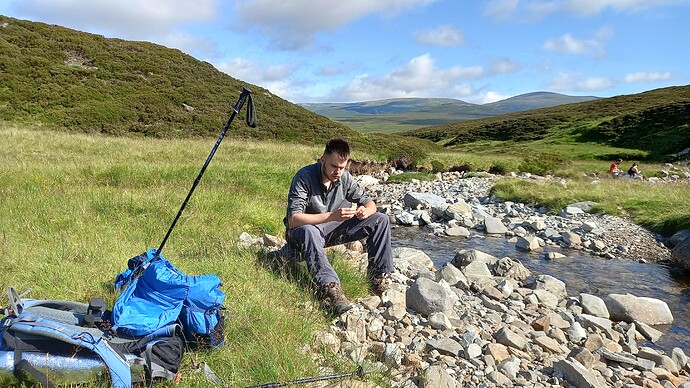 A break at the Alt a Chaorainn before climbing to our first summit.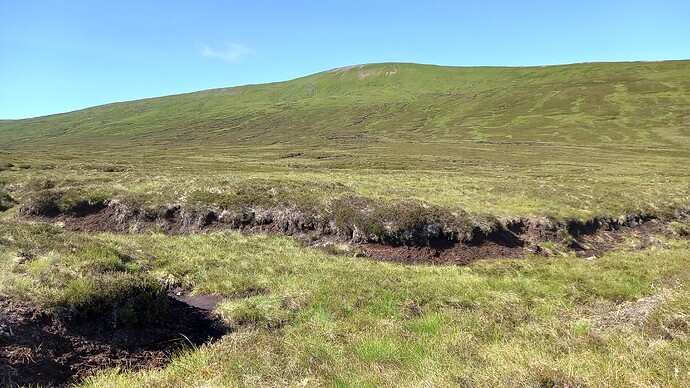 Peat hags and mainly dry bog below Càrn an Fhidhleir
We topped out onto the grassy dome of a summit into a gale at around 0945z, so 3 hours 45 mins from the car park. 15 minutes ahead of schedule despite the extra walking. We'd arrived just before three other parties who had all camped overnight nearby and I was glad that we'd bag the shelter first, however this was the worst I've seen! It was a crescent of rock, around 60cm high and would only shield us from the wind if we lay down.
Well we were here now and I decided to go for it. Callum was a great help with the mast and guys. I honestly couldn't have done it on my own in that wind. We actually had to build a small cairn of rocks around the base of the mast as it was skipping about in the wind.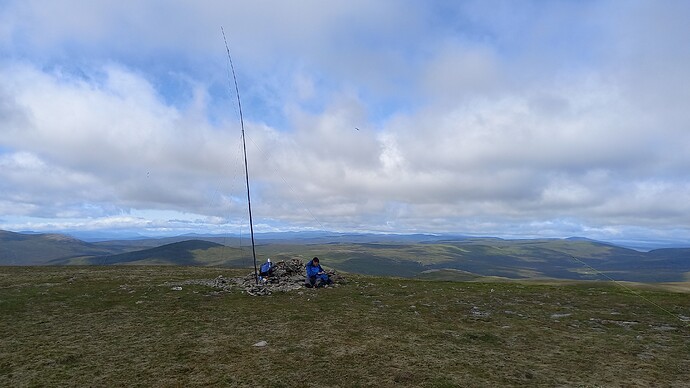 The station just about holding it together
I hadn't even thought about how to get a Spot away, but thankfully when I looked at my phone - 4G! I'd rigged for 20m as I wanted to avoid the Russian contest (I always check the contest planner when planning a trip) and picked a frequency high in the band.
Between 1015z and 1030z I worked 13 stations and the band was in decent condition. The last two stations, PE1DUW/p and M7WOB were worked with Callum holding the mast as best he could, it having blown over at the start of my QSO with PE1DUW!
Well done Callum!
Between us we had everything split down and packed away securely in a matter of minutes and exited the plateau to the south with all due haste.
It was actually a nice pleasant walk down grassy slopes to the col between the two hills, with the breeze decreasing in strength as we descended.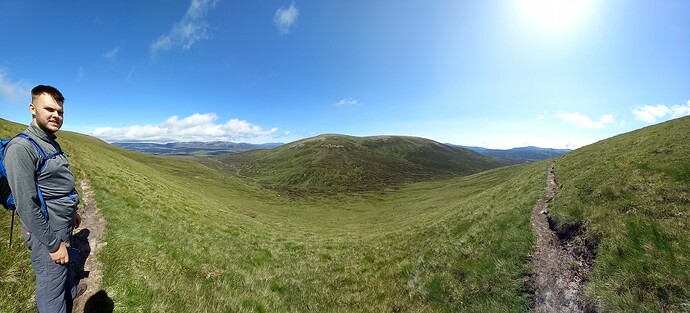 Heavily distorded panorama of the descent towards An Sgarsoch
Lunch was taken at some dry peat hags at the bottom. Here we sat astride the watershed. Draining south into the River Tarf, then Garry, Tummell and finally Tay. Draining north into the Geldie burn and the Dee. The west side of the summit we'd been atop drains north into the Feshie and then the Spey. Quite remarkable, I thought.
The climb of An Sgarsoch wasn't as fierce as it looked and we topped out around 1220z. The wind was as bad, I estimated a steady 45mph. The cairn was larger but offered no shelter from the wind whipping around it.
The station went together quicker and more securely (I hoped) this time and I was on air (on 20m) thanks to another 4G spot at 1235z.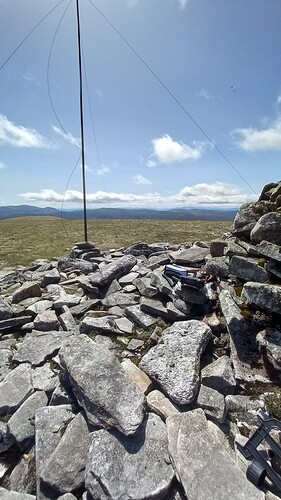 MM0EFI/P An Sgarsoch radio station
This time the fading was deep. My log was a mess - full of half callsigns, callsigns with no signal report and various scribbles. However, 16 complete entries were made, with the surprise final QSO of the day from @GM0GAV Gavin. I well and truly had my summit brain engaged by this point. I couldn't work out:
a) why he wasn't /p and didn't give me his summit reference
b) was it really Gavin? Maybe he was GM4GAV or some other combination
c) how on earth was a GM station working me on 20m? Never happens.
Anyway, sorry Gavin if I sounded bemused and didn't ragchew!
As for point (c) Callum noted that there was a large gap in the high hills to our south east, to the north of the massive Beinn a Ghlo, through which he thought he could see the land around the Dundee area. So, 20m groundwave, line of sight it was.
We repeated the strip down operation and were soon heading off the summit, having first taken a rough compass bearing to make sure we were heading due north. Not the first time I've walked off a dome summit around 90 degrees off!
After a couple of miles of grass leading to short and then longer heather, with parts of path, and after topping up water from a burn, we found ourselves back at the stalkers path and followed this back east to the Geldie Lodge.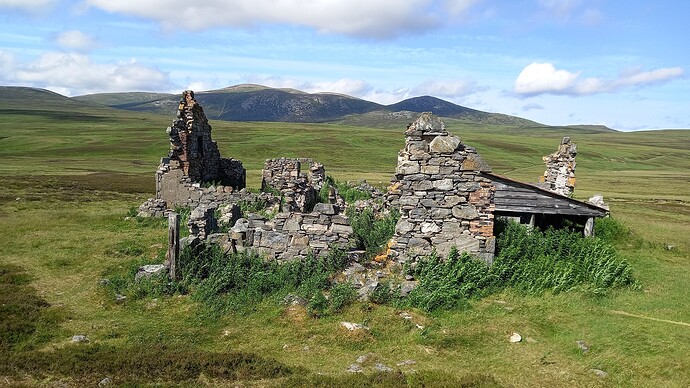 Geldie Lodge
Our Apollo 13 Moment
We'd had around 7 hours to come up with a plan for the bike repair, using what ever bits we had in our rucksacks, so when we arrived back there at around 1530z we got straight to work. I'd suggested cutting the ruined tube and using it to bandage the tyre and Callum suggested swapping this to the front to lessen the load. We'd secure the wrapped tube with our solitary cable tie, reinforced with medical tape from the First Aid kit.
Half-an-hour later and we had a fix. One which would either last 100 yards or 100 miles.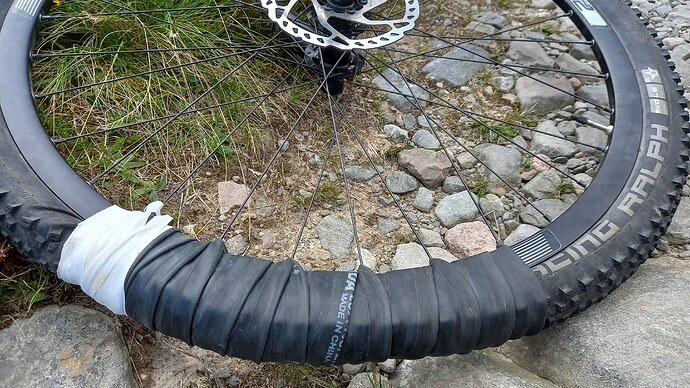 Bodge of the Year
Well an hour of gentle riding saw us back at the Linn of Dee car park, celebrating our amazing day, getting away with two activations in dreadful conditions, fixing the bike and most of all experiencing a trip through some stunning and really wild country.
Oh, and we were back on time. Somehow!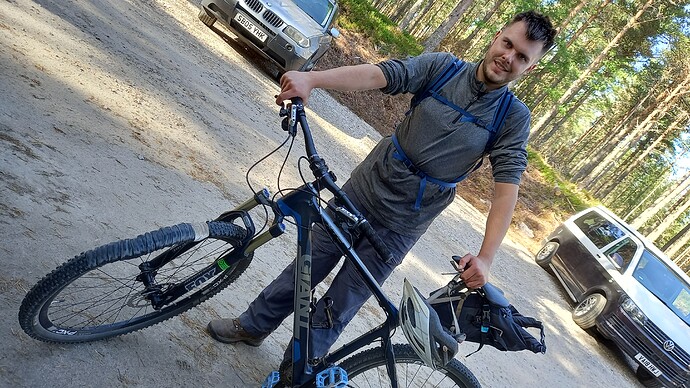 Callum pretty Happy to be back, and on two wheels
73, Fraser