Hello,
as previously announced, a large group of activators are preparing a multiple summit activation focusing on VHF FM mode, planned for next Saturday, July 27th.
Our objectives in this trial are:
Enhance the chance to get S2S and long distance contacts using VHF,
promote the use of the 2 meter amateur band, and
take the chance to create publicity of SOTA scheme; a simple handheld is enough to have fun in the mountains!
We worked hard to identify target summits so that they are spread over EA plus a guest bonus station in France. This is the listing of agreed activators and summits: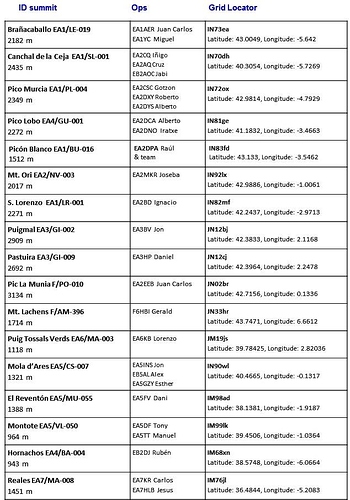 This map shows their location: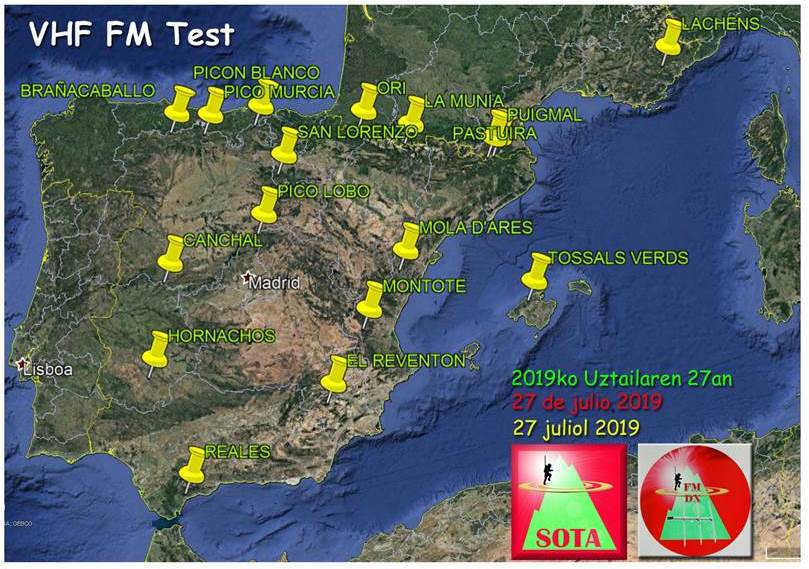 Every activator will call on a simplex FM frequency (avoiding relay input channels):

This way, every activator will control his own activation pace, and will QSY to search for a S2S contact in an adjacent channel, enhancing S2S DX qso!
They will use modest equipment (handhelds, or mobile rigs at medium power abt. 15w) vertical antennas and small yagi beams.
After this massive trial we will publish a report to summarize the event and provide some results.
We will be glad to count with foreign chasers in our logs. There are plenty of chances to get some exciting DX contact.
Thanks to all participants for making long trips to reach distant summits. We hope a lot of fun in this activity.
Please, distribute this info within your friends and clubs so that we maximize the chances for chasers.
VY 73 de Ignacio and all the crew.