I was well chuffed with the success, enjoyment and lack of fatal consequences to my first post-operative outing to tiddler G/CE-002 for the Trans-Atlantic S2S event last week so it was time to try something more challenging, as part of mine and Gerald G4OIG's plans to activate the recently-promoted Marilyn GW/NW-078 and reinstate our "activated all NW" status :)*
I was discussing the plans with my elder daughter and she indicated she'd be up for an expedition to the Malvern Hills this Saturday if that would help… Ideal I thought! Pleasant company and a chance to activate the Worcestershire Beacon, G/WB-009. Also a chance to indulge my love of train travel by meeting her at Great Malvern station and walking from there.
In deference to my "fragile" state I planned a very minimalist activation, using just my FT-60 handy but couldn't resist taking the aptly named "Rucksack Special" to give me a bit of advantage over the rubber duck. Plugging the appropriate figures into the RSGB emf calculator spreadsheet showed that radiation levels for this combination would be well within "low power compliant" limits so no issues with irradiating passers by on the summit…
In the event a diversion of my train at Worcester meant I missed the connection to Malvern, so she picked me up from there and we drove to Malvern and parked near St Anne's Gate, the start of the path up to the Beacon. This actually saved nearly 1km of walking from the station, but I didn't complain even though the purpose of the trip was to get some exercise

The first section of the climb to the Beacon is steep and unrelenting, eventually levelling out for a while before the final push up to the summit. I was delighted to arrive at the top without need for stops on the way, covering the 2.2km distance and 320m of ascent in 58 minutes.
As we approached the top Daughter went ahead (she'd stuck with me all the way up bless her despite her youthful urge to race on!) to scout out and reserve a bench for us to sit on - the summit was very busy today. She managed to get one right at the top, excitedly pointing out that there was a crevice in the timber perfect for wedging the antenna in. She is obviously learning SOTA-craft well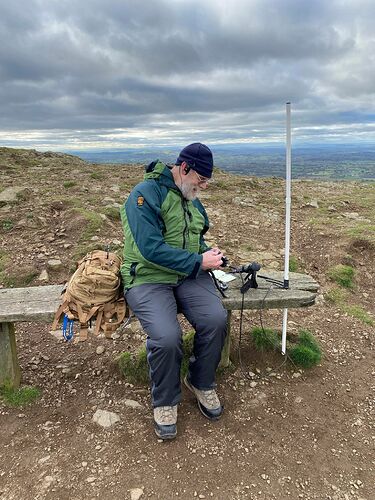 Setting up on G/WB-009. Note cunning use of cleft in seat!
Set-up was trivial and quickly achieved, using the speaker mike and an over-ear earpiece. Listening around showed the channels to be very busy, 145.350 being the highest available one. I gave a shout on 145.500 and Stuart, G0LGS responded almost immediately. 145.350 was thankfully still free, so we had a nice chat there, Stuart informing me that the hill had already been activated by someone else that morning! On completion, he kindly spotted me, thereby saving a trip back to S20 and the consequent risks.
After signing with Stuart, I was almost immediately called by Rod, M0JLA/P on Ruardean Hill, G/WB-021 for the first s2s of the day, followed by Martin M7BIA on Shining Tor G/SP-004. Then Allen, 2E0AGB called in for a difficult contact, he disappearing into the noise after exchange of reports. Apologies Allen, hope we can make it longer next time

Next into the log was Rick, MW5RJC/P who had stopped on his way to activate the Begwns, GW/MW-025. Sadly we had to leave before Rick got to his summit, but many thanks for the call Rick and hope to s2s soon!
Peter, MW0PJE/P on GW/NW-054 was the next caller for the third and final s2s of the day, followed by M3PWJ and Ryan, M7HFD/M who was an enormous signal, being mobile in Malvern at the base of the hill. He kindly re-spotted me, which brought calls from Matt, M0REM/M and Ian M7ICW/P. A few minutes' calling brought no further replies, so with the windchill making itself felt I went QRT, just half an hour after starting.
The walk down was quick and uneventful, arriving at the bottom in time for a quick pint before my daughter dropped me back at Great Malvern station. No diversions this time and I was back home in Stourbridge within the hour

Really enjoyed this expedition, and it was wonderful renewing acquaintance with some old friends and copying a few new calls. It's been a long time since I've been able to get out!
Next planned outing is a more challenging "trial run" to test fitness for Rhinog Fach - Gerald and I are hoping to tackle Great Rhos, GW/MW-002 on Monday 15th Nov, if that goes well hopefully we'll go for GW/NW-078 in the week or two following that. Look forward to meeting a load more old friends soon

73 de Paul G4MD/G6GGP
It'd be activated all GW if it wasn't for that pesky MW summit… You know the one I mean