I've just pushed a bunch of new features to SOTAWatch3 in response to some user requests and also some tidying up of the UI.
Firstly, I've moved a bunch of settings into a global settings form that can be accessed from the login menu: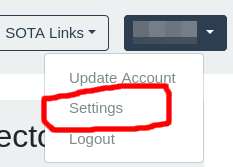 All the normal alerts/spots values are there, and can also still be accessed from each tab, and will stay in synch between them. Set a filter on Alerts in the Global form, hit submit, and you'll see it available on the Alerts tab.
The layout option that sat in the Spots tab to toggle the alignment from centre-aligned to left aligned is now a global option and removed form the Spots tab.
The two new features that have been added that required a global settings form in the first place is firstly the addition of themes - in particular a dark theme - and secondly, the addition of audio notifications.
There are now three themes to choose from. The first or Normal theme is the SW3 theme you know and love. The second is called "Dark" and looks something like this: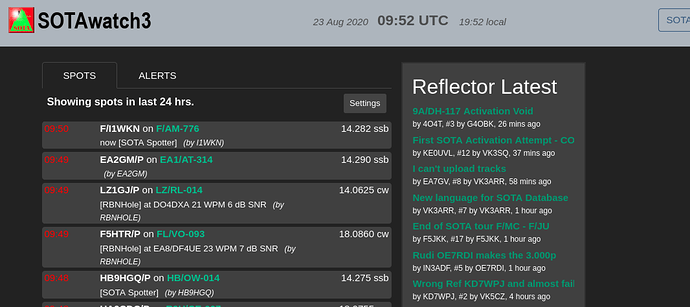 The third one is called "Flat" and is a light version of the new dark theme, but quite similar to the Normal theme: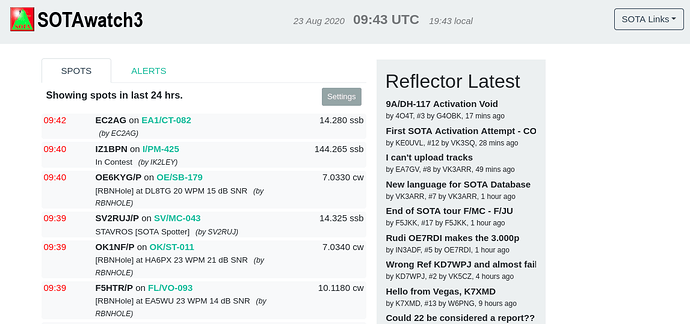 Both new themes borrow heavily from the Flatly and Darkly themes from Bootswatch, for those who care (and maybe are wondering about the names).
The Audio notifications are disabled by default, so you will need to select an option from the Settings form to try these out. They are simply text-to-speech dialogs saying "There's a spot on SOTAWatch". I have provided male and female voices in British and US English. If people send me translations of the phrase, I'll add in other nationalities. I've leant on my own poor Japanese knowledge to include two Japanese options too.
If people want other notifications, I'm open to providing them, although I don't want a dropdown list of 700 options. Any file you provide me to include must be public domain (and yes, I struggled to find a simple, short, clearly marked PD goat bleat earlier today).
You may find that you do not hear the notifications if your browser disables auto-play. You can click just to the left to the URL and this will display the permissions available - simply allow Audio.