Cos' someone is smart enough to do it. Same person has also done it with Greggs!
Now that would be handy?? got a link!!
Cheers
If you're really into Trig Points, this is far more useful. A .kmz file for Google Earth. Links back to trigpointingUK. Third one down on this page:
I think you've missed the (trig) point. It's completely useless.

Hi Fraser,
Maybe you aren't one of the athletes running up to a trig, touching it then running back down. These folk are very fit but your antenna wires need to be well out of their way…
I suspect bagging trigs is nothing to do with SOTA.
73 Andrew VK1DA/VK2DA
OK, obviously this is an app for the UK only, so my above remarks are at best specious and unwarranted - but humor is a saving grace I'm told.
Having said that, I find the idea of such web apps, which react rapidly to user input and display and update results quickly on the map, to be commendable and noteworthy. I can't, however, speak to their usefulness or practicality.
Rob
They're all just a bike-ride away - and downhill at that!
I've just tried that for where I am now in Cornwall and discovered there are only 2 Greggs in the whole of Cornwall. I seem to remember reading something about Cornish resistance to buying their pasties from Greggs was the reason why the chain only has a very small footprint in the county.

That's so unfair! You will have to stock up on steak bakes, sausage rolls and dinosaur pasties on a Saturday ready for the Sunday SOTA trips.
no surprise the most dense population of greggs is in Newcastle, its home.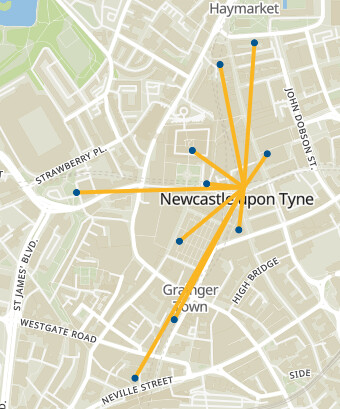 i do remember and did test it once, that in Sunderland whilst at uni i could buy a flat cornish(dont do them anymore) and by the time you had finished it you were at another greggs

A pub crawl sounds more appealing than a pasty crawl.
Maybe with a couple of sausage rolls at the end ?