@K2KJD, Operator D, has been lately operating on 14.032 durig his SOTA activations.
I managed to chase him once on September 22, but some other times he was activating on that same frequency, I couldn't chase him because of much traffic from my side of the Pond. I remember TZ5TT CQing on that same frequency and several stations from Europe calling him, so it was impossible to copy a weak signal from a SOTA activator in Northamerica.
Another activator used that same frequency yesterday. See @K7PX spot:



And, again, I couldn't chase him because TZ5TT was again CQing on that same frequency and other Europeans called him creating too much QRM for me to copy the weak signal from K7PX.
Perhaps you don't notice this traffic at the East side of the Atlantic Ocean, but I do and I'd like to be able to chase you whenever your weak signals can be copied here.
I see the following alert for this afternoon where @K2KJD seems to have the intention of using 14.032 again.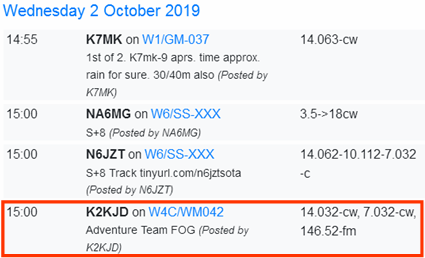 Of course, you guys can keep using such frequency if you fancy to, but in case you'd like to be chased by some DX chasers at the other side of the Pond, let me recommend you all using the frequencies around the CW QRP frequency, as most of us usually do.
14.058; 14.059; 14.061; 14.062; 14.063; 14.064; 14.065 are all fine, but 14.032 is not IMO the best choice for SOTA DX QSOs.
Thanks for your comprehension.
73,
Guru