Hunt Hill GM/ES-042 - 705 m 4 points
In some ways, it worked out well that I had to postpone last weeks planned ascent of Hunt Hill due to high winds, because;
@GM0GAV suggested an alternative "route"
There was a bit of Tropo forecast for this Friday
I now had time to try and organise some some folks to help me pull off a VHF activation.
Planning
As well as Whatsapping the local gang, I contacted two Welsh SOTA friends, who were both up for some 2 m SSB summit to summit action. More on that later…
In terms of the route, most folk would climb Hunt Hill from the east. There's a car park at the top of Glen Esk and it's about 7 km to the top, much of which can be cycled. It's a 60 mile drive for me to get to Glen Esk, across the Mounth. I mentioned earlier that Gavin planted the seed of doing Hunt Hill from Spittal of Glen Muick (the usual starting off point for an ascent of Lochnagar GM/ES-008) in the north west. This would mean a hike of 11 km one way, with much of it pathless and a climb of the higher (but non-SOTA) Muckle Cairn, en-route. It's only 17 miles to Spittal of Glen Muick from my house and that's what swung it. That and the chance to visit the isolated Sheilin of Mark bothy en-route.
The traditional approach in blue, my route in red
Friday 2nd of December 2022
It had been raining all of the previous day. I left home with gaiters over my boots and Paramo trousers over those. I carried my Yaesu FT-857d, my VHF mast, 100 g yagi, 4200 mAh LiFePO4. An EFHW and carbon6 pole also came along. An insurance policy.
My bag felt heavy. There was the bothy bag, a down jacket and some extra food in there too, given the time of year.
At Spittal of Glen Muick car park, they've been doing a lot of work. They've created an additional (as yet un-opened) car park across the bridge from the existing one. There are two fancy new parking machines. Parking is now £5 for the day. Peeping out of the trees is a shiny new cell mast, with a steel tripod at the base, ready to take a dish, so I guess Glen Muick will finally have a phone signal soon!
It was 0830 when I set off, the cloud still low and the morning damp from yesterdays rain. I'd always wondered where the track up the glen that contains the Allt Darraire started (Allt is burn in Gaelic). No such problem now, as the estate have put a gate in off the main track just opposite the toilets. This leads a across a field with another new gate at the far end.
Adventure beyond this gate
I made my way up the west side of the burn on a grassy and then narrow stony path. After a kilometre I was expecting to cross a bridge to the other bank. On arrival, just one problem. No bridge. I guess it was washed away in the 2015 storms, like so many others around here. I forded the burn without any difficulty just south of the bridge abundments.
crossing the Allt Darraire
Further up, the glen split and I now followed the unusually named Burn of Mohamed on a feint mark through the grass. Eventually I had to turn south east, crossing the burn and heading up onto the fog bound moor. Here I lost all trace of a path. The heather was long and interspersed with areas of peat hags and dark pools. Despite my best efforts with the OS map on my phone, I just kept going off line, eventually cutting my losses and heading directly south to Gowan Grain - a burn which would lead east and directly to the bothy.
Torturous route to the bothy
Today was all about navigation and kept looking back through the limited visibility, mentally noting every feature, slope, river and gully. I went over and over these in my head, building a mental map of my return route.
The tiny Sheilin of Mark bothy
At the bothy I crossed the burn and followed it east for a bit. I could have climbed the sprawling slope eastwards up to Muckle Cairn just about anywhere, but I was holding out for a feature to follow. I soon saw it, in the shape of South Grain - a burn in a shallow depression. I headed over.
Initially the going was rough, with heather and tussocks, however I eventually picked up a deer trod that ascended the burn, crossing over time after time, because much of this burn was underground and only visible through holes in the peat - some of which were 2 m deep. This would not be fun in a decent covering of snow! Soon the burn soaked into the surrounding ground and an area of peat hags was ascended. I was aiming for a track that I wasn't sure existed and that if it did exist, I couldn't possibly miss, as I'd be broadside to it. (Various maps I'd reviewed showed it as a Land Rover track, footpath or not at all!) Well, I found it and was really glad about that! The next section would be plain sailing.
The track - a Motorway/Autobhan/Freeway (insert your own word if necessary!)
I turned left (northish) onto this well made road and soon turned right and started my descent into Glen Lee. At 735 m altitude, I was already higher than my objective. The descent was rapid, although the track degenerated badly as it fell in height. At some points it was just a trace in the heather. The cloud cleared as I continued down and I caught a glimpse of Hunt Hill ahead. It looked steep and it also looked too far away for me to get there by 1130.
Hunt Hill appears from the gloom
from the bothy to the stables
Soon the remote Stables of Lee came into view, complete with grazing Highland ponies in a paddock, I was now in Invermark Estate, a shooting estate that still use ponies to bring red deer down off the hills. I only just stopped myself walking up to the stables when I remembered that I had to head south off the track to find the bridge over the Water of Lee. Scanning the river I could see what looked like the bridge. I was standing at the exact spot a feint grassy trail headed down to it. Still, for the second time today I was to be disappointed.
The "bridge" over the Water of Lee - Hunt Hill rearing up behind
Thankfully the fording was simple enough, as was that of a tributary immediately afterwards. That just left the climb. I had no option really but to tackle the steep heathery slopes head on. With the aid of my poles I hauled myself up. All of the sheep and deer trods contoured the hill, sensibly but annoyingly never going up.
steep heather - the stables visible in the glan
Eventually I reached easier ground and then a slight narrowing towards the summit. I was now in cloud and could see the moisture collecting on my top. I'd need to get more clothes on when I stopped. Stopping was problematic, because I couldn't decide which of the three small lumps was the real top. In the end I plumped for the most southerly one for a better VHF take off. It was 1124 and I'd somehow got here early after a 3 hour hike.
the final climb to Hunt Hill from the "bridge"
I assembled the beam, raised and guyed the mast. A length of 5D-FB coax was dropped down to the radio, which was last out of the bag due to the dampness. Some WhatsApps were send, a spot logged, and only just, because I'd had no phone signal all morning, with 4G just appearing right at the summit. 2 m SSB was Go on 144.315 MHz.
I was hopeful of some DX @G0RQL Don down in North Devon would be listening, The two Welsh hams - they would be listening. Well one of them would. The other (who is well known on here but shall remain nameless) had packed a 12 element beam for his SOTA trip, aiming to contact me on 2 m SSB…using his handheld! The man with more radios than you can shake a stick at hadn't taken a VHF SSB rig with him.
Well the other Welsh ham - he was first in the log. A 400 km summit to summit with Richie, newly licensed as Intermediate @2W0LWF I think the reports were 3/3 and 3/1 each way. Cheers Richie!
The mist had turned to drizzle and the drizzle to rain, pushed towards me on a southerly breeze. Exposed skin was getting cold. I flung the waterproof bag over the radio. I couldn't get the radio in the bag because 5D-FB coax is semi-hardline and I couldn't risk kinking it.
getting damp at a rate of knots
I managed another three on SSB, qualifying the summit. NE England, Edinburgh and Aberdeenshire. At one point I could hear English voices talking amongst themselves asking if I was still around. Unfortunately they couldn't hear me.
I should mention at this point that some of my dampness was self-inflicted. I'd set up me and my radio under the beam. Even before it started raining, the beam and pole were collecting moisture at a rate of knots and this was dripping onto me and the radio. Using VK Port-a-log was proving problematic due to a wet screen. I'd anticipated this and packed my waterproof pad and pencil…or so I thought. They were safe and dry back home.
Despite the worsening conditions, I re-aligned the beam and dialled up to FM. I knew I should work some locals, a few Edinburgh stations and @MM0FMF Andy and I had made a somewhat loose arrangement to have a summit to summit. We'd both be on hills at the same time, but hadn't really firmed up which band and mode!
the beam polarised for 2 m FM
A call immediately brought in G6BIA in NE England, followed by @MM0RFN Hibby in Aberdeen and then @GM0GAV Gavin in Inchture, which was nice because it gave me a chance to "thank" Gavin for suggesting the route! Still no Andy. No one from Edinburgh either, which is unusual from summits near the North Sea.
I flicked left on VK Port-a-log to find out that Andy was on 40 m SSB. It was now 1210. There was no way I'd have time to set up my HF mast and EFHW. I needed to be off the hill for 1230 to ensure I could do the three hour hike back and still have 30 mins of daylight to spare.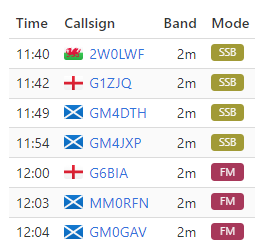 the log
The Return
Hopefully you're still with me!
A quick jump around shook some blood back into my extremities, enabling me to disassemble the fiddly SMA connectors and to get everything stowed. My descent was direct and steep. As I dropped from the cloud I was dismayed to observe that it was really raining, although this eased off not long after.
I was feeling chuffed that I managed to remember the terrain well enough to find my way back to the bothy. I went inside for a late lunch of half of a Soreen loaf, trying the banana flavour for the first time. Very nice. Flicking through the bothy visitors book, I read that the last residents from just a week before had real trouble with the fire. They wrote that smoke was oozing out of the wall of the chimney breast and that they had to keep the door open all night to stop the CO alarm going off. Yes, bothies are fitted with CO alarms these days!
Bothy lunch
Thanks to a path heading from the back of the bothy onto the moor, I was able to find a more direct route back to the Burn of Mohamed. The path soon faded, but it took me on a more direct course which seemed to avoid the worst of the peat hags. From the burn it was a case of following it downstream back into the final gorge that led back to the Spittal and I got there at 1530, so seven hours in all, three hours each way with an hour on top. 22 km walked.
It was only when I uploaded my GPS trail to Strava that I realised how much I'd dropped from my high point on Muckle Cairn into Glen Lee. Almost as low as my starting point.
out and back gradient profile
Summary
A successful 2 m SSB DX hunt! A new Unique. First winter points of the season. Tricky navigation in the mist and a satisfying expedition. Shame Andy and I missed one another, but he told me later that he'd been experiencing similar conditions and wasn't for hanging around either. 857 got wetter than I would have liked. Clothing did the job and I came home with dry feet.
The route - well that's one for the Connoisseur of The Mounth and the peat hag I think!
73,
Fraser MM0EFI