Hi all,
while I was playing with some analytical tools, I looked into the raw data provided by the Reverse Beacon Network.
As a first result, please find a breakdown of CW speed by continents. You can see that only 25 % of all CQ calls spotted around the globe are using less than 22 - 25 wpm. The median is 26 - 28 wpm. So if you master 26 … 28 wpm, you can work at least have of the stations calling CQ.
The data is the full set of RBN spots from January 1 - March 12, 2018. Note that the distribution properties are based on spots, not stations, so there is a slight bias towards stations that are spotted by more skimmers than others.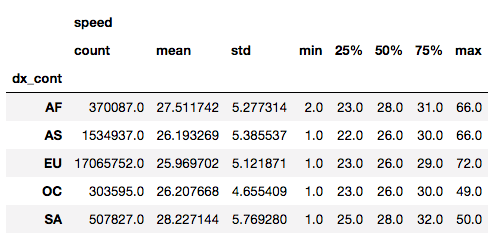 73 de Martin, DK3IT