Ignore me - changes it to the newer address and that seems to have worked
I almost always spot any SOTA operators I manage to hear but I'm having trouble doing it on this website.
What am I doing wrong?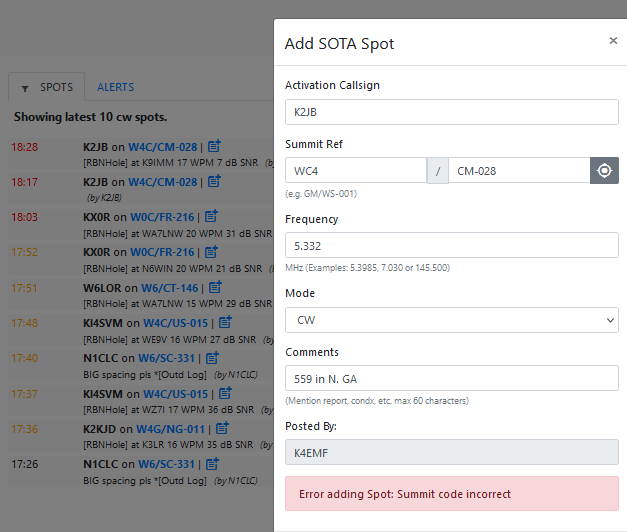 Most likely because the association is W4C and not WC4
Good grief. Thanks buddy.
There was another short outage on the cluster and spotter for about 10mins around 950Z - 1000Z as the server needed security updates and a reboot. Everything looks OK but let me know if you see problems.
Just checking if the SMS spotter is working ok today? Thanks Ian AZB
Tried a test SMS today at 00:04z and 11:06z - didn't work
By way of an update, tried the SMS yesterday and it worked

Sorry for the complete outage of the SOTA cluster and the SMS spotter for about 9 hours yesterday.
Since I fixed a schoolboy programming error (

) in my code some time back, the systems have become so reliable that I don't monitor them any more. Yes, I know that is tempting fate.
Around 1800 yesterday I saw a error message email saying there had been 10 failures of the spotter to respond in a timely manner to an incoming SMS. I see occasional single fails but never 10 fails. I had a look at the server and there was no spotter or cluster app running. Further checks showed the server rebooted 9 hours previously. A quick ticket to the hosting company and they replied saying that they were doing maintenance including live migration to new hardware and some servers failed the migration, mine included. It was down for about 2mins. They also said they were more embarrassed that the automatic "we had to reboot your server" messages failed as well. So they had a double whammy. This is the first time anything like this has happened in 10+ years. They had a big hardware fail at one site which resulted in a server being unavailable for 72hrs and I got a month's free hosting. I can't complain TBH. considering how cheap and in general how reliable it is.
The irony of this is the single fail emails I see is when there are too many demands on spinning rust disks and everything was being moved to SSD to speed things up. So the task of making things better long term made them worse for a while!
As I said, it all just keeps working so I don't check it, slack I know. Nobody contacted to let me know things were amiss which is why it took so long to come back on line. I can see everything is ticking over again now.
Works well for me most of the time via CQRlog and my Raspberry Pi.
Very occasionally it will drop out.
Must check my settings.
Works great for me using Log4OM. It will chnage frequnecy using CAT and put the summit in the log. Just click on the spot.
Kent K9EZ