A few weeks back I ran a simple poll to see which tablets were the most popular. After 102 responses the results were what I expected, Android led Apple iOS by 2:1 with a few people using Windows 8 or Windows 10 tablets.
In my case, I have a Nexus 7 Gen1 which I've been using for 2 years. It's used when I don't have a full laptop with me to surf the Web, access the various servers running SOTA facilities (ssh, VNC) and to serve up books and magazines such QST, which I re-render as DRM free PDF files. It's used to display both OS maps and free OpenStreetMap maps integrating with the inbuilt GPS.
A couple of things got me looking at new devices. For a start my Nexus had become sluggish at times, taking 45 secs to start up a browser. Comparing it with a few Nexus Gen 2 device my work colleagues have, I realised how very slow it had become. Secondly, Google decided to stop producing software updates for the Gen 1 model. I have a tablet in immaculate condition which still has excellent battery life but no security updates. You may be able to live without security updates, but to me, no updates means not viable. I have the same problem with my phone, so I don't use it for anything like banking etc.
I looked at new Android devices, rejected for the same short support lifetime. I looked at Apple devices. Far too expensive and Apple have evaded far too much tax in my country. I'm not supporting them till they behave properly. I looked at replacing my tablet and laptop with a high end Windows 2-in-1 convertible. These come with removable keyboards so you can have a tablet or a laptop. They're available with a range of CPU/RAM & disk options. I'd be able to pension of my laptop and tablet and an HP Spectre X2 was high on the list even though it was £800.
In the end I've bought a cheap but nicely built Windows 10 tablet + keyboard. For £140 I've got a Linx 1010B quad core Atom based machine with 2GB RAM & 32GB storage that is much faster than my old tablet, a 10in touch screen, a keyboard with good feel (strange key placement!), real USB ports, Wifi, Bluetooth etc. I'm not sure on battery life yet, probably a little shorter than the Nexus. Out of the box, there was 21.2GB usable out of 32GB storage, that includes Windows and a Windows recovery partition. You can delete the recovery parttion if you want but I bought a 64GB SD card and have about 84GB to play with. As I had 9GB left on a 32GB Android tab after 2 years, I'm not worried. And at £140, it's not a huge amount of money.
---
Linx 1010B = keyboard next to my old Nexus 7 with its Bluetooth keyboard.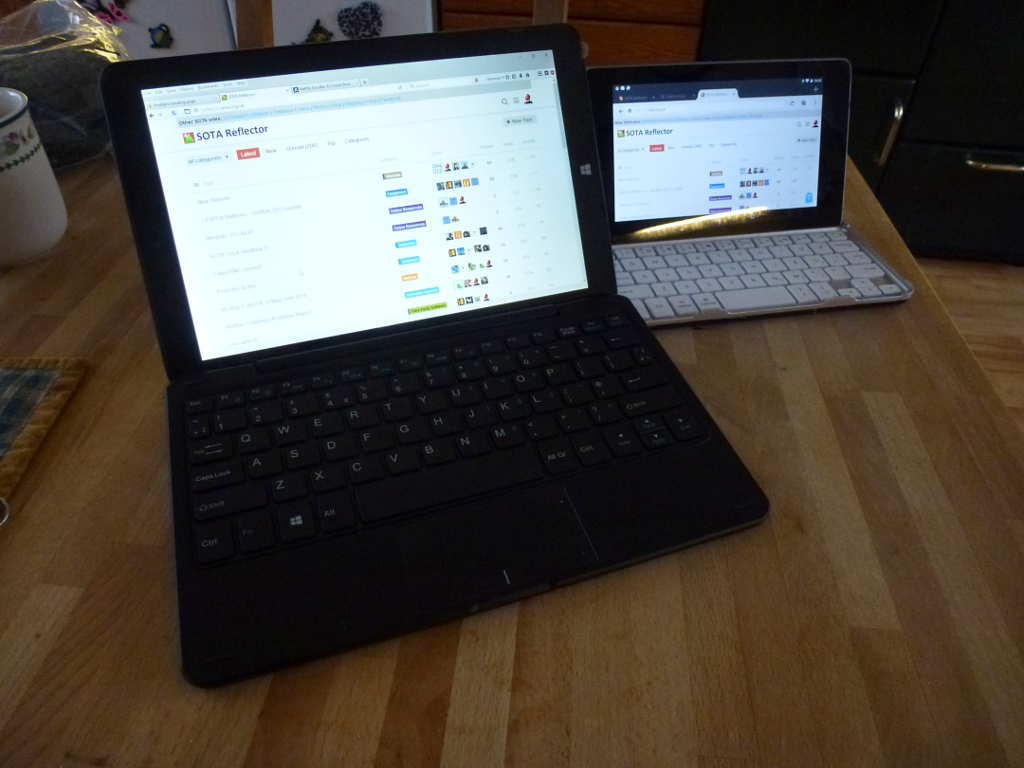 ---
Comparing them in tablet mode, Linx 1010B at the top, Nexus 7 underneath. UK £2 coin for scale.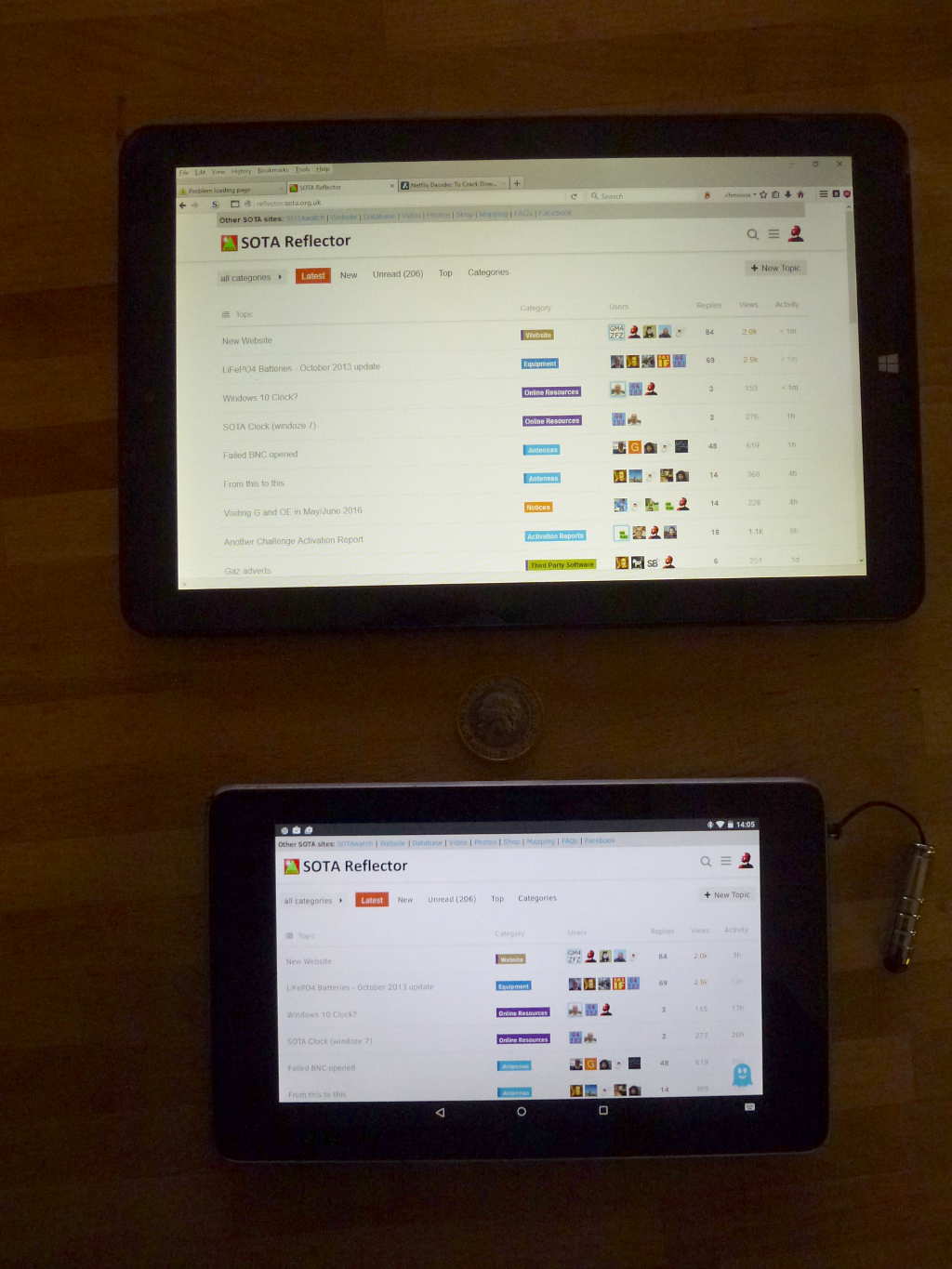 ---
The keyboards, Linx 1010B at the top. The Bluetooth keyboard was about £10 from eBay and physically clips over the front of the Nexus 7 to act as a case. The Linx hinge uses magnets to hold the tablet in place and the keyboard folds flat to protect the screen.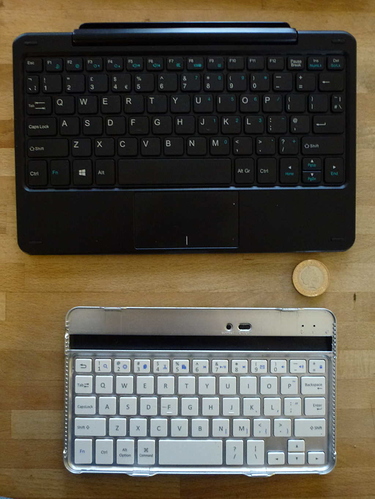 ---
Windows tablets have come a long way since last year, this one feels beautiful in use and is usable.