During the last months I frequently fail to send spots with the SOTA Spotter app from Bogdan, YO3SAW. I end up with "Error authorizing with SOTA SSO [1]: status 0" as shown below.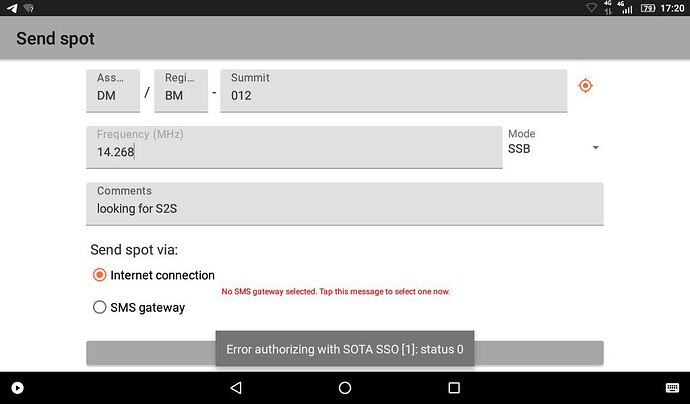 Without changing anything in SOTA Spotter the error comes and goes. Sometimes I can send a spot, but when trying to send a second one half an hour later, it fails. Even when spotting fails, spots of other activatiors are refreshed in SOTA Spotter.
Looking at the session log of Keycloack Account Management (https://sso.sota.org.uk/auth/realms/SOTA/account/log) I cannot see any errors being reported.
I have been in contact with @YO3SAW regarding this problem, but told me he cannot help me as the error is not happening in the app itself.
Unfortunately my tablet used for SOTA activations runs an outdated Android 6. So I am now stuck with version 2.4.557 - the newer versions do not support Android 6 anymore.
Anybody else experiencing this error?
Or even anybody who was able to circumvent this problem?
73 de Michael, DB7MM