SOTA NEWS NOVEMBER 2016 - Part 1 of 2
Editorial - by Mark G0VOF
Welcome to the November 2016 edition of SOTA News. My thanks go to the following contributors:- Barry GM4TOE, Skip K6DGW, Roy G4SSH, Kevin G0NUP, Rob and Audrey G4RQJ, Allen VK3ARH, Warren ZL2AJ, Toru JH0CJH, Geert PA7ZEE, Bob F5HTR, Paulo CT2IWW, Egill TF3EO.
Following on from the success of the VK/ZL<>EU S2S QSO party a NA<>EU S2S QSO party is planned for the 19th November, see the NA SOTA report for more details.
========================================================
The October 2016 edition of SOTA News was viewed more than 1151 times.
SOTA AWARDS September 2016 from Barry GM4TOE - SOTA Awards Manager.
October was another busy month for awards but, very noticeably, most applications were made mid-month rather than last minute and that means that the majority of orders will be shipped before the end of the month.
The North American activators have resurrected their tradition of the last Mountain Goat purchasing the trophy for the latest claimant. This caught me unaware and I ran out of trophy blanks; more are on order but the delivery timescale is about four weeks so these may be delayed into December for delivery (see below).
Congratulations to new Mountain Goats NM5SW, OK1NF and OE5YYN (the others claimed are for some time ago). GW4VPX has now reached 5000 Chaser points (and Platinum Mountain Hunter). Two other claims of note are VK3PF Platinum Summit to Summit and VK3ARR Mountain Explorer -they take real effort to achieve especially when you are activating so far away from the main areas of activity.
Finally, another claim for a Microwave Award, this time GM4WHA for 100km on 23cm.
Trophies Issued
Mountain Goat
OK1NF Jan Kraus
KD5KC Michael Olbrisch
NM5SW Scotty Wright
N4EX Rich Homolya
Shack Sloth
KD8DEU Allan J. Van Brocklin
W0QFW Robert A Carter
Certificates Issued
Activator
OK1NF Jan Kraus 1000 points
OE5YYN Sylvia Auer-Specht 1000 points
N2GBR Richard Jones 500 points
WB0USI Rick Loughrey 500 points
KK6YYD Phil Mosbacher 250 points
Chaser
GW4VPX Allan Jones 5000 points
K9OSC Robert Brock 1500 points
KD8DEU Allan J. Van Brocklin 1000 points
W0QFW Robert A Carter 1000 points
W0QFW Robert A Carter 1000 points
GI0AZB Ian Evans 1000 points
K7VK Vick Applegate 1000 points
AB4WL Ken Moore 500 points
AB4WL Ken Moore 250 points
AB4WL Ken Moore 100 points
YO8SSH Sebastian Hojbota 100 points
WG3K Eric Christensen 100 points
SP9ART Lukasz Gagulski 100 points
Activator Unique
G0HIO Michael Warrington 250 summits
Chaser Unique
SQ9APD Bartosz Kuzma 100 summits
Summit to Summit
VK3PF Peter Freeman Platinum
VK1MBE Andrew Belton Gold
WB0USI Rick Loughrey Silver
OK1NF Jan Kraus Bronze
SOTA Complete
GW4VPX Allan Jones 100 summits
Mountain Explorer
VK3ARR Andrew Ryan Platinum
GI0AZB Ian Evans Bronze
WB0USI Rick Loughrey Bronze
Mountain Hunter
GW4VPX Allan Jones Platinum
GI0AZB Ian Evans Gold
K7VK Vick Applegate Gold
WB0USI Rick Loughrey Gold
WG3K Eric Christensen Bronze
Microwave Award
GM4WHA Geoff Harper 100Km 23cm
This has been a busy period for issuing awards and merchandise and, interestingly, the majority of certificates requested were for printed versions rather than downloads. That will keep my local post office happy but does mean I spend a considerable amount of my time in the little cupboard (closet) that I use for an office!
I am going on vacation later in November (and into December) with my xyl to CT3 where, if the wind is in the right direction, I plan to activate a couple of summits. This does mean that I will produce my monthly report much earlier than usual and orders that arrive much later than 14 November will have to wait until I return.
Finally I did manage an activation this month on a hill that is not that far from my new qth; finger trouble on my part meant that at least one contact was deleted and I had to add it in from memory (which is starting to suffer from the effects of age!). I will correct my log if the M0 call I put in my log is wrong – please let me know.
Stay safe on the hills
73
Barry GM4TOE
SOTA Awards Manager
NORTH AMERICAN REPORT from Skip K6DGW
ERIC, KU6J (SK): Thanks to the efforts of many friends, W6/NS-204 is now officially in the SOTA vocabulary as "KU6J Memorial Peak." Elliott, K6EL, who is also one of the NA representatives on the SOTA Management Team sums it up perfectly:
"KU6J's background is mostly unknown to SOTA folks, other than the little I said about him at the recent SOTA lunch. Here's the rest…"
"Eric was raised in a very small town about 100 miles north of San Francisco, where his family owned timber land and an apple growing operation. He was a hunter and fisherman, and, later in life, a gun collector and very outspoken supporter of the National Rifle Association. He was a licensed pilot (gliders) and motorsports enthusiast. He was known as a good skier, and especially, at all levels of his education, an unusually bright student and mathematician."
"He graduated from a well-respected engineering school, Cal Poly, following in the footsteps of our reporter dude, K6DGW, and he went on to obtain an MBA. After graduation, he worked as a software engineer for a small Silicon Valley company for a couple of years before co-founding Assurx, developing regulatory compliance programs in the mid-1990's. Sixteen years ago, he married his marketing director, Tamar, who also holds an MBA degree. She is the new CEO of that company, which is on its way to dominating their niche in the software world."
KU6J was a ham radio operator most of his life, and SOTA was a perfect fit for an outdoorsman like Eric. He and Tamar lived on a hill between Truckee and Lake Tahoe, and he quickly became an expert on SOTA qualified summits in the Sierras of Northern California. At the time, there were only 208 peaks in the summit list for the entire state. He fixed that problem, organizing a small team of revisionists that included K6WRU, N7UN, K6DGW and a few others. The tedious work was all done by KU6J, and the result was 3,500 added summits for W6 in 2012. In 2015, he did much work on another W6 summit list revision, which the team finished for him, adding another 600 peaks after his death on January 8, 2016."
"While he is best known for the RBNGate software he invented for CW Sota operators four years ago, KU6J came up with a half dozen pieces of lesser coding for us, including devices to assist summit list revisions. He generously shared hardware tips, including a slick strain relief method for the center of portable doublet antennas. He founded the Northern Sierra Award and arranged for an array of over a dozen types of plaques, coffee cups, and stickers for those who reached one of three levels of achievement chasing climbers in his part of the state."
"He recorded in detail everything that happened in his life either by typing or by dictated audio, like a diary on steroids. He struggled with bi-polar disorder all of his adult life, and it progressively worsened. He switched to a new medication very shortly before his death. In the SOTA world, he will be especially missed by his close collaborators K6DGW and MMØFMF. RIP old friend."
The full story of the Memorial Activation, with more photos, is on the W6 Association website:
w6-sota.org/2016/10/21/eric-june-ku6j-memorial-activation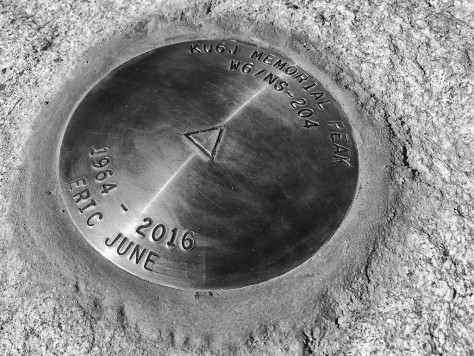 KU6J Medalion: KU6J Memorial placed atop W6/NS-204 near Eric's home in Truckee CA.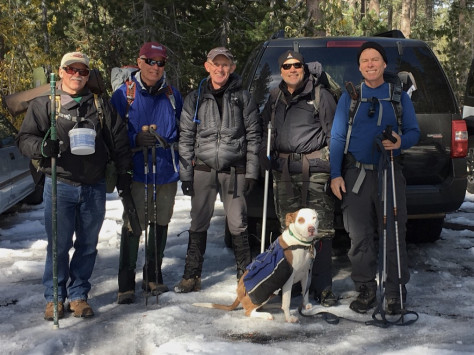 KU6J Activation Crew: L-R Rick, WB0USI; Woody, K1LB; Paul, W6PNG; Jordan, WC6J, and Kipper, WOOF.
[Ed note: I miss Eric a great deal, we had become close friends with a shared history and bantered regularly on 80 and 40 CW. My profound thanks to Rick, Woody, Paul, Ron, and Jordan (+Kipper) for a fitting tribute to our friend]
STATISTICS: NORTH AMERICA TOTALS [as of 28 Oct 2100 UTC]
Total Activations: 588 [542]
Nr Unique Activators: 167 [174]
Total Chaser QSOs: 6165 [1397]
Nr Unique Chasers: 263 [136]
Unique Summits: 588 [692]
2m: 127 (2%) [35]
6m: 0 (0%) [0]
10m: 0 (0%) [0]
12m: 1 (0%) [0]
15m: 64 (1%) [1]
17m: 194 (3%) [27]
20m: 3731 (60%) [988]
30m: 581 (9%) [124]
40m: 1458 (23%) [222]
60m: 1 (0%) [0]
80m: 0 (0%) [0]
160m: 0 (0%) [0]
Unk: 8
CW: 4378 (71%) [915]
SSB: 1653 (26%) [445]
FM: 133 (2%) [35]
AM: 0 (0%) [0]
Data: 1 (0%) [0]
Other: 0 (0%) [1]
Unk: 8
Activations stayed fairly steady but the chasers really put on a show in October! Given the state of the Sun, and a number of geomagnetic storms during the month, it's not surprising that activity was concentrated in the lower frequencies.
AWARDS AND ACHIEVEMENTS: Lots to report this month:
Scotty, KG3W, has passed 40,000 chaser points. George, KX0R put him over with their 396th QSO. Scotty is working towards 50K as you read this. Congratulations!
The trek up Mt. Davidson is becoming a mandatory activation for hams visiting Northern California. Manuel, HB9DQM, made it with Elliott, K6EL, during a recent visit. Elliott writes: "Surprise… another traveler did the pilgrimage up Mt Davidson, this time Manuel, HB9DQM. His KX3 is using the internal batteries, so power is QRP. Doesn't seem to matter, as he worked just about everyone, even with the null in his Alexloop oriented to the east. In this picture with me, he looks 19 years old… but he's older and a very good operator. This was climb number 115 for him."
At some point, Elliott should just leave the antenna up there.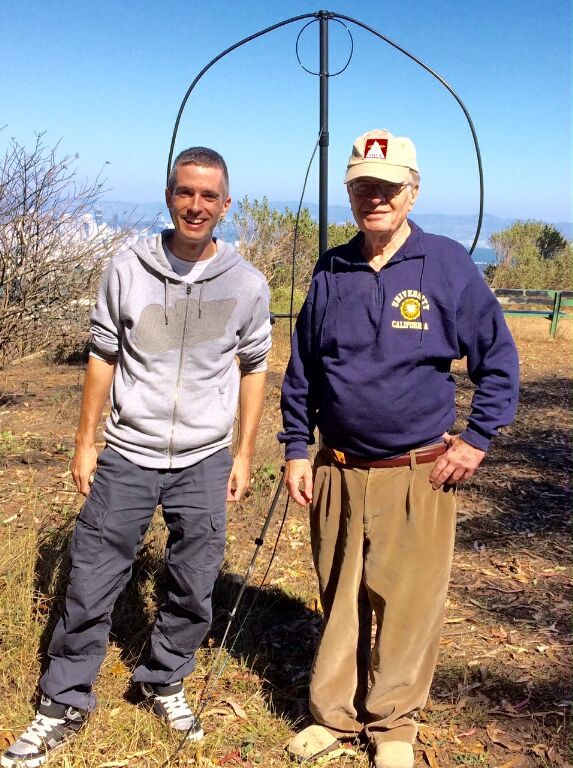 Manuel, HB9DQM, and Elliott, K6EL, on Mt. Davidson.
Randy, ND0C, pointed me to the cover of the 2017 ARRL Handbook where Lynn, KC0YQF, and Frank, K0JQZ, are seen activating a summit. It's always great when the local folk do good!
Fred, KT5X and also WS0TA, reported New Mexico's 9th Mountain Goat, Scottie, NM5SW. Scottie is now North America's 41st MG and the 40th in the US. Congratulations Scottie!
From John, K1JD: "Triple mountain goat achieved in Oct 2016, a personal goal for this calendar year slowed down by some knee issues. Happy to say they're mostly resolved."
"Also, planned SOTA activations in VK2 NSW and VK7 Tasmania between 14 Nov and 5 Dec using the KX3 setup."
Etienne, K7ATN, notes that the latest Pacific Northwest SOTA News is at
www.pnwsota.org/sites/pnwsota.org/files/downloads/K7ATN/PNW%20Newsletter%20Nov-Dec%202016_0.pdf
NEWS:
Yet again at Pacificon, Elliott, K6EL, hosted a SOTA Luncheon and provided a photo of the group. The group continues to expand each year.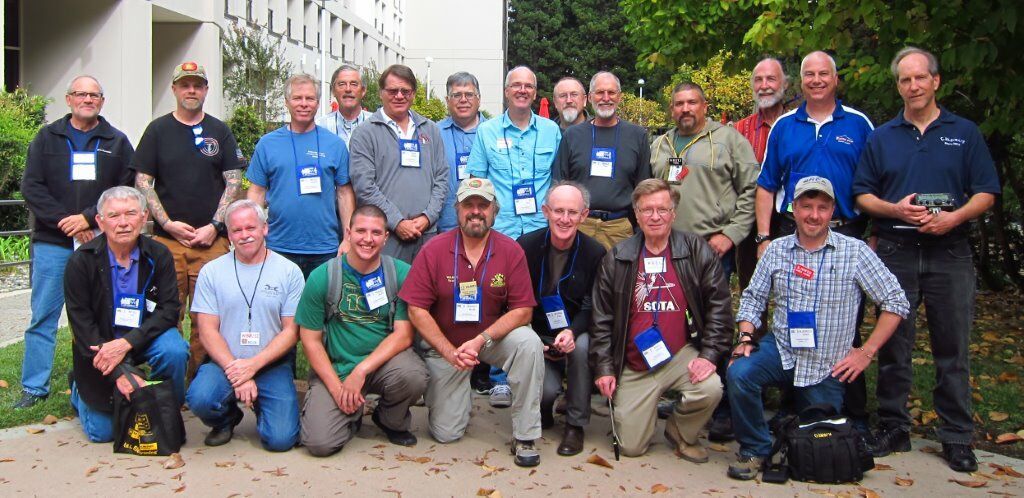 SOTA Luncheon at 2016 Pacificon. Kneeling, L to R: W1EJ, WBØUSI, KK6ZLY, WA9STI, W6PNG, K6EL & KJ6WEG. Standing, L to R: W6PZA, K6JEL, WC6J, N7UN, N6IZ, N6NKT, K6KNS, W6SAE, NK6A, KH2TJ, K7SO, AK6Q & N6KR (holding KX2 he designed)
Mark your calendars: Gerald, G4OIG, is organizing a North America <>Europe SOTA S2S Party: "I have proposed an event on Saturday 19th November 2016 between 1400 and 1700UTC. I appreciated that time is short to make arrangements, but hopefully this will suit a good number of activators before the worst of the weather takes hold. A follow up event could be on the QRPTTF event in March 2017."
From both Elliott, K6EL, and Guy, N7UN, on behalf of the SOTA Management team, comes a reminder:
"The SOTA MT want to remind Activators of an important responsibility for a SOTA summit activation to be valid. The SOTA General Rules state this requirement clearly:
3.7 Rules for Activators: All Expeditions must use legitimate access routes and comply with any local rules regarding use of the land. In particular, Activators must ensure that they have any necessary permission to operate from their chosen Summit, or that access is customary.
In particular, Activators should be satisfied that there is no indication that access to the summit is forbidden, as access is subject to change. Here checking access rights means checking websites, maps, notices in the nearest village or tourist centre as well as onsite footpath notices. Activating a summit where permission has not been given or implied by 'open access' will invalidate the activation.
The SOTA MT recently deleted a North America W7A Activation where there was clear violation of this summit access rule. Violations of this type have a negative impact on the SOTA program and we will not hesitate to protect the SOTA program in the future."
REPORTS: I've got room for one report-of-the-month, we'll head to the W3 Association and Richard, N2GBR:
"Nice day out yesterday in W3 land along with Chris, W3CDW. We completed four summits two of which were first activations.
Starting with W3/PD-001 a simple drive up summit where we ran 10w and the kx3 rig into dipole quite a few in the log including G0RQL, always nice to get DX when out QRP for SOTA.
We then moved to W3/SV-029 for a longer walk ~3.5m RT, and a first activation. We ran an FT857 (20W) and Chris carried the 18Ahr lead acid battery!
Off then to find access to W3/SV-039 Tuscarora Mtn. We found a wicked overgrown knife-edge Ridge. Chris has some injuries and decided to wait it out after a half mile. I pushed on to the activation zone mostly on the ridge line as it was quite exciting at times and brought back memories of my climbing days. It had been very windy all day and it was crazy windy on a very narrow ridge. I deployed an EFHW and made contacts only on 7mhz. Another first activation completed.
As we were in the "neighborhood" I dropped off Chris at SV-029 fisher mtn to activate.
Great day out. Thanks to Chris for joining me and all the chasers."
That's it from the New World for Oct,
73,
Skip K6DGW
North American SOTA Reporter Dude
Sparks, NV
============================================================
SOTA Iceland on Facebook
SOTA TF now has its own Facebook group which can be found here: Redirecting...
We have been using it to discuss various matters regarding SOTA TF and if there are foreign visitors operating on VHF they will have a chance to ask for further advice and announce their local VHF activation's.
We are encouraging our people to use SOTAWATCH of course but we are also building up a local discussion on FB.
73,
Egill Ibsen TF3EO
============================================================
SOTA FRANCE EDITION No 3 - September & October 2016 – Bob F5HTR
Hi to all ! Autumn has arrived so activation numbers are falling slowly.
In september, there were about 54 sota activations and in October that fell to only 30 sota activations.
FRENCH SOTA is wearing is winter coat !
There exists many reasons for this reduction of activity. The first one is that all the activators are busy verifying french summits in order to be on time for the next update planned at the beginning of 2017.This is a big job to do, and all the folks from france are realy involved in the job !
Thanks to them, it takes so much time, and by the way it is not so pleasant as walking up there !
The second reason is the weather which is getting colder in this period !
The third reason is also the end of holidays !
FRENCH OM who participate those last two months were :
F6HBI, F5LKW, F4ESK, F5UKL, F5PLR, F8FEO, F5UBH, F4EGG, F4CMC, F8BBL, F6CEL, F6EAH, F8AAB, F4GLD, F6IPR, F6HHK, F8CZI, F6ENO, (about 18)
FOREIGN OM who were actives from french summits :
ON6ZQ, HB9AFI, PB2T, ON7DQ, HB9AMO, HB9BQB, DL3TU, DD6DO, IU1AUG, G4VFL, ON4BWT, DF6XP (about 12)
Best regards to all and have fun with SOTA activation !
Bob
F5HTR
============================================================
SOTA NEWS FROM JAPAN by Toru JH0CJH
Hi Mark and all
Please find the following SOTA News from Japan.
In October, weather in Japan still got affected by typhoon but fairly good
conditions. So the number of activation is the biggest record in October
after the commencement of Japan SOTA associations. Also on 22 October,
VK/ZL - EU SOTA party pushed up the number of activations. The party is
maily planned between Oceanea and Europe but many W and JA SOTA lovers
joined to get and enjoy tine shares.
Another big news in Japan SOTA is new entries of SOTA summits in the JA5,
JA6 and JA8 associations. The number of additional summits are 608. (JA5:
197, JA6: 336 and JA8: 75) For JA region we are now making the list and
planned to be launched in December 2016.
SOTA operation October 2016 in Japan as of 31 Oct 2016.
Activation
Total 153 Activations with 1163 QSO have been made and reported.
JA: 146 expeditions with 1111 QSO from Summits
JA5: 2 expeditions with 39 QSO from Summits
JA6: 3 expeditions with ? QSO from Summits
JA8: 2 expeditions with 13 QSO from Summits
Chasing
Total 225 Chasing QSO have been made and reported.
JA: 202 chasing QSO
JA5: 1 chasing QSO
JA6: 22 chasing QSO
JA8: 0
S2S
Total 136 S2S QSO have been made and reported.
JA: 130 S2S QSO
JA5: 2 S2S QSO
JA6: 2 S2S QSO
JA8: 2 S2S QSO
The reason of this big number of S2S QSO is come from the said VK/ZL - EU
SOTA party. I really wish to have the similar Trans-continet SOTA party in
other region also between JA.
Toru Kawauchi
toru@kawauchi.homeip.mydns.jp
http://www.kawauchi.homeip.mydns.jp/jh0cjh/blog/
============================================================
THE VIEW FROM THE NORTH - 106 By Rob and Audrey G4RQJ
Straight in this month with a trip up Longridge Fell, a nice straightforward little hill on the outskirts of Preston but it did not turn out to be straightforward for us on this occasion! Our satnav decided that Jeffery Hill car park was in the middle of a field on the wrong side of the lower reservoir, fortunately Audrey knew better and took us where we needed to be. The track up was hideously wet and muddy which must be in part due to the very heavy short downpours that we have been suffering lately, what happened to good old fashioned rain?
Eventually we arrive at the summit and put out the hf antenna set for 5Mhz, turn on the rig and there is G7OEM/P Tony calling from Easington Fell just round the corner from us. I give him a quick call and a report, he replies and suggests that we move off the calling frequency? I look at the rig, the swr looks ok but I realize it's on 2m oops! Still at least the SWR of the inverted V is tolerable on 2m. The rest of the visit goes very well with lots of interested visitors but you have to smile when faced with all the technical wonders we have on show one lady is most impressed that we use small inflatable head cushions as sit mats (usually quite cheap light and durable and they insulate you from ground chill).
On the way down the muddy, slippery track I am surprised to receive a strong knock on the bridge of my nose followed quickly by signals from the rest of my body that indicate we are flat on the floor, nose first in a shallow ditch along the side of the path. What fun, Audrey puts a plaster on the cut which stops the blood flow and we continue our walk down westwards towards a strong setting sun. Later when the plaster is removed I have a nice white plaster shaped patch where the sun has missed me. Joking apart it does show the possibilities of a simple slip.
Next activation for us is Watch Hill in the north west of Cumbria close to Cockermouth and in spite of the extra miles we elect to go via the M6 rather than struggle through the central Lake District and its welcome blanket of tourists. Turns out the times for the routes are virtually identical despite the extra miles.
The start point if you are climbing via the longer shallower route starts at a Y junction just east of Cockermouth on Castlegate Drive where there is a lay by with room for a good dozen cars today it is occupied by two 4x4s complete with horse boxes, ramps down into the road and tack spread about with no sign of owners. we manage to squeeze in between them. The walk is a nice upland stroll on grass following the line of the woodland east once it is reached, basically don't climb anything you don't have to. Activation is best close to the corner where the east bound fence turns sharply down hill.
All bands work well but 10Mhz is blessed with stations who don't understand the use of QRL so we don't stay long. 2mfm brings up quite a few friends in the local area who we don't meet often on the air although we live in the same county, because someone put a lot of mountains in the way.
On now to our trip up Wards Stone which basically fell just short of a disaster. hihi. We estimated two hours up and about the same down, how wrong we were. Conditions underfoot were very poor. The section from the Jubilee Tower to Shooters Pile is very wet and boggy resulting in numerous changes of track and no defined path but endless small ones that petered out. In the past this section has been a benign walk but not today. The high ladder stile at the top corner of the area is seriously in need of repair and is missing one of the high steps altogether which would make it difficult for short folk. The section from here to the cross track is reasonable and the final part from this track, over the moor to the summit has developed a path that is good in parts which is about the best that can be said of it. A lot more avoiding tactics and a steady cold blast of wind into our faces resulted in us being over an hour later than planned and totally cream crackered into the bargain. For me this is not too unusual but for Audrey it is to say the least rare. I was relying on bursts of energy from repeated bites of soft nougat that I find good for the job. We realised that this was not a desirable situation so ate our sandwiches and carried out a quick 2m fm only activation which did need quite a lot of cq calls before qualifying the summit, then off for another three hour flog back to the car, so apologise to any HF chasers looking for us. It was essentially a safety decision to get off the hill before dark.
Looking back on this we realised that our last trip up Wards Stone was nine years ago and I was not nearly 76, previous visits had been either in summer when the ground was harder or winter when it was frozen solid, the wicked head wind on the ascent did not help either! Remember the words of The Gambler (Kenny Rogers) "Know when to hold them, know when to fold them. Know when to walk away, know when to run" a good maxim for walking and indeed life in general. Sorry again to the HF chasers.
Regarding the much discussed state of beer in Britain, Audrey's Mum, a lady of Welsh origin used to say "Goes in one end, comes out the other and doesn't do much good in between". Personally I think it's all falling down water just buy a bottle of rum.
That pearl of wisdom brings us to the end of this months effort, remember here in UK it is the end of summertime and our clocks go back one hour tonight (Oct29th) so don't get caught on the hills without a torch later on Sunday, local mountain rescue reckon on about six callouts
Meanwhile
Take care out there.
73
Rob and Audrey
G4RQJ
========================================================
*********** SOTA NEWS PART 2 FOLLOWS BELOW ********