SOTA NEWS JULY 2017 - Part 1 of 2
Editorial - by Mark G0VOF
Welcome to the July 2017 edition of SOTA News. Another association joins SOTA this month, VO1 Newfoundland with 329 summits. My thanks go to the following contributors:- Barry GM4TOE, Skip K6DGW, Roy G4SSH, Kevin G0NUP, Rob and Audrey G4RQJ, Warren ZL2AJ, Toru JH0CJH, Luc ON7DQ, Ed DD5LP, Colwyn MM0YCJ, Glyn G4CFS.
73, Mark G0VOF
========================================================
The June 2017 edition of SOTA News was viewed more than 970 times.
SOTA AWARDS June 2017 from Barry GM4TOE - SOTA Awards Manager.
I returned from vacation with an incredible in-box of award claims with a significant increase in the number of trophies ordered. Congratulations to all claimants who have reached significant milestones with special congratulations to the three South Korean stations who have achieved Mountain Goat in an area of the World with few SOTA Associations.
G0RQL has, following his reaching 100k Chaser points last month, managed to claima certificate for chasing 8000 unique summits, he is always there when I activate a hill (including in CT3).
VK2IO continues his achievements having now reached 25k Chaser points, another worthy Chaser. There has been an upsurge in interest for operating on the higher bands and this is reflected in the number of Microwave Awards issued. This will never be a main-stream activity but is both challenging and interesting especially with HF being in the doldrums right now.
Trophies Issued
Mountain Goat
N7CW Bud Semon
N2GBR Richard Jones
6K5XZE Chul Hwa Jung
HL3ANE Harry Cheong
DS3FYA Jung Young Man
OE5HWM Helmuth Mayrhofer
Shack Sloth
WC0Y Edward Hall
K5QR Andrew Bonnot
JF1NDT Yukio Osada
KE8CYC John Winn
2E0WDX C.Vincent Cairns
W2SE Bruce Babcock
Certificates Issued
Activator
OE5HWM Helmuth Mayrhofer 1000 points
DL1TSC Thomas Schardt 250 points
YO8SST Tatiana Done 100 points
DD2ZN Marko Pralle 100 points
Chaser
G0RQL Don Roomes 100000 points
VK2IO Gerard Hill 25000 points
AB4WL Ken Moore 2500 points
MI0RTY Martin Strawbridge 2500 points
KR7RK Keith Schlottman 2500 points
K5QR Andrew Bonnot 1500 points
MI0RTY Martin Strawbridge 1500 points
WC0Y Edward Hall 1000 points
JF1NDT Yukio Osada 1000 points
W2SE Bruce Babcock 1000 points
KP4RV Rafael Bonano 500 points
M6HMK Helen Melhuish 500 points
YO8SSB Damian Lucian 500 points
DL1TSC Thomas Schardt 250 points
Chaser Unique
G0RQL Don Roomes 8000 summits
K5QR Andrew Bonnot 250 summits
YO8AZQ Adrian Done 100 summits
K5QR Andrew Bonnot 100 summits
Summit to Summit
DL1TSC Thomas Schardt Red
VE6IXD Ian Drummond Red
G7HEM Mike Hartley Bronze
KR7RK Keith Schlottman Bronze
Mountain Hunter
VE6IXD Ian Drummond Silver
AB4WL Ken Moore Bronze
M6HMK Helen Melhuish Bronze
HB9NBG Rene Lutz Bronze
VK1VIC Anthony Vickers Bronze
Mountain Explorer
HA2EBA Istvan Kovari Silver
KR7RK Keith Schlottman Bronze
Microwave Award
HB9FVF Matthias Senn 100Km 23cm
VK1AD Andrew Moseley 100Km 23cm
VK1AD Andrew Moseley 50 km 23 cm SSB
VK1AD Andrew Moseley 50 km 23 cm FM
K0NR Bob Witte 50 km 23 cm
I still see numerous requests for awards where I am left to determine the correct date when the award was achieved, this is totally unacceptable and increases my workload considerably. "How do I determine when I reached my award?" is a question I am asked regularly and the answer is simple – do exactly what I have to do: download your log from the database and cross refer your total in the right hand column (labelled "Score") with the date in the column labelled "Date" and put that date in the relevant box on the order form. When applying for Mountain Explorer or Mountain Hunter the process is more involved but all you have to find is the last qualifying date for an Association on the relevant continent; all I then have to do is check against your call that a particular level of award has been achieved.
When applying for the Microwave Awards failure to enter the data correctly results in me being unable to check the distances for the award – see the instructions provided by Andy MM0FMF on how to do this correctly.
With effect from the beginning of July I will NOT correct dates on certificate claims. The responsibility for claiming the correct date is yours, not mine, and finding the correct date from the database is simplicity itself. If the claim is obviously wrong (usually Mountain Hunter and Mountain Explorer transposed) then I will change it to whatever appears to be correct, other information will be entered as shown on the order form. Please supply the correct information.
The website order form is designed to supply me with all the appropriate information and to calculate all costs so you can pay for awards and/or merchandise. Please use it.
Incorrect claims for awards will no longer be referred back for correction and will be issued with the date you put on the order form whether it is accurate or not, if there is insufficient information I shall not issue the Award at all.
73
Barry GM4TOE
SOTA Awards Manager
========================================================
NORTH AMERICAN REPORT from Skip K6DGW
Hello All!
June weather in NA has been somewhat eclectic which is sort of reflected in our statistics for the month … up a bit in nearly all categories but not a lot. In the high elevations in the west, there is still a lot of snow on the ground. The southwest saw extreme heat in the latter half of the month, well above 43C [110F] in many places. The midwest and points east and south experienced extreme weather events.
NA Statistics for Jun
Produced: 06/27/2017 at: 21:21:30 UTC
Total Activations: 678 [639]
Total Activators: 207 [178]
Total Chaser QSO's: 6502 [5995]
Total Chasers: 268 [270]
Unique Summits: 480 [430]
BAND # LAST MONTH
3.5MHz: 18 ( 0.2%) [ 12 ( 0.2%)]
5MHz: 120 ( 1.8%) [ 95 ( 1.6%)]
7MHz: 1159 ( 18.0%) [ 1243 ( 20.9%)]
10MHz: 841 ( 13.1%) [ 765 ( 12.9%)]
14MHz: 3751 ( 58.4%) [ 3447 ( 58.1%)]
18MHz: 237 ( 3.6%) [ 125 ( 2.1%)]
21MHz: 28 ( 0.4%) [ 19 ( 0.3%)]
28MHz: 29 ( 0.4%) [ 9 ( 0.1%)]
50MHz: 9 ( 0.1%) [ 11 ( 0.1%)]
144MHz: 209 ( 3.2%) [ 182 ( 3.0%)]
220MHz: 2 ( 0.0%) [ 0 ( 0%)]
433MHz: 12 ( 0.1%) [ 13 ( 0.2%)]
1240MHz: 1 ( 0.0%) [ 8 ( 0.1%)]
MODE # LAST MONTH:
AM: 2 ( 0.0%) [ 0 ( 0%)]
CW: 4563 ( 71.0%) [ 4287 ( 72.3%)]
Data: 10 ( 0.1%) [ 5 ( 0.0%)]
FM: 217 ( 3.3%) [ 202 ( 3.4%)]
Other: 2 ( 0.0%) [ 2 ( 0.0%)]
SSB: 1628 ( 25.3%) [ 1432 ( 24.1%)]
AWARDS AND ACHIEVEMENTS:
At the top of the list, and many thanks to Pete, WA7JTM, for the list, June saw five, [count 'em, 5] new Mtn Goats for a total of exactly fifty in the New World! In order of achievement:
#46 N7CW 6/2 100% CW, 100% W7A summits
#47 N2GBR 6/3 100% phone, 100% unique summits
#48 AC1Z 6/12 100% CW
#49 KE7BGM 6/18 100% CW, 100% W7A summits, 2nd NA Lady Goat
#50 K9PM 6/19 100% CW, Least activations to MG [100], 100% W7A summits
With 100 summits, K9PM chose all 10-pointers! Elapsed time ranged from 15.6 weeks [KB7BGM] to 80.0 [N7CW]. A hearty BAAA to all the new Goats!
Pete, WA7JTM, also mentioned: "Back this last January I operated the ARRL January VHF Contest from a SOTA summit, Scarlet Mtn W7A/MN-143. I sent the log into the ARRL and mentioned that I was not only in the contest but doing a SOTA activation at the same time. Well in the just out July QST I/we got a good piece of press in the article for this contest. We also got even more mention in the 'expanded results' article on the ARRL website. I won the SW ARRL Division and came in fourth in North America in the QRP Portable class. We/SOTA got quite a plug from the article author, KK6MC."
NEWS AND HAPPENINGS:
Roswell, New Mexico, is the extra-terrestial capital of North America so this photo snapped by Alan, NM5S, on W7A/CS-045 a cinder cone named Turkey Hills South in Arizona is a bit surprising. Perhaps we should rename it "Mt. Ararat, AZ."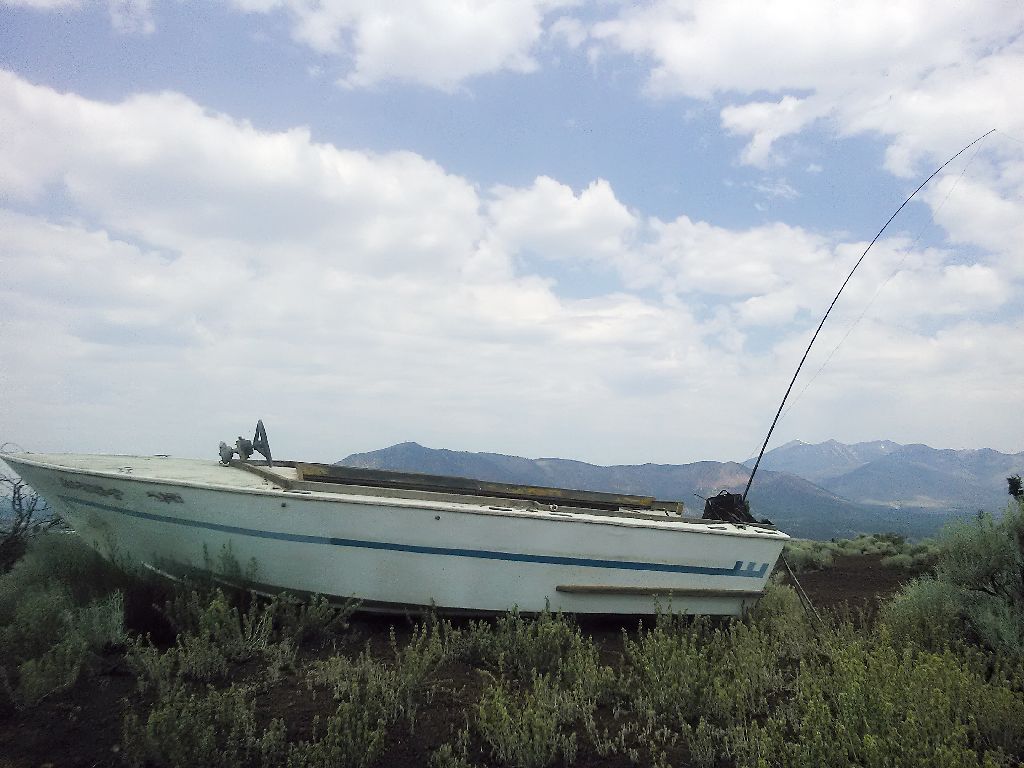 Oleh, KD7WPJ, reported what possibly could have been a multi-hop sporadic E QSO with EA1DR on 20 meters while activating W6/CT-004. It occurred at 2334 UTC [middle of night in EA]on a dipole with 2.5 watts. He also worked Oregon[CN94] on 6 meters that same day. June was a wild month for Es on 6 and 10, the DXMaps site was literally packed with spots, so it's not out of the question.
REPORT OF THE MONTH:
This month, we hear from Paul AA1MI/HB9DSTand a report of a long NA expedition from the deep south to the Canadian Maritimes. [Ed note: I had to edit some for length]:
"I returned to the USA in May – my daughter graduated from medical school in Atlanta, and two weeks later she got married in seacoast New Hampshire. Opportunity for activations and more associations: I now have 49 associations. I not only got a number of first summit activtions, I also got a first Association activation (VY2)."
"My brother Ed picked me up after graduation, and we first went to W5M/MS-001 (Choctaw County HP - only W5M summit). For our overnight, we drove just south of Nashville to the casinos at Tunica Resorts, where he got us a room that cost us just the resort fee of $14.00. I signed up for as a new member of the casino club, and we both got the evening buffet at no charge. Can't beat those prices!"
"The next morning to activate W5A/OH-001 (Rich Mountain). Then, less than an hour to W5O/OU-005 (Sycamore Lookout). Then, off to Jasper, TX, close to my next target summit where we met up with our cousin Dave (who we hadn't seen in about 50 years, and who lives in San Antonio) and his wife Maggie. We spent a really pleasant weekend catching up with them and going to the local rodeo. When people asked where we were from and I said Switzerland, they looked at me like I was an alien: 'What y'all doin in lil old Jasper Texas???' I didn't even try to explain SOTA. While there we activated W5T/NT-039 (Newton County HP)."
"We spent a day in New Orleans before I hopped a plane to Boston to start preparations for the wedding. The weather in New England had been rainy and cold, but luckily the Saturday of the big event turned out to be perfect with lots of sunshine."
"After those two big events, especially the wedding, it was time to decompress so I toured the Canadian Maritimes. After driving through Maine, the first stop was at Saint John for an overnight. Then the next day I bagged my New Brunswick summit VE9/AL-002 (Carty). There was still time left in the afternoon, and I drove to one of the trip's highlights, Hopewell Rocks park on the Bay of Fundy where they have the world's highest tides. That day the difference between low tide and high tide was 19.5 meters!! It felt strange walking along the ocean floor knowing what would happen in just a few hours."
"The next day off to Prince Edward Island, which has two summits (both easily accessible by roads). So not only was I the first to activate – VY2/PE-001 (Glen Valley) and VY2/PE-002 (Caledonia) – it also meant I was the first to activate that Association, something I was pretty excited about."
"The final stop was Cape Breton Island, NS – which the tourism website says "is ranked as the #1 Island in North America by Travel + Leisure magazine, and is home to the Cabot Trail which was ranked in USA Today's 10 Best Motorcycle Trips, MSN Travel's 10 Most Underrated Attractions, and Zoomer's 7 Greatest Road Trips."
"Getting detailed info about summit access on Cape Breton is not trivial, however, I stopped at the Information Center at Port Hastings for assistance. Susan was exceptionally helpful and found SOTA very fascinating. She saved me literally hours of time and aggravation! I chose VE1/CB-015 (Melrose Hill), another first activation. With a 4x4, this is a drive-up summit on dirt roads. My car, however, was not equipped for that, so I had to hike for an hour before getting to an area with a communications tower and some satellite dishes."
"Finally back to New Hampshire and a stop at Campobello Island (directly on the Maine/Canadian border) to visit the Franklin Roosevelt summer residence. The island is Canadian property, so to access it by car you have to go through border security checkpoints at the bridge going both in and out – just for an island with several hundred inhabitants."
"Pleasant SOTAs and got to see some sights that I otherwise never would have seen."
That's going to be it from "SOTA In The Western Hemisphere" for this month. Hard to believe we've already passed the solstice. Sunspots are a thing of the past right now, but Sporadic E has been really hot.
73, Activate Safely, and Have Fun,
Fred ("Skip") K6DGW
Sparks NV USA
Washoe County DM09dn
NA SOTA Reporter Dude
============================================================

SOTA at Ham Radio Friedrichshafen – Ed DD5LP
Hi all,
A reminder for all attending Ham Radio at Friedrichshafen (Friday 14th - Sunday 16th July) of the following:
Each day at noon – there will be an informal SOTA meet-up at the QSL Wall.
Saturday is SOTA Day!
12:00 noon - Informal meet-up at QSL Wall.
14:00 - 15:45 SOTA presentations in the Austria meeting room -
The program is expected to consist of the following five mini-presentations of 15 minutes each, all in English,
followed by time for questions.
• The latest developments of the KX2, KX3 and related products by Eric WA6HHQ, CEO of Elecraft
• Using the RBN for SOTA by Hans-Peter HB9BXE
• From paper logging to tablet logging – the VK3ZPF "VK port-a-log" Android app by Manuel HB9DQM
• Log4OM: Free logging software with full SOTA support by Daniele IW3HMH
• SOTA Cycling Tour DL–OE–I by Jakob DK3CW
• "Extreme SOTA" by Emil DL8JJ
full details can be found on the SOTA Reflector: Ham Radio 2017
16:30 - 18:30 - group activation of DM/BW-348 Gehrenberg - please contact Ed DD5LP if you need transport from HAM RADIO to the summit and dinner.
19:00 - onwards - SOTA Dinner at Wirtshaus am Gehrenberg, 88677 Markdorf - with, as prize for most original SOTA clothing item warn by an attendee, as voted on by those attending, a WSPRLite unit from SOTABEAMS!
If you haven't already done so, please let Ed know soon if you wish to attend the dinner as places are running out.
73 Ed DD5LP
============================================================
Seana Mheallan, the Last of the West of Scotland Peaks Activated – Colwyn MM0YCJ
All of the 348 peaks in the Scottish SOTA Association of the Western Scotland Region have finally been activated. The sole remaining unactivated summit was Seana Mheallan (GM/WS-321), a modest hill in Glen Torridon close to the side of the A896 and the river Torridon. Seana Mheallan lies directly across Glen Torridon from the magnificent peak Liathach (GM/WS-028/043).
Seana Mheallan has its own craggy sandstone terraces with some developed for rock climbing, so the west face appears steep and inhospitable to the average hillwalker. In contrast, the north ridge provides a steady climb from the floor of the Glen to the summit at 437metres (1435 feet). There is even a convenient footbridge across the river Torridon opposite the car park, Grid Reference (NG957569). The footpath passes the white Scottish Mountaineering Club hut called the Ling Hut, then climbs up the side of the waterfall that feeds the Lochan an asgair. Once past the impressive cataract, the path meanders off trending east, so eventually you have to take a decision to abandon the path and head back towards the hill.
Seana Mheallan (Ancient Small Hill) was activated on Saturday 24th June 2017. We were in the area anyway, for reasons too dull to list. The weather had been poor the day before, Friday, and we awoke on the Saturday to gale force winds, rain showers and the tops of the Torridon giants shrouded in cloud. The walk over to the car was grim.
In a text book case of hope over expectation, the rain had stopped when we passed the car park. So we stopped, kitted up and set off, over the footbridge, past the Ling Hut and the waterfall, above which we left the path.
The intervening ground was a bit boggy after the recent heavy rain, but we swiftly reached the north ridge which had many stretches of clean even rock produced by glaciation. It was also drier underfoot, but on that day the ridge was exposed to the strong winds. A few punishing showers swept over as we ascended.
The ridge continues up to eventually breach the 400 metre contour where it levels off to join a large, irregular summit plateau. Which one of the many 'peaks' is the correct summit is hard to gauge and the ordnance survey map was needed to confirm the summit was over a kilometre away to the south. Many of the prominent areas had large glacial erratic boulders, making it look like a large outdoor art installation. The undulating plateau gave some shelter from the wind, but crossing one of the glaciated slabs coincided with a gust which blew me over. Something which doesn't happen very often. As I picked myself up – along with my long suffering companion - I knew that this was not going to be an easy activation!
On reaching the summit cairn (GR NG929551, locator: IO77gm) I was able to find a small niche in the summit rocks a few metres down on the lee side of the summit.
I installed my companion on top of an insulting foam seat and under the bivouac shelter to weight everything down. I unfurled the 20 metre inverted V-dipole antenna but was not keen to use the fishing pole; my spectacles were blown off my face. So I used a walking pole to hold up the centre, meaning that the antenna was at best 125 centimetres high!
Once installed beside my long-suffering companion I set up the FT817 and started calling CQ on 14MHz, SSB, with 5 watts output. There were a few stations but none came back to my calls so I spotted myself, and at 11:36 UTC G0RQL (Don) came through for the first QSO. Hearing Don is a bit like listening for radio 4 during the cold war, you are reassured by the familiar voice and know that despite appearance to the contrary on the summit of the hill, once you have your specs back, we have not experienced a nuclear blast!
There was a flurry of stations with PA1INA, Mike in Sussex (G6TUH), EA2LU, OK1DVM, EB2JU and DL3HXX all within an 11 minute period. A successful activation in very adverse weather. Don had mentioned another local activator in the east of Scotland on 40 metres, but as the 20 metre contacts dried up, the rain and stronger winds started again.
My long-suffering companion had finished her lunch and the wind chill, even in June, was cutting through my gloves, so retreat was the decision. Leaving, then returning to the bivvy shelter (to set up the 40m antenna) would not have been pleasant and after some preliminary and careful packing, the remainder of the kit was stuffed unceremoniously into the rucksack and we swiftly headed back the way we had come.
So the final western region summit received a first activation. I had tried to activate it some years ago one summer Saturday evening, but couldn't make any headway against all of the powerful overseas stations. Owing to all the high hills around Seana Mheallan, VHF had proved useless and I had retreated, not from the wind, but from the midges on that occasion. It was some consolation to finally achieve the first activation of GM/WS-321, despite the weather, but on the plus side, at least midges hadn't been a problem!
73,
Colwyn Jones
MM0YCJ
29/06/2017
============================================================
SOTA NEWS FROM JAPAN by Toru JH0CJH
Hi Mark and all
Please find the following SOTA News from Japan.
June is the rainy season in Japan but this year we have less rainfall. It is good for activators but a relatively small number of activations have been made this month.
High band conditions have improved day by day and Sporadic E layer propagation made for good conditions on the Higher bands including 50MHz.
SOTA activities in June 2017 in Japan as of 30 June 2017.
Activation
Total 183 Activations with 2006 QSO have been made and reported.
JA: 177 activations with 1969 QSO from Summits
JA5: 0
JA6: 6 activations with 37 QSO from Summits
JA8: 0
Chasing
Total 415 Chasing QSO have been made and reported.
JA: 382 chasing QSO
JA5: 7 chasing QSO
JA6: 26 chasing QSO
JA8: 0
S2S
Total 185 S2S QSO have been made and reported.
JA: 178 S2S QSO
JA5: 0
JA6: 7 S2S QSO
JA8: 0
In July, Kansai Ham Festival "KANHAM 2017" will be carried out in Osaka Ikeda city on 15 and 16 July.
SOTA Japan association is planning to have stand in exhibition area. We will promote the SOTA global activities to all Kansai area ham radio stations. Also in this occasion, we will have SOTA gathering party #7 in Osaka. If someone has a plan to visit Osaka in these two days, please visit our stand and join the SOTA gathering party #7.
All activators in Japan associations are waiting for the finishing rainy season, and usually will over in mid July.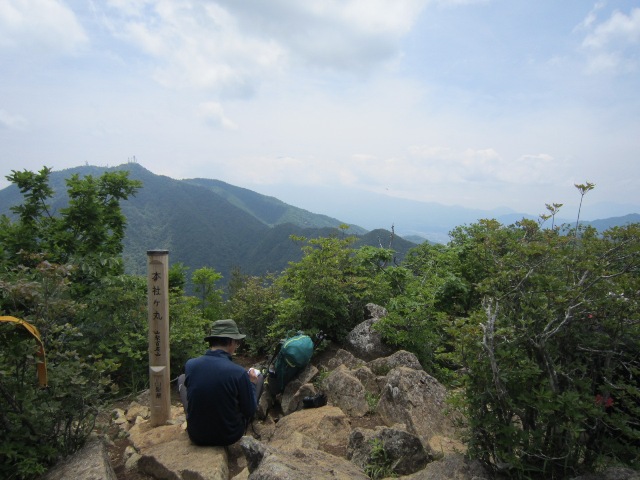 JA/YN-043 Mt Honjyagamaru 1630m
---
============================================================
THE VIEW FROM THE NORTH - 114 By Rob and Audrey G4RQJ
At least today I (Rob) can see to type this but still no driving and Audrey's knee is improving but we are targeting our Isle of Man trip in July for a start to some limited activation. We cannot promise to complete all the summits there this year and activations may be shorter than usual due to load restrictions and the very steep climb up Bradda Hill will be a non starter unless we can find a gentler route with no exposure.
Most of our activity looks like being from Mull Hill which can even be done as a drive up if care is taken on the two rough tracks to the summit but before Sota we once bottomed the car quite badly here and are not keen on repeating the experience. We would in any case not think of doing so for Sota and will treat it all as getting ourselves back on track. We are hoping to try some activity on four and six metres and are in the process of resurrecting an ex military, portable variable length ground plane antenna, which unfortunately does not quite reach ten metres but is a fearsome beast when extended that far! Mating it to a portable pole is not the easiest job with one and a half eyes but we will get there. On 4m will have just FM from the Wouxun hand-held but the 817 will give us more modes on 6m so hope for some fine wx and maybe some E's. We do have internet access at base so look out for Alerts often at short notice and evenings, for the rest of the hills we will do our best.
That's about all for now, hope to work lots of you from GD
Take care out there
73
Rob and Audrey
G4RQJ
========================================================
*********** SOTA NEWS PART 2 FOLLOWS BELOW ********