SOTA NEWS - JULY 2015 - Part 1 of 2
EDITORIAL – by Roy G4SSH
Welcome to the July 2015 edition of SOTA News. My thanks go to the following contributors:- Barry GM4TOE, Skip K6GDW, Allen VK3HRA, Mark G0VOF, Kevin G0NUP, Rob and Audrey G4RQJ, Jürg HB9BIN, Geert PA7ZEE, Nick G4OOE, Phil G4OBK, David G0EVV, Colin G0WAD, Sake PA0SKP.
========================================================
The June edition of SOTA News was viewed 930 times.
SOTA AWARDS JUNE 2015 - from Barry GM4TOE SOTA Awards Manager.
June made up for the low claims in the previous couple of months, certainly kept me busy this time! Rather than list all the folk who have reached the key milestones of Mountain Goat or Shack Sloth (1000 points in each case) they are listed below. Significant Activator scores have been claimed by OE5RTP and OE5IRO while W0MNA, M0MDA and ON6ZQ all have Chaser claims in five figures.
Although not listed below N4EX, possibly one of the most successful North American chasers (certainly one with excellent hearing), has now also reached Mountain Goat.
Congratulations to everybody who reached any personal milestone, I know that the figures below do not necessarily indicate the effort that has been made to achieve them.
Trophies
Mountain Goat
VK2TWR Rod Collman
Shack Sloth
WA9STI Scott Hanley
VK2TWR Rod Collman
VK4DD Dave Clodd
Certificates claimed
Activator
OE5RTP Peter Reinthaler 5000 points
OE5IRO Ingeborg Reinthaler 5000 points
HL3QBN Hyun-dong Wi 1000 points
HL4ZFA Jason Vlasak 1000 points
EB2GKK Inaki Fagoaga 1000 points
KC0YQF Lynn M. Skinner 500 points
VK2IO Gerard Hill 500 points
DS1QKF Bo-gyeong Lee 250 points
KG7EJT Tim Nair 100 points
MM0GLM Jim Glen 100 points
DS3FYA Young-man Jung 100 points
Activator Unique
OE5RTP Peter Reinthaler 500 summits
DL8DBW Thomas Grave 100 summits
ON6ZQ Christophe David 100 summits
HL4ZFA Jason Vlasak 100 summits
Chaser
W0MNA Gary Auchard 40000 points
M0MDA Michael Dailey 25000 points
ON6ZQ Christophe David 20000 points
WA9STI Scott Hanley 2500 points
K1OSK Erich Oetting 1000 points
NF1R Clayton Nall 1000 points
EB2GKK Inaki Fagoaga 1000 points
VK4DD Dave Clodd 1000 points
VK3OF Rex James 1000 points
VK3ERW Erwin Bejsta 500 points
VK5FANA Adrian Addison 500 points
K6KNS David Sanders 500 points
VK5FANA Adrian Addison 250 points
6K5ZLH Wan-seok Cho 250 points
M0HEM John O'Toole 100 points
W3AAX Jason Johnston 100 points
HL4ZFB Natalie Thibault 100 points
DS2CYI Dae-geun Gwon 100 points
Chaser Unique
W0MNA Gary Auchard 3000 summits
DL2YBG Klaus-Peter Dreessen 1000 summits
VK5FANA Adrian Addison 100 summits
12m Challenge
OE5RTP Peter Reinthaler
OE5IRO Ingeborg Reinthaler
Mountain Explorer
OE5RTP Peter Reinthaler Platinum
OE5IRO Ingeborg Reinthaler Platinum
W0CCA Cap Allen Silver
NF1R Clayton Nall Bronze
Mountain Hunter
NF1R Clayton Nall Silver
M0HEM John O'Toole Bronze
VK2WTY David White Bronze
VK5FANA Adrian Addison Bronze
VK4DD Dave Clodd Bronze
Last month I said that May had been very cold; we are now faced with what was possibly the coldest June on record? Ben Rinnes (GM/ES-021), my nearest Corbett, still has some snow on it as I type this report (28 June). The high tops of the Cairngorms are now very unlikely to be snow free this summer – the sun is shining though!
The person that does the hand engraving of our trophies has indicated to me that she wishes to retire very soon. She will not leave us unable to provide personalised trophies but an alternative will need to be found. Most likely we will use an etching technique to provide callsigns, and other information, on the face of the trophy but this means that the colour infill I have used since we first introduced glass trophies will no longer be viable. I am investigating the use of alcohol based inks to infill the etching and this seems to be the most effective method but has greater transparency than paint fill. Other options include coloured wax and another form of paint but I have no experience of these. If anybody reading this has experience of infilling etched glass designs with colour could they contact me direct if they have any advice. It is just possible, if you have a trophy currently on order, that your details will be etched rather than engraved, it just depends when I can change over.
I would like to mention, once again, that the SOTA logo is our trademark and its use is protected. We allow people to use it, without reference to the MT, for any personal item such as qsl cards but the use of it on items for sale is specifically prohibited. Selling merchandise with the logo is the main source of income for the SOTA programme particularly as more people are purchasing their award certificates as a pdf download which, once the Paypal fee has been taken, results in a minimal contribution towards the programme's costs. If you would like to use the logo for commercial purposes this will be allowed but we will expect a royalty on each and every sale and this must be negotiated with the SOTA MT before any item bearing the SOTA logo is placed on sale.
Please take care when out and about on the hills
73
Barry GM4TOE
SOTA Awards Manager
====================================================
REPORT FROM ITALY - from Phil G4OBK
I am signing as I/G4OBK/P as a chaser for the next 13 days from a QTH in JN52RN which is midway between Rome and Pisa in the Tuscan countryside. I put up my link dipole in the garden of the house where I am staying (Sunday 28th June) and recorded Chaser contacts with S5100SONZO on TK-039, LX/M0HDF/P Angel on LX-001 and OK/DL2DXA/P Bernd on US-024. All QSOs were on the 30m CW band where I seem to getting out well. I then worked EA7KB on 6m SSB sporadic E (non-SOTA), but interestingly this was using my 30m dipole where the SWR is around 2:1 on 6m. I listened for SOTA spotted M1EYP/P also on 6m, but unsurprisingly there was no propagation.
There will be more chasing than activating on this Italian trip. One day next week I will make an alert, probably after you read this edition of SOTA News. I should activate I/TO-304 Monte Calvi and I/TO314 Le Cornate.
I was going to visit I/TO-315 as I thought this was within reach of where I am at the moment but I believe the coordinates are incorrect by around a degree. The 921m high summit is very close to I/TO-302 Poggio all A'ia which is at Latitude: 43 52 55 N, Longitude: 11 13 50 E so I think the error is one degree of Latitude out, probably an error caused in transcription. I won't be going there!
So I think there may only be two activations on this holiday, unless an opportunity arises to travel further away from my QTH near Manciano. Whilst this part of the Tuscan Region is full of rolling hills, none have sufficient prominence to be included in the SOTA Programme.
One mile from this holiday QTH IK5TSZ Patrizio Pellegrini, lives and works. He is a CW man and a member of the Italian Naval "Old Rhythmers" Club. I met him last night at his restaurant where I had a meal. I must return and get a photograph of us, two CW men together. Patrizio is like Roy G4SSH - he rarely picks up a microphone! I'll take my Pico Memory Keyer (built by GI4ONL Victor) and my Palm Key to show him next time I visit. Maybe I can get him to take an interest in SOTA.
73 de Phil
I/G4OBK/P (until 10th July)
=========================================================
Successful SOTA Session at Ham Radio 2015 in Friedrichshafen
On Friday at Ham Radio Friedrichshafen, HB9SOTA organized a meeting of SOTA enthusiasts. Far more than 100 people attended. We presented a number of interesting talks, led off by our guest, Andy, MM0FMF from the UK Management Team, who gave us an update on the latest associations we can expect to see online including JA and in South America.
There were talks comparing popular antennas and rigs for SOTA, a discussion of Garmin BaseCamp for activators, and even an introduction to the 2015 YO Marathon in August of 2015.
We were very gratified with the turnout and the response and hope that the same session will be organized next year by one of our sister associations in the region (DM, DL or OE).
Thank you for joining the meeting es 73
de HB9BIN, Jürg
============================================================
A SUMMER EXPEDITION - by Geert PA7ZEE
When I planned a visit to Friedrichshafen, it was tempting to combine that journey with the activation of a few local summits. Since I had to drive over 800 km one way, I took some extra days to do a little more.
It ended up with the activation of DM/BW-359, - 361, -362, HB0/LI-002, -004, OE/VB-123 and DL/AL-277 all in three days. First I thank all the chasers who respond to my CQ's. I particularly mention the S2S with Peter G4ISJ/P in poor conditions, a local thunderstorm and QRM of contesters. But due to patience and effort from both sides we made it. Also worth a mention here was a QSO with HP9AH, yes Panama, with the humble 3 W from my KX1 and a random long wire from the Augstenberg.
On top of the Augstenberg there were two visitors: Zoli YO2BP and Adé YO2LIW. Later I had a S2S with Zoli.
With the activation of the Augstenberg and Naafkopf I reached my physical limits. Reasons for that were that I was born in 1940 and I live in a QTH which is below sea level and without any acclimation I was climbing many hours at 2500 m asl. Ascending very slippery melting snow fields was not easy.
On arrival back home I opened the bottle of white wine, received from Roger F5LKW, and toasted with my Good Lady to my safe return.
Looking back now, the morning after, it was a fantastic trip experiencing nature that I had never seen before and a landscape with panoramic views that were unforgettable.
73 Geert PA7ZEE
=============================================================
The Sting in the Tail
David G0EVV and Colin G0WAD
June is usually a dry month in Scotland. In 2014 I suffered nothing wetter during my week in Kintail than a few hours of sea fret. This year was a bit different. From Monday the 1st June to Friday the 5th it rained some part of every day. Not a problem, it is said that there is no such thing as bad weather, only bad equipment so the plan to activate Unique SOTAS GM-WS 326, 289, 264, 307, 331, 329 and 208 went ahead as planned.
Accompanied by friend Colin, all up to GM-WS 329 were completed in reasonable comfort, that just left Sgurr a Gharaidh GM-WS 208, a 4 pointer. On Thursday evening the Mountain Weather Forecast spoke of heavy rain in the middle of Friday but the day dawned bright and still. The decision was made to "go for it", by 08:00 the car was parked up north of Lochcarron on the pass to Loch Kishorn, mountain bikes were assembled and rucksacks readied. Soon we had completed the 2km along the estate road only to find that the bridge across the Allt nan Carnan river was long gone. No problem, the bikes were stowed in the heather and we crossed the river on 3 huge stepping stones. After another 2 km on the estate track we headed north towards the summit. Soon the weather followed the forecast prediction, visibility dropped to 10m with a freshening westerly wind. After 3km we changed heading to west and made the final ascent of the hill. We were now experiencing "Scottish sunshine", the horizontal stuff with a little sleet added for best effect.
No matter, we reached the summit, confirmed the location with the GPS, set up the station and worked 31 stations on CW and SSB. Many thanks to all those whom I worked. Feeling satisfied we set off down the hill. The weather improved delivering blue sky and sunshine. We arrived back at the river to find the stepping stones across the river were under 1 m of water, tantalisingly the bikes were visible across the ford, lying in the drying heather.
Time to re-group. Three options presented themselves, go up hill and find a crossing, go down to the village, or wait for the waters to drop. We settled on the safe, secure diversion back to Lochcarron, up to the parked car and 2km along the estate road, a total of 8km. As we approached Lochcarron I spied a lady outside her B&B. Her name, it turned out, was Moyra and when she heard of our plight she agreed to drive me up to my parked car saving 4km of tarmac. Having collected Colin, we walked back up the estate track and recovered the bikes that had been waiting so patiently in the heather. The detour had added 3 hours to our day, without Moyra that would have extended to over 4 hours. Four SOTA points, graciously won.
It just goes to show, there are still a few angels left in the world!
David Stansfield G0EVV
Colin Dyson G0WAD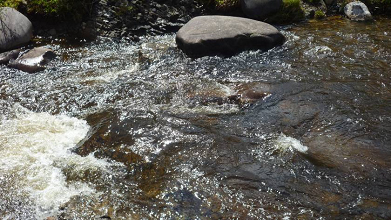 ===========================================================
PA REPORT from Sake PA0SKP
This month I had my holiday with my wife. We visited Berlin and after that we travelled to the "the Sachsiche Schweitz". There I activated 4 mountains and one in OK. It's beautiful there.
On our way back home we visited the Harz. There I activated 4 mountains. (4 x 10 points!)
So not a really SOTA expedition, but a holiday (my wife is not in for SOTA hihi).
Thanks all the chasers I worked!
Tks Roy , I worked you 6 times!
The results are : VK,OK,SP,HB, DL, PA,GM,OE,CU,K1,G,HA,F,OZ,OM,OH,EA,S5,UR,ON
Thanks all the Chasers!
See you again!
73 Sake,PA0SKP
=============================================================
THE VIEW FROM THE NORTH - 90 - from Rob and Audrey G4RQJ
June 7th and back at home, time for a trip to Yorkshire and Fountains fell. This hill is always a pleasure and it is unusual for us to climb it in summer, normally a winter bonus candidate, We parked as usual on the eastern side of the cattle grid at SD853724 where there is room for about four cars. The heroes route is straight up beside the wall which is a little steep for us nowadays. Fortunately there is a nice alternative in the graded ramp that leaves the wall, on the left, about half a mile in. At the top of the ramp the track curves onto the summit plateau to a wall where the stile is probably the hardest part of the whole day.
Once over, a track forks away on the right and leads across the plateau avoiding capped mine shafts and sink holes but managing to pass through several very boggy patches to arrive eventually at a pile of stones that mark the summit. Today the cold wind that has plagued this year was blowing across the top and we operated from the shelter of one of the small depressions, probably trainee sinkholes that surround the summit. Best check the bottom before setting up shop. Two metres produced mostly the usual suspects on fm and wonder of wonders SSB found us TRB and RQL. A quick call on 10 metres produced nothing so off back to the car, this hill really is honest all downhill apart from the stile.
Will there ever be a weekend with decent weather? not in these parts it seems, yet more low cloud mist etc so for today June 14th another little local summit, Whitbarrow-Lords Seat or Whitbarrow Scar to give it the local name. Many people will have seen this hill to the north of the A590 and thought it un-climbable as it presents a huge vertical cliff face in that direction and to the east and west. The summit is a large plateau almost untouched by modern transport etc, a wild life haven with old walls at the edge to prevent farm stock plunging to its doom. There are two access points on the western slope, both can be reached from Witherslack School where there is room for about five cars at the end of a short track at SD436860.
The first route is the most direct and reached from a path through woods behind the goal posts of the school playing field. This route is short, steep and exposed just before you reach the safety of the pasture wall. The foliage gives an illusion of security in summer and we have used the route a few times but I (Rob) don't like it, particularly when wet under foot. A much safer but longer route is via Bell Rake which can be reached by a path to the north before the football pitch is reached. About a mile through the woods a small signpost on your right, easily missed in foliage points you to Bell Rake. The initial climb is wooded, rocky and quite steep up to a gate that leads onto the Rake proper which is very rocky and steep but wide with no exposure. At the top of the Rake on your right is the old mineshaft that it used to serve. It is a horizontal shaft initially but the roof is caving in places and the path to the summit leads up the far side of the shaft so take care. This path is not well defined and in poor visibility it is safer to follow the wall on the left to meet a solid track that leads to the summit. The whole walk is a pleasure at any time of year with flora and fauna to interest everyone.
Just be aware that the summit is well known for tics. Audrey managed to collect about fourteen of them a couple of years ago. This resulted in a hospital visit, some nifty extraction work, an antibiotic pill the size of a £2 coin and luckily no nasty after effects. There is not a lot of cover on the summit the best is a ridge that gives some shelter from north easterlies, fortunately one is blowing today. A short stay, family stuff calls so vhf only.
June 21st and still a lot less than summer weather, well it is midsummer's day and once again time is short so just little Arnside Knott. From Red Hills Road in Arnside take High Knott Road up a short steep wooded slope and at the top of the hill turn and go a few yards back down where there is room for a couple of cars to park. Walk back up to the top of the hill and turn left and follow the road along past several large houses, it is a private road and parking is not encouraged On your right is a kissing gate that leads through pretty woodland up to another kissing gate that opens into the bottom corner of a steep field and from here the route is obvious, keep going up. It is surprisingly steep for the smallest Marilyn in England. There is a trig point at the summit and the whole area is grassy with small trees and is an area of outstanding natural beauty famous for its butterflies and views over Morecombe Bay to the Lake District.
It is a walk that a reasonably fit family will love ON A NICE DAY. First out of the box an S-to-S with 2E0RWB/P Ron on LD-015 Grizedale Pike. He reported high winds and could not get an antenna to stay up so was using just a handi and whip and struggling for contacts. We were glad we had chosen this little hill but our own private raincloud soon found us and we scrambled into waterproofs. The activation felt like one in the early years of SOTA, involving a great amount of calling for few returns but at least 2m ssb yielded a couple of contacts and we did have several long chatty contacts on 2 fm, great stuff.
Sad to see yet another fatal fall off Striding edge at the weekend. This is the fifth this year and involved experienced walkers. This raised a frenzy among the local Twittering classes including calls for everyone venturing onto Helvellyn to be accompanied by a guide, elf and safe tea to become involved, and signs saying it is dangerous to climb. One hero said he had walked for years and never had a fall. We too have been walking for years and between us have had a few falls, fortunately in places with no exposure. The bottom line is that however careful you are, trips and stumbles are inevitable and accidental! There seems to be a growing tendency among experienced walkers to challenge bad conditions which is very exhilarating when it works but remember the words of the song "Know when to hold 'em, know when to fold 'em, know when to walk away, know when to run"
Now at long last our yearly Isle of Mann trip is due. As usual we will try to activate all five summits at least twice during our stay and as usual there will be a little certificate for all those who work us just once on each of the five, all weather dependant. We will revert to our more usual pattern of hf followed by vhf on most of the trips and will use our little half tent on the three larger tops allowing us longer stays. There will probably be some evening trips as well. We have tried to work things so that we can reach 2500 activator points during our stay. The Manx hills are like visiting old friends. We used to operate from them long before SOTA, we have done them all in a day and are listed as first activators on all of them and so would like to achieve a landmark for us on one of them. We will have Internet access at base but normally rely on chaser spots please. Just hope HF is better than this week.
Well all for now, hope to work everyone from the GD tops.
Take care out there
73
Rob and Audrey
G4RQJ
SOTA ON TOP BAND - Mark G0VOF
Hello everyone & welcome to this month's edition of SOTA on Top Band.
For the month with the longest daylight hours in the Northern hemisphere, June saw a surprising amount of Top Band activity with three activators venturing onto the band.
First up this month was John G4YSS (GX0OOO/P) who gave 160m a try from G/LD-009 Grasmoor on Wednesday 3rd June. This summit was one of four he activated during a week in the Lake District. Grasmoor was the third summit of the trip & the only one where Top band was tried successfully. After 39 QSO's on 7MHz SSB John moved to 1.8MHz CW where he easily worked Phil G4OBK in Pickering. SSB was also tried but without success although John could hear Phil. Daylight conditions would have been as poor as they can get so no further contacts were made on the band either CW or SSB. John then moved to 14MHz where he made a further 37 contacts before rounding off on 145MHz FM.
A superb report detailing John's week in the lakes can be found here:
G4YSS:'LAKES WEEK' 2015. LD21-LD8-LD9-(LD3) 1st-4th June-15
Thanks John for the fine reports & sorry I missed you again!
A couple of days later on Friday 5th June the second activation of the month took place when Tomek SQ9HT/P activated SP/BS-008 Wielki Bukowiec (Pasika). This may have only been the second Top Band activation in June, but it holds the distinction of being the first ever Top Band activation in the history of SOTA in Poland!
Tomek was obviously geared up for working on the low bands as this activation took place around Sunset, which along with Sunrise is probably the best time to work on Top band. He had already made 7 QSO's on 3.5MHz before he moved to 1.8MHz where he made a fine total of 6 QSO's. More remarkable is the fact that all of these QSO's were made using SSB, apart from one. His final QSO on 160m was made using PSK31, which although this mode has been used quite successfully in SOTA, very rarely is it used for SOTA on Top Band. Tomek hopes his activation will be an incentive for other SP activators & thanks all chasers that worked him.
Congratulations & very well done Tomek!
Later in the month, Heinz HB9BCB/P activated HB/BE-149 Meniggrat on no fewer than seven bands between 3.5MHz & 24MHz on the morning of Saturday 13th June. Early in his activation, before moving to 7MHz Heinz decided to try 1.8MHz where despite a self-spot he didn't manage to raise anyone on the band. Heinz has had success on 160m before, being one of only three HB9 activators to have logged contacts on the band. In any case, Heinz logged a superb 129 contacts in total from this summit.
Thank you for trying 160m again & I hope you have better luck on the band next time Heinz.
At the time of writing, these were the only Top band activations during June that I am aware of, if I have missed any others please let me know.
On 3 June, John GX0OOO/P Activated G/LD-009 Grasmoor & made 1 QSO's (1 CW / 0 SSB)
On 5 June, Tomek SQ9HT/P Activated SP/BS-008 Wielki Bukowiec (Pasika) & made 6 QSO's (1 PSK / 5 SSB)
On 13 June, Heinz HB9BCB/P Activated HB/BE-149 Meniggrat & made 0 QSO's (0 CW / 0 SSB)
As always, If you do have any suggestions on things that you think should be included, or if you wish to contribute tips, ideas or anything else that you think may help others on the band please email them to me at mark@brownhill.demon.co.uk
Until next month,
Best 73,
Mark G0VOF
************************* Continued in part 2 **********************
SOTA USA Report
SOTA Australia Report
SOTA CW Report
Extracts from data base
SOTA News Contacts