There a a couple of updates and enhancements to sotamaps which may prove useful to some of its' users.
New map types added
Firstly, two [EDIT: three new types: see below…] more map types have been added to all mapping pages, to bring the total of mapping types available to six [seven] in total. Previous versions of the SMP have included the following:
the "Map" and "Satellite" mapping types as standard from Google;
Open Street Maps (now activated by the "OSM" button);
Open Cycle Maps (now activated by the "OC" button).
The new mapping types are:
OpenTopoMaps, activated by the "OT" button, and
4UMaps, activated by the "4U" button.
These have now been joined by a third new type, CalTopo maps for the USA, activated by the "CT" button.
Each of these offer excellent views of topographical information and contour lines, especially at higher zoom levels, and users may appreciate one or the other as an alternative to the others listed above.
Display all tracks in a SOTA region
The second update is to the SMP tracks page, and allows the user to display ALL available user-uploaded tracks in a SOTA region. After choosing an association and region from the main dropdown controls near the top of the page, the user can then activate the "Display all tracks in Region" button to show those tracks in the map. Here a screenshot of what that might look like, on a 4UMaps background: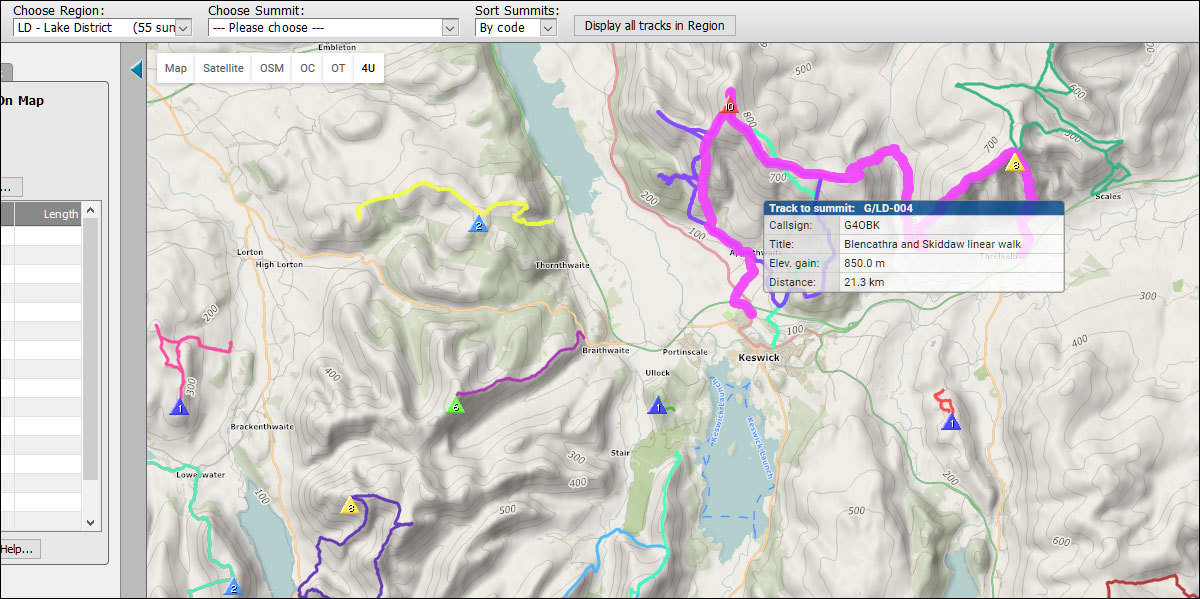 By moving the mouse cursor over the map, any one of the tracks in the map can be highlighted - as in the example graphic - and, by clicking on the highlighted track, the display will change to show just those tracks leading to the summit associated with the highlighted track. Track colours are randomly chosen, and do not indicate track difficulty, or length.
This new feature gives perhaps a better overview of the tracks available in any particular region, as well as an indication of the amount of activity that has taken place in that region.
Rob