Solved: browser extension.
Ed
This is a fantastic upgrade!
I have found a small problem on the Chases Mapping page. I have a new call sign N6WT old call was NC6B. If I click on a chase for NC6B it shows my home location on the map correctly. But if I click on a chase for N6WT it shows my location on the map off the coast of Africa.
Thanks
73
Kent
N6WT
Hello, it me again.
Probleme: On Spot Mapping Page, when i chose a CONTINENT or a SOTA ASSOCIATION
if i chose anything else than ANY, i get "No spot reported in the last 12 hours"
eg: i wanted to see what has been spoted today for my activation on F/AM and i get the not spot message. Even if the Sotawatch Latest Spot" shoes 6 spots today for F/AM
Am i the only one?
Gerald F6HBI
Kent,
This is always going to be a problem, especially for older records, where the likelihood of people's addresses/locations being correct becomes increasingly uncertain.
But, for your latest callsign and data, we should have had some data pulled from qrz.com. I suspect the script which does that has failed somehow: I'll take a look…
Cheers, Rob
Hi Gerald
This has now been fixed.
Bonsoir,
Rob
Rob
I see that the info that pops up when I hover over N6WT, my grid shows as JJ00aa (not correct) should be CM95tc
Thanks
73
Kent
N6WT
Indeed, that's what I was talking about. I'll investigate tomorrow.
Well done Rob, I admire your bravery letting users at your code

I've just uploaded my first GPS track. The depth of the mapping software is stunning.
Great stuff!
Mark. M0NOM
Gerald, if you're having problems uploading tracks to the SMP, then let us know what your problems are. The whole upload procedure was checked by me today, and it's functioning correctly.
One tip I can give you - please refresh the tracks page in your browser by pressing the F5 button, or the Ctrl+F5 buttons together; or Command+R if you are using Safari on a Mac. In this way, you will load the new page, with the new login area at the top right of the page, like this: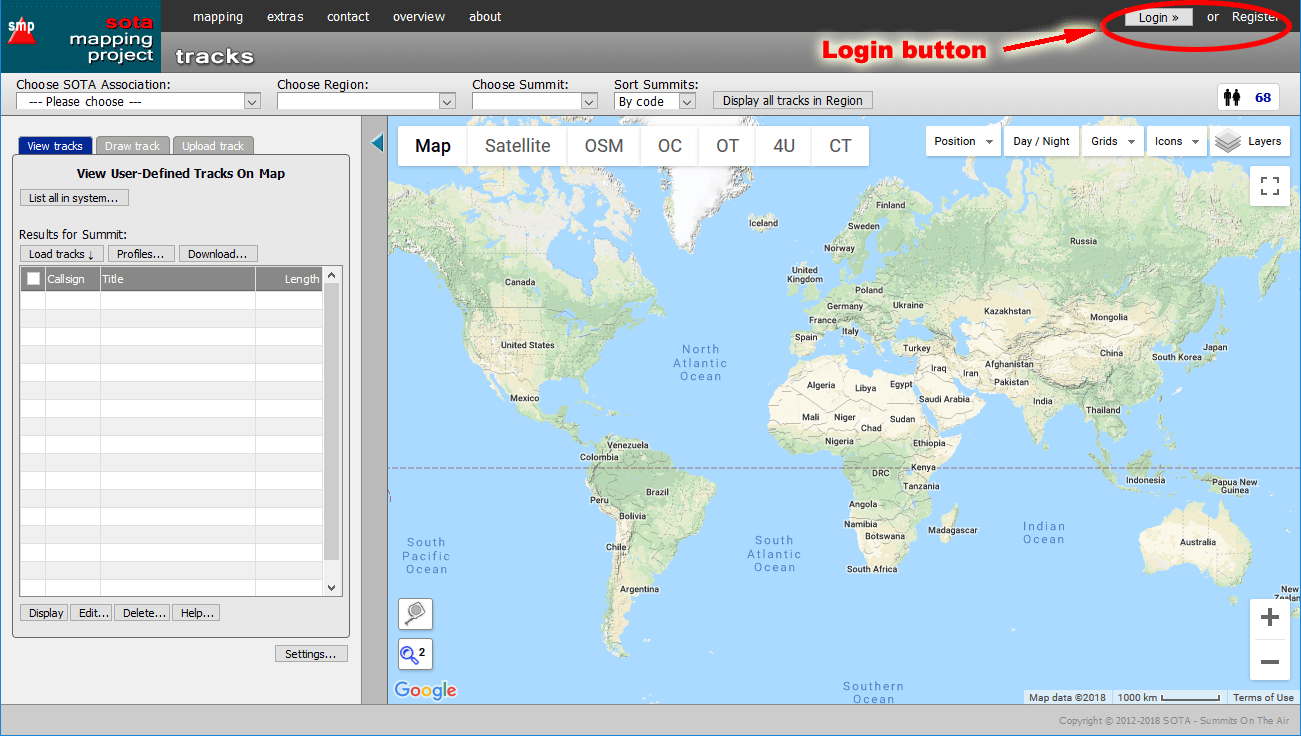 Do you see this login button in the tracks page?
Rob
Hello Rod,
Thanks for the help. The probleme is cannot Login to the Sota Mapping Project.
I have done already (at least more than 100 times) everythings that has been told on the reflector.
It looks like the new SMP does not know me!
For Sotawatch.org, my user login is my Call and i can connect fine.
For the Reflector , same thing.
For Sotadata my user id is GÉRALD and i can connect fine.
For the SMP nothing goes fine; user not known and if i ask to reset the password, i never receive a single mail.
Hard Job! I hope that help.
73 Gerald
Where do you see this? Can you provide a screenshot, please? The old SMP page, which sends an email, no longer exists!
You must refresh your browser window by pressing F5 when you are on the tracks page!
After that, you should see the Login button as in the picture above. Do you see the Login button as in the picture???
OK, well, I tried. I'm throwing in the towel here, perhaps one of the Francophone members could help this guy out?
Gerald @F6HBI , your problems sound very similar to mine.
Have you tried to go into settings on your browser, and delete all cookies and cached data? This might help.
73,
Keith KR7RK
Thanks for trying @KR7RK
Yes i did delete cookies and cache; i still can't log in.
73 from Gerald
Good evening Rod,
I did exactly what you told me, more than once (F5, Ctrl+F5) and yes i can see the Login Button,
like the one on the capture.
When i clic on "LOGIN" i am invited to enter my username, and my password; and the result is: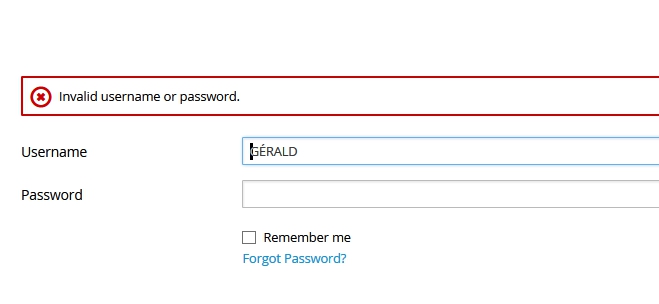 If i try "Forgot Password": it comes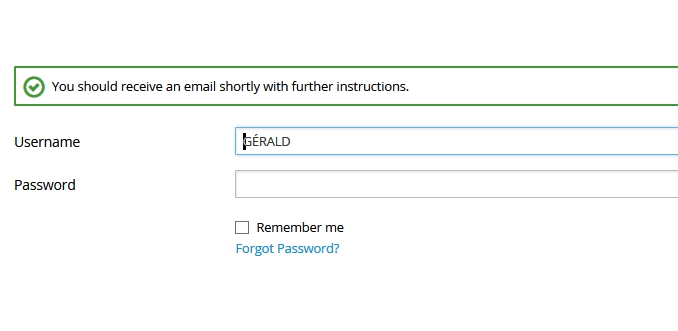 email that never comes…
That's it.
But please Rod do not be upset about me; if i am silly and cant upload tracks to the SMP, that is not very important, i will carry on climbing mountains and make a lot of really good contact like i have done since nearly 10 years.
All the best for the next 2019, 73 from Gerald F6HBI
Send me a Private Message with screenshots and the exact way you are trying to log in.
HI Rob
No problem logging in here to the new SMP thankfully, stop tearing your hair out if you can!
Using Chrome or Firefox on a Windows 7 PC and using the same user name and password as before. The same for the SMP and the database.
Question - in the Chases or Activations mapping pages after logging in, should I be able to search on callsigns other than my own? What is happening is this - if I enter my own callsign, I set the period and hit load I get my own chases or activations displayed - all correct.
If I then change the callsign to my near neighbour G3TQQ (for instance) I don't get his activity displayed but again I see my own. The same goes for DM1CM.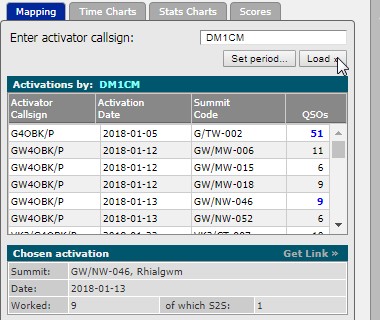 Maybe one is restricted to looking at just ones own data or am I doing something wrong? Please confirm, and thanks for great mapping tie-ing in nicely with our data from the database.
73 Phil .
OK, solved the problem. It's a deep issue with the way the database that stores users does comparisons. Your user id is 'GÉRALD' and there is another user called 'GERALD'. The database by default expands UTF-8 and latin1 characters such that when comparing usernames, these are considered to be identical. This means that when inserting your user as part of the import, it silently fails. Thus, no user for you exists, and attempting to add you from the original sotadata database fails repeatedly and without detail (although with some fiddling I worked out where the problem field was).
I have dug into the bowels of the database schema and discovered you can change this comparison method, which I have now done, and been able to import your user. You should now be able to log in. If not, I will probably have to sacrifice a mountain goat to the computing gods.
Phil, I think I've sorted this now - give it a whirl when you've time. Just don't forget that, if you're looking at somebody else's data, you may have to reset the time period…
No, not at all - anyone can view any other's data, with the exception of not being able to view certain QSO details if one is not logged in.