Hi,
Just a brief note on today's activation. GM/SS-125
I can just about see Scald Law from my bedroom window, just need to "remove" a few of the neighbouring houses and it would be in view. The Pentland range has been taunting me as I walk the dogs in the mornings, glistening white in the early sun and a clear blue sky after our small amount of snow fell last week. The forecast for today was to stay fair and wind not too strong, so all packed up and away to the hills!
Starting up Andy's usual route, it was apparent that folks had been out enjoying the snow over the past few days, with a good path compacted enough to make walking easy, there was even some evidence of sledging without a sledge - ie "bin bag sliding"** on the steep bits.
** other phrases are available involving portions of anatomy…
It was the first time I've thought that a snow shovel would have been a handy thing to have as I made a small dugout and snow wall above it to avoid the wind - only a few mph, but with the -4 degrees C or so, that would have been very uncomfortable.
Not the most efficient layout of the antenna (multiband end-fed), but it was enough. Big thanks to the WAB net for running through the net with me, I appreciated that and all the other callers too. I suspect I missed a couple on 20m due to weak signals. 40m and 20m were good this morning and a quick visit to 17m yielded a result there also.
Mrs VPM wants me to keep all my fingers intact, so has obtained this fine pair of mittens which are ideal for this sort of weather and allowing things to be twiddled as needed.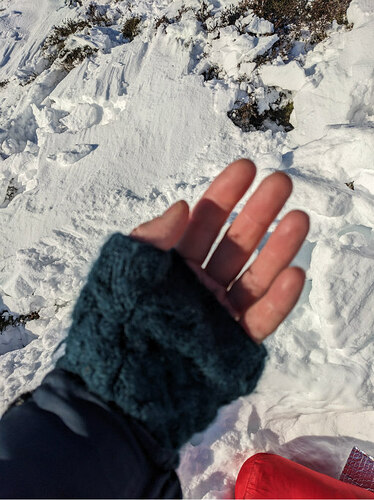 Views from the top
Looking south west-ish - nice inversion in the mid distance. Bendy snowboarder trail in there also. I was visited by a skier too.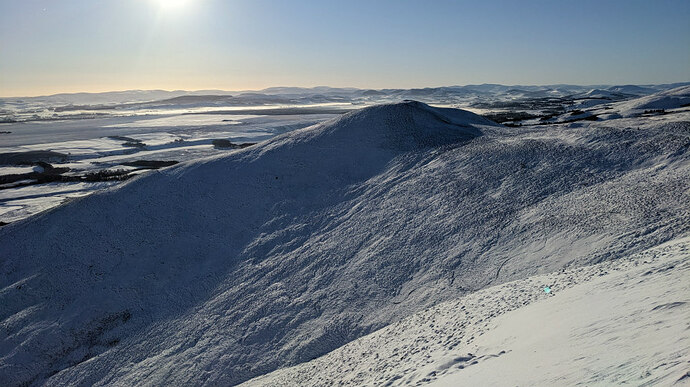 "Home" for the morning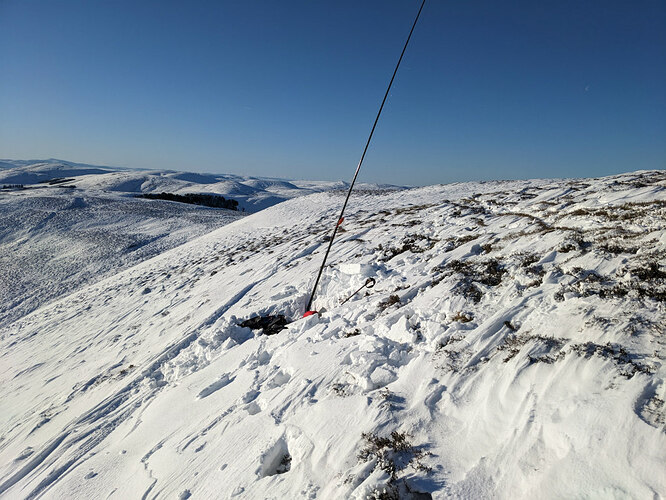 Thanks for all the calls and the kind "safe descents" when I went QRT.
Alan