I got back from the RSGB Convention at around 9pm last night after the drive from Milton Keynes.
I'd set off on Friday morning, arriving at Bletchley Park at around 1pm. I took myself straight to the National Radio Centre (NRC) within the park and saw that the HF station was free and staff were just chatting amongst themselves. I took the opportunity to get on the radio and managed two CW QSOs on 40m operating as GB3RS. Shortly after it was time for a special tour of Bletchley Park directed by Anthony G0LAX, who is a Bletchley Park tour guide and volunteer at the NRC. The tour was very interesting and lasted for about two hours! Unfortunately we all got very wet in the monsoon like weather. Thankfully I'd packed spare shoes, so I was able to swap into dry footwear later on.
I moved on to the RSGB Convention site at Kents Hill Business Park after stopping at a pub for a quick meal. At the convention I met Paul @G4IPB who had travelled by public transport. It was nice to see a familiar face. I had a chance to meet Edward O'Neill who is the editor of RSGB's RadCom magazine and it was great to chat to him and Steve Nicholls G0YKA about SOTA and building QRP kits. (Steve Nicholls is the RSGB propagation bod).
On the Saturday I attended a few lectures, and the DX Gala dinner, I sat with Paul G4IPB and we had a discussion with Murray Niman G6JYB, also on our table, about the recent Ofcom consultation. I briefly spoke with John, G3WGV as we passed on the stairs!
Sunday's highlight was the talk by Neil Smith G4DBN about the Great Seal Bug project, featured on TV earlier this year. A close second was the excellent talk by Ian @GI0AZB and Esther @GI0AZA about SOTA activating in Ireland and Northern Ireland. It was nice to meet Esther and Ian for the first time. Ed @DD5LP was floating around all weekend too, he wasn't too difficult to miss in his orange ICQ Podcast shirt!
At one point during the day, I headed outside to the GB3HQ station and I couldn't believe my ears when the station calling in was our very own Gerald, @G4OIG!
In all it was a very enjoyable event, despite not winning the raffle!
73, Colin
Edit to add some photos -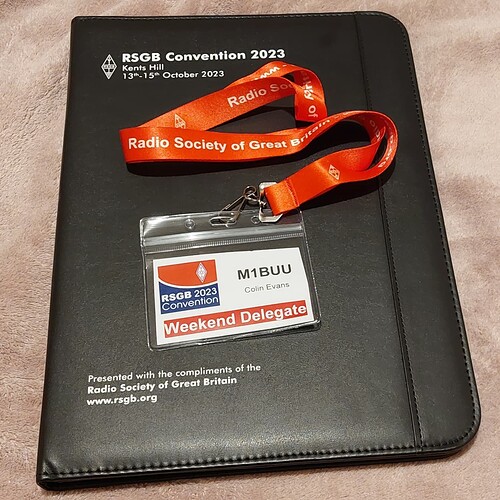 Souvenirs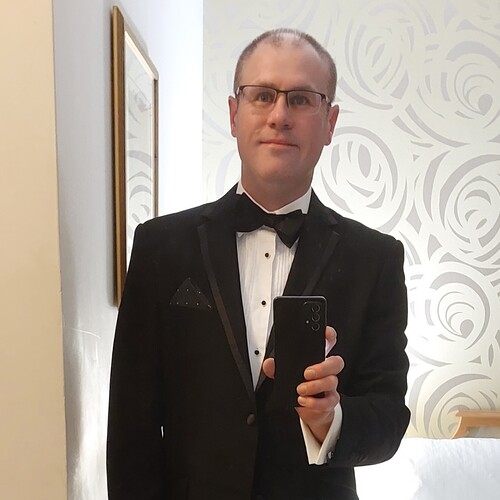 Ready for dinner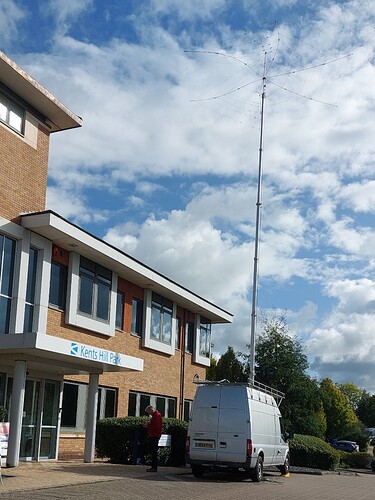 'Flossie' The Camb-Hams mobile shack which was being used for GB3HQ