You can go now Andy


73, Éric
I forgot that as I have admin status, the limits etc. don't apply!
I should switch to a 4 day week in 2022 and retire later that year, so I have a number of plans once I have more time. However, the 4 day week has been put back 2 months as we have more work than staff! I'll have to be careful because the lure of filthy lucre from my employers can blind me into staying on longer.
Activate on mainland EU again. Last time was October 2019 but it feels a long time ago.
More FL/VO summits, this may happen this summer on the way to Friedrichshafen.
See my sister down in Nîmes and activate in F/CR, F/PE and gorge myself on the food/drink. Also drive out and visit Éric F5JKK who is a regular chaser and lives not far from her.
Activate in EA with Paul M0SNA/W6PNG.
I think it is a matter of changing my viewpoint from fitting these things in with my working life to taking the pre-retirement view of fitting work into my private activities!
I've been practicing that since I was 17! At age 50, I'm feeling that the work is really getting in the way now and am aiming for an 80/10 split in my favour next year…
Finished at 53, now 57… don't miss proper work at all. Retire… you make your expenses fit your new income.
That's the plan. I just may have to take up armed robbery or Internet crime, as I'm not cheap to run!
no chance… they offer 110 % if I stay longer. I asked: in addition to the pension, then it's ok… because I get the pension anyway… but that wasn't their plan. 20.12. is my last working day.
Let me know when you are in the area… if it fits, we can activate some summits together.
But you know: pensioners almost never have time.

73 Armin
Snap! And that's the problem


I'll be looking forward to seeing you over EA2/NV some day and being in good enough condition as to go activate SOTA with you.
That made me laugh Fraser. Oh, chance would indeed have been a fine thing. I planned to retire at 60, worked to 65 when I closed my business and finally gave up work after a further 3 years of consultancy work.
The problem is, I'm still not doing anything near what I had planned to be doing a decade ago. A bit like my school report - Must Do Better!
I lived in Colorado for two years from 2013-2015 before returning to Kentucky. While I was there I summited a number of peaks, always with an HT. Unfortunately, I didn't know about SOTA at the time.
Presently, when I'm chasing (specifically S2S QSO's) I keep track of my "unofficial completes" which are mountains I summited with an HT but don't count because I was late to the party

From Private challenges where I was writing
""
My wishes in terms of goals remain quite modest !
Chaser :
Reach 7500 unique summits by the end of the year.
Reach 1000 unique summits 5Mhz all modes (my prefered band).
Activator :
I'm a long way off the mark of ever being an MG, but I love being on a summit and contacting SOTA friends. I will do what I can to activate according to my state of health.
Since yesterday 07/05/2022 I can change my objectives even if some are still valid, in particular the last 5 Gs!
Merci all

1000 unique on 60m

done

On 174 G missing summit I peaked at 164, thanks to Richard @G4TGJ I just went to 169 and go for :
G/DC-008
G/SC-011 G/SC-013
G/SP-012 (1 day maybe…@M7BIA just activated SP-004 for the 1000th activation )
G/WB-006
73, Éric
F5JKK
Today Carl @G0KPE make my day with G/SC-011


Many thanks
73, Éric
F5JKK
Eric - you are a lucky man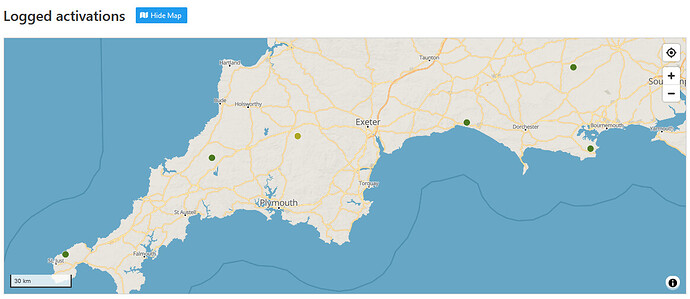 I have activated six summits in DC and SC in 2019… and to date have not been able to reach one as a chaser to have it complete.

73 Armin
Thanks to Ray @M0DHP who give me my last G/DC G/DC-008

Now hunting my last 3 G
G/SC-013
G/SP-012
G/WB-006
73, Éric
F5JKK
Hi Éric @F5JKK, I've alerted for G/WB-006 tomorrow morning (17/05/2022). I'll listen out in case you are around!
30m CW to start with, and possibly 40m or 20m after that.
73
Adrian
Hi Adrian @G4AZS ,
Thanks, I'll look for you tomorrow on 30m and 20m


73, Éric
Hi Adrian @G4AZS ,
Many thanks for my last G/WB - G/WB-006


Big 73, Éric
F5JKK
My goal was 4,500 contacts s2s and 4,500 unique summits chased. Failed the uniques, now at 4,352 out of 22,000 chases, but got the s2s goal, putting me behind four Swiss and one Coloradan, globally.
Elliott, K6EL
Hi all,
Yesterday Dave @G8XDD gave me my last G/SC summit G/SC-013


Who will be the station that will give me my last G summit G/SP-012 ?
73, Éric
F5JKK