Hi all,
there is something new from my fiberglass VHF antenna developements.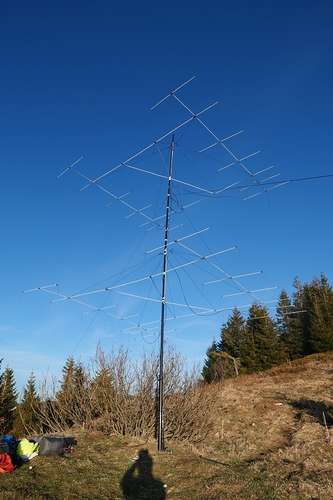 A lightweight and fast deployable 2 x 2 x 7 Element group which can be carried on a mountain top!
I uploaded a video to youtube which shows the setup:
The documentation can be found here:
http://nix-disco.de/misc/DF6MH-fiberglass-yagi-antenna_0p6.pdf
The main facts:
Amateur radio VHF frequency range
2 H x 2 V x 7 Elements
Single Yagi: modified DK7ZB 7-Element design5 (28 Ohm,11 dBd gain). Also can be used stand alone. + 2 Yagis form a horizontal layer by introducing a spacingstructure also made out of fiberglass segments
Theoretical overall gain: 17 dBd
Collapsed length is less than 120 cm
Antenna structure weight: 3.3 kg
Can be supported by fiberglass mast (I use lower 8segments of a Spiderbeam 12 m HD fiberglass mast,weight is then appx. 3 kg)
Still lightweight and small enough to pack and to carry thewhole structure on a mountain top.
The design principle is based on my old 6-Element design which i already described here:

Maybe this is not an antenna for "every day use" but more for contesting and DX!
@OK1CDJ Ondra,
Looking forward to see you building it with 3D-printed parts


I think you will find lots of things to improve!
73
Martin
DF6MH