ON7DQ SOTA Tour – March 2016
In the second weekend of March, I made a 4-day trip to DL, to visit the Bergheim Funkflohmarkt (hamfest) and to do some SOTA activations of course. That weekend was also the last chance to get the winter bonus points on those Belgian summits that are over 500m asl. So on Friday March 11, I set off at 05:45 local time … to get at my first summit at 8:30 local.
ON/ON-010 Baraque Fraiture
Snow as far as you could see … so setting up in the snow : FT857D operated inside the backpack + link dipole.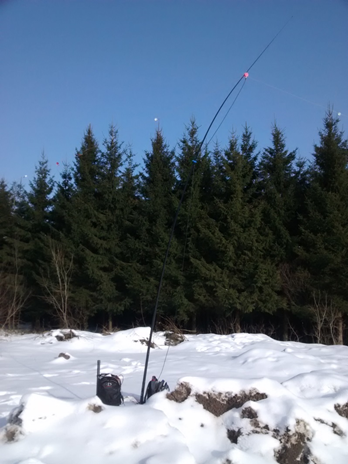 Tried 20m first for some VK/ZL … no luck. Then gave a shout on 7.085 (to give the ON3 stations a chance to work me too) and … boom ! The pileup that followed went on and on … filling page after page in my logbook … made exactly 100 QSO's in 1 hour and 15 minutes. Great !
I was getting cold, so never went back to 20m, off to the next summit …
ON/ON-013 Bois de Hodinfosse
More snow … yes, you have to earn that winter bonus , hi.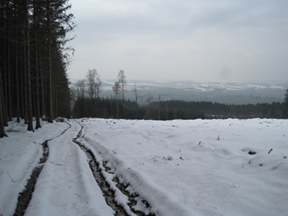 This time I used the KX3 and link dipole, and took a chair and a small folding table/stool, so that nothing had to lie around in the snow. A large piece of plastic laid out on on the snow kept my backpack and other stuff dry. Made 33 QSO's, again all on 40m.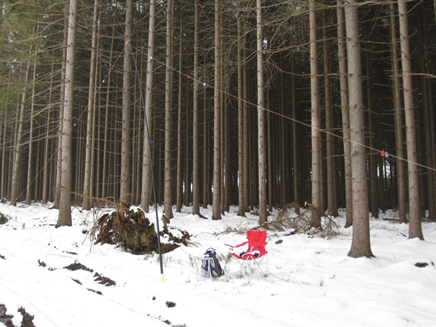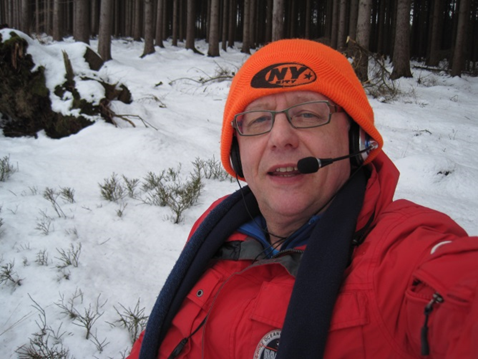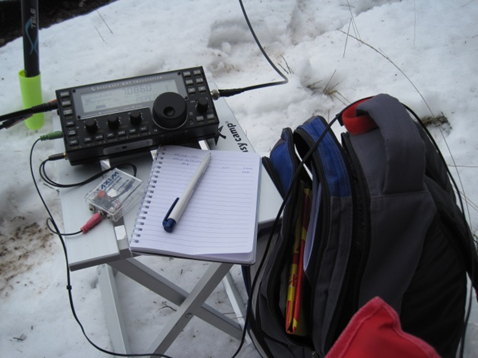 On this picture, you see my MIC/PTT interface box for the KX3, to use a PC-headset.
ON/ON-011 Sur Clair Fa
It was getting around noon when I finished at ON/ON-013, so I first drove to the next summit, and had a small "lunch-in-the-snow" there.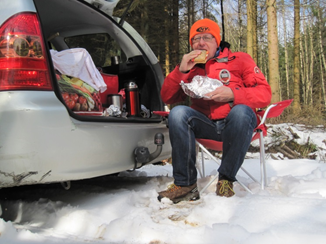 Then setup my station, again KX3 + link dipole. My 5800 mAh LiPo pack had been recharged in the car while driving, so it was a "fresh start".
Made 31 QSO's there, of which one DX with N1GB.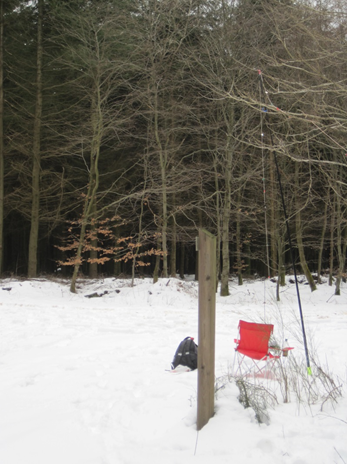 Had I mentioned I didn't meet one living soul during these three activations … it was "Cold and Lonely" (like the song by Slaid Cleaves).
It was different on the fourth summit, since this is a popular Langlauf ski area.
ON/ON-001 Signal de Botrange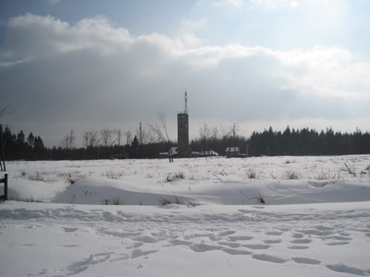 Lots of tourists here, but I found a quiet spot next to the observation deck, across the main road (see track by G4OBK on Sotamaps).
Very cold wind here too, so I had to make the activation short, and again worked only on 40m. Still no bad result : made 48 QSO's in 40 minutes.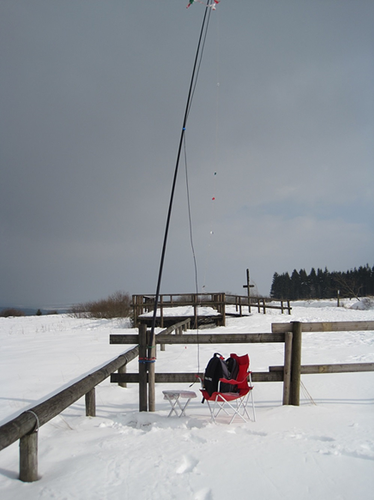 So far for day 1 … it was time to go to my hotel (Hotel Jufa in Jülich). This is a brandnew hotel (built in 2013) in Youth Hostel style, but offering "normal" hotel rooms for singles, couples or families (see picture).
It was very quiet in this weekend, but at other times it can be crowded with youngsters (eg. school trips).
They have a nice sauna so my ©old bones were warmed up very quickly … hi.
It is a cheap hotel too, I paid 34 Euros per night, breakfast and dinner included, although the dinner was very sober compared to what you get at other German hotels (felt more like a school meal).
But you get free access to a nice park adjacent to the hotel.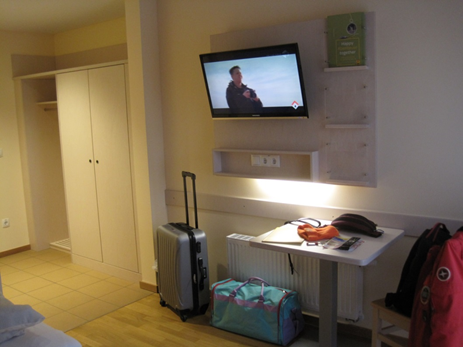 Saturday was spent at the Funkflohmarkt in Bergheim, and some shopping in Aachen, no SOTA today …
I did buy a small VHF/UHF antenna at the hamfest, a 4-element Log Periodic, made by ANJO Antennen.
(details here : http://www.joachims-gmbh.de/detail_blatt/LP145435E.html )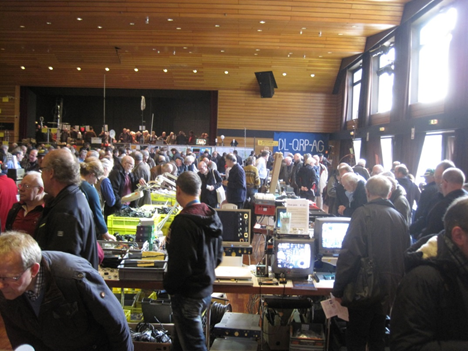 DM/NW-134 Sophienhöhe
Sunday was again devoted to SOTA, but on Sunday morning was also the UBA Spring Contest 2m (Phone & CW). So I wanted to get a piece of that cake too. Now my KX3 doesn't have the (expensive) 2m module, and even then … what to do with only 3W in a contest ?
So I decided to take my two backpacks up the summit, one with the FT857D and VHF antenna, the other with the KX3 and HF antenna.
The summit is a firm 45 minutes walk, I took the path from the North parking as suggested by Phil, ON4TA.
(Franz, ON9CBQ/DL3RBF, suggested a path from the West, I'll try that next time).
Now how do you carry two backpacks … ? I went up this way :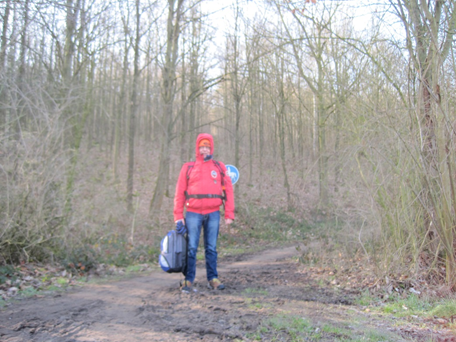 Coming down I found another way to do this … so one of the backpacks is actually … um … a FRONT PACK !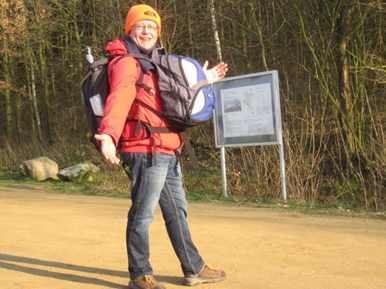 Look Ma, no hands !!
On this summit , it was time to test the newly acquired Log-Periodic antenna.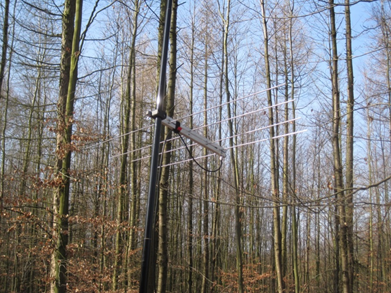 Did it work ? It sure did, my second QSO was with ON4OS, my own club in Ostend … 250 km away, with good signals. Not too much activity on 2m though, so made only 10 QSO's in total, of which only ON4TA was a typical SOTA chaser …
During my "lunch on the summit" a walking group passed by, and suddenly a man came to me and said (in German) … surely you are a "Funkamateur" ? Yes , of course ! It was Karl-Heinz, DL2XL , also a SOTA activator.
Then it was time to move to HF. First with the FT857 until the batteries started going down, made only 5 QSO's on 40m. Then switched to the KX3 and moved up : 3 QSO's on 20m, then went to 15M and wow !
I worked three VE stations in a row !
For all the time I stayed on the summit, only 21 QSO's was not the best result, but the weather was good, and after the activation I even walked for another hour on the summit (with my two backpacks !), to see the "Römerturm" (viewpoint on the summit).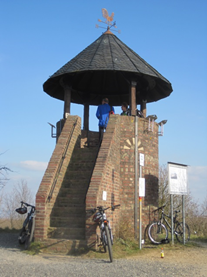 And just a remark to Ed, DD5LP … do you really have to leave your name all over this summit ?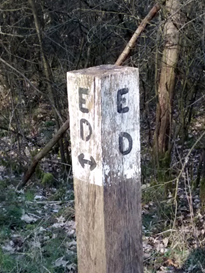 Just joking … but this what you see everywhere along walking route E and D … hi.
PA/PA-002 Vrouwenheide
Monday March 14 was the day to go home, with 2 Dutch summits on my list. The first one is a very easy drive up summit, it's only 50m to the summit. So I quickly set up the KX3 and link dipole, for my second biggest pile-up on this trip : 60 QSO's in just 45 minutes, including a VE and a W station.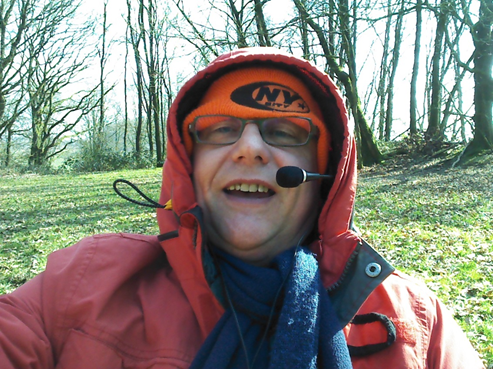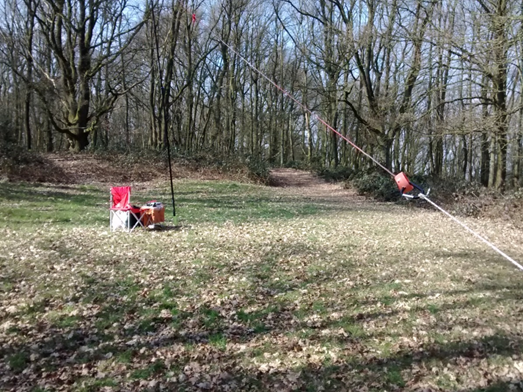 PA/PA-003 Observant (Sint Pietersberg)
This artificial slag heap near the city of Maastricht is something else.
I followed the track of Phil, G4OBK to get to the parking spot, but then it's still a nice steep walk to the summit. Being a Monday, not many visitors there, so I had plenty of space to set up. I couldn't get my "spike" in the ground though, so had to use some bungee cords to tie my pole to a bench to keep it upright.
My setup was again the KX3 and link dipole.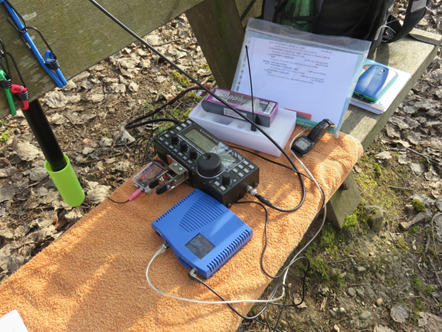 This time all went very well, 51 QSO's in total, including 5 S2S's, and quite some DX on 20m … read on !
Since this was my last activation before going home, I thought "why not try CW for a change ?"
(I did use CW occasionally before, but only to work other S2S station, never called CQ SOTA myself)
I let the KX3 memory keyer do its work, and some Russian station came back … got 579 from him.
OK, let's call some more CQ …
Then … to my surprise I heard a very familiar call W0MNA , Gary from Kansas, and of course after Gary came Martha W0ERI !
To explain why I was so excited : I met Gary and Martha last year in Branson, MO, USA on the OzarkCon QRP Conference, so what a pleasure to get those great folks in my log on my first CW adventure ….
After 2 more CW QSO's I still had to try my new Arduino project : an Arduino UNO polls the KX3 for received text and displays it on a 1.8" LCD display. Compared to the meager 8 characters on the KX3 display, mine can show up to 460 characters … so ample time to follow a PSK QSO.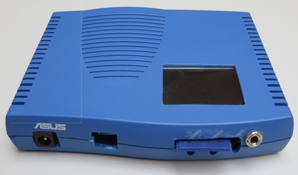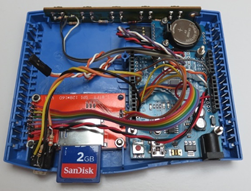 This worked fine in RX, but I had more trouble sending a reply with the CW paddle, which is then sent as PSK by the KX3. Better bring something with a keyboard next time …
There is also a real-time clock in the box, and an SD-card, but I didn't get the save/log function working in time for this trip, so can't show any text from the log, but I did take a picture of one PSK QSO.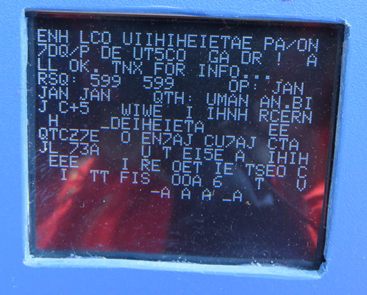 After that it was time to go home … feeling very satisfied with all results on this little SOTA-tour …
73 de Luc - ON7DQ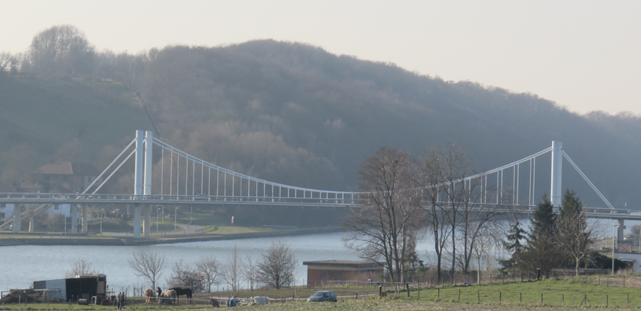 Bridge over the canal "Albertkanaal" at village of Kanne in Belgium, seen from PA/PA-003