SOTA NEWS APRIL 2016 - Part 1 of 3
Editorial - by Roy G4SSH
Welcome to the April 2016 edition of SOTA News. My thanks go to the following contributors:- Barry GM4TOE, Skip K6DGW, Mark G0VOF, Kevin G0NUP, Rob and Audrey G4RQJ, Geert PA7ZEE, Warren ZL2AJ, Luc ON7DQ, Allen VK3ARH, Jürg HB9BIN, Emil DL8JJ, Paul DL6FBK, Paul HB9DST, Pedro CT1DBS, Tom M1EYP.
========================================================
The March 2016 edition of SOTA News was viewed more than 1300 times.
CHALLENGE RESULTS
The confirmation of 6m/10m Challenge places has been delayed by a number of events.
We're still waiting for Barry GM4TOE to be fully operational after his relocation. On my side, my employers have made some unreasonable demands that I actually do some work for a change! I've been very busy with my job and some domestic arrangements that have limited the time I have available on top of the normal SOTA tasks.
The upshot is that confirmation is running late but should be sorted in the near future.
Once the MT have scanned the logs to ensure that everything is ship-shape, the active 6m/10m Challenge pages will be replaced by the list of Activator and Chaser certificate winners.
Your understanding and patience is appreciated by the MT.
Andy
MM0FMF
Database Manager
SOTA AWARDS March 2016 from Barry GM4TOE - SOTA Awards Manager.
March has seen an upsurge in claims which meant there was a considerable amount of work to do when I returned from EA8! Re-introducing trophies also led to a surge in claims for these. DL1FU has just claimed Chaser 125k, he is up there with the leaders and no doubt will progress rapidly. Congratulations to Mountain Goats HB9DPR, SV2OXS, K0JQZ, HG7WAV, W2CKL, SP9MA and G0HIO – a real achievement.
Trophies
Mountain Goat
HB9DPR Thomas Benz
SV2OXS Christos Tzioutzias
K0JQZ Frank Skinner
HG7WAV Viktor Szota
W2CKL Robert Schertl
Shack Sloth
M6RUG David Thorpe
VK7CW Steven Salvia
PA7MDJ Michael de Jong
VK3PF Peter Freeman
Certificates Issued
Activator
SP9MA Jaroslaw Surma 1000 points
HG7WAV Viktor Szota 1000 points
G0HIO Michael Warrington 1000 points
VK3ANL Nicholas Lock 500 points
G4ISJ Peter Martin 500 points
M0JCQ James Stevens 250 points
DL1TSC Thomas Schardt 100 points
DO1JC Johnny Chocholaty 100 points
K9JEP James E Pults 100 points
N2GBR Richard Jones 100 points
Chaser
DL1FU Friedrich Winzer 125000 points
K6EL Elliott M Pisor 25000 points
VK3ANL Nicholas Lock 5000 points
ON4UP Peter Preud'homme 5000 points
M6RUG David Thorpe 1500 points
M6RUG David Thorpe 1000 points
VK3PMG Mick Geraghty 1000 points
VK7CW Steven Salvia 1000 points
PA2NJC Nick Cox 1000 points
K6KNS David Sanders 1000 points
VK3PF Peter Freeman 1000 points
M6RUG David Thorpe 500 points
G1BLJ Steve Lovell 500 points
SV2RNN Apatsidis Akritas 500 points
PA7RA Rien Aarden 500 points
W0QFW Robert A Carter 500 points
G1FOA Peter Franklin 500 points
M6RUG David Thorpe 250 points
PA7RA Rien Aarden 250 points
W0QFW Robert A Carter 250 points
DL1TSC Thomas Schardt 100 points
M6RUG David Thorpe 100 points
K9JEP James E Pults 100 points
2E0JKR Ronald Whatmough 100 points
W0QFW Robert A Carter 100 points
GW4BKG Stephen Emlyn-Jones 100 points
Short Wave Listener
BRS301178 David Thorpe 500 points
BRS301178 David Thorpe 250 points
BRS301178 David Thorpe 100 points
Chaser Unique
M6RUG David Thorpe 250 summits
M6RUG David Thorpe 100 summits
VK1VIC Anthony Vickers 100 summits
Summit to Summit
VK2BJP Russ Jacob Silver
VK3AFW Ron Cook Silver
VK2BJP Russ Jacob Bronze
M0JCQ James Stevens Red
G1FOA Peter Franklin Red
Mountain Hunter
M6RUG David Thorpe Bronze
W0QFW Robert A Carter Bronze
My vacation caused a significant delay in the issuing of awards and merchandise but I eventually caught up with most of the backlog. Engraving of the glass trophies is also underway and I should have these back for infilling in about two weeks.
This has been asked before but it is worth reminding folks that combining your orders into a single submission means that SOTA receive a larger share of the payment rather than giving the money to Paypal. If you order a pdf version of the certificate (currently being charged at £1) then we receive about 70p; if you order more than one on the same order then subsequent certificates result in SOTA receiving the full amount as the 30p charged by Paypal covers up to about five certificates.
I need to re-stock on T shirts but currently hold stock of most sizes except Large. To make an order worthwhile I do need to order 50 or more so I am holding off until stocks of other sizes reduce a little (I have very limited storage space here!!). There are still good stocks of most sizes and colours of polo shirts so how about treating yourself?
I am about to have a new lifetime experience – visiting Blackpool for the first time in my life to attend the rally on 10 April. This does mean that I should have a much wider range of SOTA merchandise available than has been possible in previous years. If you would like to collect a certificate at the rally let me know in plenty of time and save yourself the postage (you can email me your order and pay & collect at Blackpool if that suits) – you might even be tempted by SOTA branded goodies!
Still hacking away without a proper broadband or telephone connection – perhaps that will change in the coming months – big hint to BT Openreach!
Please stay safe on the hills
73
Barry GM4TOE
SOTA Awards Manager
========================================================
From the 28th March until the 7th April Jürg, HB9BIN, will activate summits in the F/JU and F/VL regions and will do some first activations along with his wife.
========================================================
BLACKPOOL RALLY 2016
Sunday 10th April 2016 is the annual NARSA Rally, at Norbreck Castle Hotel, Blackpool.
All details via the website:
SOTA will have a stand there as usual, and as usual it will serve two main functions. One is to provide information, advice and interest to prospective new SOTA activators and chasers. The second, is to provide a focal point for existing SOTA participants to congregate and socialise. Additionally, there will be SOTA merchandise on sale, displays, quizzes and cakes.
Tom M1EYP
=============================================================
PORTUGAL NATIONAL SOTA Day 2016 - from Pedro CT1DBS/CU3HF
On 1st April 2016 we celebrate five years of SOTA program in Portugal.
So, we invite all amateur radio operators to take part in those celebrations named National SOTA Day 2016, which will take place on April 2, 2016 (Saturday).
The essence of the celebrations is to have multiple summit activations all over the country on this day.
The activity aims to promote the SOTA program and allow sensitize the amateur radio community for this kind of healthy and funny activity.
Although there are certificates to the participants (activators and chasers), the National SOAT Day - 2016, as well as the SOTA program, it's not a contest.
It will be a "SOTA party on-the-air" and therefore all amateur radio operators are invited.
All Portuguese clubs were invited to join the activity.
All amateur radio operators who are Activators are specially invited and encouraged to bring other hams or prospective hams for activation, enabling others to experience a SOTA activation.
It is suggested that the activations should be made :
• From 09.00 and 18.30 (local time) on April 2, 2016;
• Using their own call sign (/ p);
• Using the simplest possible equipment (QRP in most cases, including portable radios V / UHF);
• In SOTA summits with the highest possible score:
• In the amateur's radio operator area;
or
• In any CT/CU/CT3 summit.
The KISS concept (simplicity, simplicity, simplicity …) will be used throughout the activity: The only rule is to comply with SOTA rules and having fun!
As explained before, there will be certificates to the participants who activate a summit (by SOTA rules) or have a QSO with one activator/summit on that day (chasers or SWL). Other than that, they should send photos or videos of their SOTA activity to CTsotaday@gmail.com
This will be a great opportunity to chasers abroad Portugal.
Please feel free to ask any questions to the above email.
In behalf of National SOTA day organization
Vy 73
Pedro, CT1DBS/CU3HF
(As we went to press 36 amateur radio stations had announced that they were to be active from CT and CU summits on the CT National SOTA Day, April 2th.) Ed.
==========================================================
EXPEDITION TO POLAND from Phil G4OBK
Dave G3TQQ, Phil G4OBK, Victor GI4ONL, Nick G4OOE and Pete M0HQO will be activating SOTA from the SP/BZ Poland and OM/ZA Slovakia areas for 7 days from April 19th until April 26th on HF in CW/SSB and on 2m FM.
The team have arranged two hire cars for the tour and will be activating in two teams, with SP/G4OBK and SP/GI4ONL forming one team and SP/G3TQQ, SP/G4OOE and SP/M0HQO forming the other team. It is hoped that around fifteen summits will be activated in Poland and two summits in Slovakia over the 7 day period.
73
Phil G4OBK
==============================================================
SOTA Programme at Ham Radio 2016 by Jürg HB9BIN & Emil DL8JJ
The following two SOTA-related events will take place at Ham Radio Friedrichshafen 2016 on Saturday, 25 June 2016:
• Noon to 1 p.m. An actual climbing demonstration and live radio contacts with the audience by Emil DL8JJ at the DARC stage
• 2 p.m. to 3:45 p.m. The 2nd SOTA Information Session in the "Österreich" Meeting Room with the following presentations:
The further development of the KX3 and related products by Eric WA6HHQ, CEO of Elecraft
A question and answer session about SOTA with Andy MM0FMF, member of the SOTA Management Team
An overview of SOTA peaks in North America and Japan by Guy N7UN, member of the SOTA Management Team
A comparison of recent KD1JV family rigs (ATS, Mountain Topper) by Paul HB9DST
The Hentenna – the Japanese "miracle" wire by Herbert OE9HRV
The modified Buddipole by Jürg HB9BIN
From paper to tablet logging – the VK3ZPF "VK port-a-log" Android app by Manuel HB9DQM
SOTA Chaser Station Management with Logger 32 by Phil G4OBK
Products reviews for SOTA by Jürg HB9BIN
"Extreme SOTA" First activation of Pizzo Pianca 2377m HB/TI-093 by Emil DL8JJ
Ideas for local activations
While at Ham Radio, many activators take the opportunity to visit a local summit. There are numerous possibilities:
• The Hegau volcanoes (DM/BW-086 Hohenhewen, DM/BW-101 Hohentwiel and DM/BW-850 Hochbühl: new one since first of March 2016)
• Hochberg OE/VB-511 and Hirschberg OE/VB-509
Note: Pfänder OE/VB-512 and DM/BW-085 Hohenstoffeln are no longer valid SOTA-Refs!
We hope that as many visitors to Ham Radio 2016 as possible will find time to attend this interesting session.
73 de Emil DL8JJ and Jürg HB9BIN, Association Manager of Switzerland
===========================================================
ACTIVATIONS ON SUMMITS BEFORE DELETION - by Paul DL6FBK
Commencing in January 2016 I tried to activate some of the summits which were due to be deleted on 1st March 2016. I concentrated my activations in the south of Black Forest (DM/BW Region).
The WX-conditions were very different. At the end of December the temperatures were between 10 and 20 C. At the end of February we had minus 10° and over the height of 900m there was deep snow.
The summits were within reach by walking shoe or at last by ski. It was for me a great pleasure to go with ski to the top of the mountain and sometimes it was possible to ski down until the car park was reached, and the snow sometimes was best powder; for example from Bötzberg DM/BW 012 on 18.Feb or Farnberg
DM/BW-291 on 27.Febr.
For illustration I enclosed some photos of these activations.
I activated the following Summits in the DM/BW region (amongst others)
DM/BW-479 Ahornkopf
DM/BW-291 Farnberg
DM/BW- 629 Trubelsmattkopf
DM/BW-635 Breitnauer Kopf
DM/BW-012 Bötzberg
DM/BW-476 Erlenberg
Best 73
Paul DL6FBK
===============================================================
2016 HB9SOTA Snowshoe Excursion –
Mother Nature 2 : HB9SOTA 0
On two successive weekends, HB9SOTA attempted a snowshoe activation of HB/GR-158 Mattjisch Horn. Each time, though, conditions were so poor we had to give up and surrender to the weather.
The weekend selected for the excursion was Saturday and Sunday March 5 - 6, 2016. We even had some DX operators accept our invitation and decide to join us. Hans PB2T and his wife Margreet K2XYL drove down from their home in Holland on Thursday and stayed with Paul HB9DST. Colwyn MM0YCJ and his partner Ann flew in from Scotland on Thursday and stayed in Arosa to enjoy some skiing before we were to meet as a group in the Skihaus Hochwang on Saturday evening.
In preparation for their first snowshoe hike ever, on Friday Hans and Margreet joined Paul for an activation of a relatively easy snowshoe summit, HB/BE-151 Selibüel. While on the summit, we saw storm clouds approaching and kept our activation short so we could avoid snow on the roads when we drove down into the valley from Gurnigel.
Plenty of times on skis, but never before on snowshoes: Margreet K2XYL and Hans PB2T on their way to HB/BE-151 Selibüel.
Friday evening it started to snow, and on Saturday we had quite a snowstorm, even bringing snow into the valleys. Newspaper reports had it as the heaviest snowfall in March since 1975, and Ticino was particularly hard hit. The weather was so bad that the road from Chur to St. Peter required chains, which were absolutely necessary to get to the chair lift base station in Fatschel. There were also predictions of high winds and drifting snow, which would make a snowshoe trip up to the summit the next day extremely dangerous. Thus, by 8 a.m. Saturday morning, most of the members of the trip cancelled their reservations at the hut.

Colwyn MM0YCJ takes a break from skiing to activate Arosa Weisshorn on Friday.
Only Colwyn and Ann, who were already in the Arosa area, made it to Hochwang. Colwyn reported, "We had a great weekend skiing but only one SOTA summit activated on Friday 4 March, HB/GR-155 Arosa Weisshorn above Arosa, and there is a lift all the way to the top. The Hochwanghuette was very noisy on Saturday night so we didn't get a lot of sleep! (The music continued until 12:40 when I went down and asked for it to be turned off! Which they did…We did use ear plugs but the music was still disturbing.) On Sunday there was excellent powder snow but it was no use for snowshoe travel – too dangerous to go too far off piste." By the way, the following weekend when we spoke with Marco, the manager of the Hochwang Hut, he confirmed how terrible the conditions were during that first weekend with extremely high winds and lots of snow. We made a wise choice, even if there was a CHF 30.00 cancellation fee for each person.
Well, how about the backup dates the following weekend March 12/13? On Monday and Tuesday we were all very encouraged by wonderful weather forecasts of bright sunshine all weekend long. Towards the end of the week the forecast called for partly cloudy weather. On Sunday itself there was supposed to be 6 hours of sunshine. But as you shall see…
Four of us came for the second attempt at the summit: Hugo HB9AFH, Hans HB9BQU, Peter HB9TVK and Paul HB9DST. Peter picked up Paul and Hans in Thalwil and drove to Fatschel; Hugo drove by himself. We all gathered at the chair lift station and then had an easy 30 minute hike to the hut. The skies were overcast, no sun, but visibility was reasonably good but starting to get worse.
We arrive at the hut on Saturday afternoon about 15:00. Already the fog was starting to form and visibility was dropping.
To our surprise, we were the only overnight guests at the hut – and this on a Saturday night! The manager told us the miserable weather this winter season was to blame. But for us, this meant the hut was very quiet and we avoided the "QRM" that Colwyn had the previous weekend. A few notes about the hut: The staff were always very friendly and cooperative. Despite the website saying there is no electricity, the hut had electric lights and we didn't need our flashlights. The hut was also toasty warm; in fact, I used nothing more than my sleeping bag liner and didn't need any blankets at all (this thanks to Marco adding insulation to the upper floor last summer.) There is a wash sink that handles two or at most three people, so if the hut is at full capacity (38 people), there would be very long lines just to use this sink. I would rate the food as OK but not exceptional. And on Saturday night, Marco entertained us with his tall tales about his past lives in Switzerland and in the Philippines.
Getting ready for dinner Saturday night, left to right: Paul HB9DST, Hugo HB9AFH, Peter HB9TVK and Hans HB9BQU.
We got up the next morning to a thick fog with visibility < 50 meters. We could have departed just after 8 a.m., but without knowing the exact route and landmarks along the way, we decided to wait to see if the fog would lift. The fog came and went – sometimes visibility beyond 1 km, sometimes not to the next hut or hillside. At about 9:30 a.m. we knew that it would be very tight getting to the summit, doing an activation and returning to the chair lift by closing at 16.00. So we decided to risk it. After getting tips from Marco about the best route to the summit (a route that deviated from the route in the SAC guide), we slapped on our snowshoes and departed. Because of the fog, we made frequent stops to check our GPS readings and compare them with the map to make sure we were on the proper route.
Typical visibility that kept us continually checking that we were still on the trail.
Not quite half way, with probably another 3 km to go, another 400 meters to ascend, and thick fog continuing to come and go – we determined that there was simply not enough time to complete the activation and we decided to turn around.
At this time we also made contact with a group of Rhinetalers who were on skis on their way to the summit: Fritz HB9BCN, Hans HB9CKV and Hansjörg HB9PFM. Our Hans HB9BQU had his 2m radio, so we stayed in touch on the HB9RW relay on the way back. We then all gathered at the Skihaus Hochwang for a drink and some pleasant conversation. In mid-afternoon those of us on snowshoes made our way to the chairlift summit station for the ride down to our cars and the trip home. As we dropped in altitude, visibility improved dramatically; at the chair lift base station we could even see across the valley.
The entire group just before departing the hut for home (left to right): Hans HB9BQU, Paul HB9DST, Hugo HB9AFH, Hans HB9CKV, Peter HB9TVK, Fritz HB9BCN and Hansjörg HB9PFM.
Despite our failed effort at an activation, we had a pleasant "boys night out" in the hut and had a chance to become better acquainted with some Rhinetaler hams. In winter, you just can't predict the conditions. And during wintertime in the mountains you must exercise extreme caution. All things point to Mattjisch Horn being technically not difficult and not overly dangerous, but we'll have to wait for the right weather before attacking it again.
73 Paul HB9DST
=======================================================
SOTA Tour – March 2016 by Luc ON7DQ
In the second weekend of March, I made a 4-day trip to DL, to visit the Bergheim Funkflohmarkt (hamfest) and to do some SOTA activations of course. That weekend was also the last chance to get the winter bonus points on summits that are over 500m asl.
In short , I activated the following 7 summits :
ON/ON-010 (Baraque Fraiture)
ON/ON-011 (Sur Clair Fa)
ON/ON-013 (Bois de Hodinfosse)
ON/ON-001 (Signal de Botrange)
DM/NW-134 (Sophienhöhe)
PA/PA-002 (Vrouwenheide)
PA/PA-003 (Observant (Sint Pietersberg))
When I planned this trip, I expected to get some easy bonus points, who would expect the Belgian summits to be completely covered in snow. Boy, was I wrong. Well, at least the temperatures were well above zero, so it was not too bad after all …
So on Friday March 11, I set off at 05:45 local time … to get at my first summit at 8:30 local.
ON/ON-010 Baraque Fraiture
Snow as far as you could see … so setting up in the snow : FT857D operated inside the backpack + link dipole.

Tried 20m first for some VK/ZL … no luck. Then gave a shout on 7.085 (to give the ON3 stations a chance to work me too) and … boom ! The pileup that followed went on and on … filling page after page in my logbook … made exactly 100 QSO's in 1 hour and 15 minutes. Great !
I was getting cold, so never went back to 20m, off to the next summit …
ON/ON-013 Bois de Hodinfosse
More snow … yes, you have to earn that winter bonus , hi.
This time I used the KX3 and link dipole, and took a chair and a small folding table/stool, so that nothing had to lie around in the snow. A large piece of plastic laid out on on the snow kept my backpack and other stuff dry. Made 33 QSO's, again all on 40m.
In the above picture, you see my MIC/PTT interface box for the KX3, to use a PC-headset.
More on the Belgian summits in my full report on the reflector (see link at the end of this article).
Let's jump ahead to one of the few German summits left in this region :
DM/NW-134 Sophienhöhe
On Sunday morning was the UBA Spring Contest 2m (Phone & CW). So I wanted to get a piece of that, combined with a SOTA activation So I decided to take my two backpacks up the summit, one with the FT857D and VHF antenna, the other with the KX3 and HF antenna.
The summit is a firm 45 minutes walk, I took the path from the North parking as suggested by Phil, ON4TA.
(Franz, ON9CBQ/DL3RBF, suggested a path from the West, I'll try that next time).
Now how do you carry two backpacks … ? I went up this way :

Coming down I found another way to do this … so one of the backpacks is actually … um … a FRONT PACK !

Look Ma, no hands !!
For more stories and the results , read my full report here :
ON7DQ SOTA Tour – March 2016
73 de Luc - ON7DQ
=====================================================
Report of Gran Canaria activations by Geert PA7ZEE
Back home after 9 weeks in Maspalomas on the island of Gran Canaria, I like to share my experiences with the SOTA community. First something general about this very interesting vulcanic island.
The shape of Gran Canaria is roughly a circle with a diameter of around 50 km. Along the coast there are motorways for about half of the island. Inland the roads are mainly good but long and winding. An average speed on that roads of more than 40 km/h is seldom.

Climate
Some information about the climate on the island. In fact you can't speak of 'the climate'. There are several climates who can differ very much. On the same day there can be a blizzard in the mountains while it is sunny and warm on the beaches in the south of the island. The position of the Canary Islands west of the Sahara, makes the radiation of the African sun intense. Next to sun creme on exposed body parts, I was wearing my SOTA Bush Hat all the times to prevent sun-glare; sun glases are a must. A few times per month there is the Calima when a sirocco brings fine sand dust from the Sahara in Marocco. The views in mountains are then reduced.
I used mainly two websites to get a weather forecast for my activations.
First http://www.mountain-forecast.com/peaks/Pico-de-las-Nieves/forecasts/1949 for an impression of the weather on different hights on the mountains in the centre of the island.
Furthermore I looked at the place that was most nearby my activation, for instance Artenara near Tamadaba, I visited http://www.eltiempo.es/artenara.html
The north part, for instance Parque Nacional de Tamadaba in the north west, is humid with pine forest and lots of flowers. Other parts are naked rocks with only a little vegation with its own beauty. There are some places with little waterfalls but don't drink from that since the vulcanic rocks may contain chemicals that are not healthy.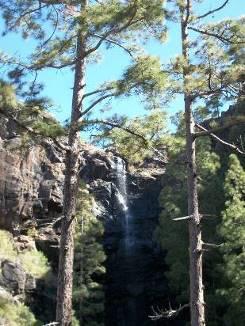 Finding your way
Next to the information on http://www.sota.org.uk/Association/EA8/GC , I used a map of KOMPASS Gran Canaria 1:50 000 www.kompass.de . Altough I had the latest edition of this map, there were some surprizes.
Where the map showed a road with a parking place at the end, I found a chain over the road and walked two hourse to that parking place. From the parking place another hour to the summit, made in total 6 hours walking that day and big blisters under both feet. But still a succesfull activation and unforgetable views.
Since august 2015 the number of SOTA summits has expanded from 1 to 27 summits.
There is no access to EA8/GC-027 Montaña del Faro, since this area is used by the military. EA8/GC-002 Roque Nublo is for me a no-go because this is a monolith with a hight of over 60 m and I am not a mountaineer. See http://images.summitpost.org/original/962861.jpg
Apart from that there is a lot to explore, if you like the adventures part of SOTA.
In general the Canarians are happy to help and are cheerfull people. Outside the tourist areas in the south, where people speak some English and German, you have to speak Spanish.
My Spanish is very limited but with a smile and hand-and-feet, I found my way.
Sometimes the names of summits can be confusing. To give a few examples, EA8/GC-006 in the SOTA list named Tamadaba, is known as Pico la Bandera and EA8/GC-008 Roque Ventaiga is on the signs Roque Bentayga.
This picture shows EA8/GC-008 Roque Bentayga and El Teide on Tenerife in the back ground
Activations
During our 9 weeks stay, I activated ones per week.
17/1/16 EA8/GC-001 Pico de Las Nieves: a drive on summit
EA8/GC-003 Moriscos: from the parking 30 minutes walk on a good path
24/1/16 EA8/GC-026 Montaña Arucas: a drive on summit
28/1/16 EA8/GC-012 Amurga: path starts 50 m from the north border of Fátaga; 1,5 hours hiking
4/2/16 EA8/GC-008 Roque Bentayga: from parking near visitors centre 15 minutes hiking
12/2 EA8/GC- 010: Morro de la Hierba Huerto: 1,5 hours hiking
15/2/16 EA8/GC-011 Montaña de Tauro: 1 ¼ hours hiking
23/2/16 EA8/GC-004: Sándara: 3 hours hiking
3/3/16 EA8/GC-009 Altavista: 1,5 hours hiking
10/3/16 EA8/GC-006 Tamadaba: 20 minutes hiking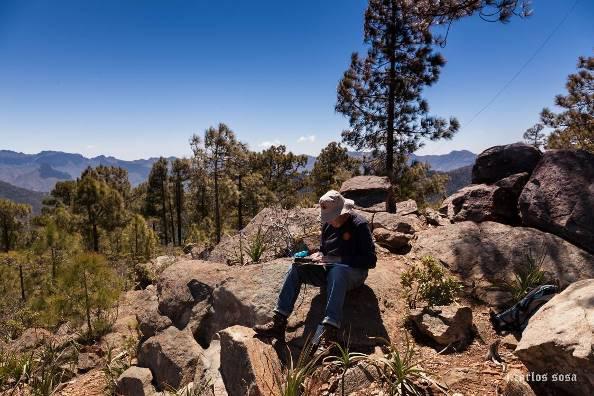 Activation EA8/GC-006 Tamadaba – Pico la Bandera
A happy Geert EA8/PA7ZEE/P after 10 successful activations
To all Chasers: Saludos de Las Islas de Afortunadas!
========================================================
*********** SOTA NEWS PART 2 FOLLOWS BELOW ********