Waking early this morning and seeing the clear sky with the sun just rising I felt I needed to be out on a SOTA summit somewhere. For a while now I have been looking for yet another novel way of reactivating a few of my local hills. I have done each one several times. Earlier this year I finished the Welsh Borders summits with a home built transceiver (I'm quite pleased I had built a radio that was reliable) and required a different excuse to revisit previously activated summits.
While at the Blackpool rally I mentioned to a couple of people that I had another Idea for a fresh (to me at least) excuse for getting out locally again by going "old skool".
I had wondered what SOTA would've been like if it had started in the 90s. What equipment would've been available that was appropriate for portable SOTA operations. Of much more importance, I had two items from the early 1990s that would've been suitable; A Yaesu FT-290 mk1 and a Tokyo Hy-Power HX-240, VHF to HF transverter. The only concession I would make to this "going back in time" would be by using modern Li-Fe batteries; apart from Lead-acid batteries of the time being very heavy I doubt that any that are 30 years old are still efficient. My excuse anyway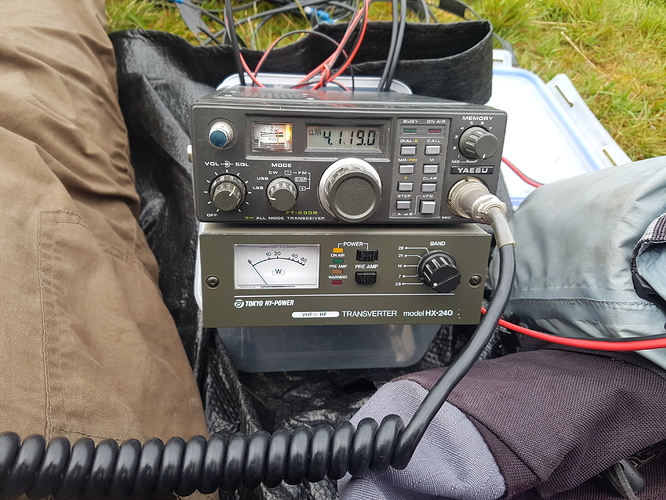 Yaesu FT-290 mk1 and Tokyo Hy-Power HX-240
The promising clear skies quickly clouded over as I left home heading towards my nearest SOTA summit, Walton Hill (G/CE-002). But I really wanted to be out in the fresh air so as long as it didn't rain I would continue to the hill.
I had been using the Yaesu/transverter combination from home to see if it was still reliable so was confident that, along with my trusty vertical, a few contacts should be made. After all I went out with QRP kit and qualified summits 40W from the transverter should be more than adiquate!
The parking for Walton Hill is not far from the summit with only around a 500m walk with barely 50m of assent. A nice easy one to get started with and a quick one to escape from if it did rain. The summit has a wide path along its ridge leading to the summit Trig-point and just beyond there is an area of grass with plenty of room for an antenna.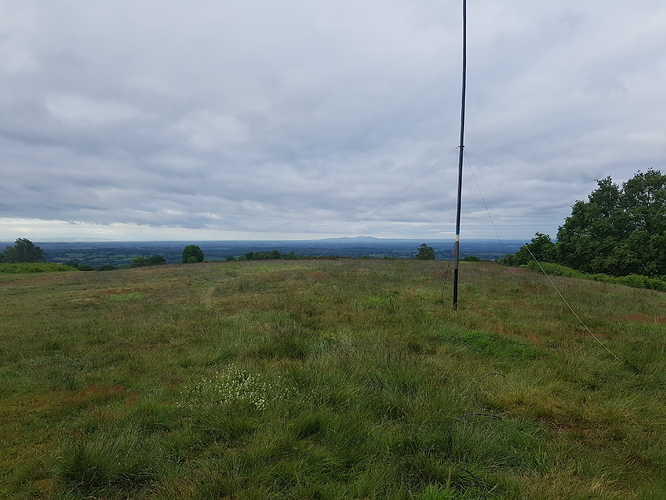 Summit of Walton Hill (G/CE-002) looking south towards the Malvern Hills
There was a cold breeze blowing from the south and the clouds had a hint that they could drop rain without too much provocation. The antenna was quickly deployed (easy with lots of practice), I self-spotted and after I wrapped up warm I settled down to an activation with a new (old) set-up.
Contacts came in waves on 40m. The first batch headed by Ed (DD5LP) all gave me nice signal reports but there were periods of CQ-ing with no replies. After 40 minutes I had 16 sporadic contacts in the log. I then thought I would try 20m. Not so good. The band had not yet woken and only 3 contacts made my log before returning to 40m. Another 23 stations were logged including 2 summits-to-summits before I needed to leave the summit. I had been there a couple of hours and it was activated on a whim and I had an appointment to keep before lunch time. Contacts had been slow but enjoyable.
So a successful outing with vintage equipment that had been collecting dust on my shelves. Now all I have to do is activate the rest of the CE region with it. But before that I have one issue to resolve, find out which unit is slightly off frequency.
Carolyn (G6WRW)