Winter activations do have their own charm.
After some weeks of inactivity it was time for me today to grab as well the winter bonus. So I decided to activate the Cerchov. We (my YL and me) were there already once in summer 2020, so the route basically was clear.
The trail starts nearby Waldmuenchen, a small German town directly at the Czech border. The ascent is about 5 km and 430 m height. The path crosses the green border between Germany and the Czech Republic about half the way. The destination, the summit is a quite interesting place as it was used in the cold war times by military as a listening station. The equipment (e.g. a massive concrete tower) is still there, a smaller tower meanwhile (in summer) is used for sightseeing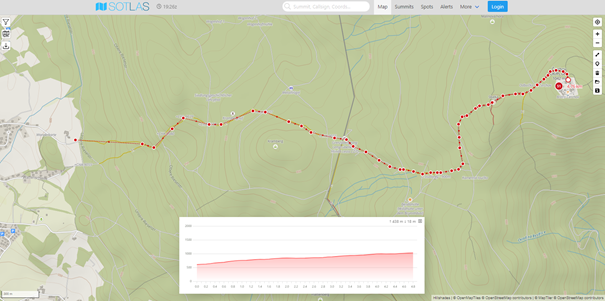 Weather was not really hiking friendly, we have fog here since weeks, this day was not an exception. We as well did not expect nice weather at the summit… but finally the result counts! As it had snowed last week in that area we assumed snow above 700 m height. But too less for taking the snowshoes. Indeed the path covered by snow and ice, it took us about 2 hours to reach the summit. Especially on the summit there was a really strong icy wind blowing from West.
The small sightseeing tower today
After some snacks and tea which we had brought with us it was activation time. It was really difficult to fins a spot, ice was falling down from the big towers, no view at all, the strong wind from west. So I decided to stay behind a small hill to be at least covered a bit from the icy wind. I throwed my 7.5 m antenna in a tree which was located there, the antenna was just about 2 m above the hilltop free to western direction. So I feared the results might not be very well.
My KX2 tuned on 20 m to SWR 1:1.2, so I set a spot and started calling. @SA4BLM was first, returning after my second call, Thanks Lars! Next one was Chris @F4WBN it went well, 12 QSO in about 7 min. The first S2S dropped in @M7BIA , quite weak signals, but understandable.
I changed to 40 m, the SWR was with near to 1:3 was not very good. But the wind was blowing so ugly that I ignored it. It was simply too cold to change any antenna setting. A big pile up started, I worked 23 QSO in 20 min, with three further S2S to 9A/@S57MS , DL/@HB9EAJ , @IN3ADF. There was another S2S, sorry I could not get you. Unfortunately I could not answer to all of you, I am really sorry. But the conditions were so bad that I had to QRT after 30 min as my hands and feet got too cold. My YL as well started freezing, we knew that we had to hike back for about 1.5 hours.
So we started the decent back through ice and snow, when we reached the car it was already getting dark.
Border Germany Czech Republic
Thanks to all chasers for all the QSO´s, sorry again for those I could not take. Merry Christmas, looking forward to cuagn on the bands
Klaus, DL2KL