Last year I played around with the VP2E-Antenna and took informations from Ed DD5LP article. I took the dimensions for 20m, trim and cut it in the garden.
I got dips at 5 mc and 14 mc but the SWR was 1:2,5. I moved the feedpoint up and down the wire, I can't get no better match. The impedance was 110-125ohm. Many russian hams feed the VP2E-Antenna from one end with L-C matching unit, and I tried to use my 1:64 endfed transformer and everything works fine, low SWR, nearly 48ohm, perfect.
I read an article in an antenna book, about a half wave sloper dipol with a director element, with gain and low take off angle. The idea was to mix both antenna types.
The results you can see in my sketch.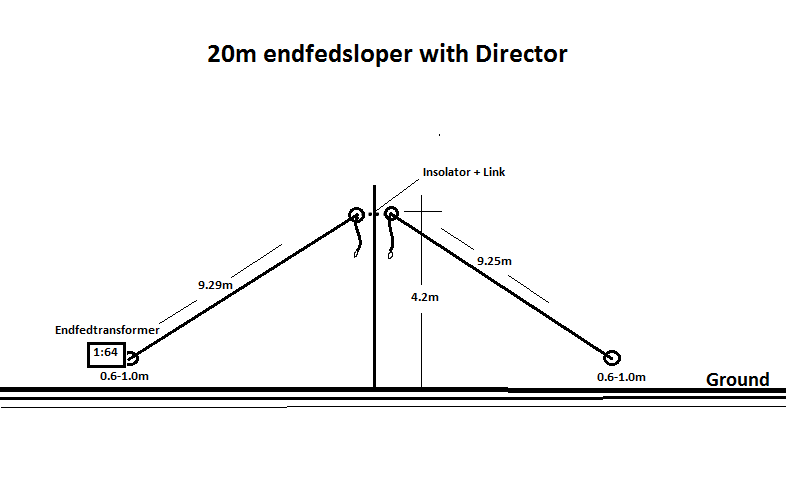 First I cut the radiator for 20m resonance, than I close the link on the top and cut the other wire for 40m resonance. Both wires linked together also still usable on 20m.
Can anybody model this antenna?
link open for 20m
link closed for 20m
link closed for 40m
Questions:
1.optimal antenna height? gain radiation pattern
2.characteristics on 40m (like inverted V?)
3.Is there a low take off angle and gain for 20m, like the VP2E-Antenna?
I ask for help, because I can't use the 4nec2 Software yet.
Thanks in advance!