The sky looked very cloudy today, but the forecast said it wouldn't rain, so I decided to go out and activate an easy 2 pointer which I hadn't activated since February 2017 and is about 30Km SouthWest of my QTH in Pamplona.
>El cielo se veía muy nublado hoy, pero la previsión decía que no llovería, así que decidí salir a activar una cima fácil de 2 puntos que no había activado desde febrero 2017 y está a unos 30Km al Suroeste de mi QTH en Pamplona.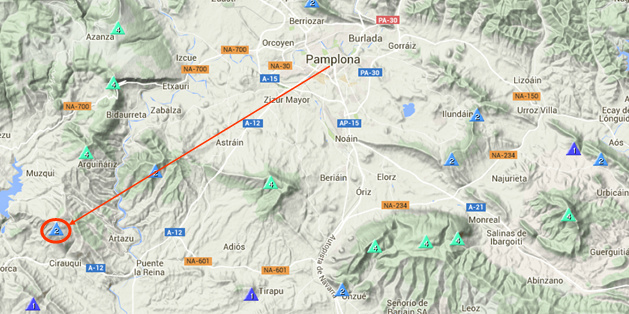 As I did in 2017, I left the road NA-7040 and drove the dirt road on the way marked by the red arrows on the image below, parked and then hiked the way marked by the green arrows.
The easy walk from the parking spot to the summit took me about 25 minutes.
>Como hice en 2017, dejé la carretera NA-7040 y conduje por la pista de tierra y piedras por el camino marcado con flechas rojas en la imagen más abajo, aparqué y ascendí a pie por el camino marcado con las flechas verdes.
El fácil paseo desde el punto de aparcamiento hasta la cima me llevó unos 25 minutos.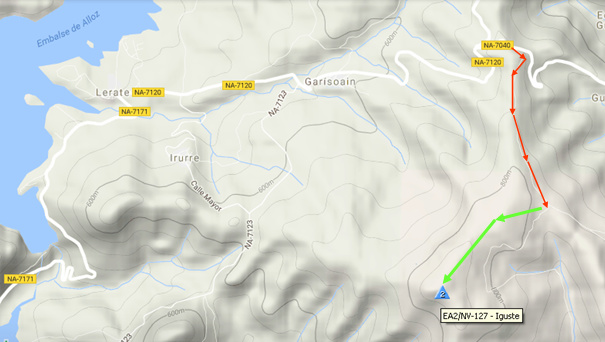 I found a man in the summit when I got there. He asked me to take him and his dog an picture. I did it and asked him to correspond in the same way. So he did and this is the result:
>Encontré a un hombre en la cima cuando llegué allí. Me pidió que tomara una foto de él y su perro. Lo hice y le pedí corresponder de la misma forma. Así lo hizo y este es el resultado:

Instead of hiking with my usual wooden walking stick and my fishing rod used as a second walking pole, I left the wooden stick in the car and took 2 identical fishing rods to use them as walking poles because I wanted to setup with an inverted L having the horizontal part of the L high about 7m as I've done in my last 2 activations.
>En vez de ascender con mi habitual palo de madera y mi caña de pescar usada como un segundo bastón, dejé el palo en el coche y cogí 2 cañas de pescar idénticas para usarlas como bastones porque quería hacer la instalación con una L invertida teniendo la parte horizontal de la L a unos 7m tal como he hecho en mis 2 últimas activaciones.
One of the fishing rods near the summit cairn:
>Una de las cañas de pescar cerca del hito de piedras de la cima:

And the other fishing rod by the bushes and a tree close to my operating spot:
>Y la otra caña de pescar junto a los arbustos y un árbol al lado de mi punto de operación:
Here you can see the whole setup with both fishing rods, the radiating element is the red dotted line and the counterpoise is the white dotted line:
>Aquí pueden ver la instalación completa con ambas cañas de pescar: el elemento radiante es la línea roja de puntos y la contraantena el la línea blanca de puntos.
When I switched the FT-817ND ON, it did it on 20m CW, I transmitted a couple dashes and found the SWR was perfect 1:1, so I decided to start there right away.
>Cuando encendí el FT-817ND, lo hizo en 20m CW, transmití un par de rayas y encontré que la ROE era perfecta 1:1, así que decidí empezar allí inmediatamente.
The activation started at 11h05z and ended at about 13h15; 2 hous and 10 minutes spent like this:
20m CW: 27 QSOs in 27 minutes with a great and highly enjoyed pile-up.

40m CW: 10 QSOs in 14 minutes, one of which was S2S with F6HBI/P.

30m CW: 9 QSOs in 10 minutes, one of which was S2S with 9A6CW/P.

20m SSB: 23 QSOs in 19 minutes, one of which was a DX with the U.S.A.

back to 20m CW: 26 QSOs in 35 minutes, 2 of which were S2S with OK2PYA/P and E70AA/P and also 2 DX with Canada.
La activación empezó a las 11h05z y terminó a eso de las 13h15; 2 horas y 10 minutos gastados así:
20m CW: 27 QSOs en 27 minutos con un gran y altamente disfrutado pile-up.

40m CW: 10 QSOs en 14 minutos, uno de los cuales fue S2S con F6HBI/P.

30m CW: 9 QSOs en 10 minutos, uno de los cuales fue S2S con 9A6CW/P.

20m SSB: 23 QSOs en 19 minutos, uno de los cuales fue DX con los EE.UU.

de vuelta a 20m CW: 26 QSOs en 35 minutos, 2 de los cuales fueron S2S con OK2PYA/P y E70AA/P y también 2 DX con Canadá.
All in all, 95 QSOs, 4 S2S and 3 DX with Northamerica.
This is the map showing each QSO trip:
>En total, 95 QSOs, 4 S2S y 3 DX con Norteamérica.
Éste es el mapa mostrando el viaje en cada QSO.

Before leaving the summit, a few pictures towards the SouthWest:
>Ántes de dejar la cima, unas pocas fotos hacia en Suroeste:
Shortly after having started descent, I had access to the view towards the NorthWest, which was blocked by trees at the very summit:
>Poco después de haber empezado el descenso, tuve acceso a la vista hacia el Noroeste, que estaba bloqueada por árboles en la misma cima:
Further down on my descent, I took a few more pictures for you to see how the path was:
>Más adelante en mi descenso, tomé unas pocas fotos más para que vean cómo era el camino:
The trees are still green but the ground and the grass are dry. I hope we'll get some good rain soon.
Everything went fine for me during this short, unsteep hike and I had a very nice time out in the mountain, as well as on the bands.
Thanks dear chasers for your calls and QSOs.
I'll be looking forward to copying you all again soon from a summit.
>Los árboles están todavía verdes, pero la tierra y la hierba están secas. Espero que pronto tengamos algo de buena lluvia.
Todo me fue bien durante este corto y de poca pendiente ascenso y pasé un agradable tiempo fuera en las montañas, así como en las bandas.
Gracias estimados cazadores por sus llamadas y QSOs.
Estaré esperando copiarles a todos ustedes otra vez pronto desde una cima.
73,
Guru