Scotlands most boring Munro?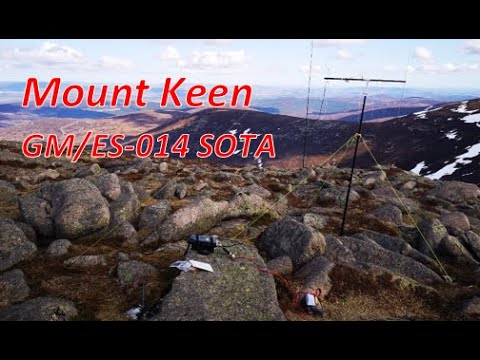 Firstly - apologies to the chasers on 40m SSB. I had reports of a strong signal but poor quality audio, a roughness - feedback even. I must investigate, although the only thing I've changed is adding a 9:1 UnUn to the end of my W3EDP and a couple of metres of coax back to the tuner. I'd planned on taking a spare mic. but turns out I didn't have one with that connector on.
So, Wednesday was my day off, and my wife was getting her first haircut since November (we've been in covid lockdown since Christmas). That gave me a morning pass.
I climbed the hill from Glen Tanar, mainly because I live at this side of the hill, but also because a spring morning cycle or walk through the ancient Scots Pine forest of Glen Tanar cannot be beaten. Today it was by bike. Soon enough I was through the forest, into the upper reaches of the glen and got my first glimpse.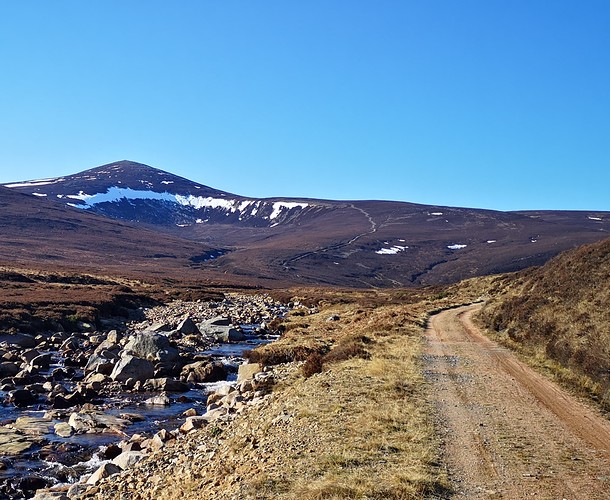 I was at the top in under two hours and decided to set up the W3EDP and also the 2m beam before I started to operate. Summit conditions were brilliant, with no wind, blue skies and sunshine.
There's a sketchy phone signal up there but I got my spot in and quickly worked three stations on 40m ssb. Thank you G0RQL, G0VWP, G4WSB and sorry Manuel EA2DT, I think I've got you in every summit log but as I said earlier I was having real problems.
I did wonder if it was the end fed/UnUn/coax arrangement, so decided to switch to my 20/40m linked dipole, which feeds straight from the radio. Except I'd forgotten the BNC adaptor…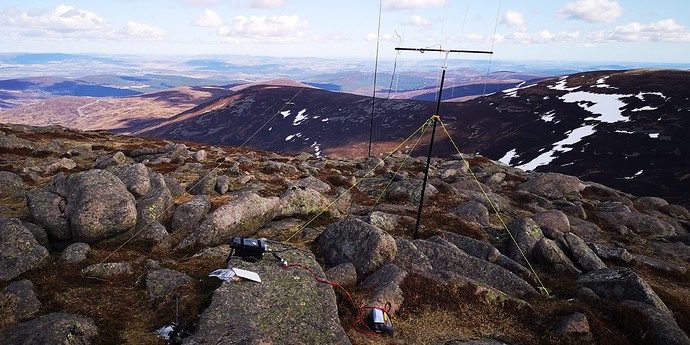 I decided to plug in the 2m beam and beaming south, I called CQ on 2m ssb. I really am keen on 2m ssb, given that it's a mode I've never used at any of my four QTH's since I was licensed. I didn't expect too much however…
I was wrong! Stations were looking out for me calling and I soon had a reply from GM3YEW, Dave in Abernethy. This was followed by GM4MOX, Jack in up Tain (back of the beam initially), GM8PKL Brian, in Edinburgh and MM0XET/m Gary in Dundee, who's signal faded very quickly. Most of these guys worked me through verticals IIRC.
I flipped to FM (and vertical polarisation) and called on 145.500Mhz. I managed to work GM4GUF Robert in Biggar and surprisingly, (contact of the day) M7DUN Richie, who was running 10W from Redcar in NE England, some 180 miles south of me.
In all, ten minutes on 40m and half an hour on 2m ssb/FM, where the QSO's were more relaxed and a bit longer. Eleven contacts in all, which I'm delighted with, considering the initial problems experienced. Really, really pleased to work stations on 2m ssb and I will endeavour to use this band & mode as much as possible going forward.
I'd cleverly (or stupidly?) pushed my bike a good way up the hill, so I was back at the car park an hour after leaving the top and home for a (late!) lunch.
Radio kit carried today was:
Yaesu FT-857d
W3EDP long wire/counterpoise and 9:1 un-un
LDG Z-100plus tuner for the W3EDP
6m mast
2m mast containing "100g" 4 element yagi
LiFePo4 battery
Waterproof paper/pencil for logging
Power was 50 watts on 2m, 25 Watts on 40m.
Anyway, if you watch the video, you'll see that Mt.Keen is not Scotlands most boring Munro. I give that title to Ben Chonzie near Crieff.
Finally, I'm open to suggestions as to where to start digging into my audio problems. Thank you.