Heads up for those wishing to activate Moel Famau GW/NW-044 Saw this on my twitter feed.
Necessary actions I think. On my last 2/3 visits there, I have become increasingly aware of growing numbers of cars parking for free on the roadside verge just before the main car parks. Those car parks are excellent and not extortionately priced (unlike some others I could mention), so I always found it a bit disappointing folks would disrespect the environment to save a couple of quid.
You can even park for free for 2 hours in the new layby next to the Bwlch Penbarras car park.
Unless the follow it up with enforcement people will keep doing it. The verges on the A494 at Loggerheads have been completely wrecked this weekend by people parking on them despite the double yellow lines and countless signs saying don't park on the verge.
Parking fee £1.50 for all day a few weeks ago-I certainly don't begrudge paying this to activate two hills or more. I came off Foel Fenlli once & the access road from Loggerheads was gridlocked, but going west was no problem.
Indeed! When I did it, I parked on the top car park and was surprised at how cheap it was… seem to remember it was £3 from my early afternoon arrival time to the end of charging at 1900!
Cheers - Alan
I managed to get free parking when I activated Moel Famau as the barriers were up and the parking machines were coverd over. I dont mind paying to park and cant see why dropping a few coins in a meter is any hardship.
If you want to guarantee a parking spot, get there earlier!
Well, new machines in the car park today and a new sign: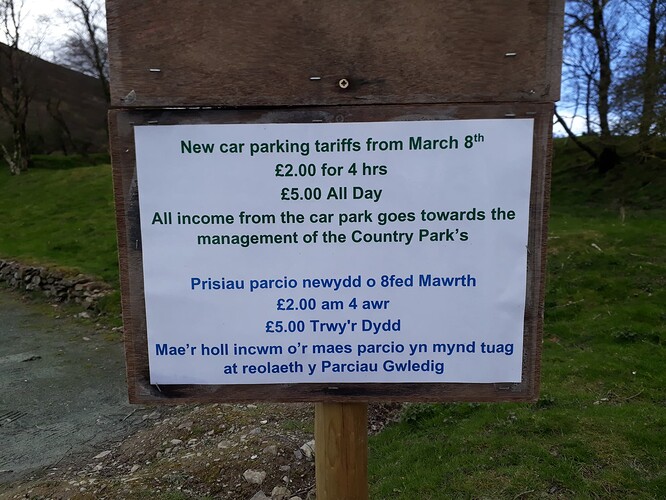 Because I only paid for 4 hours, there wasn't enough time to go back up to activate the Moel Famau summit after walking up/down with some friends & young kids.
I found a wooly hat, tennis ball, £5 note and a discarded vape though around the car park so it was still worth the £2 on this occasion

Seeing that apostrophe in 'Park's' has just spoiled my evening…

I know how you feel. I'm converting a 17m QCX to 30m and just on the last toroid when I saw that and lost the will to complete the task. I think I'll have a large whisky instead.
There's plenty of room after the incomplete sentence for people to add their suggestions of what the author meant to say.
"… goes towards the management of the Country Park's annual sheep poo tidy up." ?
…Christmas party