I hear you saying "Whaaat, mid-October, you're a little bit late, sluggard"


And you're right, but I had a bad conscience, as up to now, I had no time to upload my SOTA activation logs to the SOTA database. But now that my logs are in place I had a little bit more time to prepare an activation report.
Additionally this time my activation report reveals the real reason, why I'm using mainly the Mount Topper 3 band radio for my SOTA activations. If you read through the report the reason should be obvious. But you can also directly jump to the end to get the explanation

It has been a long time since I was able to undertake several SOTA activation on
consecutive days. But this years mid-October brought a really nice weather period that was so inviting that I couldn't resist.
In the following a summary of all SOTA activation of that week is given.
Friday
My holiday started at Friday early in the morning with a hike up to the Sonnjoch, OE/TI-615. And even the first views to the surrounding mountains revealed terrific pictures: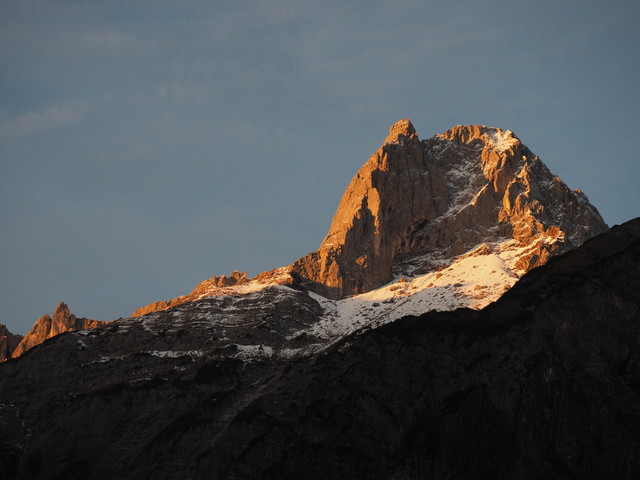 After having climbed about half of the path up to the summit, I've been surprisingly stopped by group that was waylaying across the marked ascent. Even approaching as close as about ten meters just brought up just a condescending smile to their faces. Only after having clarified to them that I'm myself also a poor creature being hunted/chased by others just for fun (of course in my case for SOTA points and not for a horn) finally made them clearing slowly the path

After a elevation gain of 1200 height meters I reached the top of Sonnjoch.
On the summit most of the area was covered by 10-20cm snow but fortunately I found a small place that was dry and where I could set up my SOTA equipment.
All in all 23 SOTA contacts found the way in my log and after having enjoyed the great panorama I descended again down to the valley.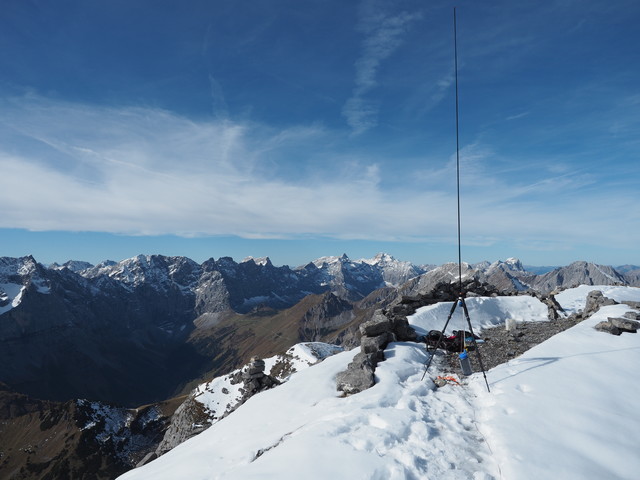 Saturday
After this rather frosty excursion, the Saturday should bring me up to a nice and warm destination. Therefore I chose the Torkopf, OE/TL-016.
After a nice hike with an elevation gain of about 1100hm I reached the summit that exhibited great views to the surrounding mountains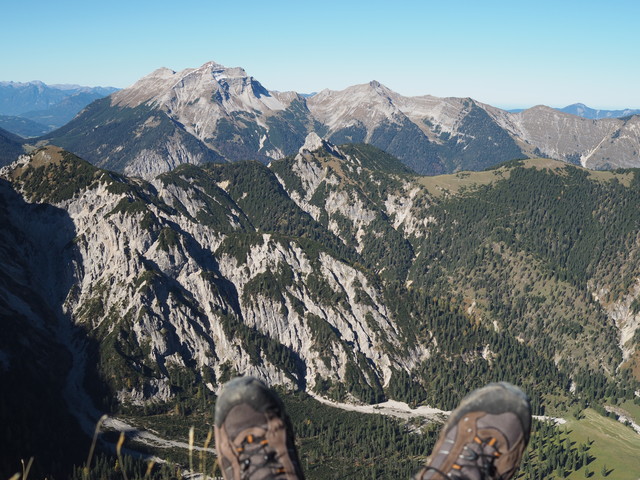 as well as down to the valley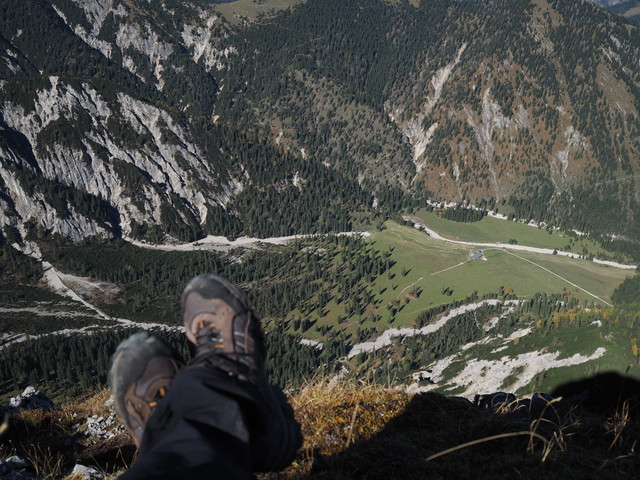 During my stay on this summit I've been called by 24 chasers.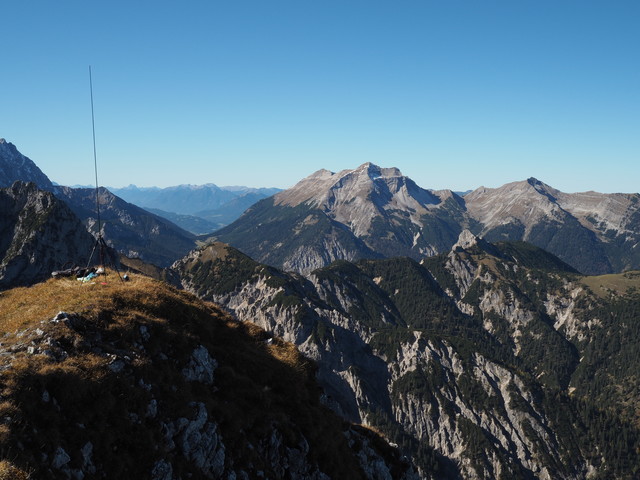 Sunday
The following Sunday brought me to a summit that has been activated by me already a couple of times: The summit of Schafreuter, DL/KW-035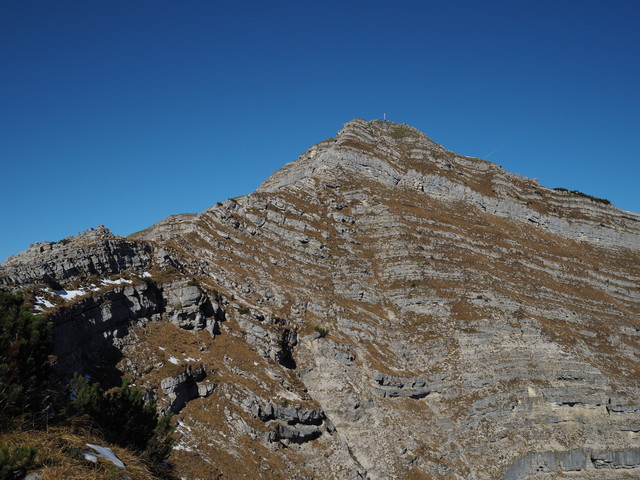 The final ascent to the op of this summit can either be walked up via this steep path: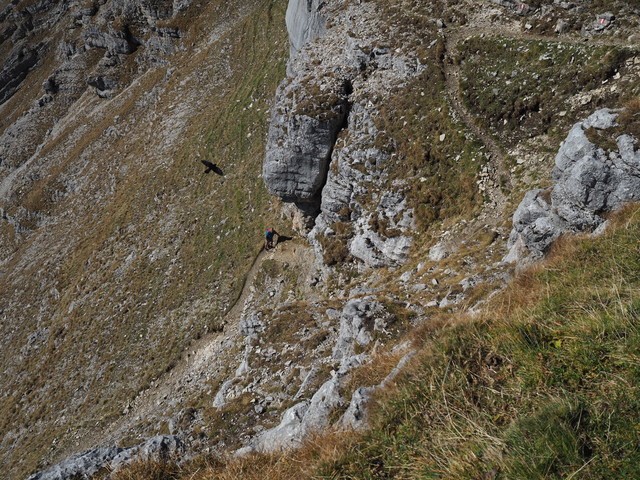 But, because on a sunny weekend this summit is frequently visited, it is a little bit annoying to permanently sidestep on this narrow path if other hikers are descending at the same time, I decided to scramble up directly along this ridge: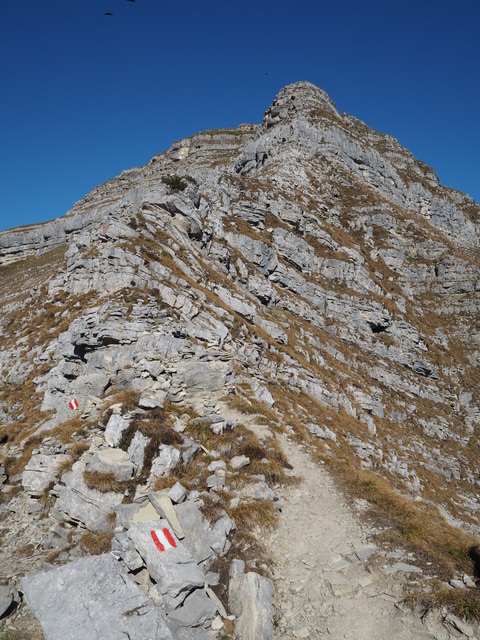 Regardless of which path someone took up to the summit, everyone has been rewarded with the same beautiful panorama: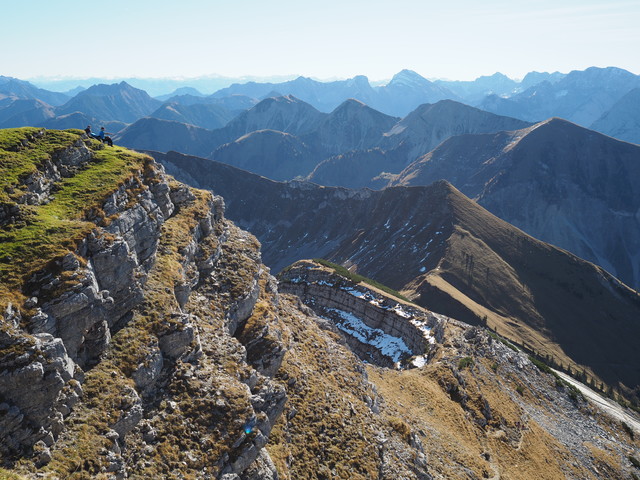 And even the following SOTA activation with such a fine sunny weather was worth climbing up 1300hm. And 13 SOTA QSOs could be logged during the short activation.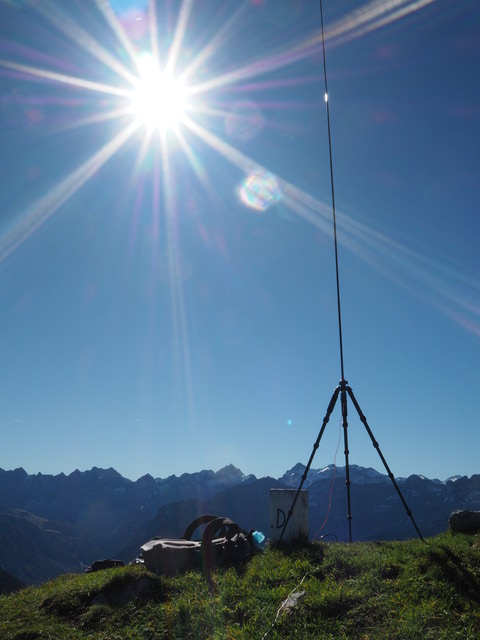 Monday
The beginning of the week, i.e. on Monday, another well known summit, the Guffert, OE/TI-392 has been selected as SOTA destination: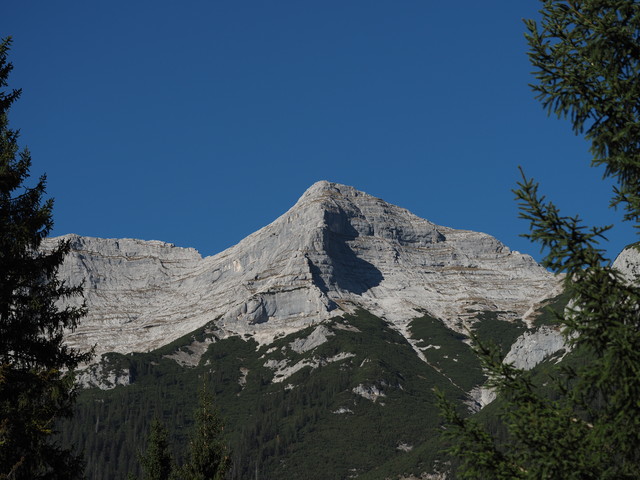 Near to the top of this mountain, after about 1200hm elevation gain, you have also to scramble the last couple of height meters up along this short ridge. Fortunately snow and ice was only present in few niches at the east and north side and the ascent wasn't too dangerous.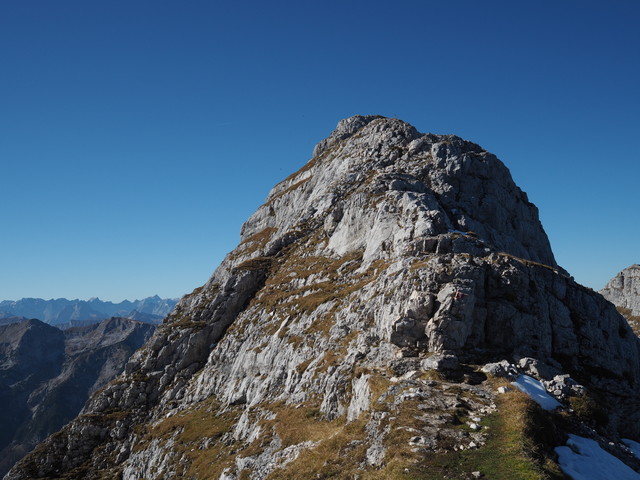 It seemed almost boring that this summit exhibited the same splendid panorama with bright blue sky, as experienced during the previous days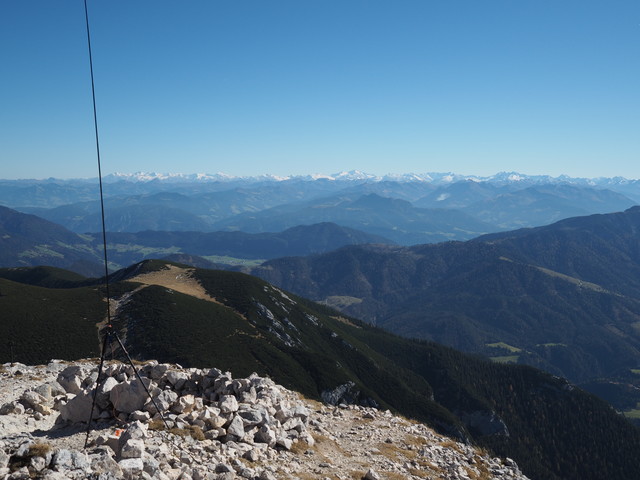 Even my tiny little rig couldn't stop smiling with such nice weather conditions

Finally 30 SOTA contacts completed this fine activation.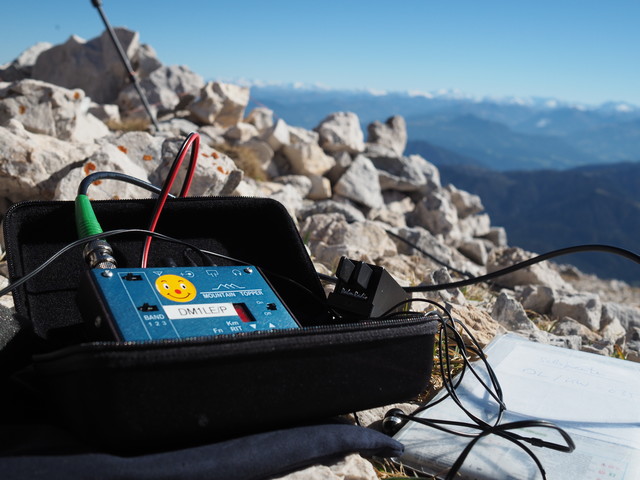 Tuesday
A double activation was planned for this day. The first destination was the Seebergspitze, OE/TL-008. And because of my early start in the morning, again a great view to the surrounding mountains appeared during my ascent to this first summit.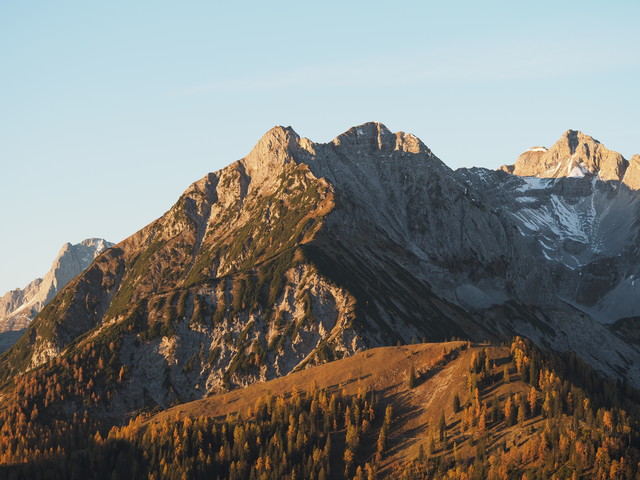 Same as the days before, bright blue sky and a beautiful panorama made the stay on the summit very pleasant.
And the smiling of my tiny little rig makes it clear that quite a couple of SOTA contacts, all in all 19, made it into my log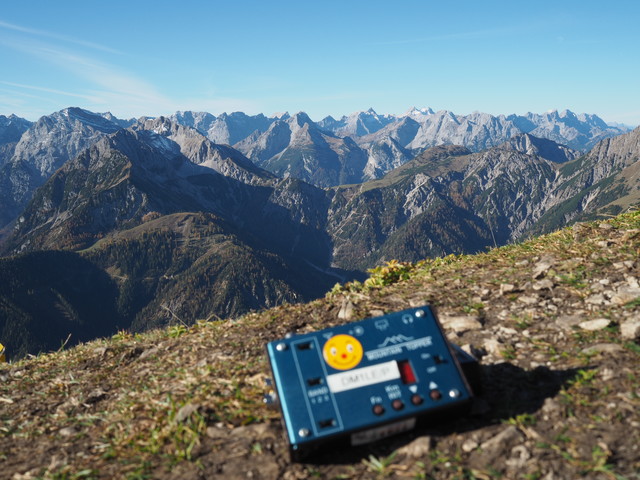 In order to reach my second SOTA destination I had to cross this nice ridge.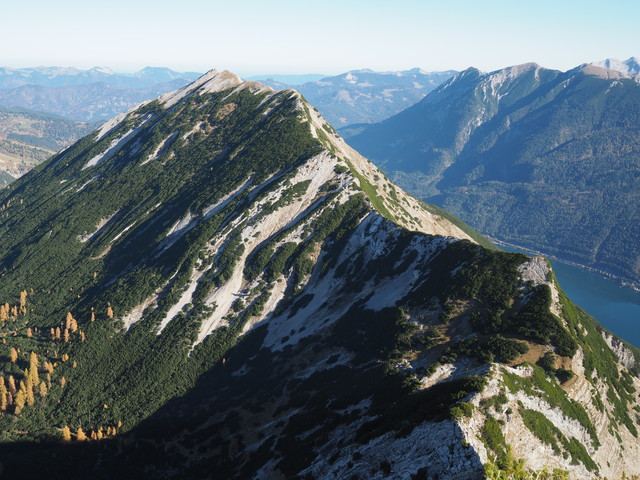 First an unpleasing steep path had to be passed, which was additionally covered with snow and ice, in order to reach the ridge. But after having passed this awkward section a nice view down to the nearby lake Achensee rewarded the effort.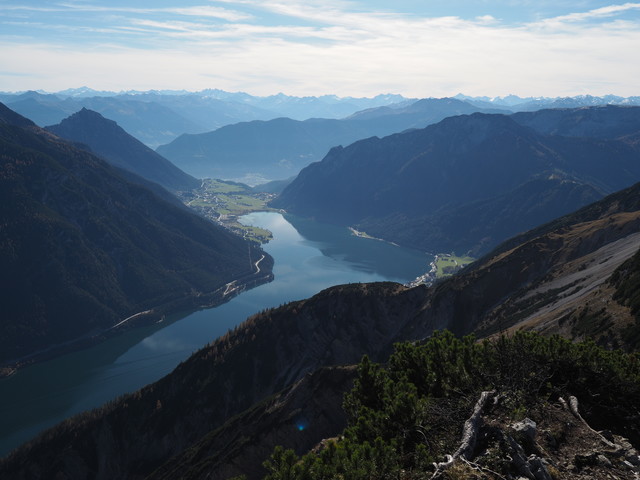 Needless to say, the following SOTA activation of the second summit, the Seekarspitze, OE/TI-445, with 28 contacts took place with a bright blue sky and a nice panorama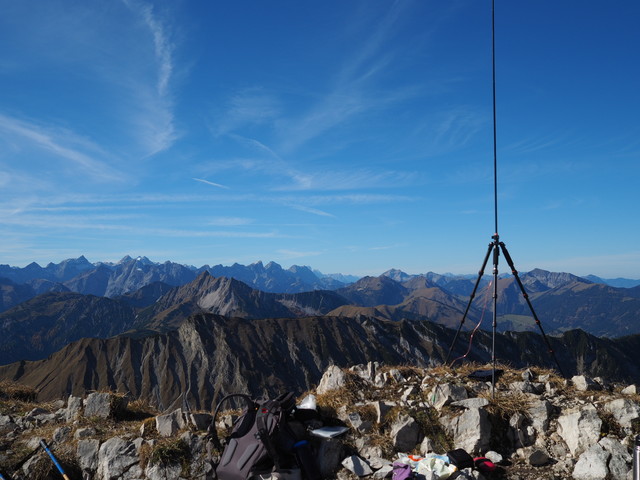 surprisingly a couple of, so called "Brotzeitadler" (naive translation: lunch-eagles) confused my radials with some delicious extra-long worms. But soon they recognized their mistake and grabbed some nuts out of my hands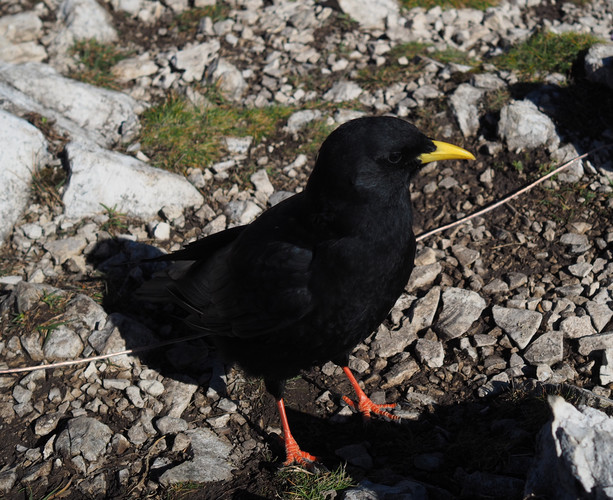 At the end the descent down to the valley revealed some nice colorful views to the surrounding trees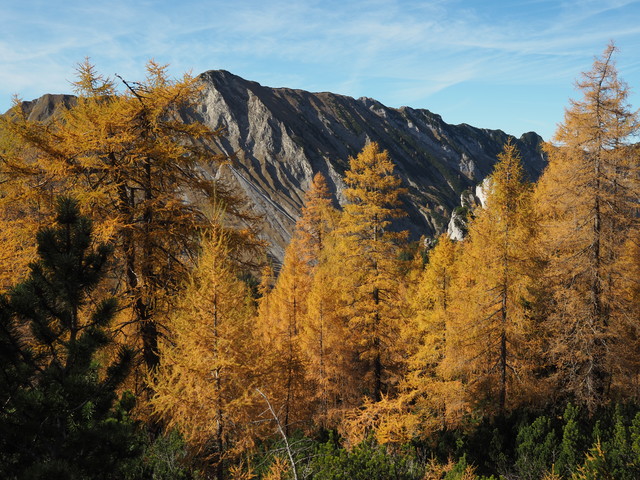 All in all 1250 height meters had to be climbed for this double activation.
Wednesday
After this first five days of collecting SOTA points I had to take a break and had to earn some extra points at home


So the whole Wednesday has been used for preparing the garden for the upcoming winter, including cutting the hedge etc.
At least, I attained the highest possible score for my garden work

Thursday
Having earned full score at home the day before, the Thursday could be reserved again for another SOTA activation


This time the cragged summit of Gehrenspitze, OE/TI-301, was chosen for the SOTA activation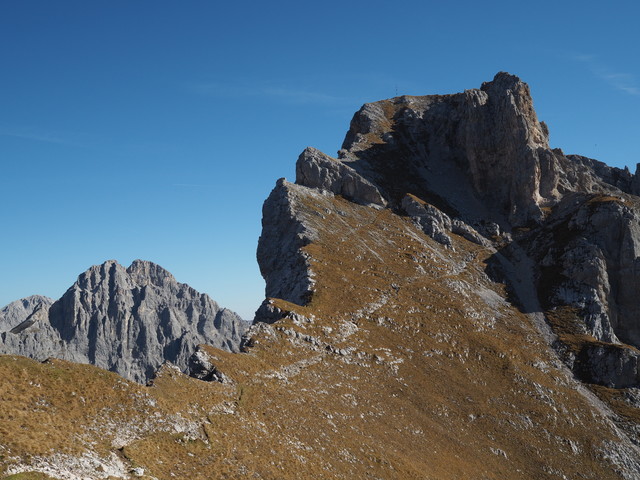 Bright blue sky and a beautiful view to the surrounding mountains made me forget the garden work on the day before very quickly after having climbed up 1200 height meters.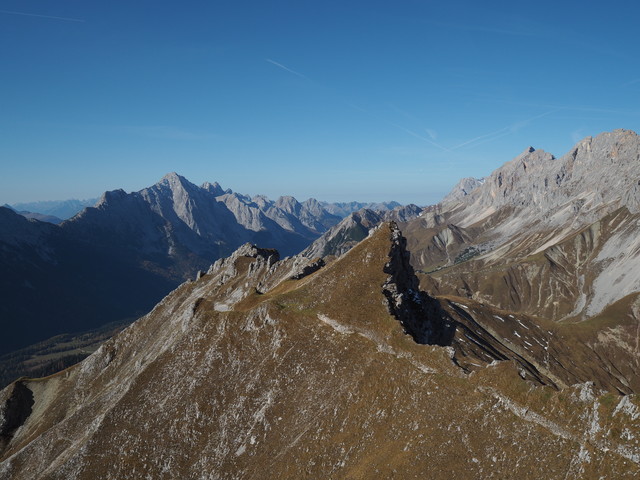 And also a sum of 33 SOTA contacts made my tiny little rig smiling again from one ear to the other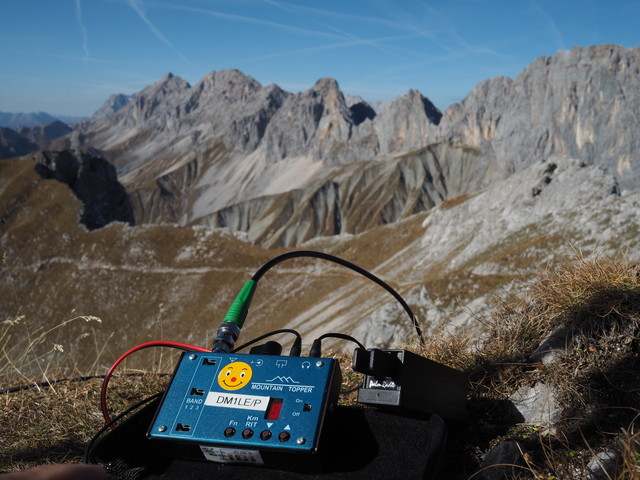 Friday
Friday was again a day that unfortunately could not be used for SOTA activation, due to other duties

Saturday
On the last day of my holidays, i.e. on Saturday, again a final SOTA activation could take place.
This time a not yet activated summit has been chosen. The Rosskopfspitze, OE/TL-015: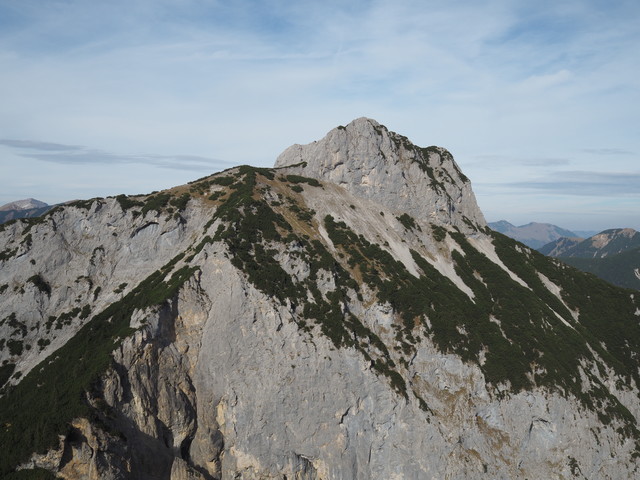 I guess, an elevation gain of 1400hm in rather demanding terrain might make this summit a not so frequent destination for future SOTA activations
Especially the final ascent up to the top of the summit was a little bit challenging. One can either climb up directly the ridge at the right side, or alternatively scramble up the steep crag at the left side. On both routes you shouldn't stumble over your own feet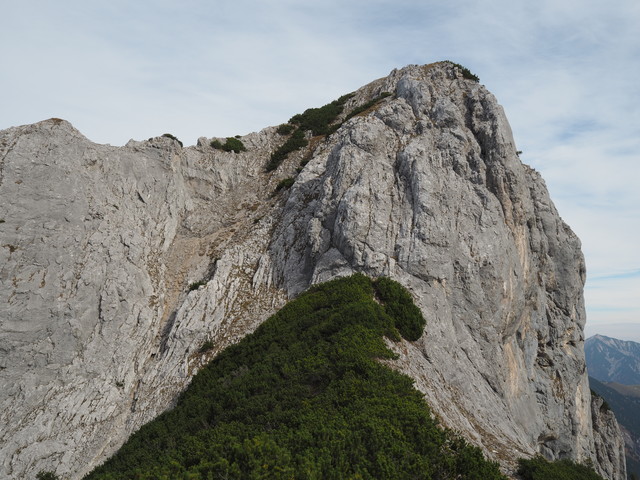 For the ascent I chose the climbing route on the right side and enjoyed it much more than the descent afterwards through this steep crag at the left side.
But the nice view at the top of this summit rewarded again for all the effort.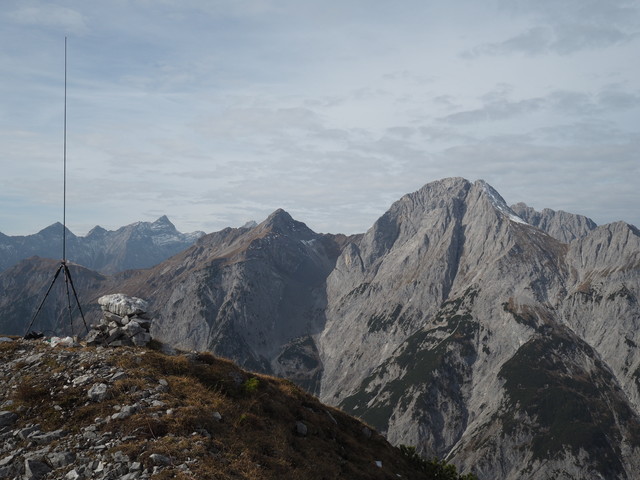 And a sum of 40 SOTA contacts made, once again, my tiny little rig smiling from one ear to the other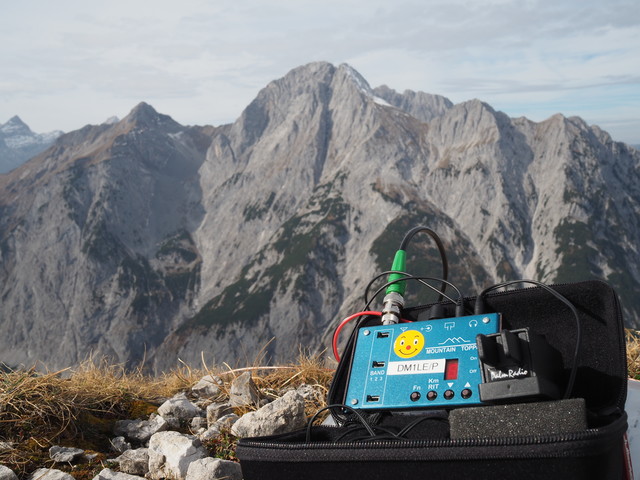 Thanks to all chasers for calling me on all of these summits!
And now that you, hopefully, have made the effort to work through the whole report, do you have an idea why I mainly use the Mountain Topper 3 band radio for my SOTA activations?
No, not because of its small size or its minimal weight. And also not because of its low power consumption that requires just small batteries.
Far better, it is the only HF-transceiver, at least known to me, whose colour does fit so nicely to the bright blue sky

PS: I apology for the length of the report this time.
73 Stephan, DM1LE