Hi All,
I operate portable only and usually throw up an EFRW or linked dipole for 40-30-20 on a summit.
I'm planning to build a 40m horizontal delta loop and 20m bobtail to experiment with a bit of gain and low takeoff angle to attempt to work DX stations using low power. If it works well and the setup is easy enough, I'll bring it to a summit.
Here's one example - Long distance between supports high enough for a 40m bobtail.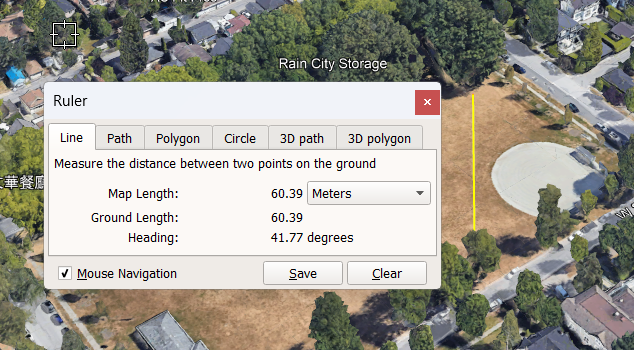 This park is near my house in Vancouver, Canada and the gain will point to the US and down into South America.
To keep things simple, I envision using my arborist throwline to place the wire, running the rope over the limb and back down, then use a few feet of shock cord to keep tension and allow for branch/tree movement where I tie off. Long lengths of cord (150+ft) are the only downside I see.
The antenna wire I have on hand is DxWire from SotaBeams. It's got 130lb tensile strength and weighs 4grams per meter. My insulators will be cutting board cutouts for the corners/guying points.
Questions:
What size paracord are you using for non-permanent installation of long/large wire antennas? Should I go with 95 cord (95lb test) or 275 cord (275lb test).
Is there another rope/cordage you recommend? I want to get it right before I order 1000ft.
Any recommendations for wire that is cheaper than DxWire in case I want to build an 80m loop?
What other wire/tree based antennas offer gain over a high dipole that could be setup on a summit?
73
DE VE7ESE
Mike